Grigory Sokolov refuses award because it has previously been won by Norman Lebrecht
Gramophone
Monday, September 28, 2015
Sokolov: 'According to my ideas about elementary decency, it is shame to be in the same award-winners list with Lebrecht'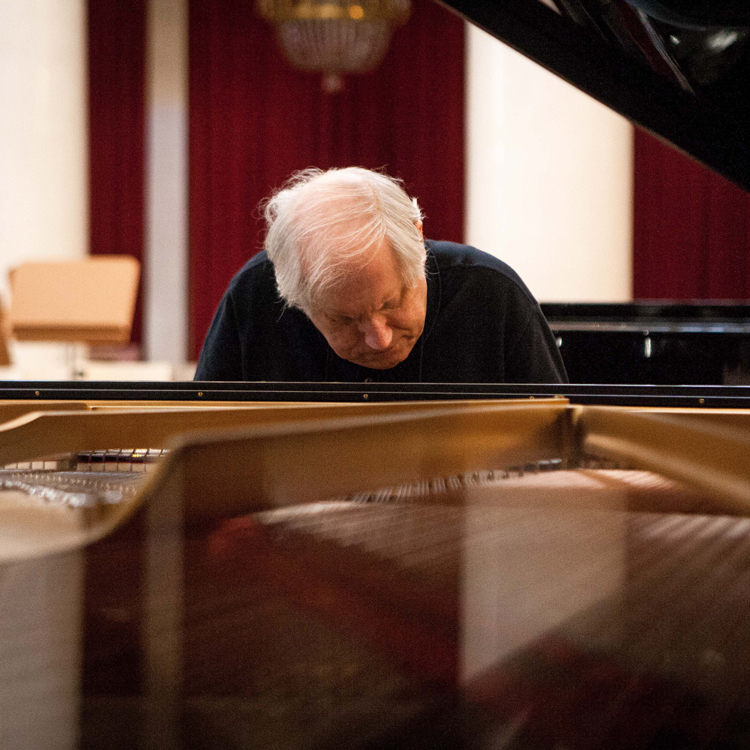 One of the most highly-regarded pianists of our time, Grigory Sokolov, has refused to accept the Cremona Music Award 2015 because it has previously been awarded to the blogger Norman Lebrecht. A hand-written statement in Italian and Russian on the pianist's website reads: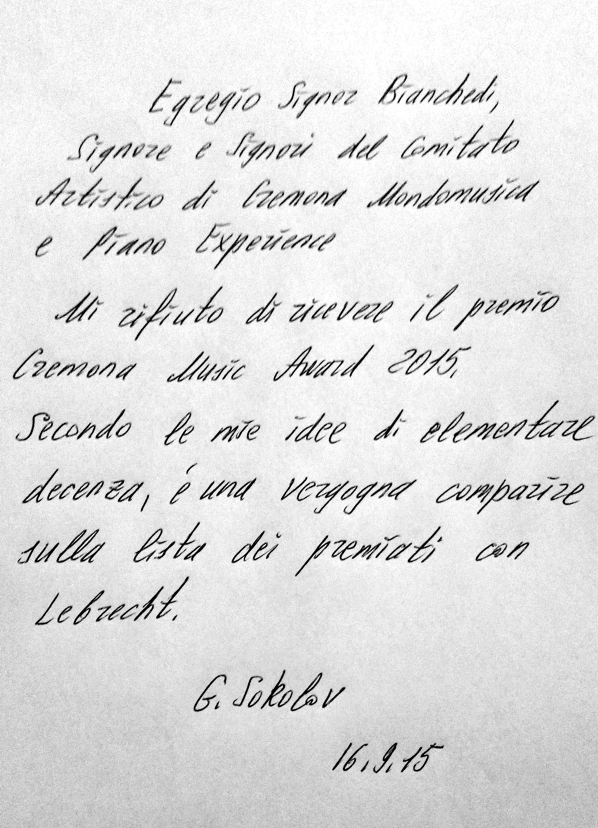 'Dear Mr. Bianchedi, ladies and gentlemen of Comitato Artistico di Cremona Mondomusica e Piano Experience. I refuse to receive the prize, Cremona Music Award 2015.
'According to my ideas about elementary decency, it is shame to be in the same award-winners list with Lebrecht. [Signed] G. Sokolov'
Gramophone contacted Sokolov's General Manager, Franco Panozzo at AMC, who confirmed that the statement is genuine.
Sokolov has received many awards and honours throughout a long career. Last year, his debut release on Deutsche Grammophon ('The Salzburg Recital') was nominated for a Gramophone Award in the Instrumental category.
Norman Lebrecht is a former Deputy Editor of London's Evening Standard newspaper and now maintains his own personal blog. He also writes reviews for the Universal Music-owned website Sinfini.
UPDATE...
Paolo Bodoni (Head of Communications and Special Events of CremonaFiere) has sent Gramophone the following response to Sokolov's refusal of the award:
'Maestro Sokolov sent us a letter to refuse the prize, justifying this choice with the presence of Norman Lebrecht among the people awarded in 2014.
'We don't want to discuss the personal relationship between Maestro Sokolov and Norman Lebrecht; we are just very sorry about Sokolov's choice, especially considering that Franco Panozzo, Sokolov's manager, sent us an email on August 4, 2015, saying that Maestro Sokolov would have been very happy to come to Cremona to receive the prize, if he had been in Italy during Cremona Mondomusica. We also have to say that before that (June 29, 2015) we informed Franco Panozzo about the people awarded in 2014, Norman Lebrecht included.
'So we have been surprised that just a few days before the prize-giving ceremony Maestro Sokolov took this decision.'