Rattle leaves the LSO for Munich
Monday, January 11, 2021
Simon Rattle to take up the reins of the Bavarian Radio Symphony Orchestra and Chorus in 2023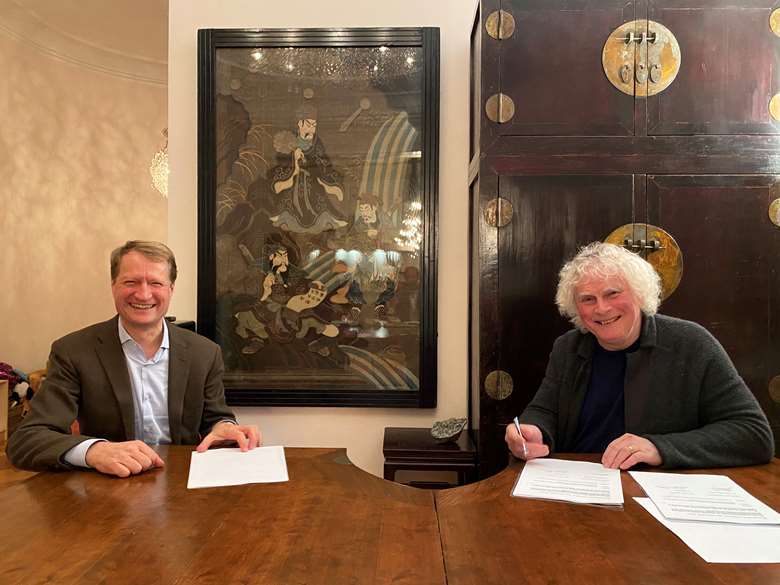 Sir Simon Rattle has been appointed Chief Conductor of the Munich-based Bavarian Radio Symphony Orchestra and its Chorus with effect from the 2023-24 season. The initial contract is for five years. He will step down from his role as Music Director of the LSO in 2023 and assume the title Conductor Emeritus.
Rattle has enjoyed a close relationship with the Bavarian orchestra since 2010, and together they've given many concerts including Wagner's Das Rheingold and Die Walküre as well as Mahler's Das Lied von der Erde, recordings of which have all been released on the orchestra's own BR-Klassik label.
Talking about the appointment, Rattle said 'I am thrilled to accept the position of Chief Conductor of the Symphonieorchester and BR Chorus. It is an honour to succeed Mariss Jansons in this role, and I look forward to leading these wonderful musicians for many years to come.'
In a statement issued by the LSO, Rattle said that 'My reasons for accepting the role of Chief Conductor in Munich are entirely personal, enabling me to better manage the balance of my work and be close enough to home to be present for my children in a meaningful way. I love the London Symphony Orchestra. I remain committed to the LSO, and we have plans for major projects in the coming years. I am thrilled that we will be making music together far into the future.'
The BRSO's Intendant, Ulrich Wilhelm, said 'With his passion, artistic versatility and winning charisma, he will be a most worthy successor to Mariss Jansons. Our Chorus and the Symphonieorchester look forward enormously to developing the artistic concept for the new concert hall in Munich's Werksviertel Mitte together with Sir Simon, who is peerless in his advocacy for bringing the joy of music to people in new ways. I see this appointment as an important and forward-looking signal, particularly in a time in which the arts have faced unimagined challenges as a result of the ongoing pandemic.'
Rattle first heard the BRSO in October 1970 when Rafael Kubelík brought them to Liverpool to perform Beethoven's Ninth Symphony. 'Attending this concert changed my life,' Rattle recalls. 'Already a Kubelík fan, I was aware of the BRSO through many recordings I had bought. But the orchestra's visit to Liverpool made a profound impression on a teenager who wished to be a conductor – to experience such a symbiotic relationship between conductor and players, and the unanimity of concept and philosophy was as evident as the sheer pleasure the musicians emanated. This concert became a kind of benchmark for me, a goal towards which musicians should strive.
'When in 2010, nearly 40 years later, I found myself standing in front of this orchestra for the first time, playing my beloved Schumann, I felt exactly the same spirit, even though only a couple of players had remained from that time. Kubelík had somehow set the tone, the atmosphere of flexible, refined and loving music making - qualities that have only been amplified by the great conductors who came in between, culminating in my much-missed friend Mariss.'
Sir Simon Rattle will become the sixth Chief Conductor in the history of the BRSO (which was founded in 1949), succeeding Eugen Jochum, Rafael Kubelík, Sir Colin Davis, Lorin Maazel and Mariss Jansons.