St John Passion to be live-streamed from Bach's Leipzig church on Good Friday
Tuesday, April 7, 2020
Leipzig Bach Festival stages unique concert project involving 2020 festival musicians and Bach lovers worldwide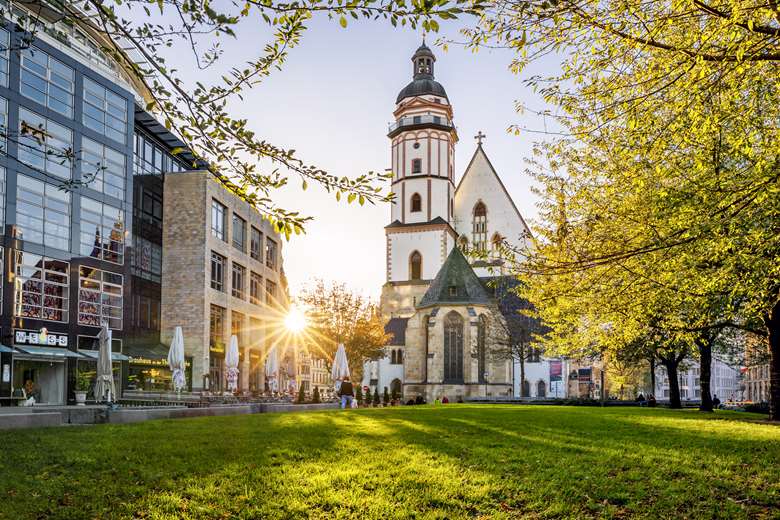 On Good Friday, 1724, JS Bach's St John Passion was performed for the first time, in the St Nicholas Church, Leipzig. This year, history will be rewritten with 'Passion, proof against the pandemic', a live-streamed chamber-music version of the work, performed beside Bach's tomb in the city's St Thomas Church. Organised by the annual Leipzig Bachfest, the performance will take place on Good Friday at the hour of Jesus's death – 3pm (CET).
The Artistic Director of Bachfest, Prof Dr Michael Maul, was determined to give the global Bach community a chance to actively participate in a Bach Passion despite the necessary cancellation of the festival due to the Covid-19 pandemic. The original intention had been to perform the PODIUM Esslingen-produced version for tenor, harpsichord, organ and percussion in Leipzig's Market Square on June 13 with 5000 people singing along. Now, it will be brought forward to April 10, the four musicians being joined by five singers led by Thomaskantor Gotthold Schwarz. In addition, artists and choirs who had been due to perform at the 2020 festival, entitled 'BACH – We Are FAMILY', will be participating via video link. These include David Chin, whose Bachfest Malaysia musicians will be contributing a chorale, and Ton Koopman, who said: 'I know how hard my colleagues have worked during the past two years on preparations for Bachfest … It is [a] great thing that in 2020 I'll be able to take part at least once during Holy Week in a performance of a Bach Passion!' Icelandic tenor Benedikt Kristjánsson, meanwhile, who will take on the role of the Evangelist and all the other characters, said: 'I have dreamed of singing in St Thomas's Church. On the coming Good Friday this dream will be fulfilled in unimaginable circumstances. I am very grateful and hope that Bach lovers all over the world will sing with me.'
And indeed, anyone who wishes to sing can do just that. The sheet music for the chorales is, alongside programme notes, being provided by the Bach Archive and publishers Carus-Verlag, accessible via the Carus-Verlag website. It's an opportunity for musicians – professional and amateur alike – to celebrate Bach's extraordinary music. Moreover, since the event is being supported by donations by various institutions and foundations, it's a means of providing financial support for numerous freelance musicians (the group in the cultural sector most severely affected by the consequences of the pandemic). In addition, donations will be collected during the streaming which, over the coming weeks and months, will enable freelancers to take part in different musical offerings and streaming formats in the Leipzig locations where Bach worked.
'At this year's Bachfest, nearly 50 Bach choirs from all continents were to make music together in all kinds of ways,' said Prof Dr Maul. 'By advancing this special production of the St John Passion to Good Friday, we hope to have the global Bach family singing together at least once virtually – at the right time, in the right place. Of this I am certain: it will be a very moving event for all of us.'
The performance will be live-streamed via the Bach Archive's Facebook channel. MDR Kultur and MDR Klassik will be video-streaming this special concert from 3pm (CET) via the Internet as well as on Facebook, and will broadcast a recorded version on the radio at 7pm (CET) and on MDR television at midnight (CET). The concert will then be available on ARD Mediathek. The concert will also be broadcast on ARTE Concert. 
(This story was amended on April 8 to correct the location of the St John Passion's first performance)