The 2016 Gramophone Classical Music Awards Shortlist
Gramophone
Monday, August 1, 2016
All is revealed: the top six recordings in each of the 12 categories as voted for by our esteemed panel of critics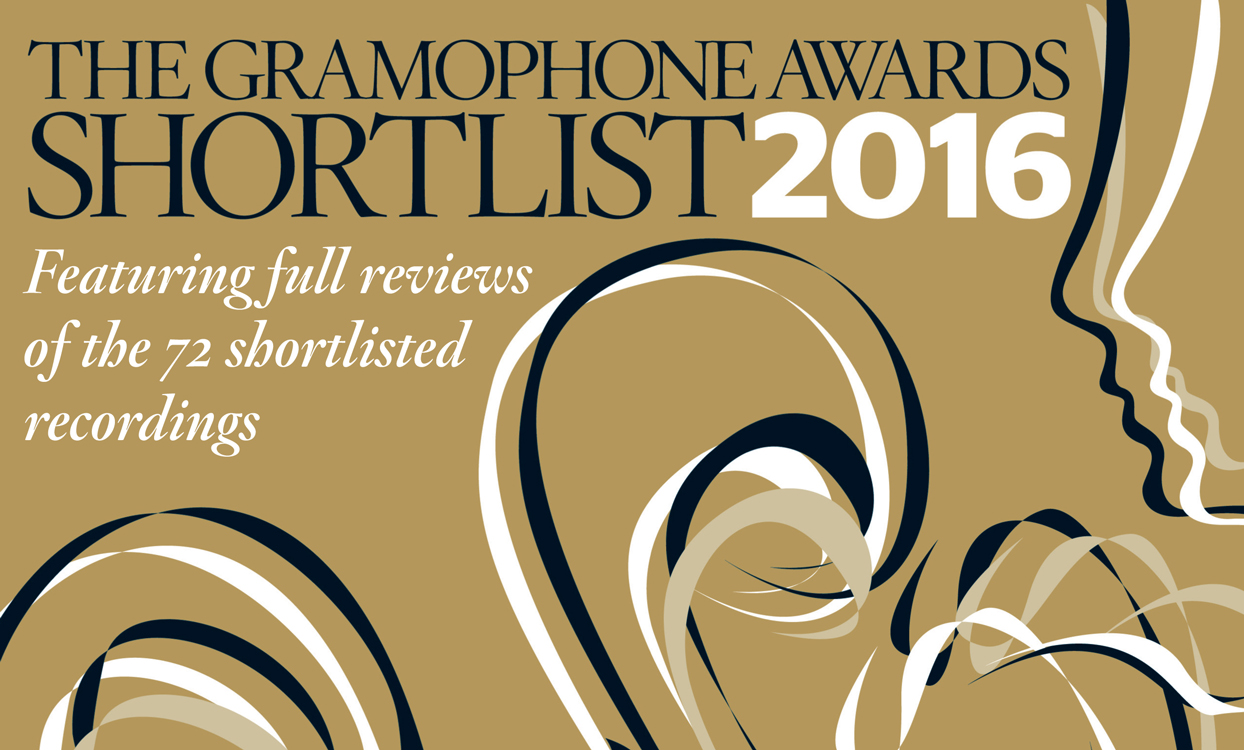 The Gramophone Awards are the most prestigious in the world of classical music. Today, we are pleased to reveal the 72 shortlisted recordings that will be competing for honours in 2016.
This year, for the first time, there are two ways for you to enjoy the Gramophone Classical Music Awards Shortlist. Firstly, you can read and download our free digital magazine, which includes every review of every album, via the Gramophone app (for iPad and iPhone users) or the Exact Editions website. Alternatively, follow the links in the list below to read the original Gramophone reviews via the Reviews Database (for a limited time, you can read up to 10 reviews for free – subscribe for full access to the Reviews Database).
The top three recordings in each category will be revealed in the September issue, which goes on sale on August 12. Happy listening!
The Shortlist
Baroque Instrumental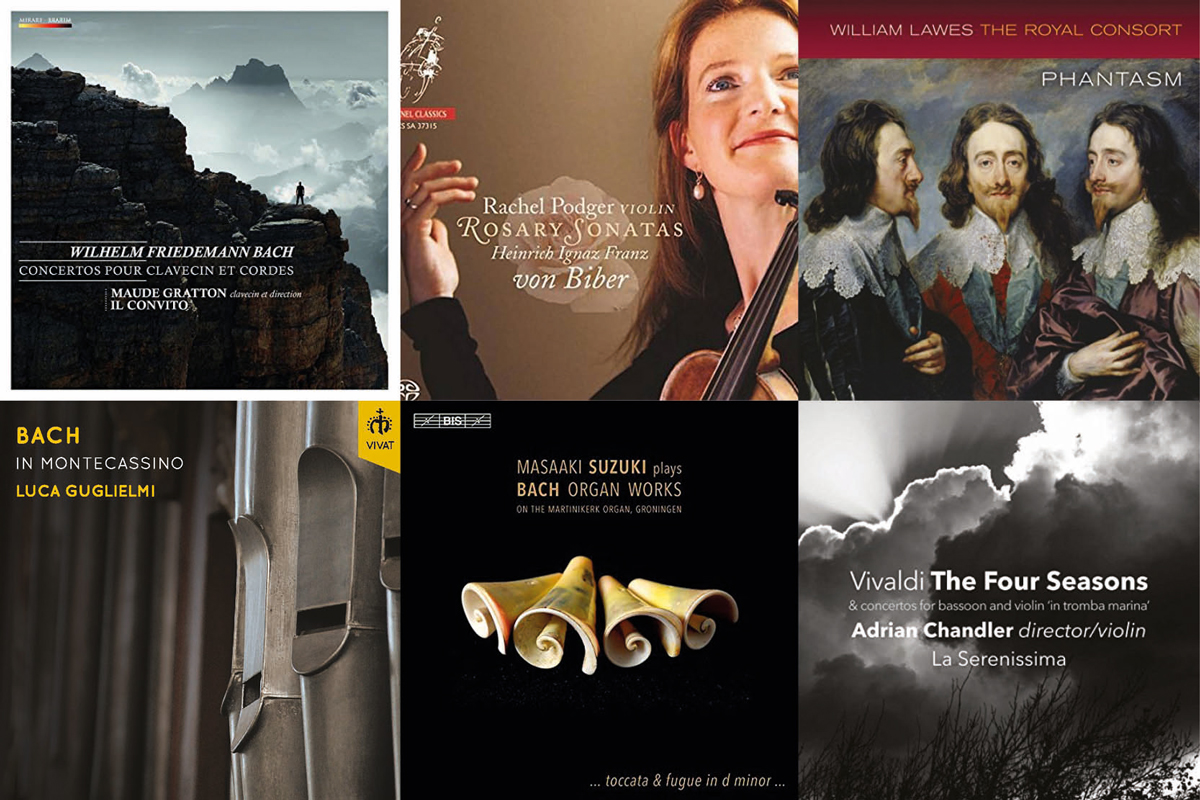 'Bach in Montecassino' Luca Guglielmi (Vivat)
JS Bach Organ Works Masaaki Suzuki (BIS)
WF Bach Harpsichord Concertos Il Convito / Maude Gratton (Mirare)
Biber Rosary Sonatas Rachel Podger et al (Channel Classics)
Lawes The Royal Consort Phantasm (Linn)
Vivaldi Four Seasons etc Adrian Chandler / La Serenissima (Avie)
Baroque Vocal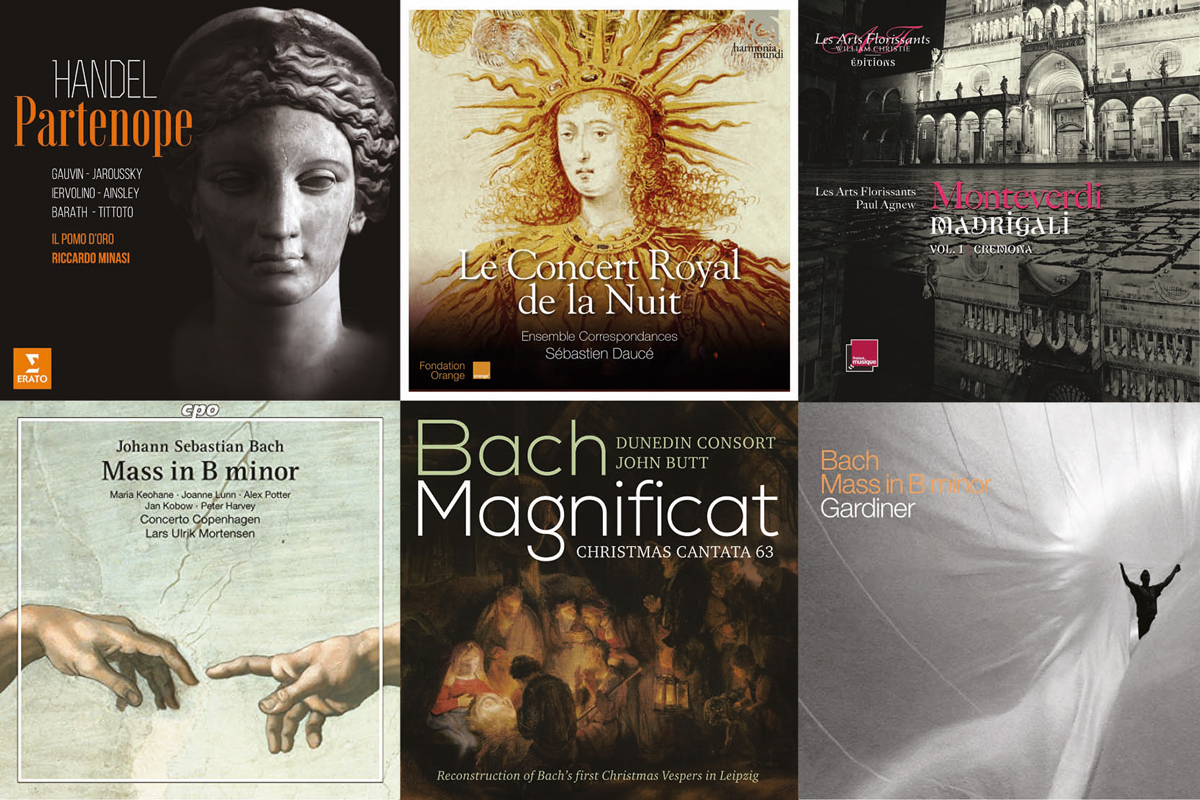 JS Bach Magnificat in E flat etc Dunedin Consort / John Butt (Linn)
JS Bach Mass in B Minor Concerto Copenhagen (CPO)
JS Bach Mass in B minor Monteverdi Choir; EBS / Sir John Eliot Gardiner (SDG)
Handel Partenope Il Pomo d'oro / Riccardo Minasi (Erato)
Monteverdi Madrigali, Vol 1 – Cremona Les Arts Florissants / Paul Agnew (Les Arts Florissants)
'Concert Royal de La Nuit' Ensemble Correspondences / Sébastian Daucé (Harmonia Mundi)
Chamber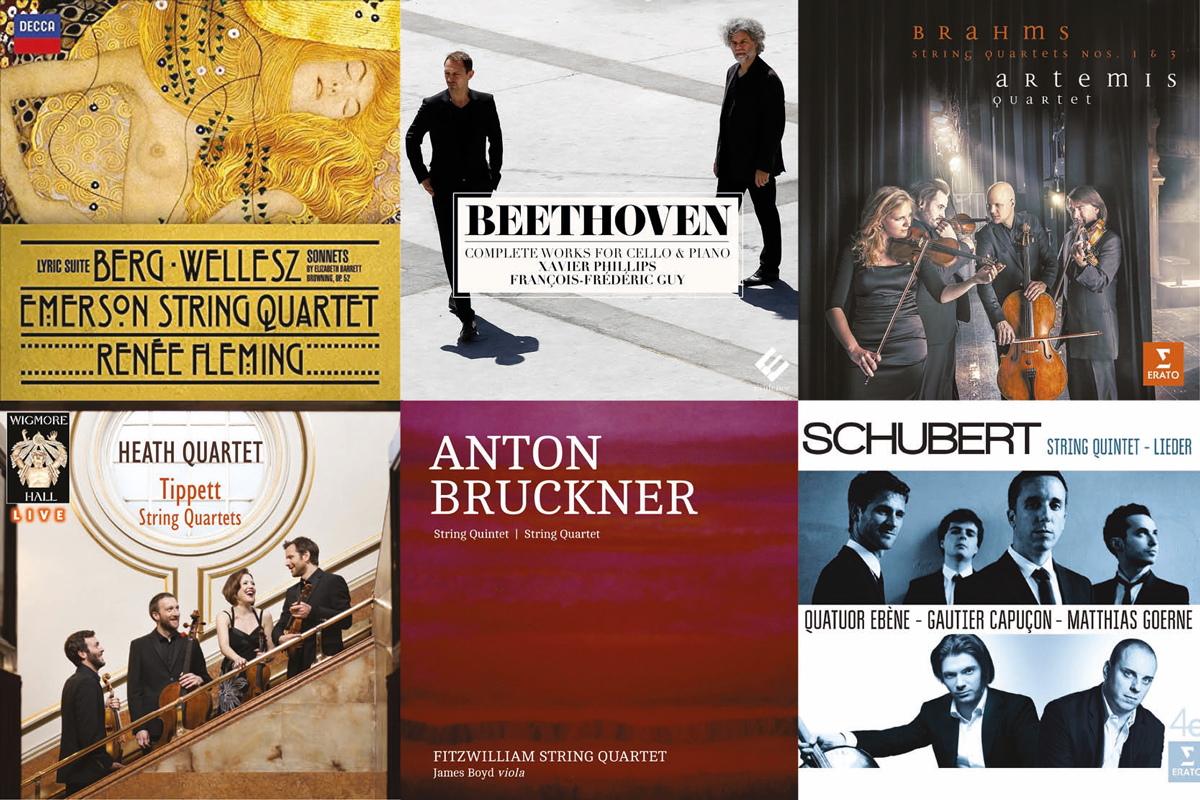 Beethoven Cello Sonatas Xavier Phillips; François-Frédéric Guy (Evidence Classics)
Berg Lyric Suite. Wellesz Sonnets Renée Fleming; Emerson Quartet (Decca)
Brahms Quartets Nos 1 & 3 Artemis Quartet (Erato)
Bruckner String Quintet. String Quartet Fitzwilliam Quartet; James Boyd (Linn)
Schubert String Quintet etc Quatuor Ebène; Gautier Capuçon (Erato)
Tippett String Quartets Heath Quartet (Wigmore Hall Live)
Choral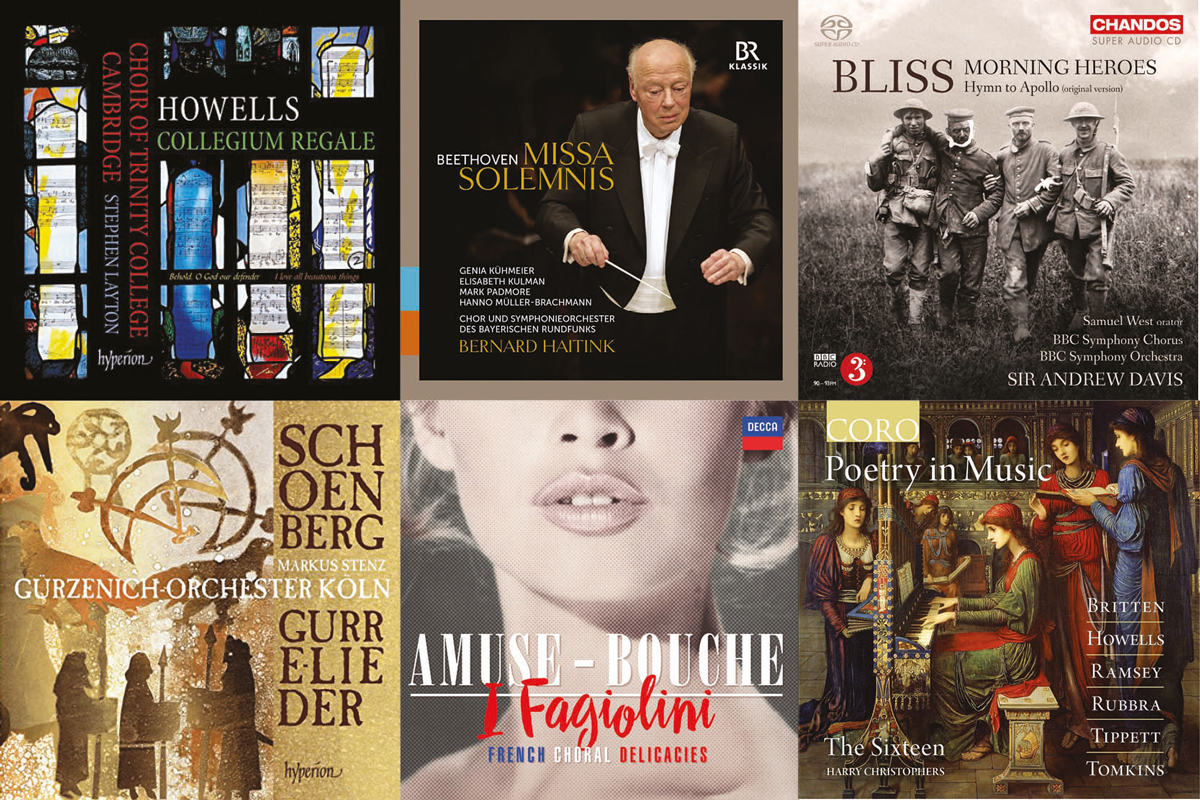 Beethoven Missa solemnis Soloists, BRSO & Chor / Bernard Haitink (BR-Klassik)
Bliss Morning Heroes etc BBC SO & Chorus / Sir Andrew Davis (Chandos)
Howells Collegium Regale etc Trinity College Choir, Cambridge / Stephen Layton (Hyperion)
Schoenberg Gurrelieder Gürzenich-Orchester Köln / Markus Stenz (Hyperion)
'Amuse-Bouche' I FagiolinI / Robert Hollingworth (Decca)
'Poetry in Music' The Sixteen / Harry Christophers (Coro)
Concerto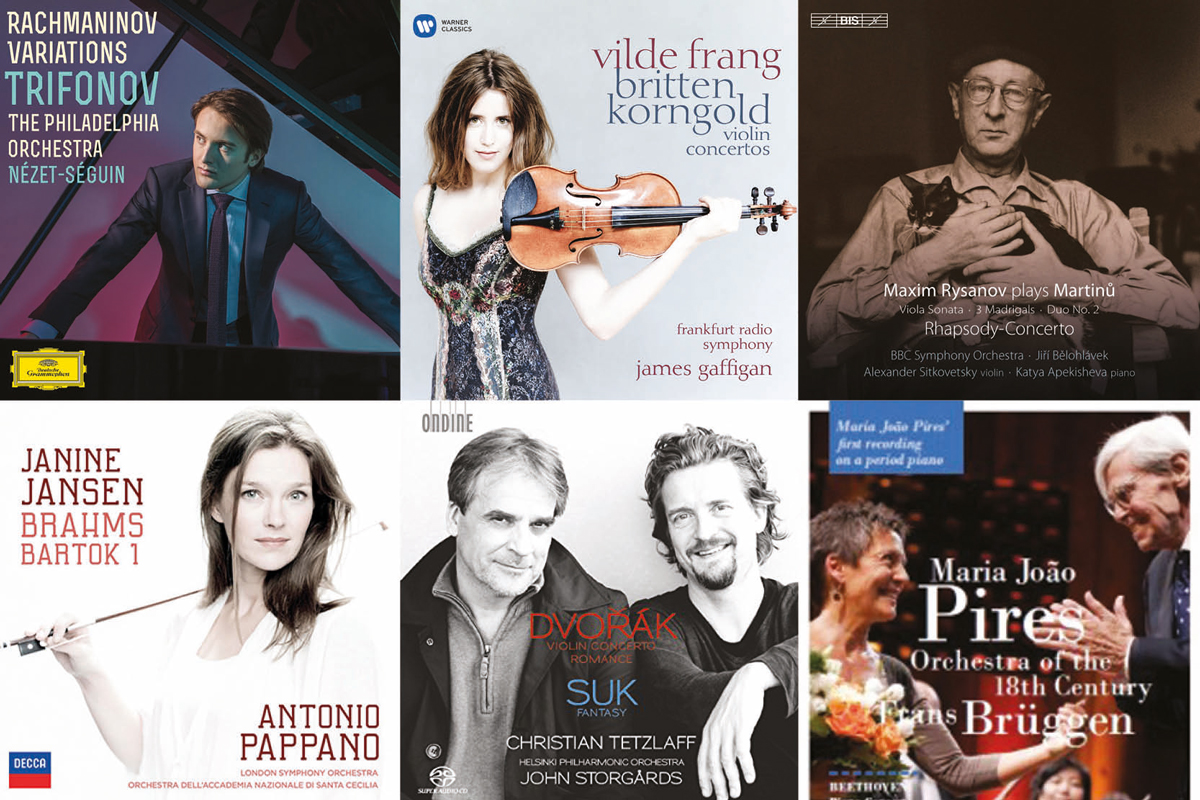 Bartók Violin Concerto No 1 Brahms Violin Concerto Janine Jansen; LSO, Santa Cecilia Orch / Sir Antonio Pappano (Decca)
Beethoven Piano Concerto No 3 Maria João Pires; Orchestra of the 18th Century / Frans Brüggen (NIFC)
Britten. Korngold Violin Concertos Vilde Frang; Frankfurt RSO / James Gaffigan (Warner Classics)
Dvořák Violin Concerto. Romance Suk Fantasy Christian Tetzlaff; Helsinki PO / John Storgårds (Ondine)
Martinů Rhapsody Concerto etc Maxim Rysanov; BBC Symphony Orchestra / Jiři Belohlávek (BIS)
Rachmaninov Variations Daniil Trifonov, Philadelphia / Yannick Nezet-Séguin (DG)
Contemporary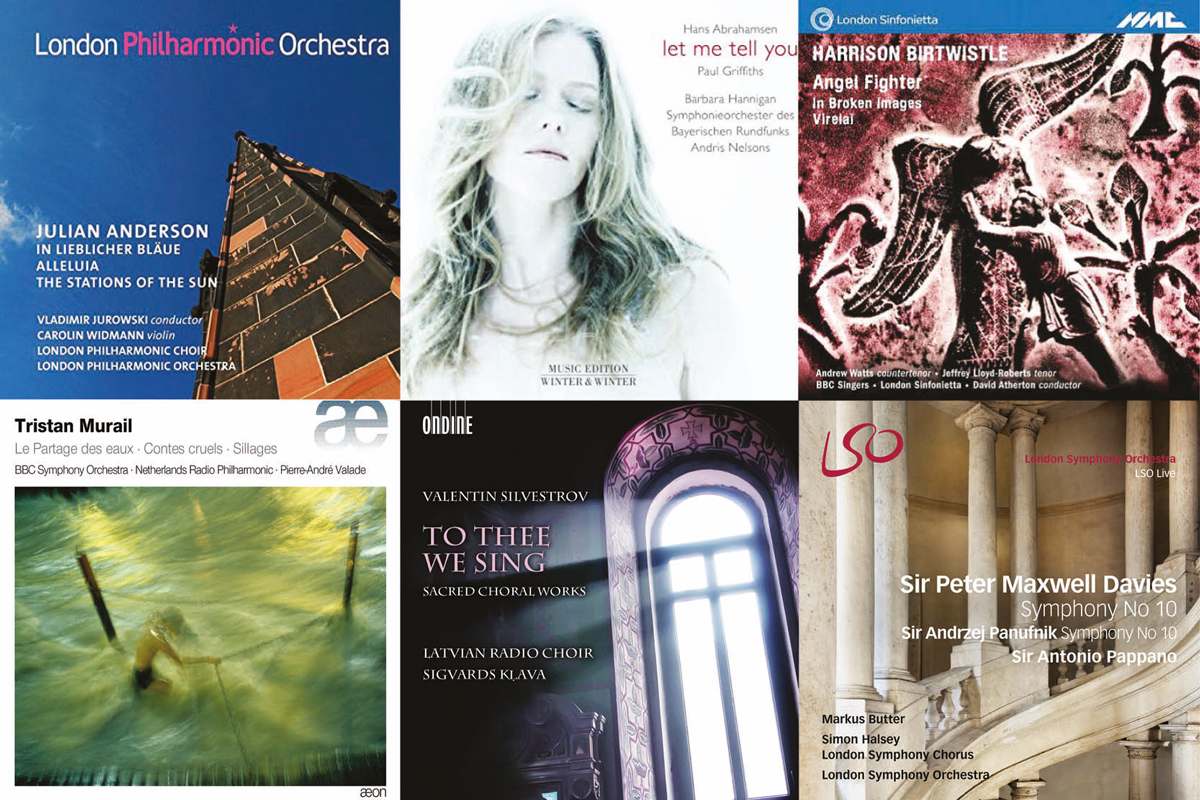 Abrahamsen let me tell you Barbara Hannigan; BRSO / Andris Nelsons (Winter & Winter)
Anderson In Liebliche Bläue, Alleluia etc LPO / Vladimir Jurowski (LPO)
Birtwistle Angel Fighter etc Soloists, London Sinfonietta / David Atherton (NMC)
Maxwell Davies. Panufnik Symphonies Nos 10 LSO /Sir Antonio Pappano (LSO Live)
Murail Le Partage des eaux, Contes cruels etc BBC SO, Netherlands Radio PO / Pierre-André Valade (Aeon)
Silvestrov To thee we sing Latvian Radio Choir / Sigvards Kļava (Ondine)
Early Music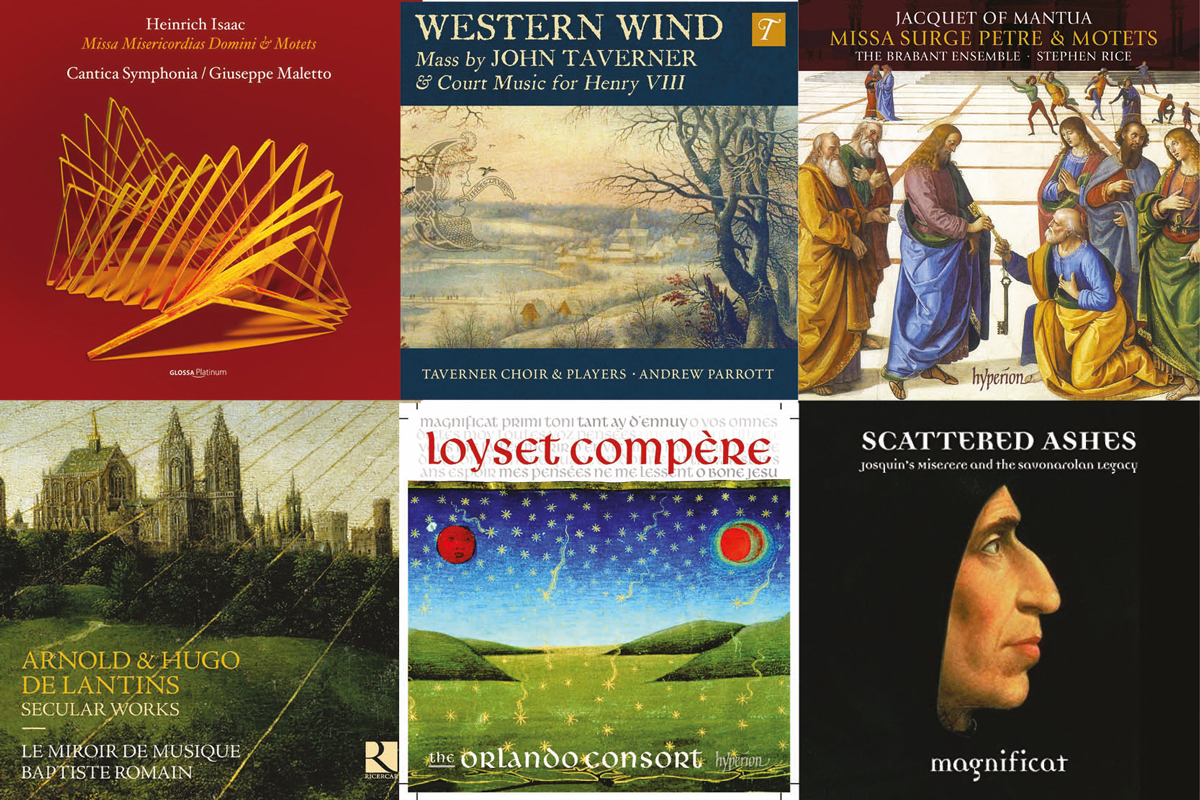 Compère Magnificat, motets & chansons Orlando Consort (Hyperion)
Isaac Missa Misericordias Domini etc Cantica Symphonia / Giuseppe Maletto (Glossa)
Jacquet of Mantua Missa Surge Petre & Motets Brabant Ensemble / Stephen Rice (Hyperion)
Lantins Secular Works Le Miroir de Musique (Ricercar)
Taverner Western Wind Taverner Choir & Players / Andrew Parrott (Avie)
'Scattered Ashes' Magnificat / Philip Cave (Linn)
Instrumental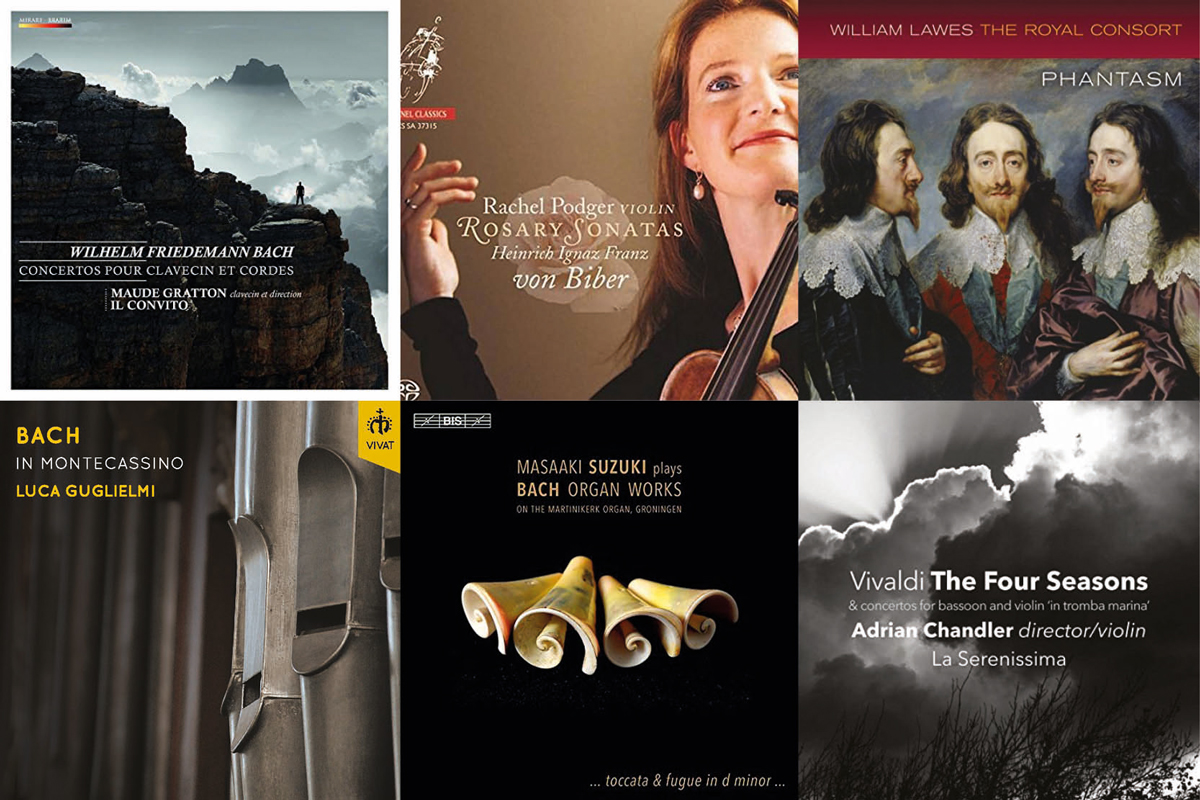 Bach. Beethoven. Rzewski Variations Igor Levit (Sony Classical)
Brahms Solo Piano, Vol 3 Jonathan Plowright (BIS)
Grieg Lyric Pieces Stephen Hough (Hyperion)
Ravel Complete Works for Solo Piano Bertrand Chamayou (Erato)
Scarlatti Sonatas Yevgeny Sudbin (BIS)
Ysaÿe Sonatas Alina Ibragimova (Hyperion)
Opera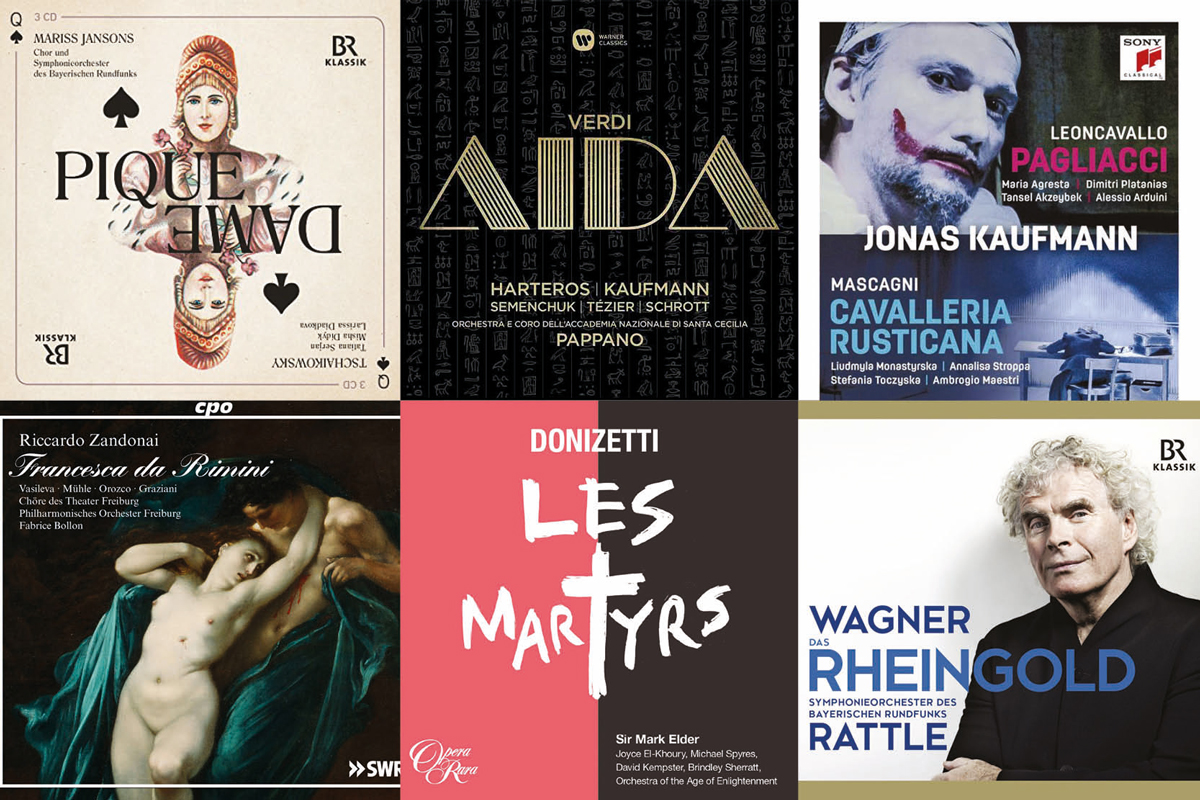 Donizetti Les martyrs Sir Mark Elder (Opera Rara)
Leoncavallo Pagliacci Mascagni Cavalleria rusticana Christian Thielemann (Sony Classical)
Tchaikovsky The Queen of Spades Mariss Jansons (BR Klassik)
Verdi Aida Sir Antonio Pappano (Warner Classics)
Wagner Das Rheingold Sir Simon Rattle (BR-Klassik)
Zandonai Francesca da Rimini Fabrice Bollon (CPO)
Orchestral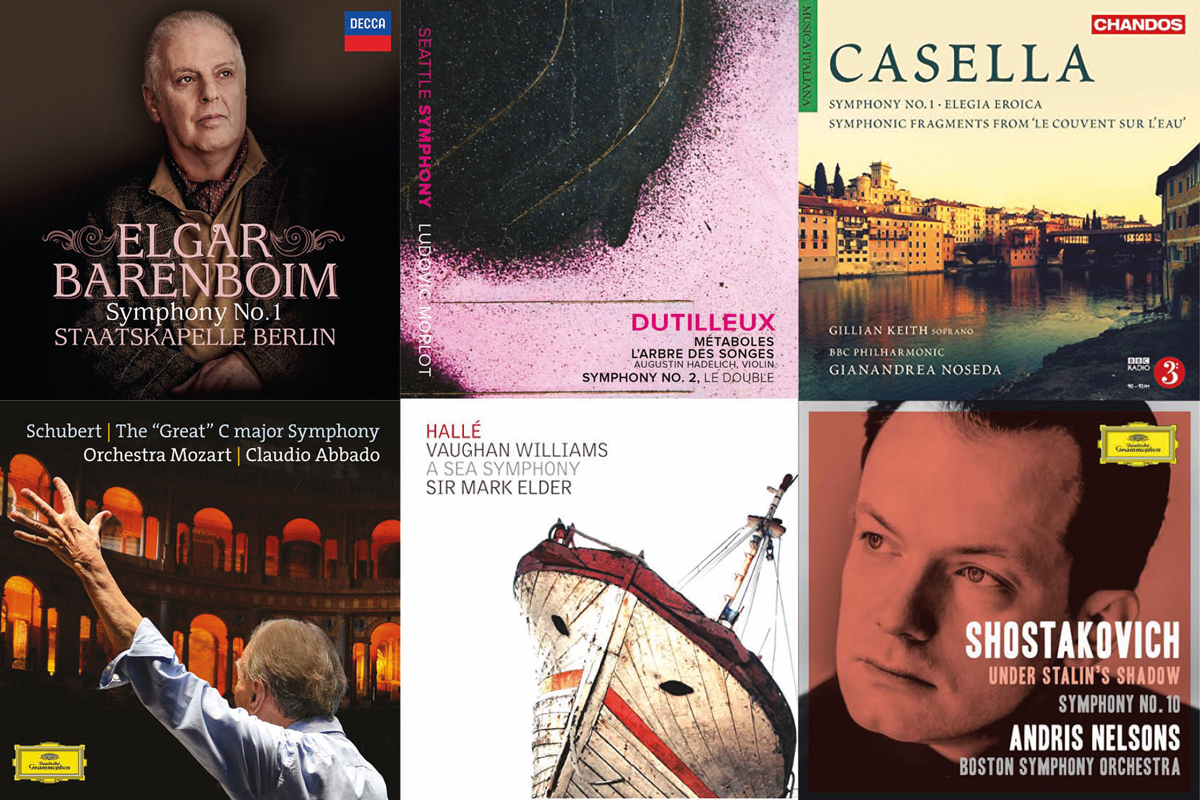 Casella Orch Works, Vol 4 BBC PO / Gianandrea Noseda (Chandos)
Dutilleux Métaboles. Symphony No 2 etc Seattle SO / Ludovic Morlot (Seattle Symphony Media)
Elgar Symphony No 1 Staatskapelle Berlin / Daniel Barenboim (Decca)
Schubert Symphony No 9 Orchestra Mozart / Claudio Abbado (DG)
Shostakovich Symphony No 10 Boston SO / Andris Nelsons (DG)
Vaughan Williams Sea Symphony Hallé / Sir Mark Elder (Hallé)
Recital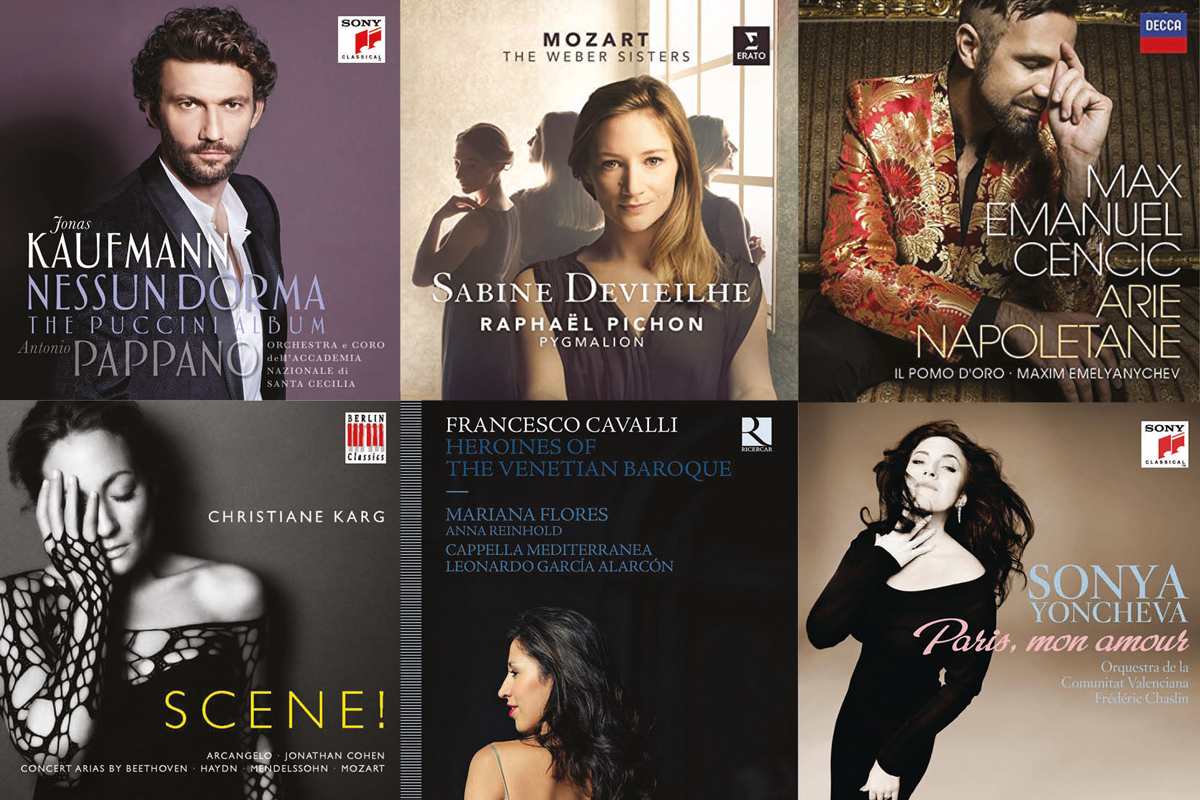 'Arie Napoletane' Max Emanuel Cencic; Il Pomo D'Oro / Maxim Emelyanyachev (Decca)
'Scene!' Christiane Karg, Arcangelo / Jonathan Cohen (Berlin Classics)
Cavalli Heroines of the Venetian Baroque Mariana Flores, Cappella Mediterranea / Leonardo Garcia Alarcon (Ricercar)
Mozart & the Weber Sisters Sabine Devieilhe; Pygmalion / Raphäel Pichon (Erato)
'Paris, mon amour!' Sonya Yoncheva; Orquestra de la communicat Valenciana / Fréderic Chaslin (Sony Classical)
Puccini Album Jonas Kaufmann; Santa Cecilia Orch / Sir Antonio Pappano (Sony Classical)
Solo Vocal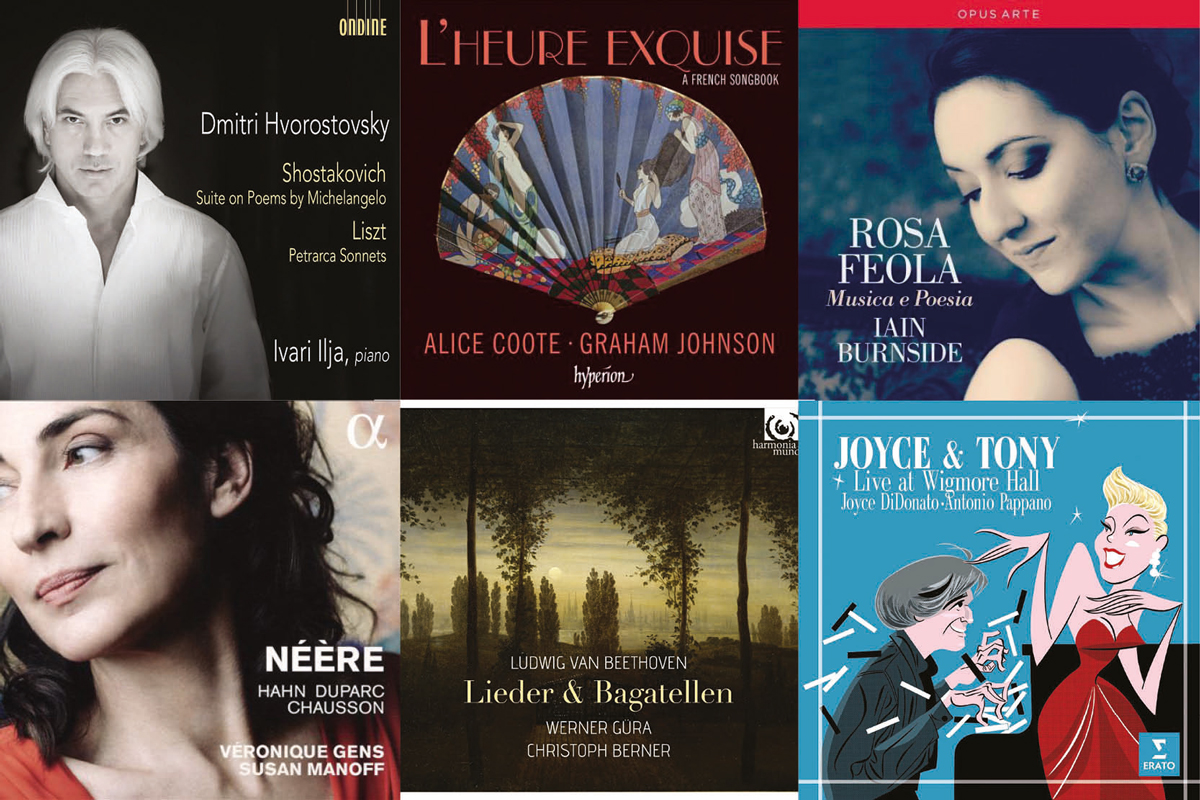 'Joyce & Tony' Joyce DiDonato; Sir Antonio Pappano (Erato)
Beethoven Lieder und Bagatellen Werner Güra; Christoph Berner (Harmonia Mundi)
'L'Heure Exquise' Alice Coote; Graham Johnson (Hyperion)
Liszt. Shostakovich Michelangelo Songs Dmitri Hvorostovsky; Ivari Ilja (Ondine)
'Musica e poesia' Rosa Feola; Iain Burnside (Opus Arte)
'Néère' Véronique Gens; Susan Manoff (Alpha)