The Gramophone Classical Music Awards 2020 Shortlist is revealed!
James Jolly
Tuesday, September 1, 2020
We are pleased to present the 60 recordings shortlisted for Gramophone Classical Music Awards this year in our FREE digital magazine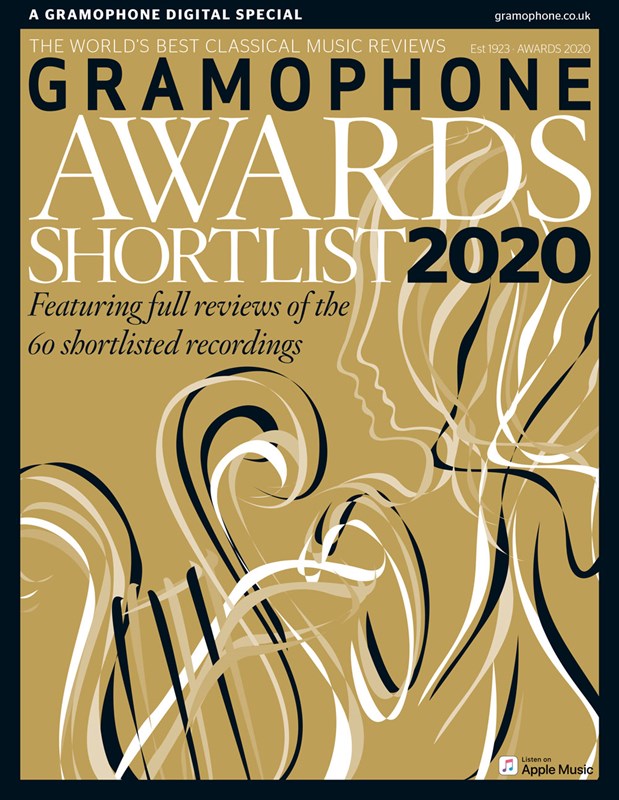 We will all look back on 2020 with a mixture of emotions, many sad and very worrying; but there have been a few positives in these strange times. Of course, live music all but stopped for months, but recorded music experienced a surge and that is our meat and drink at Gramophone.
The 2020 Gramophone Classical Music Awards, presented with Apple Music, E. Gutzwiller & Cie, Banquiers and Help Musicians UK, will take place as usual, though the live event will be replaced by a virtual ceremony (our experience of hosting a Lockdown Charity Gala earlier in the year will no doubt prove invaluable). It will take place on the evening of October 6, so make a note and do join us on Medici TV, as well as our own social media channels.
Today, we have published a special digital magazine (free to access) containing the original Gramophone reviews of all 60 of the shortlisted recordings and it is the perfect guide to many of the most outstanding classical releases from the past year (June 2019 to May 2020). 
►Explore the 2020 Gramophone Awards Shortlist
Beethoven was supposed to be the composer of the year – symphony cycles, piano sonata series, new stagings of Fidelio and so much more were planned. But if any composer can withstand a 'year off' it's Beethoven, as one thing he never suffers is neglect. The record companies have ensured that while his music has been silent in the concert halls, it's in plentiful supply on record and in the 2020 Shortlist digital magazine you'll encounter vital and transformative performances of his piano concertos, piano sonatas, Violin Concerto, violin sonatas and Teodor Currentzis's thrilling Fifth Symphony. They take their place alongside the finest recordings released over a 12-month period.
The bulk of reviews are linked to Apple Music so you can read our critics' comments and listen to the music (and you can avail yourself of a free three-month subscription as part of the process). For the first time, our jury of critics has gone totally digital – every recording has been listened to online, and when we convened by Zoom earlier this month, the general feeling was that this has been a very rich year musically. I've certainly drawn enormous pleasure, and in these disconcerting times, powerful spiritual nourishment from so many of the musicians represented here – it's made me crave even more to chance to hear them live once again once we return to some semblance of normal. Music's voice is a strong one and demands to be heard.
►Read the FREE Gramophone Awards 2020 Shortlist digital magazine