The Kanneh-Masons, Olivia Colman and Michael Morpurgo unite for new album
Friday, September 18, 2020
Decca release to feature Carnival of the Animals with new poems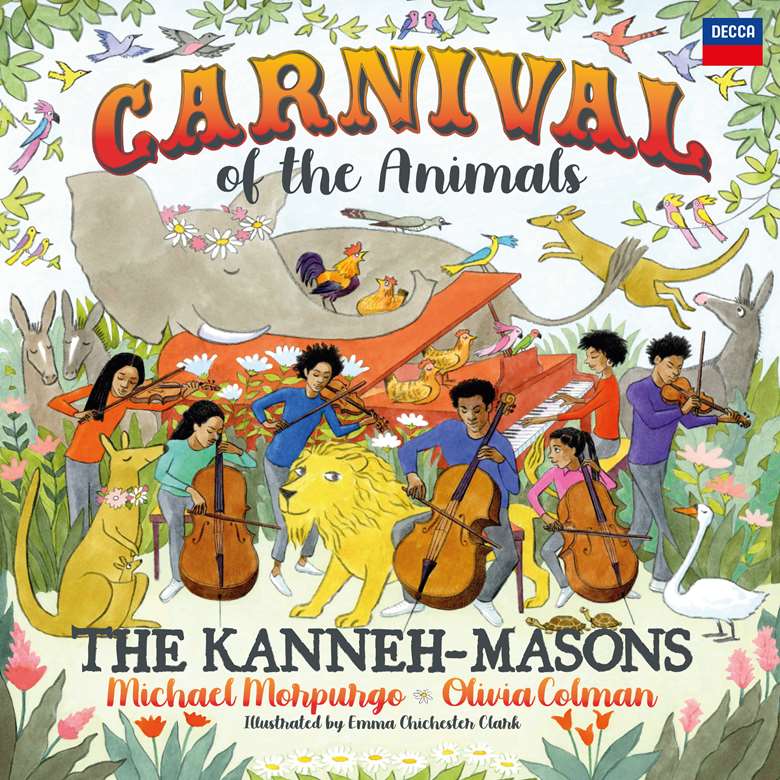 A new album from Decca, due on November 6, will united the Kanneh-Mason siblings with Academy Award-winning actor Olivia Colman and children's author Michael Morpurgo.
The album features new poems written by Morpurgo to accompany Saint-Saëns's Carnival of the Animals. Morpugo himself will join Colman in reciting the poems. It also features Morpurgo's Grandpa Christmas story, set to music for the first time using pieces including the Dance of the Sugar Plum Fairy and Flight of the Bumblebee, with Morpurgo reading the role of Grandpa and the youngest Kanneh-Mason, Mariatu, reading his granddaughter. A further inclusion will be the Kanneh-Masons' own arrangement of Bob Marley's Redemption Song, marking 40 years since its release in 1980. The album's artwork, meanwhile, has been specially commissioned from children's illustrator Emma Chichester Clark
Two of the extraordinarily-talent Kanneh-Mason family have both featured in Gramophone – cellist and BBC Young Musician of the Year-winner Skehu, most recently discussing his recording of Elgar's Cello Concerto, and pianist Isata for her recording of the music of Clara Schumann [which she discussed with Editor Martin Cullingford on a Gramophone podcast]. For the recording in London's Abbey Road studios they were joined by siblings violinist Braimah, pianist and violinists Konya and Aminata, and pianist and cellists Jeneba and Mariatu, to make their first release together as a family.
On working with the Kanneh-Masons, Morpurgo says, 'These young people are remarkable, not because they are young, not because they are the seven siblings from one family, but simply because they make magnificent music together, and it is evident they love doing it. Hear them and you know it. See them and you know it.'
You can watch a performance from Carnival of the Animals below.