8 captivating Barbara Hannigan videos
Hattie Butterworth
Tuesday, October 4, 2022
We take a look at the top videos featuring our 2022 Artist of the Year, Barbara Hannigan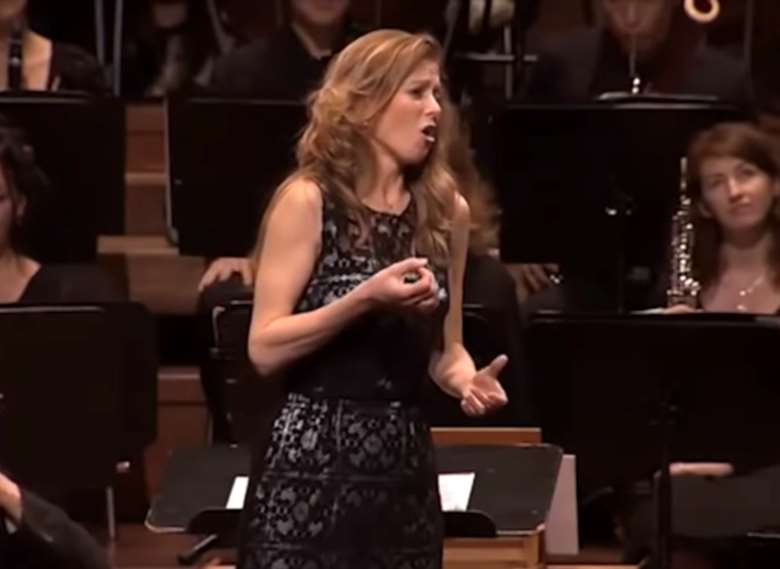 Ligeti Mysteries of the Macabre
Avanti! Chamber Orchestra / Barbara Hannigan
Barbara Hannigan's contemporary music specialism goes beyond vocal agility in this performance with the Avanti! Chamber Orchestra. Coming from Ligeti's only opera, 'Mysteries of the Macabre' encompasses comedy, and the performance art of contemporary opera. Hannigan remodels atonality as her vessel for audience communication and this performance enhances the spectacle, dressing here as a dominatrix.
---
Gershwin Girl Crazy Suite
LUDWIG Orchestra / Barbara Hannigan
Showcasing her incredible virtuosity, the Girl Crazy Suite, has become a real signature of Hannigan's. Conducting alongside singing the Gershwin songs, she enters into an alliance with the players, her breathing becoming the means by which they mould around each other.
---
NPR Music Tiny Desk Concert
The NPR Tiny Desk concerts are intimate video performance of all music genres, recorded live at the desk of Bob Boilen. Joining the likes of Adele and BTS by performing in the DC studio, Hannigan's 'Tiny Desk' performance includes the last of Alexander Zemlinsky's 13 Lieder, 'Empfängnis' and Alma Mahler's 'Licht in der Nacht', part of the composer's Vier Lieder. Alongside these are works by Wolf and Schoenberg.
---
Stravinsky Anne's Aria (The Rake's Progress)
The immediate effect of Hannigan's collaboration with the Ludwig Orchestra in this video of Anne's Aria (No Word From Tom) from Stravinsky's The Rake's Progress is the intimacy created through Hannigan's voice as the orchestra are seamlessly blended. They respond to her as soloist in a way that an addition of a conductor may inhibit.
---
Berg Lulu Suite
LUDWIG Orchestra / Barbara Hannigan
A 30 minute trailer for Berg's huge 3.5 hour opera, Alban Berg's Lulu suite has become another work of immense importance to Hannigan. Speaking in an artist portrait video for the London Symphony Orchestra, she explains the complex and misunderstood character of Lulu to be a very important and inspiring character for her, both as a singer and actress. 
---
Hans Abrahamsen Let Me Tell You
Barbara Hannigan sop Berlin Philharmonic / Andris Nelsons
This cycle for soprano and orchestra by the Danish composer Hans Abrahamsen, commissioned by the Berlin Philharmonic and dedicated to Barbara Hannigan. This video showcases the true virtuosity of Hannigan's voice with incredible extremes of range, as well as depicting the tragic character of Orphelia from Shakespeare's Hamlet, the play on which the libretto is based.
---
Haydn Symphony No 49, 'La Passione'
Orchestre Philharmonique de Radio France / Barbara Hannigan
Hannigan conducts Orchestre Philharmonique de Radio France in a performance of Haydn's Symphony No 49. Conducting without a baton and entering the orchestra's sound through depth of listening, Hannigan's style is utterly new and fascinating to watch.
---
Richard Ayres In the Alps
Netherlands Blazers Ensemble / Barbara Hannigan 
This depiction of Richard Ayres' melodrama, In the Alps, sees Hannigan raised above the musicians as a young alpine woman who, stranded in the alps as a baby, is taught to sing by animals. British composer Ayres's music combines folk and popular music of the Alpine region, as well as displaying narrative projections in the style of a silent film.
---