A new concerto recording – by you. Introducing Tomplay...
Sponsored
Wednesday, July 28, 2021
Instrumentalists of all levels can now play with the stars – duetting with Daniel Barenboim and Martha Argerich, or playing concertos and chamber music with professional ensembles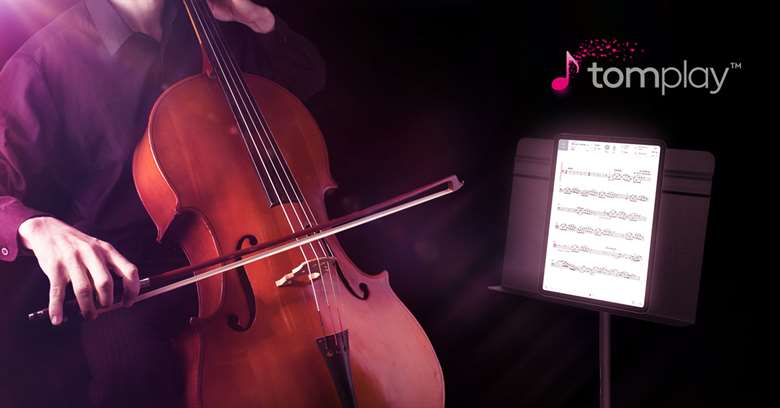 Ever wanted to play Mozart's A major piano concerto – with an entire orchestra accompanying you, at your chosen tempo? Well, now you can – and without spending your savings hiring the Vienna Philharmonic. You'll also have a pristine recording to show for it.
Tomplay sheet music was always more than an app. Thanks to its new association with the illustrious record label Deutsche Grammophon, instrumentalists of all levels can now play with the stars – duetting with Daniel Barenboim and Martha Argerich, or playing concertos and chamber music with professional ensembles.
At the heart of Tomplay's product is a score that scrolls automatically on screen, with high-quality recordings embedded. The app's unique interactive technology now allows musicians to play along to a single or multi-instrument accompaniment, and much more besides.
Improve Your Playing and Singing
There's little more dispiriting than learning a concerto – or one half of a four-hand piano work – without an orchestra or duet partner for company.
Tomplay Sheet Music can help solve that. As well as offering more than 30,000 interactive scores for immediate download to iPad, iPhone, Android, Mac or PC, the app now allows you to fill in the gaps in your ensemble playing.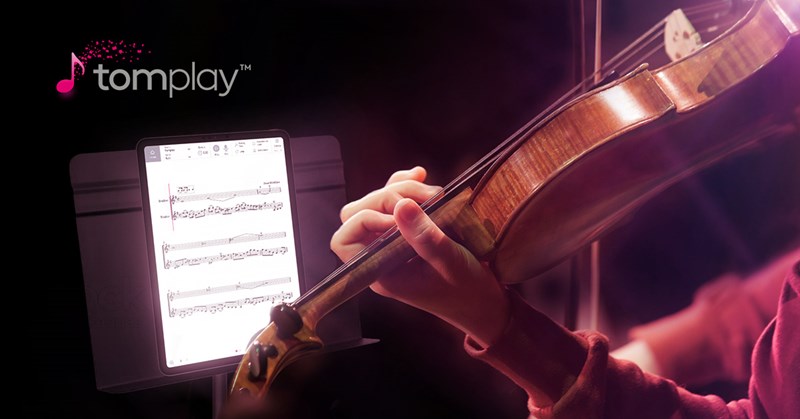 You can have an orchestra accompany your concerto performance at a tempo of your choosing, or explore a wide variety of solo piano pieces via the Tomplay Piano Sheet Music catalogue – all with the possibility of practising with one hand and having the other hand filled in by the app. Perhaps you'd like a solo duet partner? Maybe you're an instrumentalist in search of a piano accompanist? Tomplay can provide both. Suddenly, practice has a whole new dimension.
As standard, you can record your performances and share them with Tomplay's online community of over a million users. You can even annotate your scores on screen, and print them out for added security.
Focus on Skills
Learning an instrument is about hard work. Tomplay doesn't teach instrumentalists how to play or singers how to sing. It is a tool for fast-tracking skills that can often be difficult for advancing musicians to attain – and just when they need them most.
The app will help you or your pupil read and listen to music at the same time. It allows players to repeat difficult corners or passages on a loop, focusing on technique and muscle memory. It even helps with intonation, coming with a tuner and metronome built in.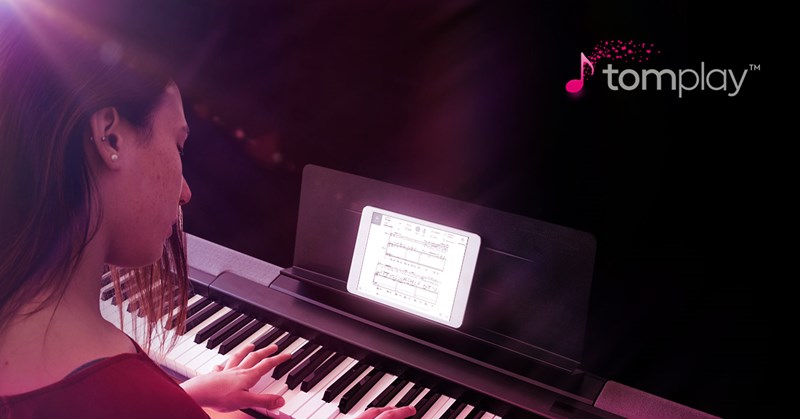 Best of all, Tomplay solves the age-old problem of collaboration and regular ensemble performance – particularly at a time when it has been hard to get musicians together. The app offers growing musicians the precious opportunity to hone collaborative musicianship through virtual ensemble performances. After all, it can be hard to get musicians together, even at a conservatory. It can be even harder to persuade them to play with you through the night – and again the next day.
That's one reason the app is already being used at conservatories and music schools around the world. For teachers, Tomplay stimulates students to practice more between formal lessons, to explore the repertoire and to get inspired by performances by other musicians – from Yehudi Menuhin to Hilary Hahn.
A World of Music
Tomplay Sheet Music puts a world of music at your fingertips, in both score or recorded form. The app includes separate libraries for 26 instruments. It offers repertoire to suite a range of abilities and taste, from staples of the classical repertoire to jazz, film music, world music and pop and folk genres including klezmer.
Whichever way you choose to use Tomplay, you'll save money on scores and can benefit from a range of packages including monthly or yearly subscriptions and discounts for groups.
So instead of practicing alone, why not join a network of 1 million musicians in 60 countries? You could end up with your very own recording of a Mozart concerto to show for it…
Discover Tomplay on Mac or PC
Download Tomplay IOS app
Download Tomplay Android app