Bamberger Symphoniker | Gramophone's Orchestra of the Year 2021 Nominee
Monday, July 19, 2021
Jakub Hrůša has continued the work of his predecessor in maintaining this fine Bavarian orchestra's crisp ensemble and impressive fire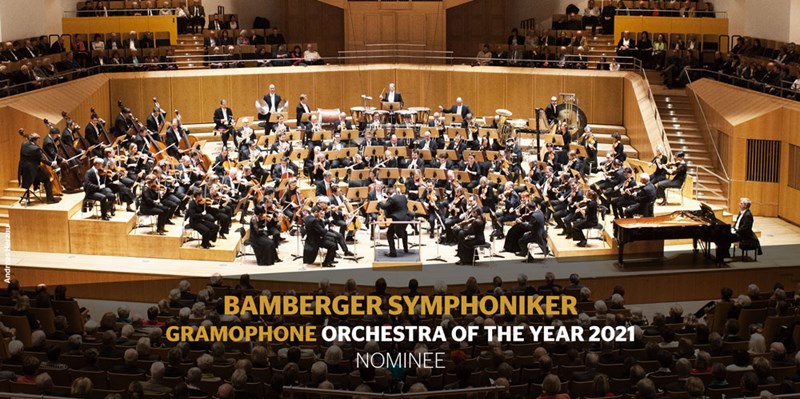 Gramophone's Orchestra of the Year Award is the only Gramophone Classical Music Award decided by public vote. The 10 orchestras nominated this year are: Academy of Ancient Music, Accademia Bizantina, Bamberger Symphoniker, Berliner Philharmoniker, The Cleveland Orchestra, Minnesota Orchestra, Orchestre symphonique de Montréal, Philharmonia Orchestra, Singapore Symphony Orchestra and Tonhalle-Orchester Zürich.
This week, we focus on Bamberger Symphoniker ...
Introduction
Jakub Hrůša (Chief Conductor since 2016) has continued the work of his predecessor in maintaining this fine Bavarian orchestra's crisp ensemble and impressive fire. Music from Hrůša's native Czech Republic, where the orchestra also has its roots, brings out the pungency of its sound. Martinů violin concertos, with Frank Peter Zimmermann, earned the orchestra January's Recording of the Month, while April's Mahler Fourth found David Gutman saluting playing that 'combines forensic scrutiny with a readier embrace of tenderness and geniality'.
Recommended Albums
Martinů Violin Concertos
Zimmermann; Bamberg SO / Hrůša
'This is, for me, the top recommendation for these two works and, frankly, is how Martinů should always be played ...' (Guy Rickards)
Read the review in the Reviews Database
Mahler Symphony No 4
Richter; Bamberg SO / Hrůša
'One is conscious that this is a Central European orchestra with a distinctive Czech-German pedigree. Not that Hrůša smooths over the contradictions present in the notation at the outset. The first movement retains an element of out-of-doors indeterminacy, ready to take us along any one of several paths  ...' (David Gutman)
Read the review in the Reviews Database
Bamberger Symphoniker Playlist
Enjoy recent highlights from the Bamberger Symphoniker in our exclusive Apple Music playlist.
Apple Music offers a three-month free trial to new subscribers and with its vast catalogue of recordings – plus the addition of lossless audio and Spatial Audio, offering an immersive audio experience from 44.1kHz/16-bit (CD quality) up to 192kHz/24-bit – it is the perfect music streaming platform for anyone who loves classical music. Find out more and start your free trial here: Apple Music 
Listen to all of the Orchestra of the Year playlists on Apple Music: Orchestra of the Year 2021
Vote for the Bamberger Symphoniker
You can cast your vote for Gramophone's Orchestra of the Year 2021 either using the voting form below or by following this link: 2021 Orchestra of the Year Vote


---
Welcome to Gramophone ...
We have been writing about classical music for our dedicated and knowledgeable readers since 1923 and we would love you to join them.
Subscribing to Gramophone is easy, you can choose how you want to enjoy each new issue (our beautifully produced printed magazine or the digital edition, or both) and also whether you would like access to our complete digital archive (stretching back to our very first issue in April 1923) and unparalleled Reviews Database, covering 50,000 albums and written by leading experts in their field.
To find the perfect subscription for you, simply visit: gramophone.co.uk/subscribe
---