Beatrice Rana interview: 'Music is very subjective; opinions are very subjective. But this is brought to the extreme in competitions'
Hugo Shirley
Thursday, December 5, 2019
For the remarkably focused yet perfectly 'normal' Italian pianist Beatrice Rana, music programmes are journeys. She tells Hugo Shirley about following the path of Ravel and Stravinsky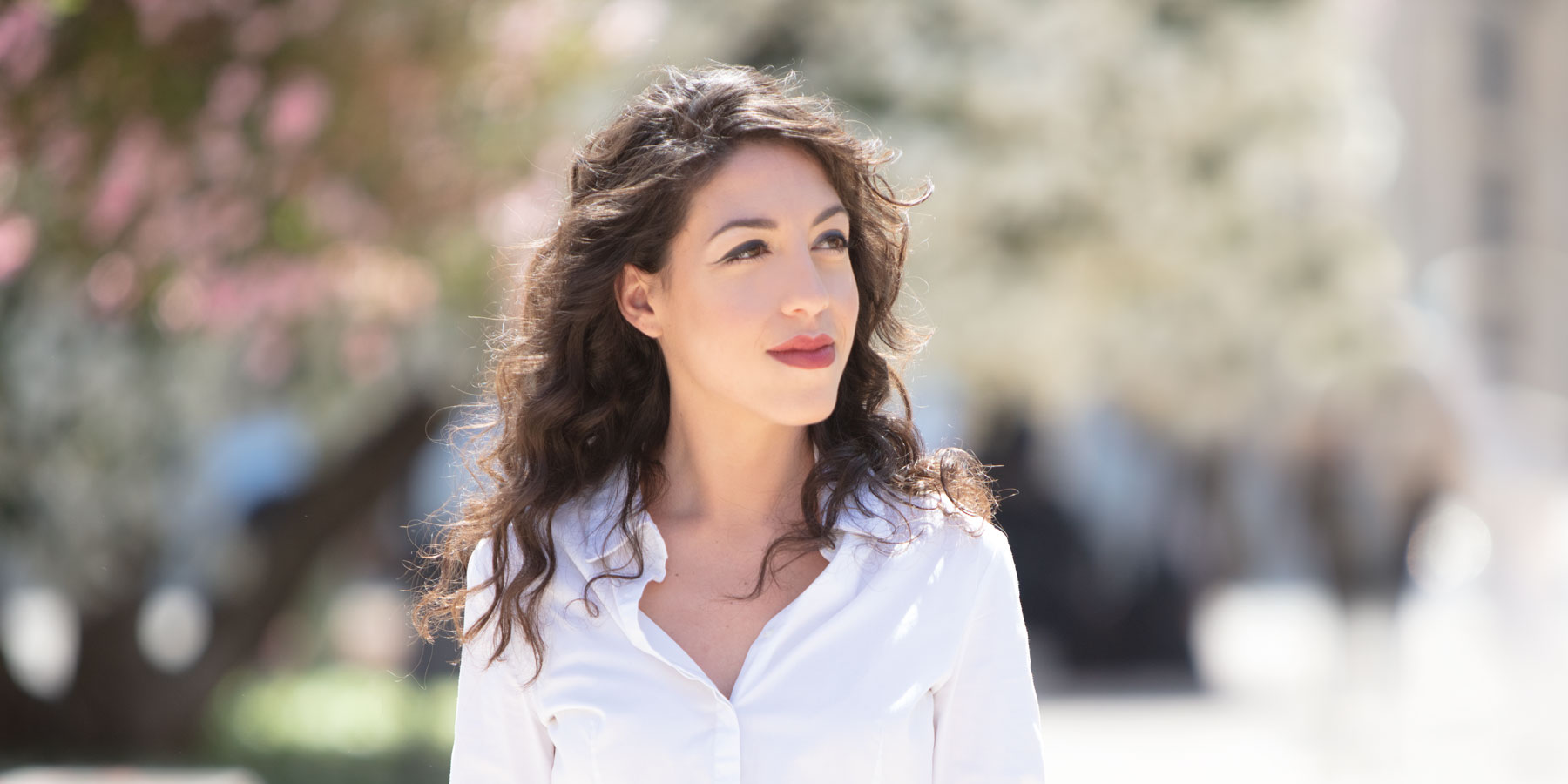 Photo: Parlophone Records
Beatrice Rana seems in many ways the epitome of the modern musician. Still just 26, she combines technical brilliance (her debut on Warner Classics coupled Tchaikovsky's First Piano Concerto with Prokofiev's super-virtuoso Second) and intelligence with a refreshingly no-nonsense professionalism. There's steely determination and clearly no shortage of ambition – without which such achievements as hers would be impossible. But she's also strikingly, well, normal: as she arrives for our interview in the Warner Classics offices in Paris she comes across as straightforwardly and genuinely friendly and personable.
She's just flown in from Rome, where she now lives, and with barely a pause we are ushered into a meeting room to start talking. No ceremony, no faff, no fluster about us already being behind schedule – she's as cool as a cucumber. It brings to mind the previous occasion we met. I was invited to catch the end of her recording sessions for Bach's Goldberg Variations at Berlin's Teldex Studio. By the time I'd arrived, though, she'd already finished and was using the remaining time to shoot – calmly, professionally – trailer videos for the release.
Rana's Goldberg Variations earned an Editor's Choice in these pages (4/17), as did that earlier coupling of Russian concertos with Antonio Pappano conducting his Orchestra dell'Accademia Nazionale di Santa Cecilia (12/15). And more recently, Pappano's set of the Bernstein symphonies, on which Rana tackles the eclectic piano part of the Second (The Age of Anxiety), was Recording of the Month (9/18). 'She has the razzle-dazzle in spades,' wrote Edward Seckerson of the pianist's contribution, 'but it is the mercurial throwaway manner … that really excites.' For her new album she stays in the 20th century, looking to its turbulent early decades with a programme that calls on those same playing qualities, and more.
Intriguingly, though, three of the four works included were not originally composed for the piano. Ravel's Miroirs is juxtaposed with the composer's own piano version of his 'poème chorégraphique' La valse; and Stravinsky is represented by music from two of his ballets: the composer's own fearsome Three Movements from Petrushka and Guido Agosti's virtuosic arrangement of the 'Danse infernale', Berceuse and finale from The Firebird.
'There are so many reasons why I decided to do the programme,' she explains when I ask about her choices. 'First of all, I've always been fascinated by the piano literature from the beginning of the 20th century. It's a period of great change, and every composer elaborates this in a very personal vocabulary of sounds.' The repertoire on the album, she argues, reflects a 'big period of crisis', particularly La valse (1920). 'Here you have the explanation of what's going on at the time. It's written as a prediction, even though it's the last of the four pieces to be composed. It's a description of society in collapse, of that time when, especially in a city like Paris, everything was happening so fast. Ravel had arrived there as a French Basque; Stravinsky had arrived from Russia and, with the Ballets Russes, completely changed the cultural life of the city.'
It was Miroirs (1905), however, that was the starting point. 'I've been playing Miroirs in concert for a long time and have always loved Ravel's music, to listen to and to play – especially the way he describes something very precisely but also with great ambiguity. Even with this early work he's experimenting. It's not just descriptive; for example, "Une barque sur l'océan" is not just about a boat on the ocean, it's also about the light on the ocean, a new concept of music inspired by images.' Although 'Impressionist' is a much contested label, I suggest, one can understand why people use the term. 'Yes, but the writing is also so crystalline. It's like a Swiss clock, with every detail in the music, but at the same time it's like water: there's so much depth.'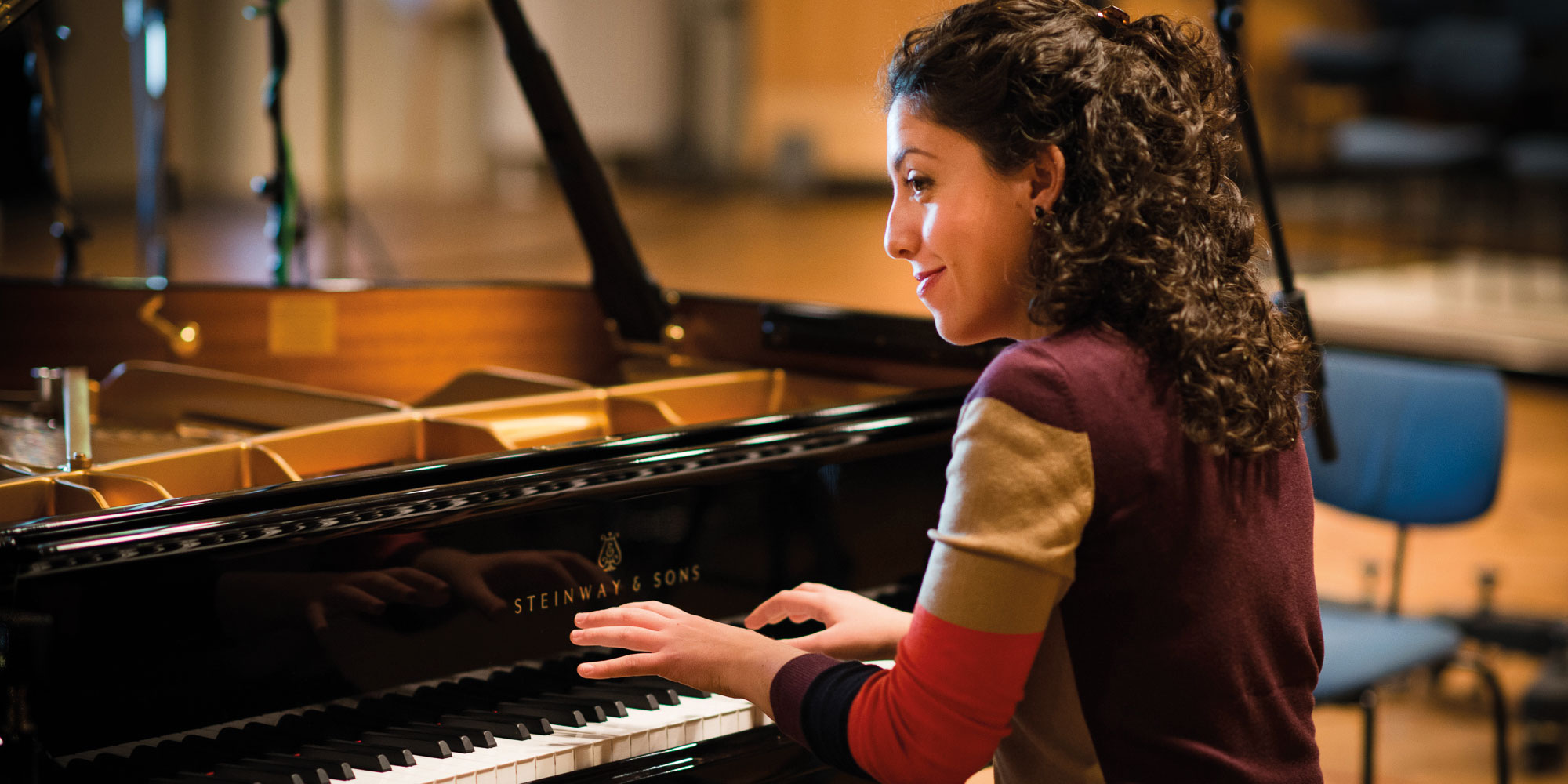 Rana's persona of calm assurance allows her to overcome any obstacles she encounters with ease (photo: Musacchio & Ianniello, Jørn Pedersen/Warner Classics)
I get the impression that Rana feels the links between the works as much instinctively as intellectually. 'I always think of programmes as a journey,' she says. 'It's very difficult to explain in words, but the main concept of this album is duality. In Miroirs you have both perceived and real images; in Petrushka you have the marionette and the human, and the dissonance in the last chord, because you can't resolve everything. And with Stravinsky's music, The Firebird or Petrushka, the music doesn't become just a visual thing, a story or a description – it becomes physical movement, dance.'
There's no shortage of physicality, either, I suggest, in performing these Stravinsky scores – brilliantly virtuosic orchestral showpieces in their original form – on the piano. Rana agrees, but points to the important differences between the two piano versions. 'I think of the Petrushka as a transcription,' she explains, 'while the Agosti Firebird is a "translation" for the piano. For Stravinsky the idea was more important than whether or not it was doable. Both are incredibly challenging, but you can see that for Petrushka the concept was too strong for Stravinsky to renounce anything from the orchestra. And that makes life very difficult for the pianist,' she adds with a laugh. 'But it's just a matter of practice sometimes. Everything is possible, and everything is necessary for what he had in mind.'
She describes Agosti's arrangement as 'an incredible transcription', but it came about very differently. 'It's done by someone who wanted to play the piece, so the approach is that of a pianist who needed to play it.' La valse is a different matter again. 'It's also a transcription, but made by Ravel, who was a terrible pianist. He writes two lines and then, for those brave enough, a third line of options. If you look at just those two lines, it doesn't look so virtuosic. The trouble comes when you want to put in the third line!'
Rana, though, projects such a persona of calm assurance – both in interview and on stage – that such 'trouble' never, one suspects, remains trouble for long. Does she really find it as easy as it seems, I ask, reminding her of those Goldberg sessions. 'Recording the Goldbergs was intense, but in a very different way from this programme,' she admits. 'The Ravel and Stravinsky are also, as we've said, very physical. We have to remind ourselves that being a musician is intellectual in part, emotional of course, as well – but it's also physical. The Goldbergs are challenging on an intellectual and emotional level, which also becomes a spiritual one – but physically, they're not that demanding.'
Matters are helped by the fact that it hasn't taken long for the young pianist to develop a highly effective and impressively pragmatic approach to being in front of the microphone. 'In the recording studio, I always try to be very calm and organised with the schedule. In concert, it happens only once and it either goes well or doesn't; but there's still the aim of communicating with the audience. When I get into the studio, everything changes so much. Of course, you can repeat things a million times and try to get perfection, but at the same time, "perfection" is not really what I'm looking for; I also want it to be as I would do it on stage. But that's the controversial thing: for perfection you need to repeat things many times, but that doesn't work for being emotionally powerful. You should also know very well what you're looking for. There should always be a strong motivation – speaking for myself, at least – to lock yourself in the recording studio.'
For developing her positive attitude to the studio, Rana also benefited from the experience of recording that first Warner album. 'I remember very well the words Tony Pappano said to me that first time we recorded together. It was very intense and we worked so much on the musical ideas and the interpretation. But at one point he told me: "You have to be very smart, because you're not communicating with a person. The microphone isn't sensitive on an emotional level like a person. You can't talk normally to the microphone: you have to seduce it." I think I'll print these words out as many times as I can, because I think this was the most helpful advice I've ever been given. It was a great lesson for me to record my first studio album with him, because I really got the best sense of how to make something that's so unnatural seem natural.'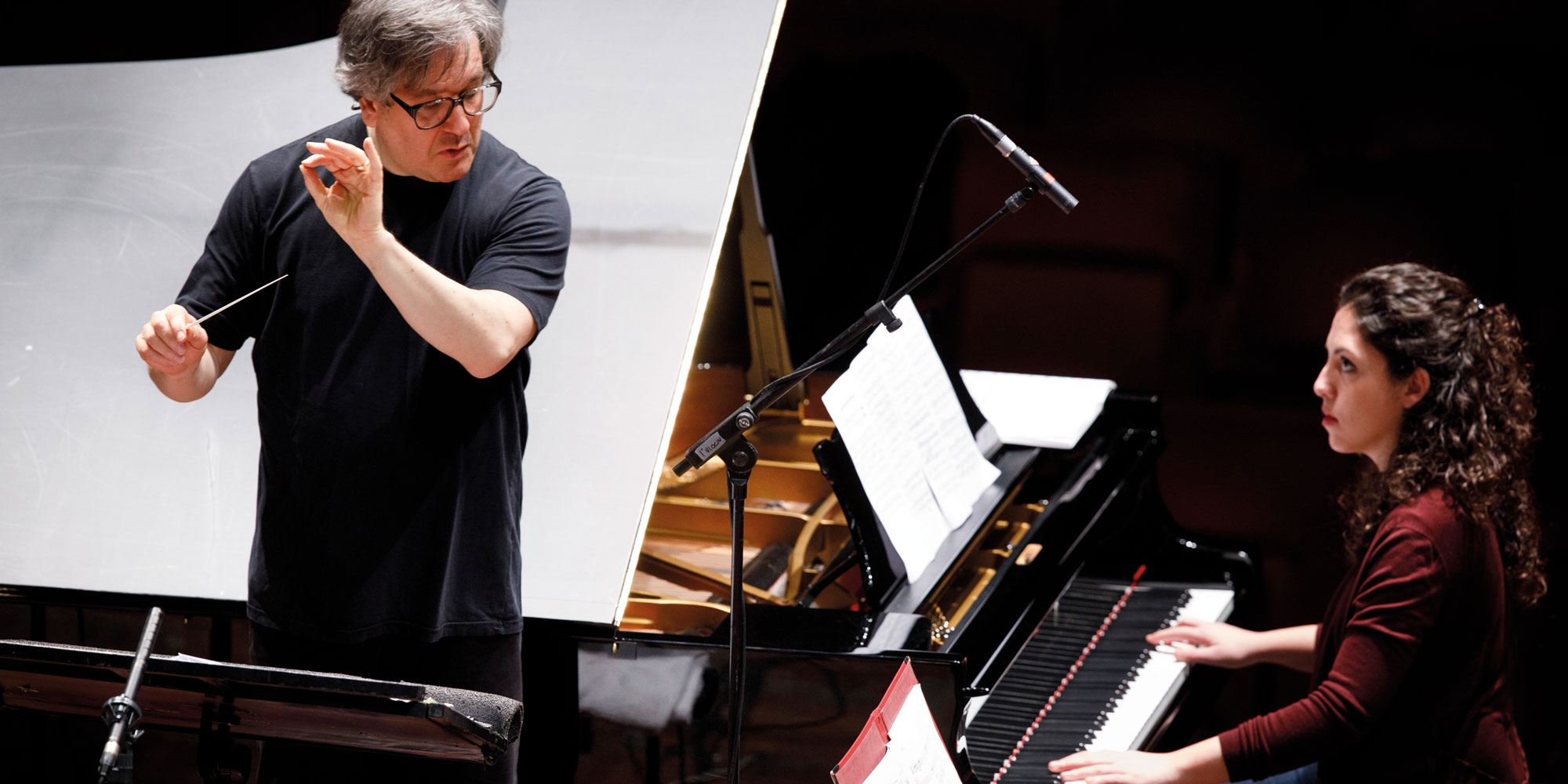 Antonio Pappano, who has worked with Rana on two critically acclaimed discs, has given her some of the most helpful advice she's ever had (photo: Musacchio & Ianniello, Jørn Pedersen/Warner Classics)
Rana's first recordings, however, have their origins in an environment that, one might say, is no less unnatural: the piano competition. An album on ATMA Classique of Scriabin and Chopin (including a superb account of the Op 28 Preludes) came out of her first prize in the piano competition of the 2011 Concours Musical International de Montréal. The Harmonia Mundi recording of Bartók, Ravel and Schumann that followed her silver medal at the 2013 Cliburn Competition commanded attention in these pages: 'Beatrice Rana possesses an old soul that belies her 20 years, and more than a touch of genius,' concluded Jed Distler (2/14).
She laughs when I suggest that at least her competition days are behind her. 'I hope so! But I tell you: you think you're over with competitions, but it's not really true, because every time you go on stage, you're going to play for people who judge you. I don't mean that in a negative way. It's just that everyone has a brain and has ears and can decide whether they like what they're listening to. Music is very subjective; opinions are very subjective. But this is brought to the extreme in competitions.'
Like many, Rana thinks that the number of such contests out there is excessive, and her attitude towards them is characteristically focused. 'They were useful for me, because I got to do what I really wanted, which was to be a concert pianist. That's why I just applied to the ones that would give me concerts afterwards.' They ended up, in fact, bringing a lot more. One juror in Montreal, Jean-Philippe Collard, was instrumental in opening doors, not least to the offices of both her current agent and her label, Warner Classics – or EMI, as it then was. 'He was very enthusiastic and said he'd introduce me to these people and those people, which really helped the magic world of being a concert pianist open up to me.'
Indeed, it becomes clear while talking to Rana that this was the only course she ever wanted to take. She seems a bit stumped when I ask her if there was anything else she ever considered as a career. 'I could have been a good doctor or architect or something else,' she says, politely answering the question, 'but I never really considered it. It's difficult to talk about this, because being born into a musical family makes music so normal. When you're born with something that is in your blood, it's very difficult to stay away from it, and I couldn't think of one day without the piano.'
Both her parents are pianists: her mother a solfège teacher, her father working with singers and in opera houses. 'It's a good contrast, and they make a very good team.' She explains that her father – 'an incredible sight-reader' – was on hand as she learnt the concerto repertoire, on one occasion navigating the full score of
a new concerto by Carlo Boccadoro that his daughter had to learn for a premiere at La Scala, Milan (in January 2017). 'I asked my dad if he could help me, and he just started playing it!'
Part of Rana's balance and maturity, it seems, comes from the fact that she was able to continue with something like a regular childhood while pursuing her music. 'It was very natural for me to start to play, but I also went to normal schools. And I remember one day a friend of mine asked me to come to her apartment to study together (I must have been seven or eight). My mum took me there and as soon as I arrived I noticed that they had no piano. I was completely shocked: "Mama, there's no piano!" She had to explain that not everyone has a piano at home! But for me it was the most natural thing in the world, and that's always been my attitude to music.'
Beatrice Rana: straightforwardly and genuinely friendly and personable (photo: Parlophone Records)
I wonder, though, if there have been any rough patches in Rana's relationship with her instrument. Not really, seems to be the answer. 'I never had problems with the piano,' she says, pondering for a moment as to whether she really wants to expand on her answer. 'I had problems with what I could do with the piano. I always wanted to do better but sometimes couldn't understand how.' She counts herself lucky to have had Benedetto Lupo as a teacher for so long, and for joining his class at the Nino Rota conservatoire in Monopoli, not far from her home in Lecce, at a very early stage. 'He's such a great teacher, and one of the most generous teachers ever. But when someone is generous, you have to repay that generosity by doing everything he asks, and I didn't always succeed at that. I remember once that I didn't succeed at all and I was very angry and couldn't understand why. When you're young, it's sometimes difficult.
'The thing is that learning music is much more than the physical skill you have to learn. It's also an intellectual and critical way of learning the score, and a teacher also needs to help you develop your personality. On top of that there's a very strong psychological element that means you can do it or you can't. That's why there are many great musical minds that unfortunately never make it on to the stage – and also why some that are not the greatest musical minds do make it.' On making that point, she recalls with a laugh an interview which began with the journalist declaring: 'I could have been Pollini, but my psychological aptitude doesn't allow me.' It's an opener I imagine her responding to with a wry smile.
For seven years, Rana's musical training also included studying the famously rigorous composition course that is offered by Italian universities. It's something that she relished: 'I explored so many worlds, and the Renaissance in particular was so mind-opening for me. As pianists we are always used to having a very harmonic, and therefore a very vertical, attitude to music. But at that time in music history there was so much freedom in how these lines were moving so beautifully – independently yet with a common sense of harmony.' It also helped her appreciate even more the composers whose music she plays: 'I remembered myself when I had to compose four-voice fugues. I tell you, it's very hard!'
The composition course was cut short when she moved to continue her studies at the piano mecca that is Hanover's Hochschule für Musik, which took her out of the 'normal environment' in which she'd lived and learnt up until then. Then, and as her international career subsequently took off, Italy remained a constant. And she has recently set up a chamber music festival back home to expand her activity in that area of the repertoire too. 'Chamber music is a very big love,' she says. 'I was born into a musical family and my sister is a cellist, so I grew up making music with other people. I invite friends, most of them are young soloists like me, and we have the time to rehearse together, without the usual pressures. That's like an oasis for me, where I basically do what I want!'
It's an advantage of coming from Italy, I suggest, that it can't be difficult to persuade these colleagues to come and visit. She laughs and admits that one artist she invited this year had asked her if she actually worked for the local tourist board, so well was she promoting the city's charms. It's clearly a win-win situation. 'I make artist friends of mine discover my place, because it's not a place that's usually known for concerts, and show them another love of my life: my country and my home.'
This article originally appeared in the November 2019 issue of Gramophone. Never miss an issue – subscribe today!