Benjamin Grosvenor – Building A Legacy
Tim Parry
Monday, March 16, 2020
His approach to repertoire and tone may be 'old-school' but pianist Benjamin Grosvenor is leaving his mark for future generations, most recently with his recording of the Chopin concertos – Tim Parry catches up with him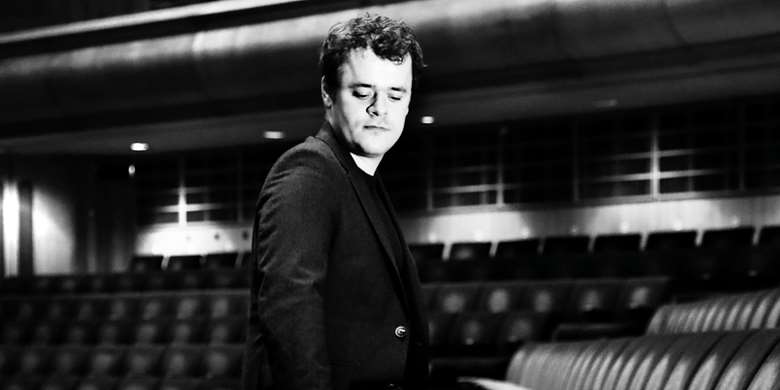 Is there a finer British pianist than Benjamin Grosvenor? We can all play that game, of course, but it's interesting to note that the only other serious contenders are themselves huge fans of his playing. This might suggest that Grosvenor is a kind of 'pianists' pianist' – someone whose qualities appeal primarily to fellow professionals who will fully appreciate the skills and subtleties of his art. But Grosvenor's pianism shines more brightly than that. Indeed, the admiration of music lovers and record buyers is only reinforced by the knowledge that his fellow musicians recognise a unique and authentic talent.
Grosvenor is now 27, still young and with a long career ahead of him. So long ago did he come to widespread attention, when he won the piano category of the 2004 BBC Young Musician of the Year at the age of 11, that in some ways he seems older, and in some ways forever younger – especially for those whose lasting impression is the hopelessly out-of-date image of a prepubescent schoolboy playing the piano impossibly well.
The youngest of five brothers, he started learning with his piano-teacher mother in his sixth year; his natural ability quickly became apparent and he made astonishing progress. In 2001, Christopher Elton – then head of piano at the Royal Academy of Music in London – received an email out of the blue. It read: 'I have been teaching for 20 years and I now have a very young student who is by far the most wonderfully talented I have ever encountered – and what makes it more difficult to write is that this is also my son.' It was not uncommon for Elton to receive letters of recommendation, and he duly followed this up and arranged for the nine-year-old Grosvenor to play for him and his wife, fellow piano teacher Hilary Coates. Any possible scepticism was immediately quashed, as Elton recalls: 'As soon as Benjamin started playing (some Chopin and also a piece by Stephen Hough, if I remember correctly), we both looked at each other, realising this had some rare and extraordinary quality. He was hunched over the piano with raised shoulders – but there was a quality of "vision" even then that shone through all the technical limitations.'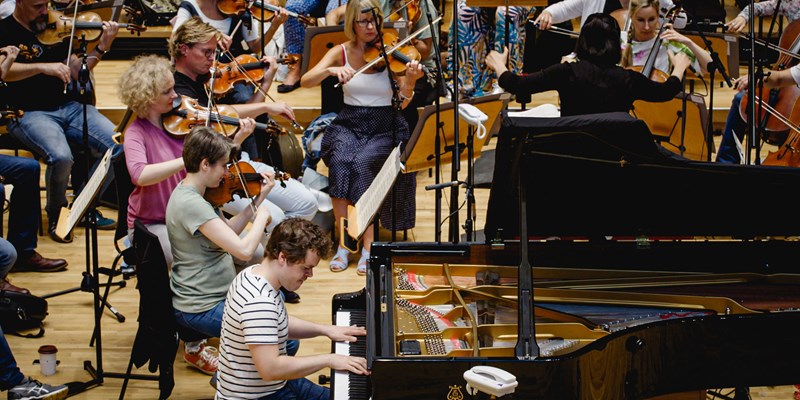 Benjamin Grosvenor records the Chopin piano concertos with Elim Chan and the RSNO (photo: Aram Boghosian)
Grosvenor began lessons with Coates, while Elton maintained a rather distant monitoring role. 'Increasingly we worked in tandem,' Elton continues, 'and things went in an extraordinary accelerating curve.' Grosvenor's success at the BBC Young Musician of the Year in 2004 was a natural progression. Footage of his performances in the piano final can be seen on YouTube: Balakirev's transcription of Glinka's song 'The Lark' reveals a gorgeous cultivation of a singing line, while Carl Vine's Bagatelles are played with a sense of character, colour and assurance that still astonishes. I found this breathtaking at the time, and I wasn't the only one. Noriko Ogawa was on the jury, and she recalls: 'Benjamin's music-making was not only beautiful and mature but there was a very refined form of sadness in the sound. If I were to boil it down to a single word, it would be "magical". His Carl Vine was particularly memorable.' Clare Hammond, then 18 and a fellow competitor, likewise remembers the event: 'I performed second out of five contestants that evening, and Benjamin was fourth, so I was able to pop back in and listen to him after I'd played. I remember seeing him walk out on stage and thinking that he looked even younger than he was! But he didn't come across as a child who had been hothoused, rather as someone with a deep passion for and commitment to music.'
From this point, Elton assumed the principal role as Grosvenor's teacher, one he maintained for a decade, including the young pianist's four years at the Royal Academy of Music. Elton is keen to stress the significance of these later RAM years for Grosvenor: after a period of homeschooling, the interaction with his peers and the sheer wealth of musical richness he encountered were vitally important. During his early teenage years, Grosvenor's performances were strictly rationed so that he could concentrate on his education. He also signed a 'development contract' with EMI, an excellent initiative that enabled him to get some experience of studio conditions without any pressure to issue a record until he was ready. Unfortunately, this was a transitional time for EMI, as the label went through the difficulties that eventually led to its being acquired by Warner Classics, and no disc was forthcoming (although in 2009 Grosvenor did record some of the lesser-known pieces for EMI's 'Chopin: 200th Anniversary Edition'). Grosvenor had felt ready to record since he was about 15, and proposed various projects, yet the only album he made during this time was the privately issued 'This and That' (about which Bryce Morrison raved in Gramophone, 4/10). Once his EMI contract had expired when he turned 18, in July 2010, Grosvenor was quickly snapped up by Decca.
It's a mark of Grosvenor's stature and the careful handling of those around him (his parents, his teachers, his long-term agent James Brown at Hazard Chase) that he never acquired the label of 'child prodigy'. He was exactly that, of course, but it's far from the most interesting thing about him, and his musicianship has never been defined by his precocious childhood. Consequently, when Decca announced his signing there was absolutely no sense of commercial exploitation, weary scepticism or overfamiliarity. Paul Moseley was managing director of Decca Classics at the time and instrumental in signing Grosvenor, and he reflects: 'When I heard his private album "This and That" I was immediately struck by the "rightness" of the playing, the rhythmic subtlety and lack of sentimentality. Everything felt like it had an arc and a shape and knew where it was going. And he wasn't trying to show off, though his technique is as good as anyone's.'

Grosvenor's first Decca album, including Chopin's Scherzos and Ravel's Gaspard de la nuit (10/11), won a Gramophone Award in 2012. After three further albums for Decca, he has now recorded the two Chopin concertos with the Royal Scottish National Orchestra and conductor Elim Chan. It is more than three years since his last record appeared. When I meet Grosvenor for lunch in a Vietnamese cafe near his home, I ask why there has been such a gap between records. Characteristically, he defends the question with a straight bat. 'It's been a case of discussing what the next project would be, scheduling, and finding the right circumstances and the right partnership.' If this begins like a politician's answer, he slowly fleshes out his thoughts. 'We wanted to make an album that was a statement in terms of repertoire. My recordings have all been quite mixed repertoire-wise, which has reflected the way I programme recitals. Both Decca and I thought it was time that I recorded something that was a substantial repertoire-based album. There was a lot of discussion about what that should be, so I suppose the gap has partly been down to finding the right project for both sides. The Chopin concertos felt right as I'd been playing them since I was very young. I played the Second when I was 12, and the First when I was 13 or 14.' Shades of Evgeny Kissin there. 'Yes,' he smiles, 'although I play them very differently from Kissin. In fact, I play them very differently now from how I did when I was a teenager.'
There are, of course, many fine recordings of the Chopin concertos, and Grosvenor is aware that some would prefer him to record repertoire that's less often played. I mention the Moszkowski Piano Concerto, which Grosvenor proposed to EMI when he was about 15. Did he ever get around to learning it? 'No, I didn't. It's a huge amount of work, with no guarantee of many performances.' This strikes at the nub of the problem, at least in concerto repertoire. Pianists are beholden to orchestras and concert promoters, who themselves need to attract audiences. The more obscure the repertoire the greater the risk. Grosvenor agrees, and adds: 'As a young pianist getting to play with a major orchestra in a major hall, it could be seen as something of a missed opportunity to play something unfamiliar where it's going to be harder for people to form a judgement on your playing.' None of these things helps in the advocacy of lesser-known concertos, although Grosvenor points out that he is passionate about reviving more obscure repertoire in his recital programmes. Indeed, his programme-building and repertoire choices are quite old-school in a manner that is entirely in keeping with his overall style of pianism, with its emphasis on line, colour and sonority.
Grosvenor has always been interested in old recordings. I ask whose versions of the Chopin concertos he grew up with. 'My first exposure to them might actually have been the Kissin recording,' Grosvenor says. 'I was about the same age when learning them, and at the time I was something of a fan. Then later I discovered Alfred Cortot's recording of No 2 and then Josef Hofmann's and Arthur Rubinstein's. Then I heard more unusual recordings like Noel Mewton-Wood in No 1, which he plays in a very Mozartian way. I heard a wide variety of different recordings and different approaches during my teenage years. This reinforced to me that this is music that you can play in very different ways.'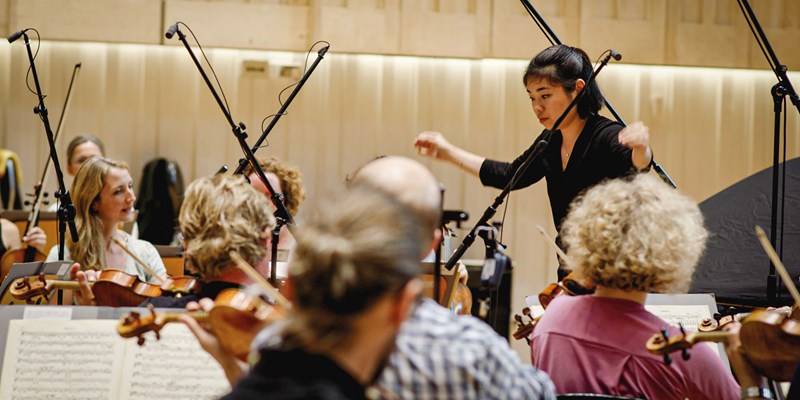 Elim Chan conducts the RSNO (photo: Sandy Butler)
This provokes a thought that I quickly realise is out of place. I wonder whether the possibilities for showing yourself interpretatively in Chopin's concertos, beyond in a generalised way, are rather constrained. Grosvenor is genuinely surprised. 'I used to think this about the Grieg Concerto, which I was interested in recording at one point. But I don't feel that about the Chopin concertos. It's true, though, that a lot of what you can do with these pieces is quite subtle, to do with timing, for example. I think this applies to the orchestral playing, too. I like the way that Elim Chan gets the orchestra to play in quite a lean way, more towards a classical conception, whereas sometimes the orchestral writing can feel quite bogged down. For the pianist, there is a fine balance in Chopin: if you play it completely straight it just doesn't breathe, but go too far the other way and there is so much scope for wilful distortion.'
Chan is only a few years older than Grosvenor himself, and in 2014 became the first female winner of the Donatella Flick LSO Conducting Competition. I ask how this partnership came about. 'We played Chopin's Second Concerto with the Royal Scottish National Orchestra [of which Chan is Principal Guest Conductor] and we got on really well. Conducting these pieces requires a very particular skill to follow the flexibility that Chopin needs. She's a wonderful musician and very gifted at that. It takes a really good conductor to make the music sound completely convincing in the tuttis: it's not the best orchestral writing and it requires work and patience – some conductors just aren't particularly interested. It felt very easy performing with her in concert and again in the recording sessions. When you're listening back and choosing takes, you realise how grateful you are to have a conductor with that kind of sensitivity.'
The respect is mutual. Chan tells me how much she loved their collaboration. I ask her what singles Grosvenor out as an artist. 'I think what makes him so special is his intelligence and his grace. He is so calm yet so strong, with such a powerful musical mind. Our performance of the Second Concerto was the first time I'd conducted Chopin, and we discussed the music in a lot of detail and the approach we wanted for the piece as a whole, including the orchestra. Benjamin introduced me to the Cortot recording, which opened my mind to many possibilities.' It's refreshing, I suggest, when two young artists so clearly enjoy exploring musical possibilities and bouncing ideas off each other. Chan agrees: 'It's unusual for a pianist to care so much about how to shape the orchestral expositions, how to approach the orchestral writing and the piece as a whole.' Chan also highlights a feature of Grosvenor's musical identity that, for me, strikes at the heart of the matter: 'Benjamin very much sees himself as part of a living tradition. He cares deeply about old recordings, and that sense of pianistic tradition is evident in the way that he plays and the sound he makes. He's a pianist who really thinks about sonority and texture.'
"
'With the mixture of honesty and deep musical engagement, without ever merely showing off, this all helps to make him one of the most exciting pianists around'
François-Xavier Roth
The same themes recur when other conductors who have developed strong working relationships with Grosvenor talk about him. François-Xavier Roth, too, mentions his 'gorgeous sound and care for sonority', and adds that 'with the mixture of honesty and deep musical engagement, without ever merely showing off, this all helps to make him one of the most exciting pianists around'. Roth has performed Mozart, Beethoven and Brahms with Grosvenor, and he thinks that this focus on Classical works 'helps to give his music-making a healthy sense of structure, even in Romantic repertoire', something that certainly applies to the forthcoming Chopin recording. Sir Mark Elder stresses the freshness of Grosvenor's approach: 'With Benjamin there is no sense of routine or convention, no sense that this is the way it has to be; he is always creative. There is something unalloyed about his playing that comes from his own sense of fantasy, a rare emotional and musical freedom.'
Last November, the violinist Thomas Gould toured with Grosvenor and Britten Sinfonia, playing Bach and Mozart concertos, and it was, as Gould tells me, a positive experience: 'Benjamin's manner with the orchestra is perfect – flexible and respectful but always with a few suggestions up his sleeve so that repeated performances never feel stale. His playing is incredibly elegant and refined, and he really does play chamber music with his colleagues. He's a very easy and harmonious collaborator!'
One thing all these artists mention is the maturity of Grosvenor's musicianship. This is pretty much the only acknowledgement of his youth. But it does make me wonder whether Grosvenor wishes he had made more records. 'When I was with EMI I think I was probably too young to make a major-label splash,' he says modestly before almost immediately contradicting himself; 'but then I did make "This and That", and I suppose that could have been such a thing.' I suspect he's thinking not of his playing, but of the inevitable publicity, something he accepts goes with the territory but I sense he still isn't entirely comfortable with.
What about Chopin's concertos? Given that he's played them since he was as young as 12, could he have recorded these sooner? Or might there have been a risk that he'd want to re-record them? Grosvenor pauses to think. 'That is a risk,' he begins hesitantly. 'But when I listen back to my playing of Chopin at that young age, sometimes it has a unique quality – there's a kind of innocence that one has at that age that's very hard to recapture. My recording of the D flat Nocturne, Op 27 No 2, which is on "This and That", is absolutely fine, but then I listen back to the audience recording from Wigmore Hall when I was 12, and it's really quite something. I'm almost afraid to play that piece now because I feel like I'm competing with my 12-year-old self. That's partly down to the piece itself, which in many ways feels pivotal for me – I think it was my playing of this nocturne that first interested Christopher Elton in teaching me.'
Elton singles out this same performance: 'I well remember his post-competition lunchtime recital at Wigmore Hall some months after the BBC Young Musician finals as being quite extraordinary – not just for a 12-year-old. His Chopin D flat Nocturne was genuinely one of the most beautiful piano performances I can remember. It had a quite uncanny sense of catching a bygone era of the great pianists and of achieving a remarkable freedom of inspiration and spirit without in any way losing stability or structure – like some inspired improvisation. And, of course, a totally unteachable quality!' This audience recording has circulated among collectors, and is an extraordinary document.
So what of the future? Are there more concertos in the pipeline? How about Rachmaninov? 'I've played No 2. I'd like to play No 3, but it's a big learn. It's something I should have had running in the background when I was a teenager. It would have been easier to learn it then, and now it's hard to find the time. It's important to try to learn these things before they're actually needed.' This reminds me of something Stephen Hough says in his recent book Rough Ideas (A/19): if he were to give one piece of advice to student pianists it would be to 'learn concertos before you have to, and learn them well'. Grosvenor nods sagely. 'I'm doing Prokofiev's Third in 2021,' he says, 'and that's probably my next big learn for a concerto.' We discuss other major works, and I'm reminded of both the sheer vastness of the concerto repertoire and how much more learning Grosvenor has ahead of him. He's played Brahms's D minor Concerto a lot, but hasn't yet played No 2. He's not fussed about performing Tchaikovsky's First ('enough people play it'), but would like to do the Second. He's not yet played Beethoven's Fourth and Fifth, and would like to learn Bartók's Third and more Saint-Saëns. No wonder the Moszkowski never made it into his fingers.
It isn't entirely clear how the relationship with Decca will develop – the new Chopin disc fulfils Grosvenor's initial contract of five albums. He is full of ideas about things he'd like to record, and enjoys discussing potential projects and interesting repertoire. We talk about Schumann's Kreisleriana and Humoreske, Liszt's B minor Sonata and opera paraphrases, Granados's complete Goyescas, and a number of more esoteric things, but these are all music-led projects of the sort that Decca has tended to move away from. Perhaps Grosvenor doesn't fit with the profile of the label's recent intake of young artists, who are more obviously suited to the kind of promotion that thrives in today's social-media-influenced world. He is essentially a very private person. He is also by some distance the best pianist Decca has. For a label that hails the diversity of its young artists, surely a musician of the nature and calibre of Grosvenor – whose recordings will be listened to long after others have ceased to be relevant – should have a place on any such varied and inclusive roster. Either way, he won't be short of offers or options. As Moseley says, 'Benjamin will be fêted as one of the greats by future generations.'
This article originally appeared in the February 2020 issue of Gramophone. Never miss an issue – subscribe today!
Listen