Brahms's Four Serious Songs: the greatest recordings
Richard Wigmore
Friday, August 2, 2019
Brahms's final set of songs has attracted a range of singers to its dark sound world. Richard Wigmore assesses some available versions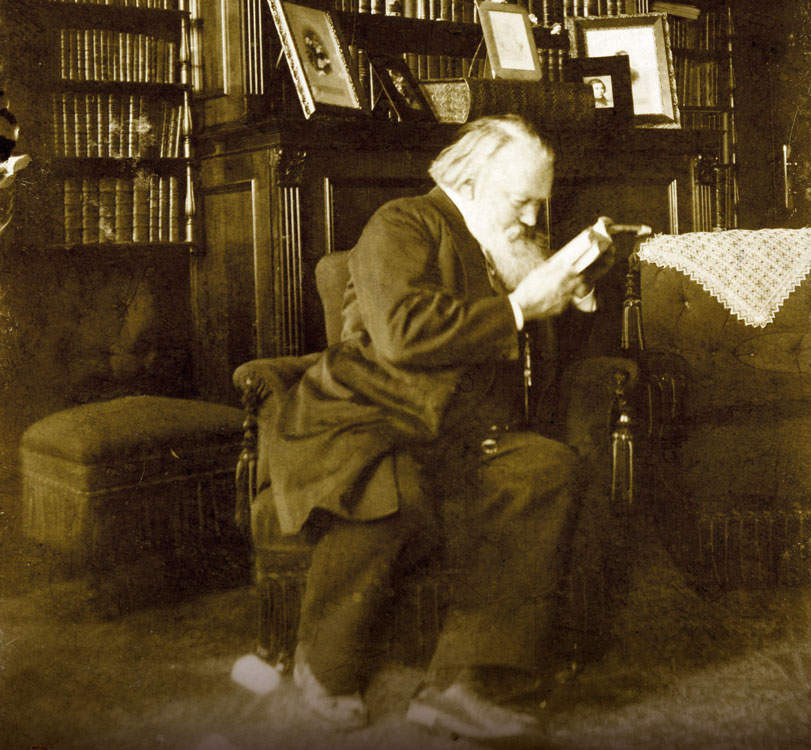 After he had grown that famous patriarchal beard in his late forties, Brahms seems to have enjoyed appearing prematurely grizzled. Yet when he completed his Vier ernste Gesänge ('Four Serious Songs') on his 63rd and last birthday, May 7, 1896, he had every reason to feel his age. Over the previous few years the composer had suffered a string of bereavements, including his former pupil and close musical confidante Elisabet von Herzogenberg, née Stockhausen. His beloved Clara Schumann lay mortally ill (she died on May 20). And he himself was already suffering from the first symptoms of the liver cancer that would kill him the following April.
Brahms's friend and biographer Max Kalbeck remarked how the agnostic composer 'always liked to seek out the godless texts from the Bible'. Like the German Requiem, these meditations on last things are devoid of anything that might be described as conventionally religious. Indeed, Brahms pointedly described them as 'anti-dogmatic, also in part unbelieving'. The first two songs, 'Denn es gehet dem Menschen wie dem Vieh' and 'Ich wandte mich, and sahe an alle' (respectively 'It is for a person as it is for an animal' and 'I turned and looked upon everyone') grimly negate any faith in resurrection. Mourning the fundamental tragedy of existence, the Vier ernste Gesänge are unsentimental, profound testaments to Brahms's sympathy for suffering, stoical humanity, his belief in the virtue of hard work and the enduring power of love. Significantly, the German of Luther's Bible, with its blunt monosyllables, is that much plainer and rawer than the English of the Authorised Version.
With accompaniments that often evoke the orchestra in their depth and contrapuntal intricacy, the four songs move from the terrible nihilism of Ecclesiastes to the affirmative message of St Paul's sermon in his first Epistle to the Corinthians. In the process the unremitting minor mode of the first song, with its tolling funeral bell and swirling dusts, yields via the major-key closing sections of Nos 2 and 3 ('O Tod, wie bitter bist du' – 'O Death, how bitter are you') to the unalloyed major key of 'Wenn ich mit Menschen- und mit Engelszungen redete' ('If I speak with the tongues of humans and angels'), with its fervent peroration that 'there remain faith, hope and love. But the greatest of these three is love'.
De profundis
Without having a specific singer in mind, Brahms composed the Vier ernste Gesänge for a baritone voice whose armoury encompassed strong low notes – a sine qua non in these songs – and, at the climax of No 4, a resonant top G. Beginning with Alexander Kipnis in 1936, the songs have, unsurprisingly, been appropriated by basses and bass-baritones, with consequent downward transposition. The danger here, of course, is an unmitigated gloomfest. With his grandly sonorous basso profundo in its regal prime, Kipnis, with a backwardly balanced Gerald Moore, intones the opening like an Old Testament prophet, and distils an infinite life-weariness in the life-abnegating No 2. He fines his voluminous tone to a velvet, perfectly focused pianissimo in No 3's closing lullaby to Death, where the desolate falling thirds that permeate the second and third songs are transformed by inversion into assuaging rising sixths. Two points of style slightly mitigate the dark splendour of Kipnis's singing: his tendency to aspirate, especially in Nos 2 and 4, and to slide rather wantonly between notes, making for moments of rhythmic sloppiness in No 4.
Subduing the might of his Wagnerian bass-baritone in the opening song, Hans Hotter, also with Gerald Moore, exudes a mournful grandeur, bowing Brahms's incantatory lines like a cello. This chastened King Lear distils a sense of vast, cosmic sadness, whether in the long diminuendo that closes the first song, or his numb, hollow tones at 'Da lobte ich die Toten' ('Wherefore I praised the dead') in No 2, the cycle's nadir. Hotter's pianissimo singing sometimes sounds 'yawned'. But unlike the sternly implacable Kipnis, his performance admits of human compassion. The quasi-heroic opening of No 4 tempts many interpreters into hearty extroversion. Not so Hotter, who never loses a quality of awed inwardness. Gerald Moore, again, suffers in the balance, though not so as to obscure his exquisite voicing of the lapping suspensions in No 3.
Still in bass territory, Robert Holl matches his one-time teacher Hotter in sombre depth, but not in insight, nor in evenness of production. In both his recordings, with András Schiff and Graham Johnson (where his craggy tone is less focused and the high notes sound effortful), Holl often lunges crudely into individual notes rather than cultivating a true, bound line. He has his moments, not least in the eerie descents to the abyss in No 2. But on the whole I find it hard to live with his monochrome timbre and coarse-sounding emphases.
Two basses of a younger generation, Alastair Miles and Jonathan Lemalu, are more scrupulous in their vocal production. While his soft singing can lack inner intensity, Miles distils a grave stoicism in the first two songs; like Kipnis's and Holl's, his vocal colouring is unrelievedly dark, though the mobile tempos chosen by him and pianist Marie-Noëlle Kendall go some way to mitigating the gloom. Lemalu's rather warmer tones fall agreeably on the ear, and his pianist, Roger Vignoles, balances Brahmsian weight with ideal contrapuntal clarity. While hardly insensitive, Lemalu's singing tends to sound too robustly generalised. He's impressively incisive at the opening of No 4, but quite misses the intimate, dolce quality requested by Brahms at 'Wir sehen jezt durch einen Spiegel' ('For now we see through a glass darkly').
A trio from Fischer-Dieskau
Moving up to Brahms's original keys, Dietrich Fischer‑Dieskau, in three recordings spanning a quarter of a century, dramatises the Vier ernste Gesänge with his trademark restless intensity. Even as a 24-year-old in 1949, the baritone makes you realise that sung German can be a beautiful language. Yet while the voice, round and full, was in its first ripeness, the expression is too externalised. Climaxes seem overblown, encapsulated by an indulgent lingering on that clinching top G – evidently a case of if you've got it, flaunt it.
Far more subtle and inward is his 1958 recording with Jörg Demus, a sensitive partner if technically stretched in the swirling dusts of No 1. No singer deploys such a wide palette of colours and dynamics; and his breath control in Brahms's ample phrases is a thing of wonder, all the more so from a 20-a-day smoker. No 3 epitomises the F-D approach: a searing, accusatory opening (you glimpse Death cowering in the corner) yielding to the most dulcet mezza voce in the longing-for-release of the E major close. Ever a master of colour and specific character, he drains the tone of its consolatory warmth on Brahms's contorted setting of 'erwarten' – the despair of the poor man with nothing to hope for in this life.
By the time he recorded the songs with Daniel Barenboim in 1972, Fischer-Dieskau's tone had grown more tenorish, though he still has ample bass resonance for the chilling evocation of nothingness in No 2. Abetted by Barenboim's vivid 'orchestration' of the piano parts, Fischer-Dieskau now probes even greater expressive extremes. In the wild 'dust' music of No 1, his protesting vehemence shades into aggression, with full-frontal assaults on unsuspecting consonants. Each phrase of the final song is acutely characterised. Yet in his eagerness to make 'Dann aber werd ichs erkennen, gleich wie ich erkennet bin' ('Then shall I know even as I also am known') an epiphany, Fischer-Dieskau allows his tone to balloon, contradicting Brahms's mysterious harmonies and prescribed piano dynamic.
Fischer-Dieskau's contemporary Hermann Prey, against whom he was often pitted, likewise left multiple recordings of the Vier ernste Gesänge. At his finest in opera, especially roles requiring a touch of swagger, Prey sings with warmly resonant, free-soaring tone – impressive depth, too – but doesn't reliably locate the line between sentiment and sentimentality. With a 'back-leaning' tendency and consistently slow tempos, his 1957 version with the uninspiring Martin Mälzer too often sounds lugubrious. In 1973, doubtless encouraged by Gerald Moore, he allows Brahms's long-spanned phrases to flow more naturally. This is the best of Prey's recordings, though even here his softer singing lacks focused intensity and true Innigkeit.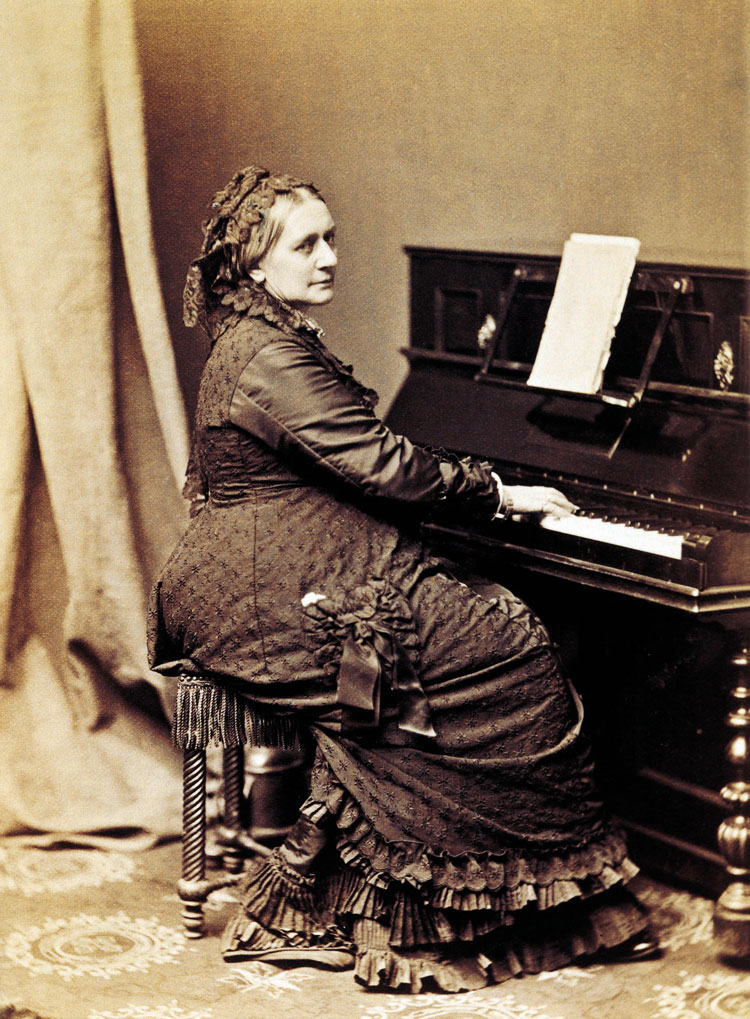 A feminine perspective
While the Vier ernste Gesänge remain overwhelmingly colonised by basses and baritones (tenors, understandably, fight shy), they have also been fair game for contraltos and mezzos, most famously Kathleen Ferrier. In her two recordings, one with the American pianist John Newmark, the other with Malcolm Sargent and the BBC SO, Ferrier sings with the glorious dark-amber tone and broad phrasing that made her a national icon. Unlike most modern singers, she makes expressive use of portamento – controlled slides between notes. As Richard Fairman wrote in these pages: 'This is stoic and classical singing, with a biblical dignity.' Ferrier's palette of colour is limited, and Newmark is no more than a decent pianist. But her nobility of voice and sincerity of feeling make for a moving experience, not least at the close of No 3, where Ferrier's is the very voice of maternal solace.
Her recording with Sargent, in English translation, is something of a curiosity, however. It's superb singing per se, if rather more austerely impersonal than her performance with Newmark. The sound, taken from a radio broadcast, is only just tolerable. Sargent's conducting can be lethargic, while his orchestrations tend to add an unwanted layer of comfortable upholstery, especially in No 2. The blowsy opening of No 4 confirms that Brahms's pianistic simulation of 'sounding brass' is so much more effective than the real thing.
In tandem with André Previn, Janet Baker, 1977 vintage, sings with her characteristic burning intensity. A rarefied pianissimo is not in her chosen palette of colours. You are not for a second in doubt that she has something urgent to impart: in the fierce social protest at the opening of No 2, and the Erda-like tonal depth at 'Da lobte ich die Toten' ('Wherefore I praised the dead'); or in the very human bitterness at the prospect of extinction in No 3. Baker and Previn – decent but not specially illuminating – choose some controversially slow tempos, especially at the opening of No 4, which has none of Brahms's prescribed con anima. There should be a sense of exultation here, however chastened.
Yet Baker communicates much more vividly than two rich-toned contraltos of a younger generation: Nathalie Stutzmann and Marie‑Nicole Lemieux. While Lemieux, with a very ordinary pianist, is tepid and word-shy, Stutzmann tends towards melodramatic extremes, compromising the legato with swells and bulges, often sliding into notes from below – a far cry from Ferrier's restrained portamento. In the closing stages of No 3 Stutzmann scoops and sobs like a wilting verismo heroine. Not my kind of Brahms.
Nor is the version by Kirsten Flagstad, the sole soprano in this survey (all the songs are transposed upwards). By 1956 the mighty Wagnerian voice had lost its former glowing resonance. Flagstad's high notes become squally when she unleashes her inner Brünnhilde in No 4. Like Stutzmann, she indulges in soupy, sentimentalising portamento in No 3. What Gerald Moore once dubbed Flagstad's 'absolutely simple, straight-from-the shoulder' style seems inadequate in songs that demand profound personal identification.
In Fischer-Dieskau's wake
German baritones who emerged in the 1980s and '90s tended to react against Fischer-Dieskau's engulfing intensity. His immediate successors on record were Olaf Bär and Andreas Schmidt, both with warmly lyrical voices and a contained, less demonstrative style than the master. Bär's upper register sounds slightly constricted, especially towards the close of Nos 3 and 4. But with unobtrusive colouring and pointing of their grim texts, he catches all the weary bleakness of the first two songs. Helmut Deutsch is among the most imaginative of accompanists, with an unerring feeling for Brahmsian rubato (EMI – nla).
Andreas Schmidt, likewise in close partnership with Deutsch, fields a more burnished, resonant baritone, and phrases in broad spans, with a care for true legato. The openings of Nos 1 and 2, both taken slowly, are calmly fatalistic, almost impassive, devoid of anguish – the antithesis of Fischer-Dieskau. Schmidt's performance is compelling in its understated way, though he sounds severe rather than tender both at the lulling close of No 3 and in the rapt cantilena ('Wir sehen jetzt durch einen Spiegel') in No 4.
The young Christian Gerhaher, 2002 vintage, already sings with a spontaneous urgency of communication, and a gift for locating the aching crux of Brahms's long, desolate phrases. Unlike Schmidt's, his tempo in the second song is a properly mobile Andante; and the hushed intensity of Gerhaher's singing is matched by pianist Gerold Huber, etching Brahms's cross-rhythms and grieving in dialogue with the voice at 'Und siehe, da waren Tränen' ('And behold, there were tears'). Gerhaher infuses his tone with yearning tenderness in the death-longing of No 3, and conveys a feeling of tense excitement without a hint of heartiness in No 4.
'Unaffected' and 'un-portentous' were epithets that immediately sprang to mind when listening to Roderick Williams, with Roger Vignoles, whose playing is a model of lucidity and subtly observed detail. Like Gerhaher and Huber they choose naturally flowing tempos, reminding us that Brahms marked the first two songs Andante rather than Adagio. Williams's mellifluous, kindly baritone – a voice of light rather than darkness – doesn't encompass baleful gravitas. His is an intensely human reading that, perhaps more than any other, seems addressed personally to the listener. In both No 2 and the opening of No 3, where singer and pianist create a vivid sense of dialogue, Williams distils a compassionate sadness, devoid of protest or indignation. No 4, lyrical rather than declamatory, is conceived on the same intimate scale as the three preceding songs.
Both Williams and Gerhaher would be on my 'short-shortlist' for the Vier ernste Gesänge. Yet the performances that moved me most deeply were those by Thomas Quasthoff, with Justus Zeyen, and Matthias Goerne, with Christoph Eschenbach. Inspired by their superb pianists, both singers combine an acute moment-by-moment response to text and music with a quality of humility. In No 2 Goerne flares up, shockingly, at the plight of the oppressed ('Und die ihnen Unrecht täten'); and he vividly dramatises the contrasts in No 4. Yet with his warmly rounded, soft-grained baritone, he gives the songs an unusually elegiac cast, epitomised by the sorrowful restraint of No 2's final arching phrases, and the opening of No 3, here an almost regretful address to Death.
Quasthoff similarly lives and dramatises the biblical texts. His mellow yet incisive bass-baritone, with its ringing upper register, admits of more light than Goerne's. Abetted by Justus Zeyen's clarity of articulation and colouristic flair (no pianist sings more eloquently), Quasthoff veers between anxiety and terror in the fast section. Like Williams and Gerhaher, he (and Zeyen) chooses an aptly flowing tempo for No 2; and with a gentle lift to the rhythms, the song here becomes a transfigured valse triste (shades of the waltz-cum-march in the second movement of Brahms's German Requiem). Quasthoff creates a blanched, awed sotto voce for the contemplation of non-existence, lingering over the stark consonants at 'Und der noch nicht ist' ('And whoever does not yet exist'). His singing, here and elsewhere, has the eloquence of heightened speech.
In extreme contrast to the rueful Goerne, Quasthoff rails ferociously at Death's cruelty in No 3. And at the fourth song's climax he rides the leaps and plunges of Brahms's vaulting line – unlike most singers, including Goerne, he chooses the composer's preferred low notes – before finding his most honeyed colouring for the final humanist message that the power of love surpasses all else: a serene and sublime epilogue to songs that Brahms, with typical ironic self-deprecation, dubbed 'my godless harvesters' frolics'. Some harvest.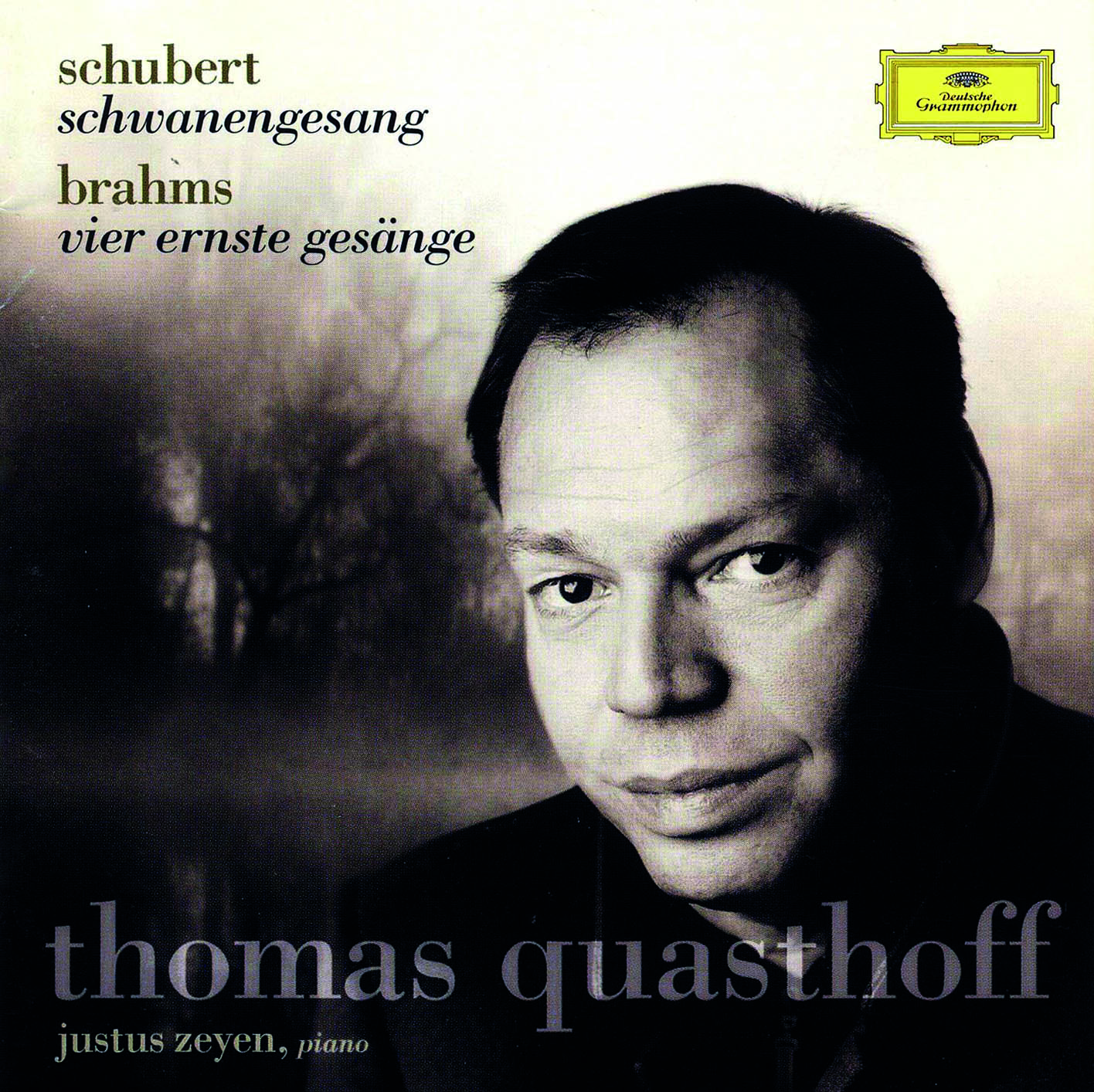 TOP CHOICE
Thomas Quasthoff, Justus Zeyen
(DG)
Mingling awed gravitas and assuaging tenderness, Thomas Quasthoff responds with spontaneous-sounding intensity to every shade of verbal and musical meaning in these mighty songs. Justus Zeyen is a challenging, ever‑illuminating pianist partner.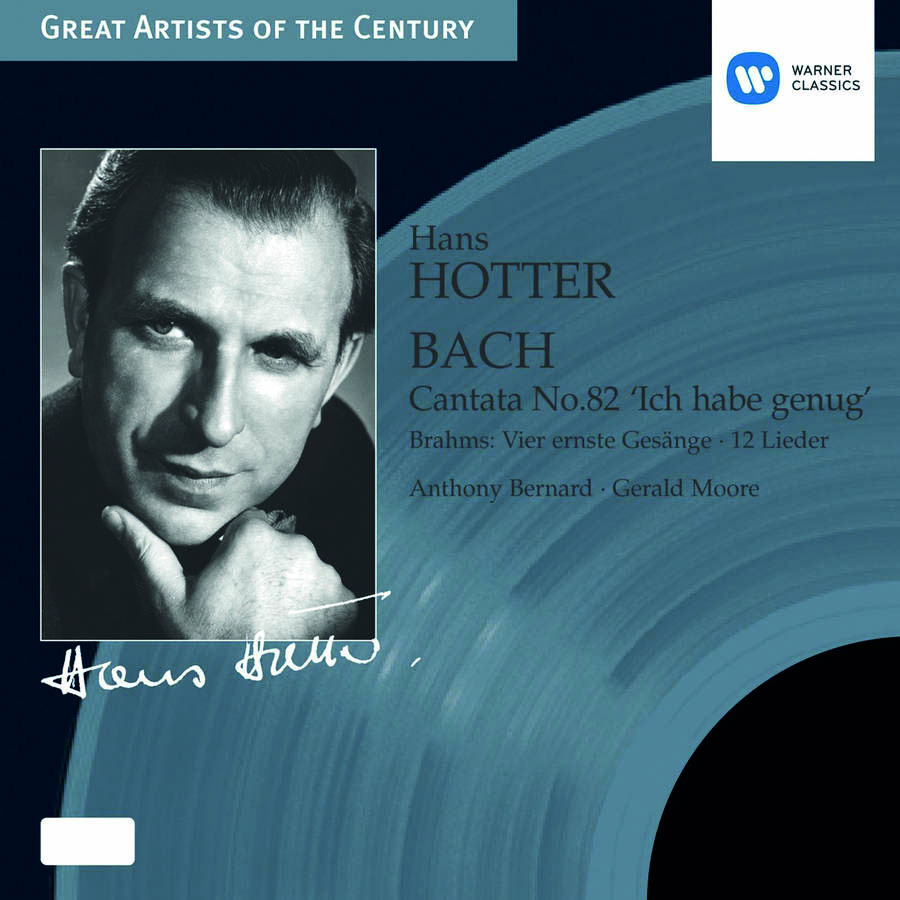 THE HISTORIC CHOICE
Hans Hotter, Gerald Moore
(Warner Classics)
Among basses, Kipnis is nonpareil for sonorous grandeur. Another great Wagnerian, Hans Hotter, admits of more vulnerability and human sympathy. With his warmth and gentleness of tone, he shapes each song with grave inevitability.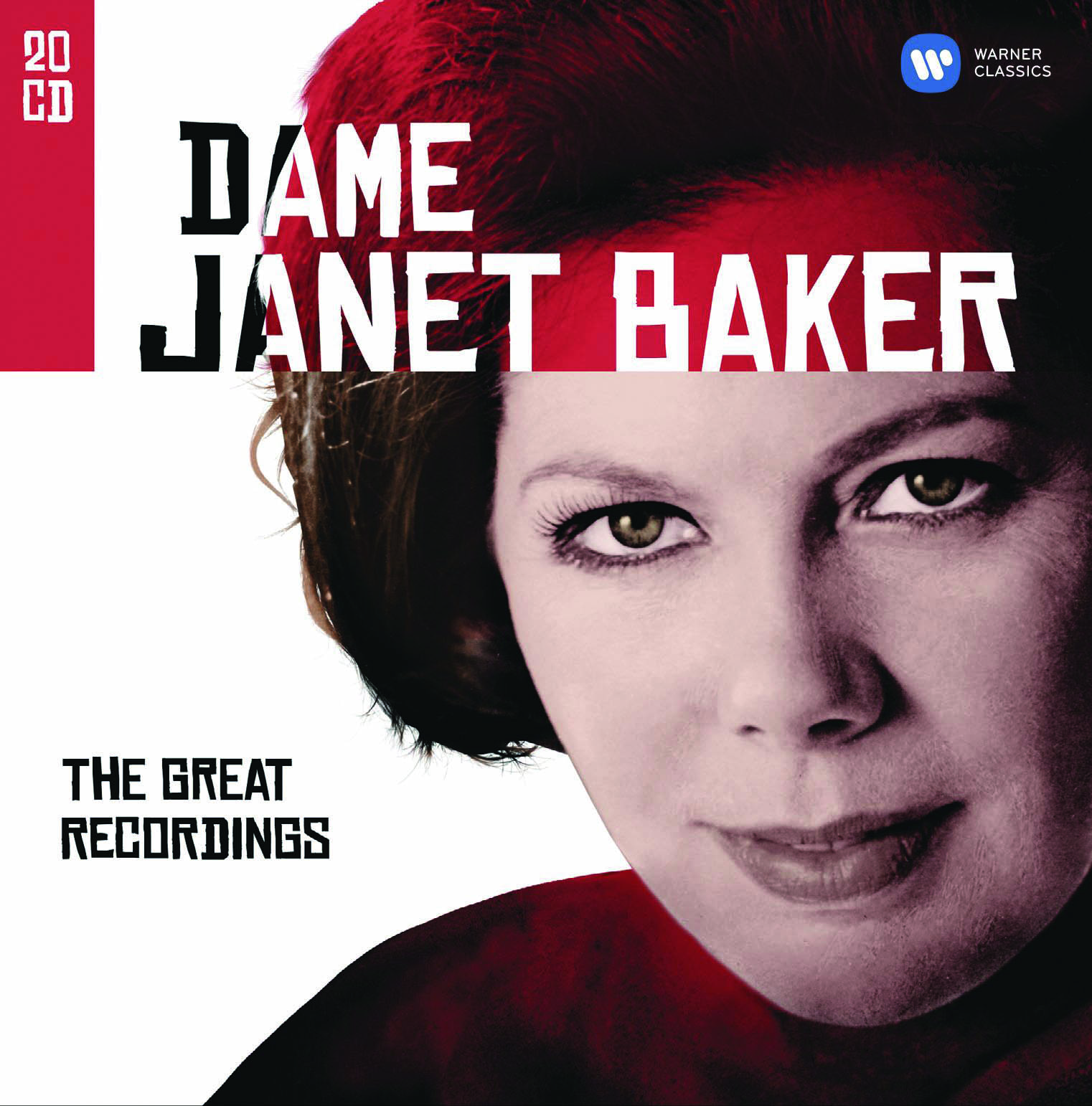 THE MEZZO CHOICE
Janet Baker, André Previn
(Warner Classics)
Kathleen Ferrier's majestically sung version remains a classic. Yet her de facto successor Janet Baker, mining her deep contralto resonances, is far more personal and passionate in her responses, despite some provocatively slow tempos.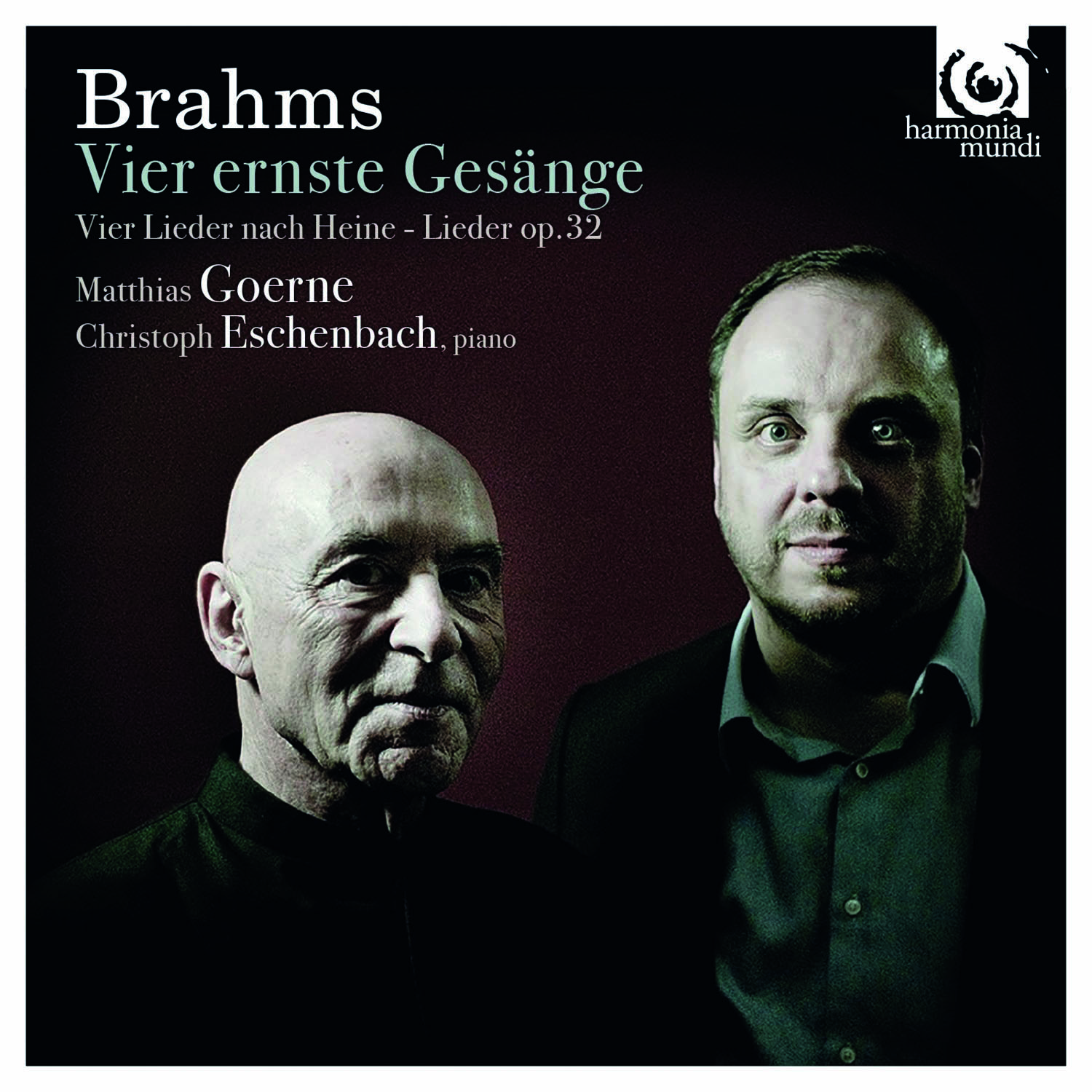 THE ELEGIAC CHOICE
Matthias Goerne, Christoph Eschenbach
(Harmonia Mundi)
Amid stabs of protest and despair, Goerne's velvet baritone emphasises Brahms's profound compassion for fearful, desolate humanity. At the close he and Eschenbach evoke the rapt, rarefied world of Brahms's late intemezzos.
Selected Discography
Recording Date / Artists Record company (review date)
1936 Alexander Kipnis, Gerald Moore / Music & Arts CD4661 (10/67R, 7/97R)
1949 Dietrich Fischer-Dieskau, Hertha Klust / Profil PH05013 (7/05)
1949 Kathleen Ferrier; BBC SO / Malcolm Sargent [sung in English] / Somm SOMMCD075 (9/08)
1950 Kathleen Ferrier, John Newmark / Naxos 8 111009 (2/51R)
1951 Hans Hotter, Gerald Moore / Warner Classics 562807-2 (9/52R, 8/09R)
1956 Kirsten Flagstad, Edwin McArthur / Decca Eloquence ELQ480 1799 (1/70R, 12/95R)
1957 Hermann Prey, Martin Mälzer / Profil PH18029
1958 Dietrich Fischer-Dieskau, Jörg Demus / DG Eloquence ELQ480 3527 (10/61R, 6/00R)
1972 Dietrich Fischer-Dieskau, Daniel Barenboim / DG 449 633-2GBJ7
c1973 Hermann Prey, Gerald Moore / DG 476 6867GH20
1977 Janet Baker, André Previn / Warner Classics 903771-2 (11/78R, A/13)
1990 Robert Holl, András Schiff / Decca 433 182-2DH (6/93)
1996 Nathalie Stutzmann, Inger Södergren / RCA 09026 68660-2 (11/97)
2000 Thomas Quasthoff, Justus Zeyen / DG 471 030-2GH (8/01)
2001 Jonathan Lemalu, Roger Vignoles / Warner Classics 575203-2 (8/02)
2002 Christoph Gerhaher, Gerold Huber / Arte Nova 74321 92771-2
2004 Marie-Nicole Lemieux, Michael McMahon / Analekta AN2 9906 (3/05)
2008 Andreas Schmidt, Helmut Deutsch / CPO CPO999 840-2
2010 Robert Holl, Graham Johnson / Hyperion CDJ33124 (11/12)
2013 Alastair Miles, Marie-Noëlle Kendall / Signum SIGCD369 (5/14)
2016 Matthias Goerne, Christoph Eschenbach / Harmonia Mundi HMC90 2174 (9/16)
2016 Roderick Williams, Roger Vignoles / Champs Hill CHRCD108 (6/17)
This article originally appeared in the July 2019 issue of Gramophone. To explore our latest subscription offers, please visit gramophone.co.uk/subscribe