Chart-topping nuns, famous friars, and the world's largest recording project
Michael White
Thursday, November 12, 2020
Michael White explores the spiritual highs - and occasional lows - of the recording industry's relationship with religion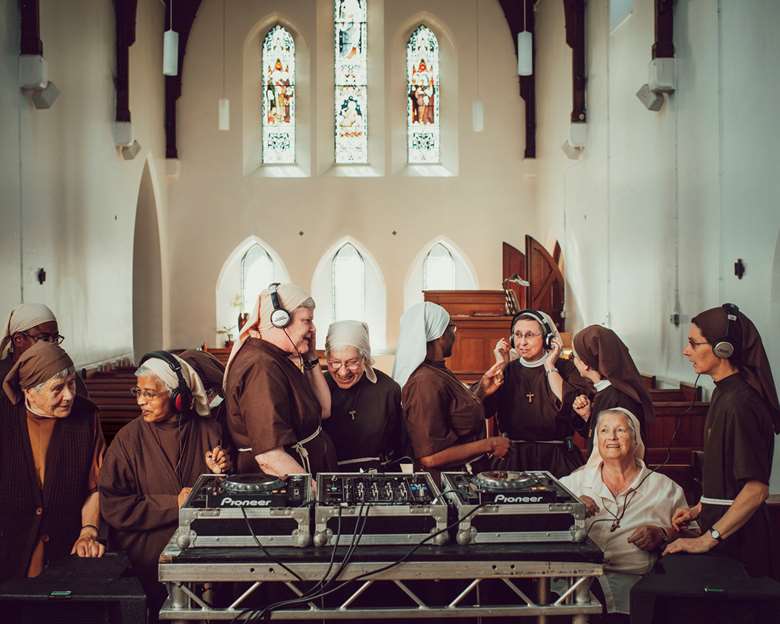 It's a regular occurrence in the record industry, the rediscovery of God; but it has less to do with faith than sales. At Christmas, Easter and in times of crisis like the one we're living through, the market for religion opens up. And while that's good for Oxbridge chapel choirs and Palestrina boxed sets, history suggests that the most lucrative potential lies with the communities of monks and nuns who find themselves from time to time propelled to stardom as purveyors of the kind of spiritual solace that's unique to the religious life.
The latest instance came last month when Decca issued a recording of the 20 or so nuns who are the Poor Clares in the Sussex town of Arundel. They do good works, they clearly have good hearts; but more importantly, they sing. And for the purposes of their new Decca disc, Light for the World, they sing words by St Francis (co-founder of their order) alongside psalm texts and other devotional material in palatably modern settings.
The Poor Clares of Arundel singing Veni Creator Spiritus from their chart-topping album
It's not revelatory, the repertoire is pretty unremarkable, and in performance terms it's far from pristine. But it must have something going for it because it's captured the public imagination with a vengeance, generating more widespread print coverage than any other CD release I can think of in recent months, and currently sits at the top of the UK Specialist Classical Chart. And pleased though you can only be for the nuns in question, who have greeted their newfound limelight with an endearing mixture of bemusement, charm and modesty, you have to wonder at the push-button ease with which Decca's marketing department has managed to generate such media interest in what its MD Tom Lewis calls a 'magical musical balm that people need right now'. Could it be that this really is a balm that the record industry is distributing by way of public service in time of need? Or is it simply that we've all been here before and it's time for the spiritual cash cow to be milked again?
That we've been here before is undeniable. Record companies have been descending on religious communities since (at least) the 1950s, when microphones did their best with the muffled acoustic and dodgy intonation of the Benedictines at St Maurine in Luxembourg – discovering in the process that such problems counted as nothing against the attractive authenticity of real religious on home ground. Over the years there have been sonically impeccable and scholarly astute accounts of chant by lay professional ensembles like Pro Cantione Antiqua and the Italian Nova Schola Gregoriana. But they've never sold as well as shuffling monks in sonic murk. And the absolute superstars in that line of work – outranking the Benedictines of Solesmes in France who are generally credited with spearheading the modern revival of Christian chant – are the Benedictines of Santo Domingo de Silos in Burgos, northern Spain.
A community re-established after closure in the 19th Century (with, as it happens, assistance from Solesmes) their recording career began inauspiciously with a 1968 disc of seriously poor sound quality made for DG, followed two years later by an exploration of Mozarabic chant on Archiv. It was a curiosity and would have remained so but for the unlikely intervention, a quarter-century on, of EMI – who saw an opportunity, repackaged some of the old Santo Domingo tapes as relaxation music for stressed executives, and allowed the monks to hit the big time.
First came a Spanish territorial release in 1993. Then, when that proved successful, came Canto Gregorio: a 2 CD set that sold throughout Europe and got repurposed into Chant I and II for the American market (with a pop-oriented cover design of levitating monks and floating clouds). Between them they delivered the phenomenon of double-platinum sales that rose eventually to 6 million – reaching No 1 in the 1994 US classical charts, No 5 in the pop charts, spawning a spin-off single for MTV, and repeating the process a second time over with the 2012 release of Canto Noel: a disc of Benedictine chant specifically for Christmas (as if the stressed executives would know the designated season: it was all in Latin after all). As EMI boss Peter Alward told the New York Times with robust understatement, it gave the company 'a much-needed filip'. And where the Monks of Silos led, others followed – from the Cistercians of Stift Heiligenkreuz, Austria, to the Benedictines of Quarr Abbey on the Isle of Wight – though none with quite such captivating sales.
More seriously, its long-term consequences also prompted scholarly endeavours like Neumz, an online venture undertaken by the non-profit, artist-led Odradek label which claims (with some foundation) to be the largest recording project ever conceived. Run by American musicologist John Anderson and featuring the French Benedictine nuns of Notre Dame de Fidelite at Jouques, Aix-en-Provence, it aims to be a complete record of every plainsong chant in liturgical use, amounting to some 7000 hours of antiphons, responses, psalms, and other sections of the Divine Office. Planned to be complete by 2022 and presenting the auditory experience online alongside synchronised score notation, Latin texts and translations, it calls itself (with reference to monastic usage) a Liber Digitalis for the 21st century. And you can chart its progress at www.neumz.com - with all money raised by subscriptions going to support the charitable work of Jouques sister abbey in Africa. This is not what you'd call a commercial venture.
Neumz's mobile app launches later this month, in time for Advent
Far more conscious of the cash till, though, has been the record industry's involvement with the individual religious it occasionally takes up and turns into stars. The most recent has been Alessandro Brustenghi, otherwise known as 'the singing friar' and for some years a big attraction at the Franciscan Basilica in Assisi, rivalling the bones of St Francis. Fra Alessandro was just another member of the community there until a record producer better used to working in the pop world spotted him, put him on a plane to London (his first flight anywhere), and the result was Decca's 2012 release Voice from Assisi.
That he was young, good looking, and could actually sing – in an untutored but appealing, heartfelt way – all counted in his favour. And though there was a potentially serious conflict between his Franciscan calling and his market image as a wholesome pin-up (not unlike Cliff Richard in a habit) he managed to handle it with charm. Initially reluctant to sign Decca's contract, he decided that 'Maybe it is God asking me on a mission. Singing these songs is a good opportunity to evangelise'. And the Order of Friars Minor at Assisi, which takes all his earnings, agreed – packing him off on world tours with a firm Franciscan minder (Irish, formerly a barrister) to keep an eye on things. More CDs followed. Classic FM took a lovingly supportive interest. And until Coronavirus intervened, he was still going strong, with world tours that last year embraced Australia and Singapore.
Fra Alessandro - an appealing, heartfelt voice from Assisi 
But plucking vocally adept religious from the cloister doesn't always work so well – the classic case being the 'singing nun' that older listeners might remember from the 1960s. Sister Jeanne-Paule Marie Deckers was a Belgian Dominican who bizarrely found world fame singing an artless little song about the founder of her Order St Dominic. Despite the fact that its refrain of 'Dominique, nique, nique' caused bemusement in France where 'Nique' sounds like a regrettably rude word, it had sold 2 million copies by the end of 1962, amassing a great deal of money that was divided between Philips and the Dominicans. 'Sister Smile', as she was known, got nothing. And the smile faded when conflicts with the Order, largely generated by money and fame, meant that she left her convent. Painfully and publicly. Thereafter she annoyed the Catholic authorities by issuing a 1967 song in praise of contraception (called Glory be to God for the Golden Pill), had a lesbian affair, got into financial trouble with the tax authorities, and committed suicide.
Lesson to be marked, learned, inwardly digested: the arrival of a record company on a monastic door-step doesn't always have a happy outcome. But it does deliver something that the world wants, for whatever reason: solace, comfort, calm, immersion in the continuity of rituals whose timelessness lends a diminishing perspective to contemporary problems. The Poor Clares of Arundel describe their new disc as a 'good adventure'. We can all sincerely hope they're right.