Contemporary composer: Georg Friedrich Haas
Philip Clark
Thursday, March 16, 2017
Philip Clark on the Austrian composer championed by today's great maestros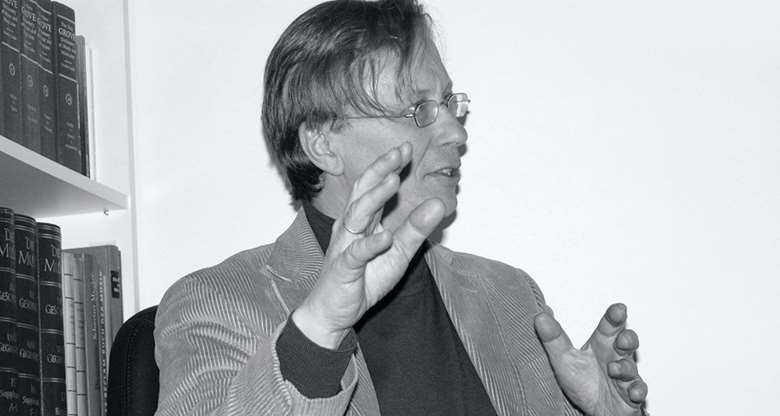 When the truth comes out that I write about music for a living, at parties, on planes or talking to taxi drivers, usually it's only a matter of time before someone starts asking questions about what's good, what's new or where classical music is likely to be in 10, 20 or 100 years' time. 'Well,' I normally say, 'there's this really interesting Austrian composer called Georg Friedrich Haas whose music points to some likely futures. But don't take my word for it. Over the past few years I've been fortunate enough to interview Riccardo Chailly, Simon Rattle and Nikolaus Harnoncourt for this magazine I write for, called Gramophone, and, without any prompting from me, they've all talked up Haas in extraordinarily glowing terms.' Which is normally enough to shut them up.
Rattle was about to start preparations for performances of in vain (2000), Haas's hour-long collision of dichotomies – between tuning systems, between stasis and hectic event, between pure-toned triads and white noise – when I interviewed him last year and was already citing it as the first masterpiece of the new century. When I talked to Harnoncourt in 2010, he had recently used Haas's cadenza for Haydn's C major Cello Concerto in his performances with cellist Clemens Hagen. I asked whether this new cadenza is stylistically faithful to Haydn's idiom, expecting him to nod and wave my question through approvingly. But no. 'It has quartertones and uses all kinds of extended cello techniques,' he answered. 'It was authentic. This, for me, is one of the good possibilities of how to solve the cadenza question in modern performances of Classical concertos.' Chailly, who commissioned the Mendelssohn-inspired Traum in des Sommers Nacht for his Gewandhaus Orchestra in 2009, was no less effusive about the inner poetry of his music and his importance as a composer.
But what to make of this high-level celebrity endorsement? When Rattle elevates in vain to the level of 'masterpiece', could it be that the whole masterpiece ideal itself is now meaningless? Masterpieces once pushed the language of music forwards and existed as paradigms of perfection as defined by a world that no longer exists. Post-Freud, Joyce, Celan and Cage, the last piece likely to be any sort of masterpiece would be a piece that sets out to emulate, or worse contrive, the emotional sting or creative purpose of the masterworks of yesteryear.
And coming from the same cultural milieu that begat Helmut Lachenmann, Hans-Joachim Hespos, Mathias Spahlinger and Beat Furrer (composers who pose weighty questions about when exactly it was that tradition's radical inner-dynamic collapsed into 'neo' this and 'retro' that), Haas could be viewed as just another consolidator, not a composer minded to bring the whole concert- hall experience crashing around his, or indeed everybody else's, ears. His work has been attacked for liberally dipping into the sound worlds of other composers: in particular Ligeti, Scelsi, Bruckner, Partch and the French spectralists. To which I say any composer who manages to find common cause between Bruckner and Partch, between Euro-spectralism and American experimentalism is, at the very least, dreaming of a world beyond the usual allegiances.
Haas conceived in vain against the backdrop of trouble at home. The Austrian people had just given Jörg Haider's far-right Freedom Party electoral succour and the future looked irretrievably bleak. But Haas was determined to learn from history. Beginning with a flurry of high-velocity activity that, as commentators invariably point out, places the opening securely within the terrain of Ligeti's signature technique of micropolyphony (ie a polyphony of smudging polyphonies), something wholly unanticipated then happens. As the house lights are dimmed, the music morphs from equal-tempered certainty towards intervals plucked from the natural overtone series; time stalls and the whole basis of Western tuning is forced into retreat. Horn figurations evoking Wagner and Bruckner are distorted but therefore refreshed and reclaimed. And later, as the lights dim again, darkness is transformed into genuine sonic light. The musicians, now unable to see their music stands, work memorised fragments of material, based around overtones radiating outwards from a C fundamental, into a canopy of tonal light. But then equal temperament reasserts itself – the prospect is raised that this journey has all been in vain.
Perhaps not though. In limited approximations, Haas's 2010 concerto for six pianos and orchestra, equal temperament doesn't even get a look in. Haas divides the octave into 12 micro-intervals, divisions of the scale so tiny that pitches feel more like marking posts along infinite glissandi. His latest project, an opera called Thomas, documents in obsessive detail the death of a hospital patient and his fantasy reunion with a former lover. A new direction for Haas – a piece that opens a new vein.
This article originally appeared in the November 2013 issue of Gramophone. To find out more about subscribing, please visit: gramophone.co.uk/subscribe