Contemporary composer: Jennifer Higdon
Andrew Farach-Colton
Monday, March 20, 2017
Her music may be melodic and accessible, but probe beneath the surface and you'll always be surprised, writes Andrew Farach-Colton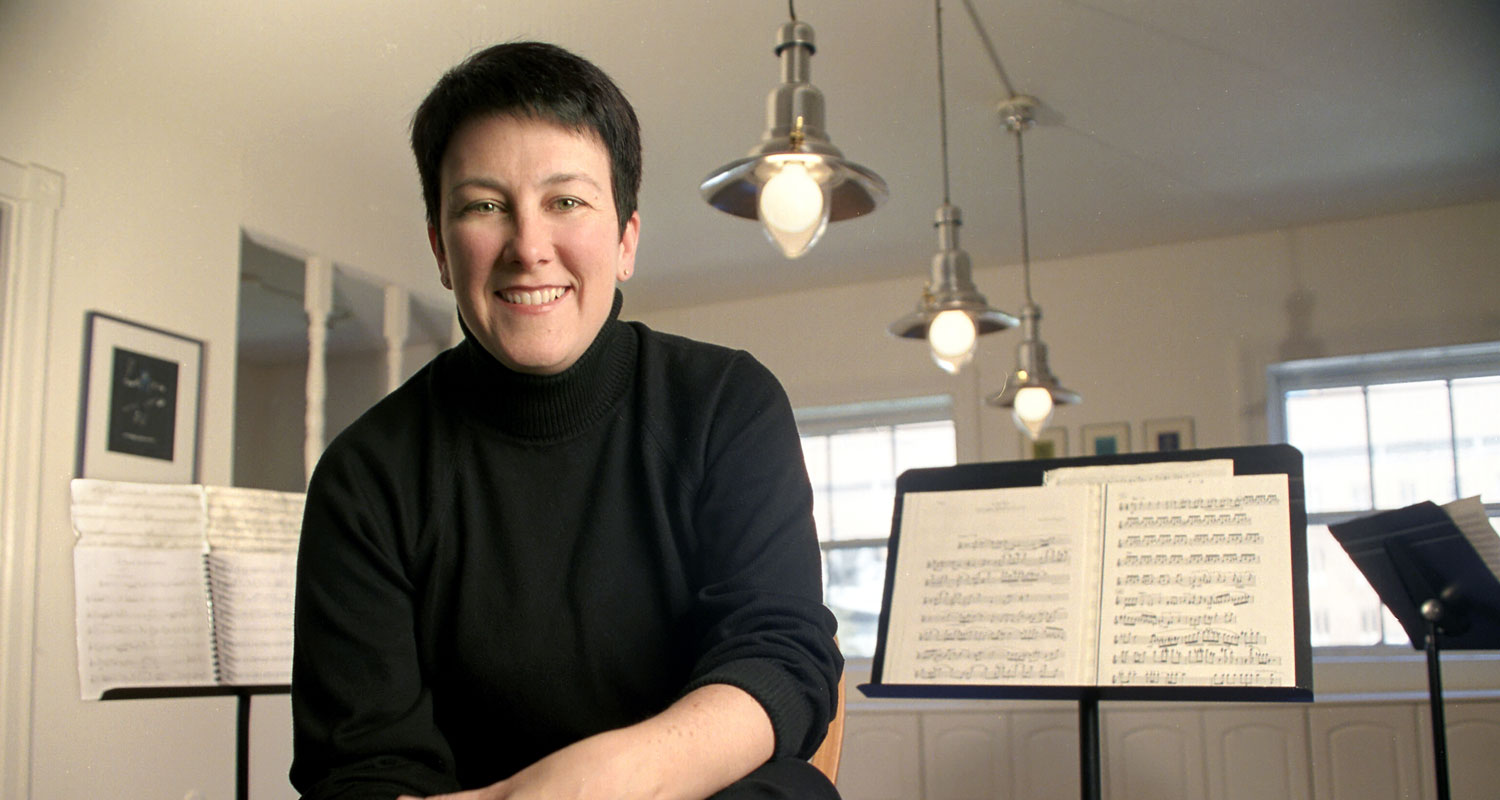 Jennifer Higdon's myriad accolades and accomplishments are impressive by any standard, but particularly in the world of contemporary classical music. She's won a Pulitzer Prize and a Grammy Award. Her music is in such high demand that she's able to compose exclusively on commission. And her champions include top-tier soloists, ensembles and orchestras. According to a recent survey of US orchestras, Higdon is one of the most performed living American composers.
Yet Higdon's most striking achievement doesn't fit so easily into a biography, and that's how thoroughly her music has filtered into every stratum of classical music culture in the United States. Glance through the 'Upcoming Performances' page of her official website and you'll find that her work is being played not only by the Houston Symphony and Philadelphia Orchestra, but also by municipal, community, and high school ensembles across the country. On the surface, it appears to be a simple formula: Higdon writes music that audiences like to hear and musicians find gratifying to play. But is it really so simple?
Higdon came to music relatively late. Her father was a visual artist, a 'hippy', and a fan of the avant-garde in almost everything but music. She was born in Brooklyn, though her parents moved to Atlanta soon thereafter, and then to a farm in the Appalachian Mountains of Tennessee. The composer recalls hearing almost no classical music in her childhood; instead, her musical diet consisted of The Beatles, Bob Marley, folk and bluegrass. At 15, she happened upon her mother's old flute and, with the help of a method book, taught herself. She didn't begin composing until she was 21 – and even then only at the behest of her flute teacher – but went on to complete graduate studies at Curtis and the University of Pennsylvania, working with Ned Rorem and George Crumb, respectively.
Higdon has been frank about her allegiance to traditional musical values – what some would call 'accessibility'. 'I believe wholeheartedly in melody,' she declared in a 2011 interview at Drexel University. 'I believe in a clear pulse and a clear rhythm. I like to be able to hear the harmonic movement. And I have a tendency to make musical events happen or turn over fast.' She has explained her philosophy partly as a reaction to the anything-goes 'happenings' she experienced through her father's artistic interests, her grounding in the steady rhythms of popular music, and also the dogged determination she felt she needed in order to make up for her own late start. As she put it to the Los Angeles Times, 'You don't need a PhD to understand my pieces.' What's intriguing, at least to me, is how unconventional the music is under its generally conventional surface.
Let's start with melody, and the understanding that her music is not, in fact, chock-a-block with hummable tunes (though she certainly knows how to write those). Rather, she tends to alternate between rhythmically strong phrases built from short, often simple motives and long-limbed, rhythmically restless, discursively expansive lines. 'Pale Yellow', the first movement of her Piano Trio (2003), is an especially lovely example, as both elements are so tender and lyrical. The piano's opening chords sound almost improvisatory, with leaps and contemplative pauses; the cello enters, ruminative, circling chant-like around a single tone; then, finally, the violin leads its partners in a yearning phrase built from slowly inching steps. As the movement unfolds, these elements intertwine and elaborate. It's, to my ears, Higdon at her most memorably melodic. (I must add that while some critics discern Copland's influence in this movement, I hear Debussy as channelled through Joni Mitchell; odd, yes, but it works beautifully.) The Trio's second movement, 'Fiery Red', gives us the flip side; here, both the motivically terse and discursive elements work together to ignite an almost unrelenting rush of nervous energy.
Bartók is a clear influence in 'Fiery Red', as it is (unsurprisingly, perhaps) in Higdon's Concerto for Orchestra (2002). This was her breakthrough work, commissioned and premiered by the Philadelphia Orchestra. But though it looks backwards – not only to Bartók but various other mid-20th-century masters – the music displays such confidence and élan that one is swept away. Notable, here, are the frequent and pronounced changes of texture, colour, and character she employs to create a sustained sense of surprise. One's never really sure what might come next, though at the same time, the various ideas are woven together expertly – there's a strong feeling of structural integrity. Indeed, the climaxes are carefully placed, not just within the individual movements but in the work as a whole, which forms a shapely and satisfying dramatic arc.
Higdon's sure dramatic sense is evident, too, in blue cathedral (2000), a 12-minute tone-poem written as a memorial to her younger brother, Andrew Blue Higdon, who died of cancer in his early thirties. This is Higdon's runaway hit; since its premiere at Curtis in 2000, it has been performed more than 500 times. And it's quintessential Higdon, marrying simplicity with complexity, and stability with surprise. Rapturous woodwind solos (her brother was a clarinettist) soar over luminous, ever-shifting pools of divided strings. A slow-building climax, capped finally by piercing trumpets, provides catharsis and makes the coda feel like a spiritually cleansing exhalation.
One of the magical things about the end of blue cathedral is the unusual, ethereal tinkling, produced by several dozen of the players shaking Chinese reflex balls – a sound Higdon happened upon by accident by bumping into a box of these balls at home. She has employed such 'experimental' touches in other works, as well, perhaps a reflection of her studies with George Crumb, who loved to create new timbres through special instrumental effects. Zaka (2003), Higdon's sonically playful and imaginative piece for the new music ensemble Eighth Blackbird, is especially delightful in this regard, as is her Percussion Concerto (2005), written for Colin Currie. In the latter work, Higdon goes to great lengths to provide the soloist with long stretches of soft, melodic music (mostly for vibraphone and marimba) which acts as a welcome foil for the obligatory, drum-heavy fireworks one (rightly) expects in a percussion extravaganza.
Higdon has become something of a concerto specialist over the past decade, producing works for oboe (2005, later adapted for soprano saxophone), a bluegrass trio (the Concerto 4-3 from 2007), and piano (2009). And it was the Violin Concerto (2010), composed for Hilary Hahn, that earned Higdon the Pulitzer. Here, again, the composer has written a crowd-pleaser that pleases for reasons one might not expect. There's lots of lyrical high-flying writing for the soloist but, as in blue cathedral, it's more rhapsodic than melodic. (Duncan Druce – in his Gramophone review, 4/11 – describes the slow movement as 'vaguely reminiscent of Vaughan Williams but with the lark ascending into a more unsettled sky'.)
Indeed, there's an English pastoral quality to much of Higdon's lyrical writing. It's unmissable in Exaltation of Larks (2005) for string quartet, though dabbed with French Impressionist colours, and also in parts of The Singing Rooms (2007) for violin, chorus, and orchestra, one of the composer's most affecting works. Higdon sets Jeanne Minahan's emotionally layered poems so that every word can be understood; occasionally one senses it's the violin and orchestra who are 'singing', not the choir. In Dooryard Bloom (2004), for baritone and orchestra, textual comprehension is, again, a primary concern – and how naturally she handles the ebb and flow of Whitman's complex prosody. Higdon's way with words will be in the spotlight again this coming August when her first opera, Cold Mountain, is premiered in Santa Fe. Is it surprising that I have high expectations?
Recommended recordings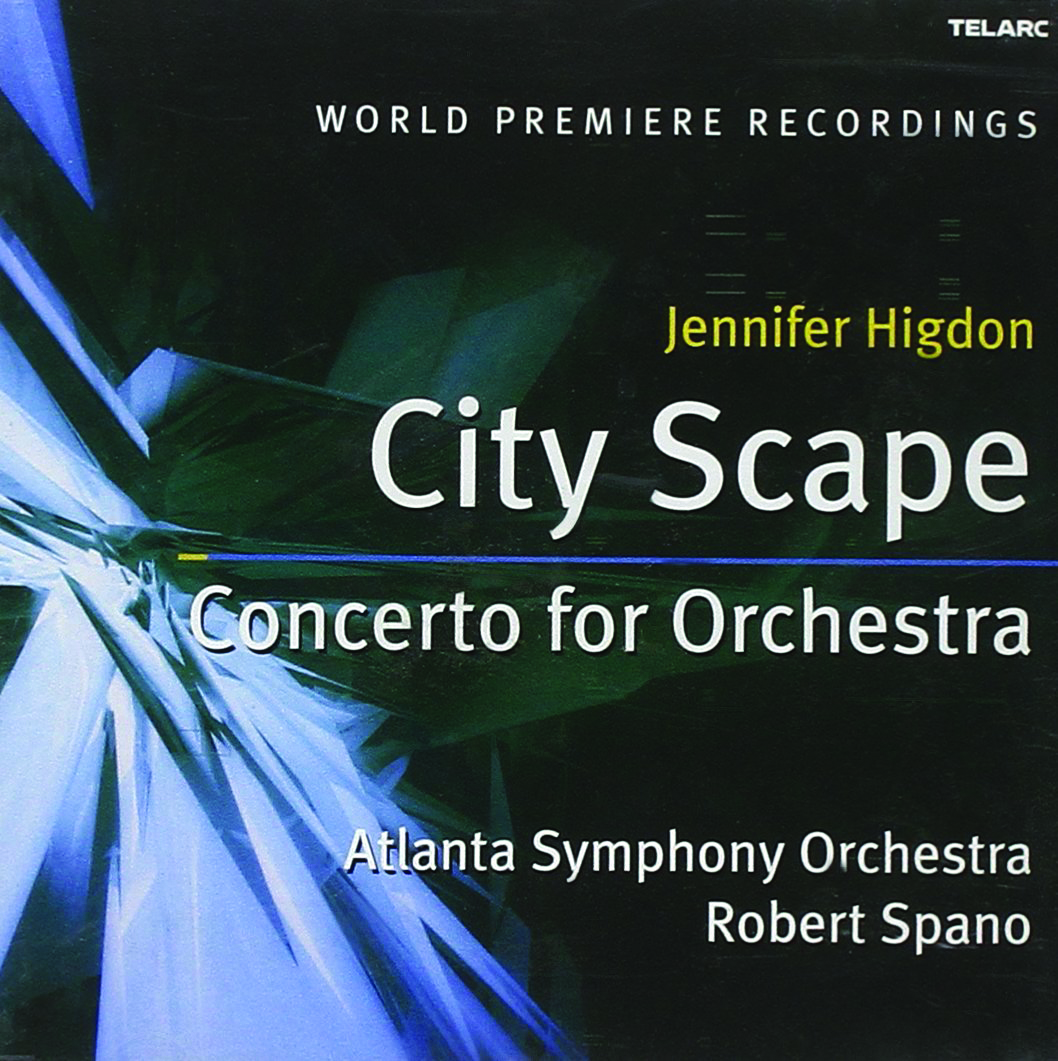 Concerto for Orchestra. City Scape
Atlanta Symphony Orchestra / Robert Spano
Telarc (4/04)
An ideal introduction to Jennifer Higdon's music. The Concerto for Orchestra put the composer on the musical map and serves as a thrilling link to the mid-century masterworks that inspired it.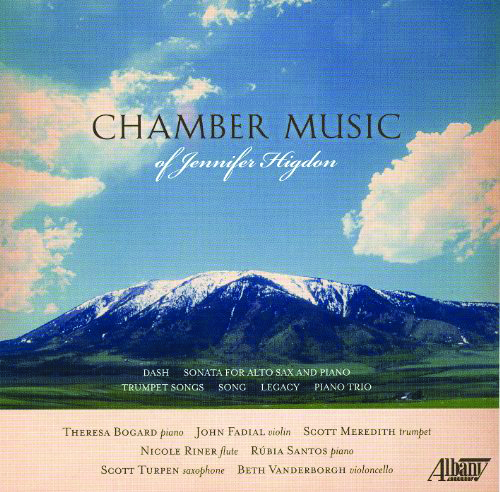 Piano Trio. Sax Sonata. Legacy, etc
University of Wyoming faculty members
Albany Records
Higdon's intimate side. The Piano Trio demonstrates her gift for tender melody. Legacy, for violin and piano, is a brief but passionate elegy, while the Sax Sonata for alto saxophone suggests nocturnal urban landscapes.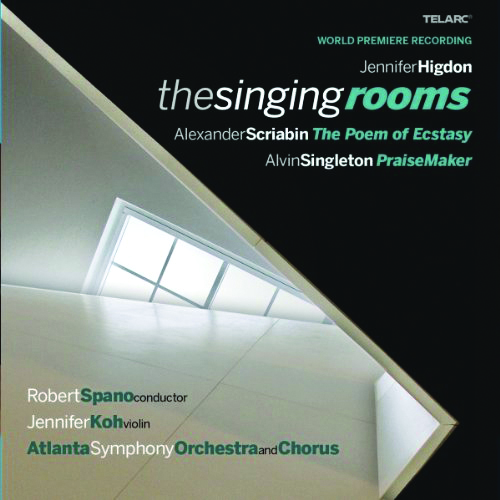 The Singing Rooms
Jennifer Koh vn Atlanta Symphony and Chorus / Robert Spano
Telarc
Part concerto, part choral song-cycle, The Singing Room is one of Higdon's most ingenious and affecting creations. Jennifer Koh plays the difficult violin part with exceptional beauty of tone, and the ASO Chorus is on top form.
This article originally appeared in the June 2015 issue of Gramophone. To find out more about subscribing, please visit: gramophone.co.uk/subscribe
Higdon Facts
Born

December 31, 1962

Education

Bowling Green State University with Judith Bentley; Curtis Institute with Ned Rorem; University of Pennsylvania with George Crumb

Career

Full-time composer (1992-present); Faculty member, Curtis Institute of Music (1994-present)

On Higdon

'A self-taught flautist who grew up in rural Kentucky, Higdon is anything but a classical music insider, her hallmark being that her unthreatening musical surfaces which recall Stravinsky, Nielsen and the more tranquil moments of Copland are a thin veil over music that's amiably subversive.' (David Patrick Stearns)

Higdon quote

'My job is to communicate. I feel that you should be able to come to my music without having any kind of knowledge about classical music. I want to be able to speak to you on a kind of visceral level. "Accessibility" doesn't seem like a negative word to me.'