Contemporary Composer: Sofia Gubaidulina
Gavin Dixon
Friday, November 29, 2019
Gavin Dixon salutes a composer whose music was once smuggled out of Russia and who remains a powerful creative force in her 80s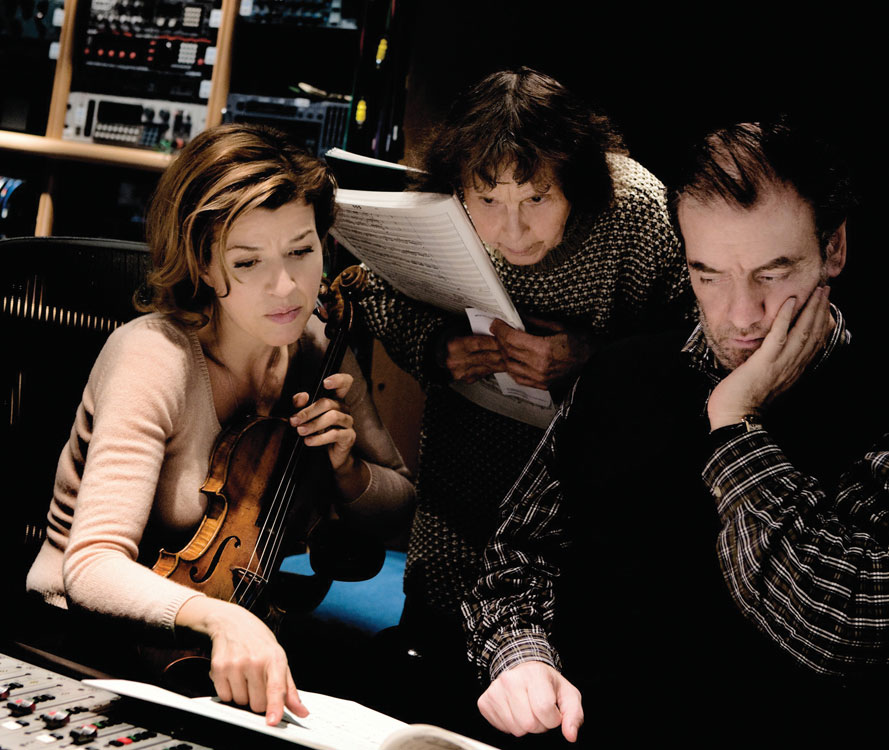 As the Soviet system gradually lost its grip on power through the 1980s, a diverse range of compositional voices was released into the wider musical world. A generation of 'unofficial' composers, effectively an underground movement in the 1960s and '70s, suddenly came to prominence. Western audiences were introduced to the sophisticated polystylism of Alfred Schnittke, the esoteric serialism of Edison Denisov, the serene tintinnabulation of Arvo Pärt – and to Sofia Gubaidulina. Her music was, and remains, difficult to categorise. She is a religious maximalist, who employs an often brutal modernist language to express and explore dimensions of her Christian faith. Her music always seems immediate and spontaneous, yet is underpinned by sophisticated mathematical procedures. And, while she embraces joy, hope and light in her music, she does so via extreme contrasts, often leading her listeners through dark and unsettling places on her very individual path to transcendence.
Gidon Kremer brought Gubaidulina's music to international attention when he gave the premiere of her violin concerto Offertorium in Vienna in 1981. The Soviet authorities almost succeeded in preventing the concert from taking place, but it was made possible by Gubaidulina's enterprising Western publisher, Jürgen Köchel, who smuggled the score out of the country to get it to Kremer. The premiere was a great success, and Kremer continued to spread the word in the following years, giving performances of the concerto with leading orchestras around the world.
When Offertorium was premiered, Gubaidulina was approaching 50. She had already spent several decades refining her approach, and so the compositional voice that the concerto presented was already fully formed – distinctive and mature. And the work proved an ideal introduction to Gubaidulina's musical world. It includes many of her recurring traits: a huge, percussion-saturated orchestra, a questing but not necessarily heroic soloist, and a religious subject, acknowledged in the liturgical title, but never guaranteeing certainty or absolution. The concerto is based on the 'Royal Theme' from Bach's Musical Offering, and explores concepts of offering and sacrifice on many levels. Bach's offering becomes a musical paradigm for God's offering through the Creation and for Christ's self-sacrifice on the cross. Typically for Gubaidulina, such ideas also play out at a more prosaic level, with the soloist's 'sacrifice of himself in self-surrender to the tone' central to the work's meaning.
Gubaidulina's music is often very consciously 'deep' and 'profound', but here too simple description and subtle metaphor blend. Her musical discourse often resides in lower registers and she has written many solo works for bass instruments, including concertos for double bass and bassoon. Another bass-heavy instrument for which Gubaidulina often writes is the bayan, the Russian button accordion. Her first bayan composition was entitled De Profundis, and, echoing the Psalm from which it takes its name, the first sounds are heard 'from the depths', in the earthy resonance of the instrument's bass register. The work makes extensive use of unpitched breathing sounds, produced by half-opening the bellows – very corporeal and worldly, profane even. But it then ascends, through glissandos and shuddering vibrato textures, until finally coming to rest in the very highest register: a journey of transcendence, but one as beset by earthly concerns as it is redeemed by heavenly powers.
Although a devout believer for many decades, Gubaidulina came late to the Orthodox faith. Originally from Tartarstan, a Muslim enclave in Southern European Russia, Gubaidulina has roots in both Christianity and Islam (her paternal grandfather was an imam), but her immediate family was secular. Surveying her music of the 1960s and '70s, we find a gradual acceptance of the Orthodox faith, finally becoming explicit in her work with Introitus, a piano concerto from 1978, and Offertorium, begun the following year.
Religion has permeated Gubaidulina's music ever since, yet any consolation that it offers is always hard won. Chorale themes appear, or the tolling of church bells, but usually within dark, ambiguous textures, as if the music is more concerned about the need for religious faith in the modern world than about the assurances of deliverance it offers. And yet, when such deliverance does occur, as at the conclusion of The Canticle of the Sun, a work for cello, percussion and chorus written for Mstislav Rostropovich, the radiant, even naive, simplicity she invests in her heavenly textures achieves a powerful, ecstatic effect through its extreme contrast with the terseness of the earlier music.
The Canticle of the Sun, which is based on a text by St Francis of Assisi, has a ritualistic quality that is another common feature in Gubaidulina's work. The cello soloist acts as celebrant, intoning chimes on various percussion instruments and moving around the performance space as the chorus chants solemnly behind. Similarly, Guabiadulina's 1986 symphony Stimmen...Verstummen... ('Voices...Silence...') includes a 'conductor solo', a silent movement in which the conductor performs a series of actions specified in the score, a miniature performance ritual itself, and an indication of the ritualistic significance of the work as a whole.
That ritual quality also informs Gubaidulina's approach to structure and progression. Her surprising changes of tempo and mood can feel impulsive, yet always fit seamlessly into the music's grand scheme. Gubaidulina achieves this through a subtle combination of impulsive creativity and rigorous formal planning. Her musical intuition was refined in the 1970s when she was a member of an ensemble called Astreya. The group specialised in improvised performances on folk instruments from Russia and Central Asia and instilled in the composer a sense of spontaneity in her writing, as well as a taste for exotic instrumentation.
The mathematical structures in Gubaidulina's music are more covert, and she has generally been less willing to discuss them in detail. Rostropovich recalled once visiting her home, and catching a glimpse of a work in progress: 'I saw a manuscript in her study that resembled an engineer's drawing – something for a plane like the Concorde or for a computer. There was an abundance of carefully drawn lines.' He asked her about it, but all she said was, 'Never mind, that's my business.' More recently, though, some of these secrets have been revealed. The Paul Sacher Foundation in Basel owns many of Gubaidulina's compositional sketches, and detailed studies of these have demonstrated that number patterns, particularly the Fibonacci sequence, have underpinned Gubaidulina's structural thinking since the mid-1980s. But Gubaidulina herself sees no contradiction here; to her, sophisticated mathematical proportioning frees her rhythms and structuring from the confines of simple regularity, it allows her music to breathe.
Since she came to international attention in the 1980s, the majority of Gubaidulina's works have been written to Western commissions. In 1992 she moved west herself, taking up residence in a small village outside Hamburg. She still lives there today, composing prodigiously even into her 80s. The scale and ambition of her music remains undimmed, and more recent compositions, such as The Light at the End (2003), a Boston Symphony Orchestra commission, and the Pushkin-inspired Feast During a Plague (2006), continue her predilection for huge orchestras and long, unbroken spans of intense musical activity. In 2007, Gubaidulina followed up Offertorium with a second violin concerto, In Tempus Praesens. This new concerto traces a typical Gubaidulina narrative from darkness to light, the soloist continually striving to overcome oppressive, bass-heavy textures from the orchestra. It was inspired and commissioned by Anne-Sophie Mutter, who gave the premiere with Sir Simon Rattle and the Berlin Philharmonic, and who has since recorded the concerto to great acclaim with Valery Gergiev and the London Symphony Orchestra (10/08).
Attending a Gubaidulina premiere today is a curious experience: watching her modestly acknowledge the applause at the end, it can be difficult to believe that the colossal, profound and emotionally devastating music you have just experienced could be the work of such a petite, mild-mannered and amiable octogenarian.
Recommended Recordings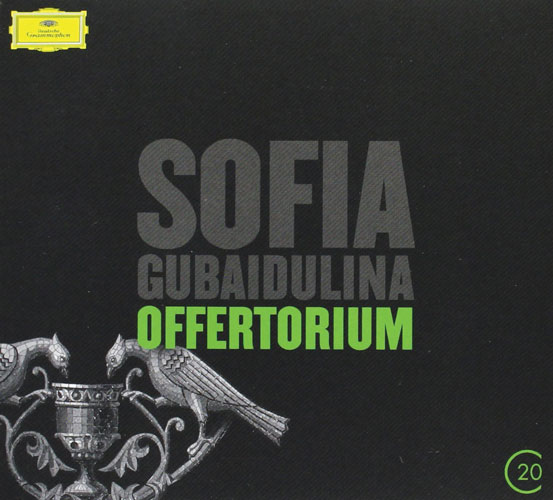 Offertorium
Gidon Kremer vn Boston SO / Charles Dutoit
(DG)
Gubaidulina's breakthough work, performed by its dedicatee. A compendium of Gubaidulina's mature style and an ideal introduction to her music.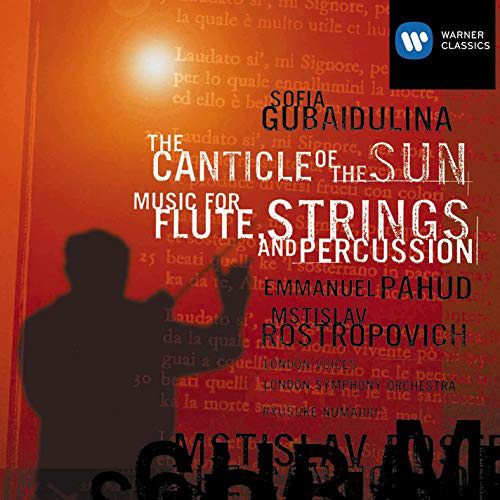 The Canticle of the Sun. Music for Flute, Strings and Percussion
Emmanuel Pahud fl Simon Carrington, Neil Percy, John Alley perc London Voices; LSO / Ryusuke Numajiri; Mstislav Rostropovich vc
(EMI/Warner Classics)
Iconic works of the 1990s in benchmark recordings.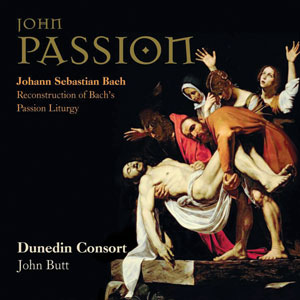 St John Passion
Sols; Mariinsky Theatre Orch / Valery Gergiev
(Hänssler Classic)
Like a Russian Orthodox version of a Bach Passion setting. Austere but compelling.
This article originally appeared in the August 2014 issue of Gramophone. Never miss an issue – subscribe today!
Facts
Born

1931 in Chistopol

Has written works for

Mstislav Rostropovich, Gidon Kremer, Simon Rattle, Gennady Rozhdestvensky, Yuri Bashmet, Arditti Quartet, Boston Symphony Orchestra

Awards

Russian State Prize 1992, Praemium Imperiale (Japan) 1998, Great Distinguished Service Cross of the Order of Merit (Germany) 2002, Golden Lion for Lifetime Achievement (Biennale di Venezia 2013), RPS Gold Medal (2019)