Contemporary composer: Unsuk Chin
Gavin Dixon
Tuesday, February 6, 2018
The Korean-born, Germany-based composer was inspired by Ligeti yet has gone on to find her own distinctive voice, writes Gavin Dixon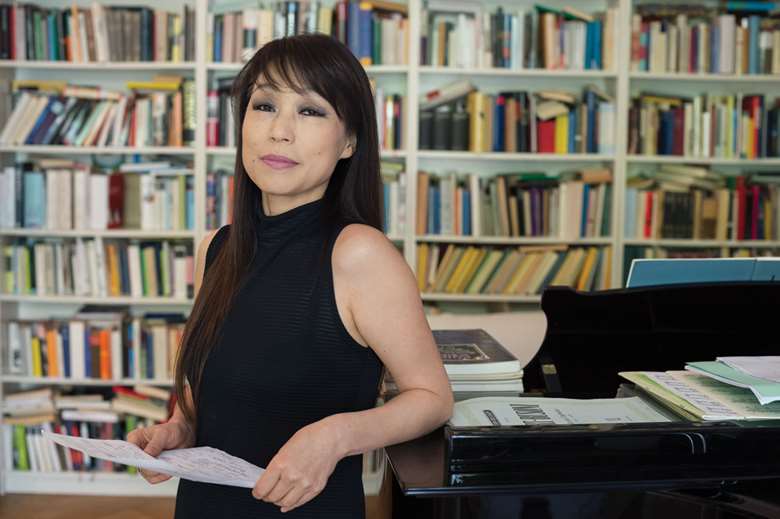 Curiouser and curiouser. Listening to the music of Unsuk Chin can feel like an adventure in Alice's Wonderland. We start in familiar territory, with simple and attractive musical ideas, but these gradually weave into complex and unsettling textures. Soon we are down the rabbit hole, and nothing is quite what it seems. The music appears stable, until a subtle change in harmony casts it in an entirely new light. Perspectives change, motifs and melodies twist and distort. Simplicity gives way to beguiling complexity. Then everything stops, often with a thump from the percussion, and we are left contemplating the bizarre turn of events. Was it all a dream?
Unsuk Chin has been fascinated by Alice in Wonderland since childhood, and it has inspired much of her music, most notably her 2007 Alice opera. But her take on the story is distinctive. The opera is full of moments of intrigue and wonder, but these are set against stark representations of the tale's brutal absurdity – a fantastical yet always lucid conception, typical of Chin. As a Korean based in Germany, she has an outsider's perspective on European culture, and her music regularly highlights its ingrained paradoxes. She is a voice of reason, bringing order to the surreal. Above all, she brings clarity, however complex her music becomes, with every note remaining audible, every motivation clear.
Such clarity is rare in new music, and it sets Chin apart. It stems from her interest in musical depictions of colour and light. Her orchestral work Rocaná, for example, has a Sanskrit title that translates as 'room of light', and the instrumental textures follow 'the behaviour of beams of light – their distortion, refraction, reflections and undulations'. This conception of sound grew out of Chin's work with electronics; from 1988 she spent two years working in the electronic music studio of Berlin Technical University. She credits the experience with changing her approach to composition, moving away from notions of theme and development towards a more abstract 'fantasy of sound colours'.
Clarity requires perfection, and Unsuk Chin is a perfectionist. Many of her early works have been withdrawn, and later ones subjected to extensive revision. Her Cello Concerto, for Alban Gerhardt, was acclaimed at its 2009 Proms premiere, but the composer was dissatisfied with the second movement. When the piece re-emerged in 2013, the harmonic structure of the movement had been completely revised – the textures and sounds little changed, but the movement's trajectory radically transformed and refined.
The concerto genre has proved an ideal format for Chin's work. As well as those for sheng (the traditional Chinese mouth organ) and cello, she has also written concertos for piano, violin and clarinet, and a double concerto for piano and percussion. She rarely sets the soloist against the ensemble, preferring instead to explore the textures and sounds they can create together. Not that the results ever lack drama or tension – there is as much tumult in Chin's music as there is tranquillity, and soloists are regularly pushed to their limits. 'I like to see soloists go beyond their possibilities to create an extreme situation,' she explains.
In this partnership of soloist and orchestra, the soloist becomes the music's voice, the point of focus to lead the ear through the complexity. Chin is not afraid to write a tune, which we often hear in the solo line singing across the orchestral textures. In the Cello Concerto, the soloist often moves around the fingerboard in graceful portamento glides, an effect so lyrical it naturally evokes the human voice.
Singing is never far from the surface of Chin's music. As she says, 'I'm Korean – Koreans enjoy singing.' She has a particular fondness for the soprano voice, for which she has been writing throughout her career. Acrostic-Wordplay, her first soprano song-cycle, established Chin as a leading player in European contemporary music. The work was performed, still incomplete, by the Nieuw Ensemble in Amsterdam in 1991. The composer George Benjamin was in the audience, and was so impressed that he immediately began planning a London performance. That took place in 1993 at the QEH – the premiere of the completed work. Another success, this time at a higher profile – and so began Chin's international career.
Acrostic-Wordplay dates from just after Chin completed her studies and the influence of her teacher György Ligeti is clear. The older composer was a connoisseur of the surreal, especially of nonsense rhymes and riddles. In Acrostic-Wordplay, we hear a similar imagination at work, Chin continually finding inspiration in word games, drawing as much from the sounds of the texts as the fleeting associations they evoke.
Similarities abound between teacher and pupil, with Chin's music often continuing and extending Ligeti's idea. With her Piano Etudes, Chin seemed to take up where Ligeti left off. Like Ligeti's, Chin's are an occasional series, now six in number (of an envisioned 12), and each is characterised by a Ligeti-like interplay of order and chaos. A distinctive musical idea gives each étude a clear identity, but this is quickly subsumed into complex webs of sound. But the differences are instructive. However involved Chin's textures become, her sense of clarity, that feeling of light and openness, always ensures transparency. And where Ligeti tends towards the mechanistic, Chin always maintains a sense of the lyrical – her music always sings.
There's no mistaking the humour in her music though, the fundamental link between late Ligeti and early Chin. Ligeti's humour is more morose, and Chin's more puckish, but both have a sense of playfulness that imbues their work with buoyancy and endearing charm. Chin often takes inspiration from comical sources, such as her early memories of slapstick Korean street theatre in Gougal¯on, or European pantomime traditions in cosmigimmicks.
Alice in Wonderland was another fascination shared by Ligeti and Chin. Ligeti long fostered an ambition to write an opera on the subject. Chin took up the idea, and her opera was premiered in Munich in 2007 under the baton of her most ardent champion, Kent Nagano. She treated the project as an opportunity to bring together every aspect of her music to date, from her absurdist humour, to her virtuosic soprano writing of the title-role, to her complex yet transparent orchestral textures. 'I wanted to write an opera that is highly intellectual but that is also very simple and can communicate directly with the audience,' Chin later explained – a paradoxical mix but a successful one. The opera has now had five separate productions around the world and remains her most popular work.
Now in her mid-50s, Unsuk Chin is at the height of her creative powers. Recent compositions include her Clarinet Concerto for the Finnish virtuoso Kari Kriikku, and Mannequin, written for the National Youth Orchestra of Great Britain, which gave the premiere earlier this year in Gateshead. That work is inspired by dance, and the composer has suggested that it may lead on to music for choreography, which would be a new departure for her. But Chin's next major project is a return to a familiar theme, an opera based on Through the Looking Glass. It is a Royal Opera commission and is due to open in London in the 2018/19 season. Alice's adventures continue…
This article originally appeared in the August 2015 issue of Gramophone. To subscribe to the world's leading classical music magazine and the UK's most popular digital music magazine across all genres, please visit: gramophone.co.uk/subscribe
Unsuk Chin facts
Born

Seoul, South Korea, July 14, 1961

Breakthrough work

Acrostic-Wordplay (1991, rev 1993)

Definitive work

Alice in Wonderland (2007)

Awards

2004 Grawemeyer Award for Violin Concerto; 2005 Arnold Schoenberg Prize; 2010 Prince Pierre Foundation Music Composition Prize for Gougalōn

Unsuk Chin on her music

'My music is a reflection of my dreams. I try to render into music the visions of immense light and of an incredible magnificence of colours that I see in all my dreams, a play of light and colours floating through the room and at the same time forming a fluid sound sculpture. Its beauty is very abstract and remote, but it is for these very qualities that it addresses the emotions and can communicate joy and warmth.' (2003)