Creativity and friendship: Sir Tom Stoppard and André Previn
Jon Tolansky
Wednesday, April 14, 2021
The playwright on collaborating with the composer and conductor on Every Good Boy Deserves Favour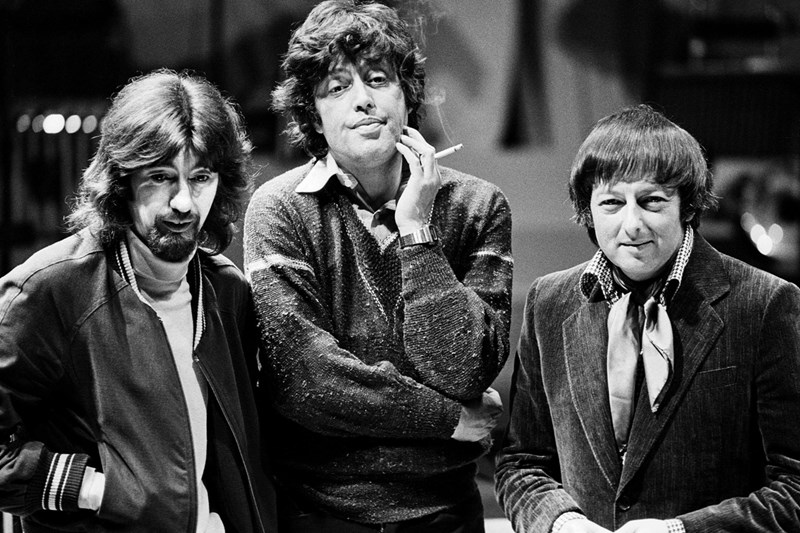 Tom Stoppard (centre), with director Trevor Nunn (left) and André Previn (right) during rehearsals of Every Good Boy Deserves Favour (photo: Donald Cooper / Alamy Stock Photo)

Warner Classics will this month issue a 96-CD box-set of all André Previn's EMI and Teldec recordings. Contained within is a new documentary: André Previn – A Memoir by Jon Tolansky, among which features a contribution by acclaimed playwright and dramatist Sir Tom Stoppard. While preparing that documentary, Tolanksky spoke at length to Stoppard about his collaboration with Previn on the play Every Good Boy Deserves Favour. He brings you that conversation here, and starts by setting the scene.
A meeting of mavericks
Sir Tom Stoppard and André Previn collaborated in a daring innovation of ground-breaking originality when they created Every Good Boy Deserves Favour, which premiered at London's Royal Festival Hall on July 1, 1977, followed by an RCA studio recording six-and-a-half months later. With a line-up of star actors, the London Symphony Orchestra, and Previn all partaking together on stage in the action directed by Sir Trevor Nunn, the maverick gifts of both André Previn and Sir Tom Stoppard were brilliantly harnessed in an unprecedented concept of musical and acting interplay that bitingly dramatised a directly topical situation.  
Set in a mental hospital in contemporaneous Leningrad, a Soviet dissident has been sent into an insane asylum – diagnosed as insane, which very much he is not, because he has dared in his 'madness' to criticise the regime. He can only perhaps be released if he confesses that his actions were the result of insanity and hallucinations. In the asylum he shares a cell with a genuinely mentally ill man who believes that under his command he has a large symphony orchestra, which he conducts from his position in the orchestra playing the triangle. The orchestra responds to his imagined direction, and one of the violinists 'doubles' as his psychiatrist, played by an actor. Thus the orchestra is an integral actor and player in the trenchantly lifelike unfolding of the drama. The play's subject and provenance were Sir Tom's vision, but its origins had arisen through a chance off the cuff suggestion that André Previn had put to him early on during the very special cord of friendship that they had formed, as he recalled to me...
Stoppard on Previn
I had first met André in 1973 because the Greenwich Theatre had asked me to do an English version of The House of Bernarda Alba by Lorca, and as Mia, his wife (Mia Farrow), was appearing in the play, I was in and around the theatre at a time when André would come to collect her. Sometimes there was time for us to chat, and it was quite quickly clear that we were a very good fit. I understood his humour and he understood mine: and the one element that should have divided us, which was my lack of knowledge and interest in what is called classical music, didn't partition us because we had a lot that culturally united us.
We started to dine together at the Café Royal and even during a period when Mia was quite seriously ill in hospital, I think with pneumonia, and André was anxiously awaiting news, he used to have me almost on the floor with laughter as he told me about adventures in Hollywood when he wasn't even 20 years old. And then one day he said to me, 'Listen if you ever write something that requires a symphony orchestra, I've got one!' So I said 'Well - OK – I'll give that serious thought!' It actually took a few years to come up with something that made sense to both of us, and that was Every Good Boy Deserves Favour.
When I suggested the subject to André he was very taken with it, and at the same time our mutual senses of humour came into play. I took a satirical line on the subject, so that the tragedy which was genuine also incorporated humour, and especially puns – and that appealed to André. I think he enjoyed the whole experience – the writing of it and the performing of it.
The play certainly was a most unusual and possibly unique combination of drama and music. From my perspective it was a matter of combining two preoccupations that might have remained separate. In the first place there was an almost abstract desire to do something with André because I thought so highly of him, and on the other hand I had this long standing interest and involvement with dissenting people in Eastern Europe who were working and suffering for freedom of expression. In particular this was at a time when the Jews in the Soviet Union who wanted to emigrate to Israel were being prevented from doing so, and one of the ways that the authorities countered them and tried to control them was by redefining their dissent as mental illness and incarcerating them in insane asylums. So, it was a good day for my creative juices when I realised, belatedly, that this is what I should be writing about when the opportunity to collaborate with André arose. And as I knew a lot about the subject I was essentially able to incorporate contemporary history and real people into the play.
Fiction or reality?
Indeed, the drama's root in reality was powerfully connected to Sir Tom's personal experience. He had become acquainted with a Russian dissident, Viktor Fainberg, who had related a chain of events to him. Fainberg had been imprisoned in an insane asylum because he had spoken out against the government and taken part in the Red Square demonstration against the Soviet invasion of Czechoslavakia in 1968. After his release he had managed to leave Russia and began campaigning vigorously for the release of his fellow-dissident Vladimir Bukovsky, who had been imprisoned in 1971 as a 'malicious hooligan, engaged in anti-Soviet activities'. In 1976 Bukovsky was deported from the USSR and the following year he moved to live in England. He is basically the imprisoned dissident featured in the play – the sane man, given a different name – and in real life he was to give Sir Tom and the performers of Every Good Boy Deserves Favour a momentous surprise.
I remember Vladimir Bukovsky coming to a rehearsal when the actors and Trevor Nunn were working on a scene. He talked to us, and as he was one of the main shadowy real life people behind the performance, the entire occasion was I think in my experience a unique co-mingling of the real world outside the rehearsal with what was happening inside the room.
The performance had an electric frisson that I still vividly recall after a passage of more than 43 years – and not least intensified by the unprecedented novelty of actors and musicians co-habiting in the action: a challenge of unchartered territory for the LSO. The actors and I had been anxious that the musicians were maybe going to be apprehensive about the stage characters moving around their instruments at such close physical quarters. Fortunately Trevor Nunn came up with the idea of giving the orchestra an opportunity to see a stage rehearsal with just the actors alone, so that they could all become more individually involved with the action, and this worked splendidly: the musicians were highly enthusiastic and intrigued. So it was all very marvellous – scary and terrifying, actually, but a great success under André's outstanding direction.
Every Good Boy Deserves Favour was where André and I really bonded, and we stayed friends all the time up to his death. In the early years I used to visit him and Mia at their house in Surrey – they had a wonderfully English type of house, with an English rose-garden, and many times when I went there André would entertain me by telling me stories and sometimes then explain something on the piano. It was there that I became aware of his special gift for communicating music to all kinds of people, and his driving passion to bring it to everyone. When he gave my then wife Miriam and me two tickets to go and see him conduct at the Royal Festival Hall, it was actually the first time I had ever been to an orchestral concert, and when he came on stage at the start, just before he began he glanced up to where we were sitting to see if we were there. My circulation turned over, because he seemed to break a natural barrier – that the conductor should actually have enough brain spare at a moment like that to check out on whether we were sitting in our seats. Quite extraordinary.
The end of the Odyssey
It was an ironic stroke of fate that André Previn's very final composition should again have united him and Sir Tom Stoppard in another highly original endeavour but one that very sadly he was not to live to see and hear performed. Penelope, a monodrama for soprano, speaker, string quartet and piano, completed after Previn's death with the greatest care and expertise by his Editor and friend for 22 years, David Fetherolf, was another journey into imaginative novelty for both Sir Tom and André Previn, as Stoppard again recalls.
The last collaboration I had with André came about because he had been nagging me for at least 10 years to write a piece for him and Renée Fleming. He told me 'Renée would love to sing something that you have written and I would love to write the music' and I kept saying 'I have no idea how to do anything like that – I have never written for a classical singing voice before – and what would it be about?' I really did my best to get out of it for years, but he persisted and then he finally told me he had a monodrama in mind and could I think of a subject: 'you don't have to think of it as a song' he said. So after a lot of consideration, I came up with Penelope in The Odyssey, and I wrote a dramatic monologue that is essentially The Odyssey from Penelope's point of view. It was arranged that we would premiere it at the Tanglewood Festival, so I started sending him what I was writing, and each time I was in New York I looked in on him and he would play me on the piano what he had been writing for it.
I received the impression that André had just about completed the work when he succumbed to his last illness – so it was a tragedy that he didn't live to see the premiere. It was very moving to share him with Renée and everyone at Tanglewood – and for me it was the close of an arc of about 45 years from when he and I had first started to talk about working together. The last several times I saw him, by which time his health had seriously deteriorated, rather touchingly he was himself when he sat at his piano. His legs were bad and he moved with great difficulty, needing a lot of help just getting from A to B – but immediately he sat at a keyboard he was what he had always been. He could talk away ignoring the keyboard but just occasionally referencing something.
The feeling I have about André is that of bereavement and a real sense of loss – and the sense that what we lost was a great generosity. He had a very generous attitude to what was coming down the track – he seemed to be open to almost anything and had a great-hearted spirit to what other people were doing or wanted to do, and to what he might take on himself. So he was a very rare person – and in a way because I am not a musician, I felt I was awarded a generous portion of the personality: had I been a musician, the access between us would have been narrower I think. As it is, since we didn't really have classical music in common, everything else he loved was usually something I loved, and we communicated that way. Altogether: a dear man, and a brilliant man. It was a privilege to spend time with him.
The Warner Edition: Complete HMV & Teldec Recordings of André Previn is released on April 23