Critics' Choice 2017: the year's best-loved classical recordings
Gramophone
Thursday, December 14, 2017
Our critics each choose a favourite recording from the past 12 months. If you're after the perfect gift guide for Christmas, look no further!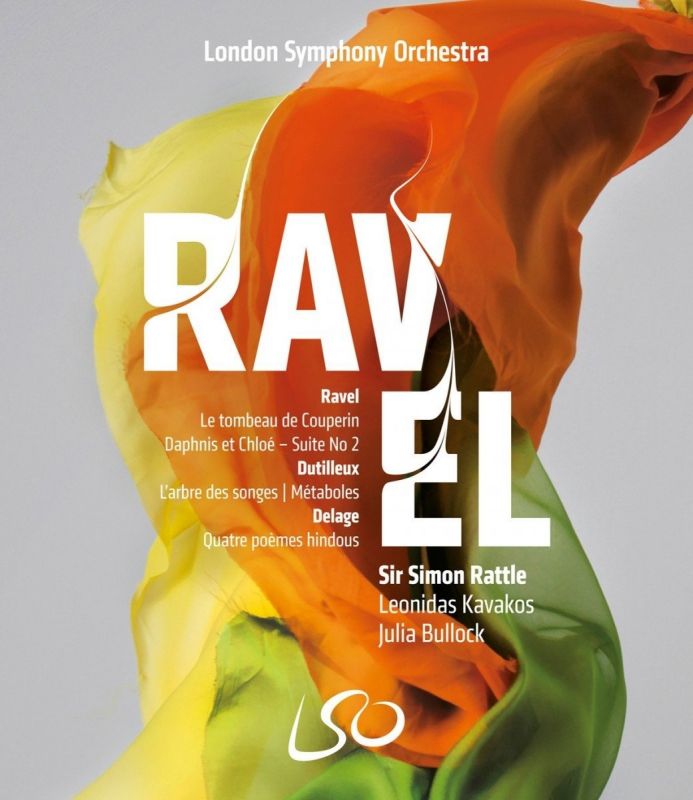 Andrew Achenbach
Ravel Daphnis et Chloé
Ensemble Aedes; Les Siècles / François-Xavier Roth
Harmonia Mundi
I adored this thrillingly cogent yet intoxicatingly atmospheric rendering of Ravel's sublime ballet with a superbly agile period-instrument orchestra. In terms of refreshingly distinctive timbre and subtly quarried detail it's a feast for the ears; indeed, the whole venture distils all the heady excitement of a genuine theatrical event.
David Threasher
'Haydn 2032 – No 3, Solo e pensoso'
Francesca Aspromonte sop Il Giardino Armonico / Giovanni Antonini
Alpha
The remastered anniversary edition of The Beatles' Sgt Pepper opened my ears afresh to an album whose every groove I thought I knew intimately. Giovanni Antonini has been doing the same with Haydn's symphonies: his third instalment contains two particular favourites, Nos 4 and 42, from his early and middle periods.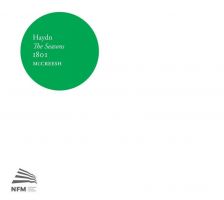 Nalen Anthoni
Haydn The Seasons (sung in English)
Gabrieli Consort & Players / Paul McCreesh
Signum
'Haydn the Inaccessible' averred Donald Tovey. To which composer Robin Holloway adds 'Haydn the Accessible', 'Haydn the Repellent?' and 'Haydn the Withdrawn'. All resound in The Seasons. Here's Haydn's genius at its keenest but never so trenchantly revealed as in Paul McCreesh's prodigious interpretation.
David Vickers
Gibbons 'In Chains of Gold: The English Pre-Restoration Verse Anthem, Vol 1'
Magdalena Consort; Fretwork; His Majestys Sagbutts & Cornetts
Signum
Fretwork and the Magdalena Consort's fresh take on Gibbons's consort anthems asks all sorts of awkward questions – such as what types of instruments, pitches and voices might have been expected in private Jacobean chapels – and comes up with a beguiling synergy of curiosity, creativity and musical insights.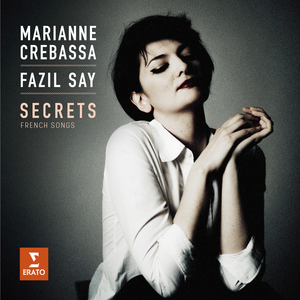 Tim Ashley
'Secrets'
Marianne Crebassa mez Fazıl Say pf
Erato
Marianne Crebassa and Fazıl Say prove fascinating partners in this wonderful survey of settings of French Symbolist poetry, to which Say's own vocalise Gezi Park 3 forms a provocative appendix. It includes some intense Duparc, an ultra-sensual Chansons de Bilitis, and the best performance of Fauré's Mirages that I know.
Richard Whitehouse
Carter 'Late Works'
BCMG; BBC Symphony Orchestra / Oliver Knussen
Ondine
Ondine's release of late works by Elliott Carter reaffirms this composer's fluency and inventiveness into his 11th decade. Featuring dedicated exponents such as pianist Pierre-Laurent Aimard and conductor Oliver Knussen, with Birmingham Contemporary Music Group and the BBC Symphony Orchestra, it embodies the highest standards of composing, performance and production.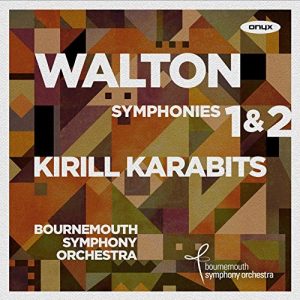 Mike Ashman
Walton Symphonies Nos 1 & 2
Bournemouth Symphony Orchestra / Kirill Karabits
Onyx
Orchestral surprises on disc have been coming out of Bournemouth since the days of Dan Godfrey. Now Kirill Karabits's new Walton coupling combines much of the bite of the famous old Previn/LSO disc with a sound world that leans relevantly to Shostakovich and Prokofiev.
Richard Wigmore
Haydn The Seasons (sung in English)
Gabrieli Consort & Players / Paul McCreesh
Signum
This Anglo-Polish collaboration presents Haydn's celebration of rural life on the grand scale of its 1801 premiere. With van Swieten's English cleaned up, McCreesh et al thrillingly catch the music's vitality, vibrant colours (never have the hunt and wine harvest sounded more riotously exuberant) and lyrical charm. Led by the vernal-toned Carolyn Sampson, the three soloists sing with unfailing style and character.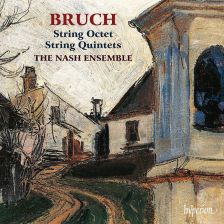 Richard Bratby
Bruch Two String Quintets. String Octet
The Nash Ensemble
Hyperion
In a strong year for chamber music, this disc narrowly missed out on a Gramophone Award. But this programme of neglected late works by Max Bruch includes at least one genuine masterpiece, the A minor String Quintet. And the Nash Ensemble play it like the ink is still fresh on the page.
William Yeoman
Widor Solo Organ Works
Joseph Nolan
Signum
West Australian-based organist Joseph Nolan brought his complete traversal of Widor's organ works to a reposeful end with this final volume, the smaller-scale works therein largely eschewing grand symphonic gestures in favour of intimacy, reflection and some delicate colours. Surprisingly, it reminded me of the many recordings of solo lute music I'd enjoyed throughout 2017.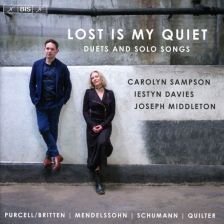 Alexandra Coghlan
'Lost is my quiet'
Carolyn Sampson sop Iestyn Davies counterten Joseph Middleton pf
BIS
A late contender from me – Iestyn Davies and Carolyn Sampson's flawless recital of songs and duets by Purcell, Mendelssohn, Schumann and Quilter. The programming may seem diffuse, but there's an alchemy to these performances that transforms this into quite the most engaging (and just a little offbeat) release of the year.
Lindsay Kemp
JS Bach St Matthew Passion
Monteverdi Choir; English Baroque Soloists / Sir John Eliot Gardiner
SDG
It was a big-name release that moved me most this year: Sir John Eliot Gardiner's new live version of Bach's St Matthew Passion successfully draws together many of the profoundly human elements – not least compassion, community and integrity – that make it a true masterpiece of Western art.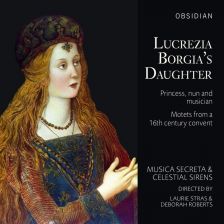 Edward Breen
'Lucrezia Borgia's Daughter'
Musica Secreta; Celestial Sirens / Laurie Stras, Deborah Roberts
Obsidian
This album represents all that is trailblazing about early music: creative research and thrilling performances uniting sopranos and altos from different generations of leading British vocal ensembles. The passionate and, frankly, sensual vocal polyphony from the convent of Corpus Domini in Ferrara, home of Lucrezia Borgia's daughter, is a revelation.
Richard Lawrence
Humperdinck Hänsel und Gretel
Sols incl Daniela Sindram, Ileana Tonca; Vienna State Opera Orchestra / Christian Thielemann
Euro Arts
Adrian Noble begins his unsentimental production of this Grimm fairy tale (pun intended) with a family celebrating Christmas in late-Victorian London: a magic lantern show put on for the children turns into reality. Anthony Ward's designs are entrancing, Christian Thielemann's conducting couldn't be bettered. Christmas stocking? Look no further.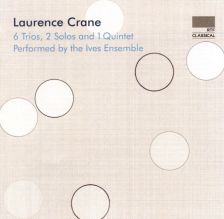 Liam Cagney
Crane '6 Trios, 2 Solos and 1 Quintet'
Ives Ensemble
Nimbus Alliance
The seemingly prosaic surface of Laurence Crane's music belies its strange depths. These chamber works repeat ostensibly simple melodic and rhythmic motifs to a vivifying end. If comparisons to Satie and Feldman come to mind, the music is distinctively Crane's own, by turns whimsical, obsessive, pensive and sincere.
Andrew Mellor
'Music from the Peterhouse Partbooks, Vol 5'
Blue Heron / Scott Metcalfe
Blue Heron
Plenty of discoveries here: rescued music of a surprisingly high quality from England's polyphonic Golden Age (the names John Mason and Hugh Sturmy were new to me) and an intriguing ensemble that sings it with precision, freshness, spirit and style. Volumes 1-4 for Christmas, please.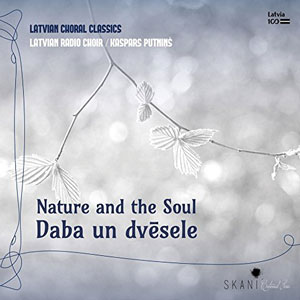 Ivan Moody
'Nature and the Soul'
Latvian Radio Choir / Kaspars Putniņš
LMIC/SKANi
An outstanding collection of Latvian choral music, celebrating the 100th anniversary of the country's independence and featuring work by superb composers such as Emīls Dārziņš and Jānis Zālītis. Sung with moving passion and absolute precision, this is a recording that resonates in the mind and spirit.
Rob Cowan
'In Schubert's Company'
Yakov Katsnelson pf Riga Sinfonietta / Maxim Rysanov va
Onyx
For me, 'In Schubert's Company' must ultimately take the palm, principally because of Dobrinka Tabakova's Fantasy Homage to Schubert where the tremulous opening of the violin Fantasy emerges as if out of a dream. Schubert 'straight' and Schubert 'reimagined' coexist for an absorbing programme, superbly performed.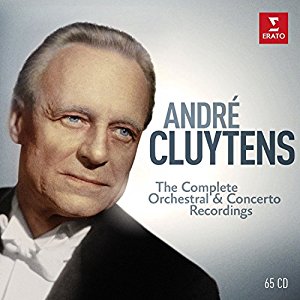 Jed Distler
'André Cluytens: The Complete Orchestral & Concerto Recordings'
Erato
Few conductors were so equally authoritative and vital in Russian, German and French music as André Cluytens, as this vast, eclectic and unfailingly interesting collection consistently proves. It also preserves the all-but-vanished performance tradition of French orchestras, whose crisp sonorities and pronounced timbral diversity flourished under Cluytens's watch.
Jeremy Nicholas
Chopin Works for piano and orchestra
Jan Lisiecki pf NDR Elbphilharmonie Orchestra / Krzysztof Urbański
DG
DG issued three new major Chopin discs this year featuring Seong-Jin Cho, Daniel Trifonov and Jan Lisiecki. It is the latter, from Gramophone's 2013 Young Artist of the Year, that made the greatest impression in accounts of Chopin's four, less-frequently heard works for piano and orchestra. Lisiecki leaves competitors trailing in his wake.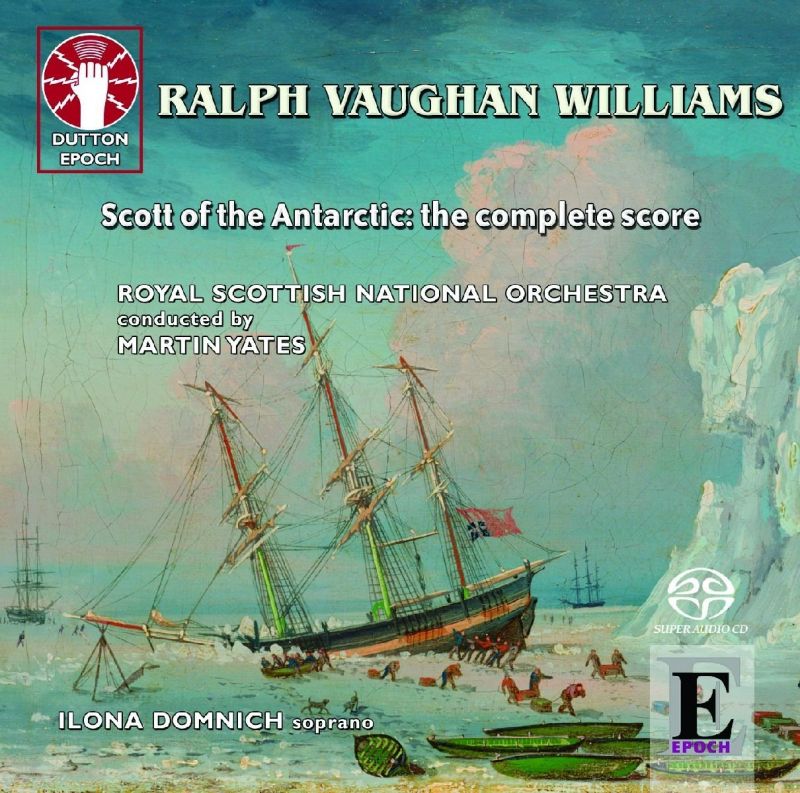 Adrian Edwards
Vaughan Williams Scott of the Antarctic
Ilona Domnich sop Christopher Nickol org Royal Scottish National Women's Chorus and Orchestra / Martin Yates
Dutton Epoch
The music for the film Scott of the Antarctic was a notable addition to the RVW discography this year with Martin Yates an assured guide to the polar landscape familiar from the Sinfonia antartica, as he is to the portraiture of those explorers and their wives captured in the music omitted from the symphony and the final edit of the film.
Christopher Nickol
Reger 'Maximum Reger'
Various artists
Fugue State Films
Reger's reputation lies primarily with virtuoso organists; however, this box-set also features a distinguished roster of instrumentalists, chamber ensembles and orchestras – all giving wonderful performances. Together with the accompanying documentary, these DVDs prove that Reger deserves to be mentioned in the same breath as Bach, Brahms, Liszt and Schoenberg.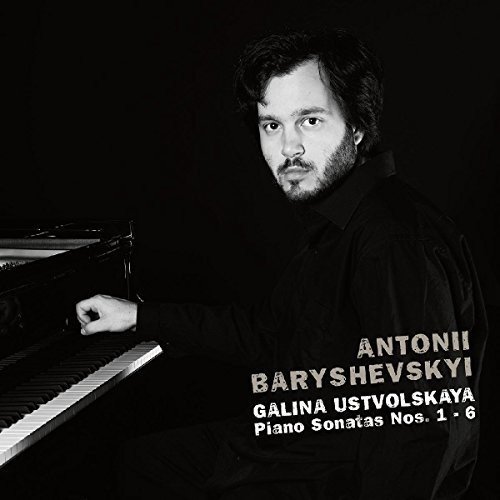 David Fanning
Ustvolskaya Piano Sonatas Nos 1-6
Antonii Baryshevskyi pf
AVI Music
This year's reviewing has brought me several near-misses. Closest to the bull's-eye, I reckon, is the young Ukrainian Antonii Baryshevskyi's survey of the six piano sonatas by Galina Ustvolskaya, which restores to the catalogue some of the hardest-hitting music ever composed in the Soviet Union, performed here with exemplary intransigence.
Geoffrey Norris
Rachmaninov Piano Concerto No 2; Études-tableaux, Op 33, etc
Boris Giltburg pf Royal Scottish National Orchestra / Carlos Miguel Prieto
Naxos
The fusion of freshness with generous spirit and soul lends an enthralling dynamism to this familiar repertoire. Boris Giltburg faithfully observes Rachmaninov's marks of expression in the concerto and the Op 33 études, but there is a fluid imagination at work here tied to an enquiring musical intelligence.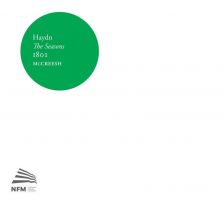 Richard Fairman
Haydn The Seasons (sung in English)
Gabrieli Consort & Players / Paul McCreesh
Signum
For years I longed for Haydn's The Seasons to be as much fun as The Creation. René Jacobs undeniably achieved that, and here now is Paul McCreesh, completely different but just as enthralling, presenting The Seasons on an authentically huge scale, sung in English, and bursting with generosity of spirit. The recording is a joy.
Richard Osborne
Bach Magnificat
Monteverdi Choir; English Baroque Soloists / Sir John Eliot Gardiner
Soli Deo Gloria
Hidden behind the curious cover of the Monteverdi Choir's newest CD is a superb re-creation of the music Bach wrote for his first Christmas in Leipzig in 1723. The centrepiece is the Magnificat, richly contextualised and in its original key, in a performance that is as spectacular as it is affecting.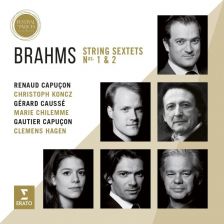 Andrew Farach-Colton
Brahms String Sextets Nos 1 & 2
Renaud Capuçon, Christoph Koncz vns Gérard Chaussé, Marie Chilemme vas Gautier Capuçon, Clemens Hagen vcs
Erato
Brahms's youthful String Sextets are the musical equivalent of comfort food to me, and these live performances from Aix-en-Provence get right to the warm heart of the music in their deft balance of joyous spontaneity and rapt attention to detail.
Mark Pullinger
Berlioz Les Troyens
Sols incl Joyce DiDonato, Michael Spyres; Opéra du Rhin Chorus; Baden State Opera Chorus; Strasbourg Philharmonic Chorus and Orchestra / John Nelson
Erato
My operatic event of the year, despite being a concert performance, is now my disc of the year, too. John Nelson and Erato assembled a cast to die for in this terrific Troyens, led by tenor-of-the-moment Michael Spyres on thrilling form.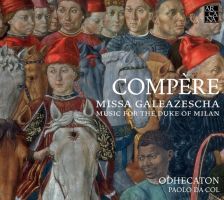 Fabrice Fitch
Compère Missa Galeazescha. Music for the Duke of Milan
Odhecaton; La Pifarescha; La Reverdie; Ensemble Pian&Forte / Paolo Da Col
Arcana
A disc to which I've turned repeatedly is Loyset Compère's Missa Galeazescha, which showcases a repertory that the discography has tended to ignore. Odhecaton leads a recording of substance and presence, in which voices and instruments (including organ) shine in equal measure.
Peter Quantrill
Montgeroult Piano Sonata No 9. Études
Edna Stern pf
Orchid
Coming to know more about Hélène de Montgeroult has been a highlight of my year. Her music is as eventful as her life: a student of Clementi, Dussek and Reicha, she was spared the guillotine by improvising variations on the 'Marseillaise', and later became the first female piano professor at the Paris Conservatoire. Edna Stern's playing is beautifully modulated, full of fantasy and high spirits.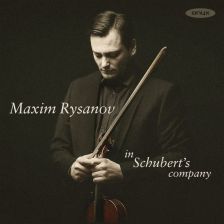 Charlotte Gardner
'In Schubert's Company'
Yakov Katsnelson pf Riga Sinfonietta / Maxim Rysanov va
Onyx
Two discs chock-full of Schubert and Schubert-inspired riches, Rysanov wearing (with immense style and beauty) the multiple hats of solo performer, conductor, arranger and commissioner of new music. It's surely one of the year's most personal and creative releases, and for me one of the most continuously rewarding listening experiences.
Guy Rickards
Sawyers Symphony No 3, etc
April Fredrick sop English Symphony Orchestra; English String Orchestra / Kenneth Woods
Nimbus Alliance
What an astonishing year for British symphonies on disc: the last of Havergal Brian's to be issued (11/17), the first by both David Hackbridge Johnson (6/17) and Steve Elcock (10/17), plus Pickard's Fifth (A/17). Philip Sawyers's classically structured Third, however, out-compels its rivals in sweep, scope and the ESO's gripping performance.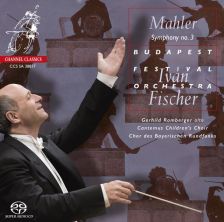 David Gutman
Mahler Symphony No 3
Gerhild Romberger contr Cantemus Children's Choir; Bavarian Radio Chorus; Budapest Festival Orchestra / Iván Fischer
Channel Classics
Iván Fischer's latest Mahlerian offering is outstanding. He is a fine musician with novel ideas and a terrific, ever-eager orchestra. What impresses most though, at a time when many releases are borrowed from broadcasters or engineered to be consumed on the move, is the glorious, deep-focus fidelity of the recorded sound.
Malcolm Riley
Dove In Damascus. Out of Time. Piano Quintet
Mark Padmore ten Charles Owen pf Sacconi Quartet
Signum
Of all the discs I've had the pleasure of reviewing, the recent chamber/vocal disc of Dove's music stands out head and shoulders above the rest. It is a recording that I frequently return to. Mark Padmore 'owns' In Damascus as no one else could, while Charles Owen and the Sacconi Quartet show Dove's lighter touch in the effervescent Piano Quintet. A joyous release.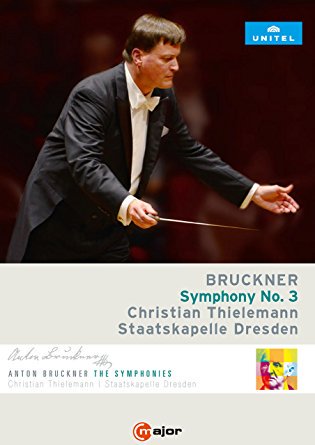 Christian Hoskins
Bruckner Symphony No 3 (1877 version, ed Nowak)
Staatskapelle Dresden / Christian Thielemann
Video director Elisabeth Malzer
C Major Entertainment
Christian Thielemann's recording of the 1877 version of the Third Symphony is arguably the finest Bruckner he has given us, a performance of great splendour and eloquence, wonderfully articulated by the Staatskapelle Dresden and benefiting from excellent sound and video quality.
Patrick Rucker
Debussy Children's Corner. … d'un cahier d'esquisses. Estampes. Images, Books 1 & 2. L'isle joyeuse. Masques
Steven Osborne pf
Hyperion
If durability is an indicator of value, the one recording I've returned to most this year, always with delight and admiration, is Steven Osborne's Debussy recital. Here are Images, Estampes, Children's Corner, and sundry others, wrought with luxurious finesse, plus a L'Isle Joyeuse that elevates joy to ecstatic delirium.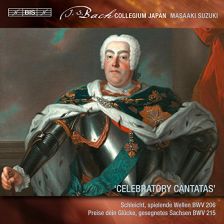 Jonathan Freeman-Attwood
Bach 'Secular Cantatas Vol 8'
Bach Collegium Japan / Masaaki Suzuki
BIS
Two superlative panegyric cantatas for Elector August II are sprung with all the joyful elegance and attention to detail which define Suzuki and BCJ at their best. Sycophancy is but a contextual emblem from which composer and performer depart with delicious characterisation and geniality.
Marc Rochester
Poulenc Choral works
The Sixteen / Harry Christophers
Coro
With Christmas in mind, magical choral singing seems the order of the day, and I've heard plenty of that this year from The Sixteen. Their fabulous recording of James MacMillan's Stabat mater is not for Christmas, but their Poulenc disc has divine performances of the Motets pour le temps de Noël so I plump for this. It really is the stuff of dreams.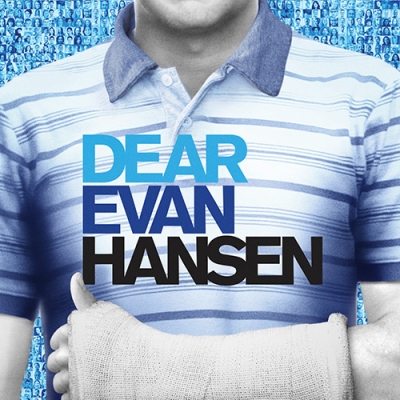 Edward Seckerson
Pasek/Paul Dear Evan Hansen
Original Broadway Cast
Atlantic
Now that I am reintroducing selected musical theatre releases into the mix of Gramophone I shall put my money where my mouth is and highly commend this year's Tony Award-winner for Best New Musical: Dear Evan Hansen. The gifted songwriting team of Benji Pasek and Justin Paul with book writer Steven Levenson have come up with a cracking piece about social media in the virtual age. A fertile and vibrant score that fairly pops from the page.
Hugo Shirley
R Strauss 'Through Life and Love'
Louise Alder sop Joseph Middleton pf
Orchid
Of all the new recordings I've heard this year, I'm not sure any has given such unalloyed pleasure as Louise Alder's debut recital: an irresistible Strauss programme sung with a beguiling twinkle in the eye, keen intelligence and a voice of sparkling beauty. She's brilliantly accompanied by Joseph Middleton.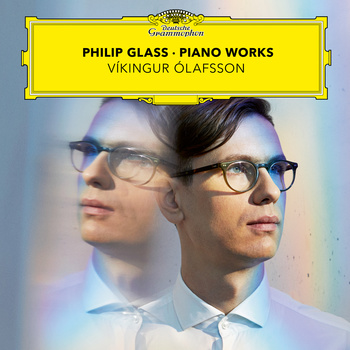 Pwyll ap Siôn
Glass Études – selection. Glassworks – Opening
Víkingur Ólafsson pf with Siggi Quartet
DG
I found myself returning time and again this year to Víkingur Ólafsson's excellent recording of Glass's Études. Both technically brilliant and highly individualistic, Ólafsson's performance pulls off that rare thing: he illuminates a familiar set of pieces in new and refreshing ways, proving – if nothing else – that, in the right hands, minimalist music can offer a rich and diverse range of interpretations and listening experiences.
Harriet Smith
Brahms Piano Pieces – Op 76 Nos 1-4; Op 117; Op 118
Arcadi Volodos pf
Sony Classical
This has been a vintage year for remarkable pianists playing great repertoire – Zimerman's Schubert, Rana's Bach and Osborne's Debussy – but pipping them to the post is the velvet-toned Arcadi Volodos, whose Brahms recital is one of the most sheerly beautiful recitals I've ever encountered, illuminating even the most familiar pieces through his profound musicianship.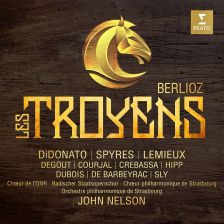 David Patrick Stearns
Berlioz Les Troyens
Sols incl Joyce DiDonato, Michael Spyres; Opéra du Rhin Chorus; Baden State Opera Chorus; Strasbourg Philharmonic Chorus and Orchestra / John Nelson
Erato
So often, Les Troyens casts have make-do choices in this epic opera. Here, singers, all ideal in their own ways, aren't as heroic as the Wagnerians sometimes cast, but the single overriding message in this performance is that these characters are more human than iconic. I'll take this production over the more slick Troyens predecessors any day.