Elgar's Sea Pictures: a guide to the best recordings
Andrew Farach‑Colton
Monday, November 6, 2023
Janet Baker's famous recording of Elgar's song-cycle is justly regarded as a gramophone classic but Andrew Farach‑Colton sets sail in search of its challengers, old and new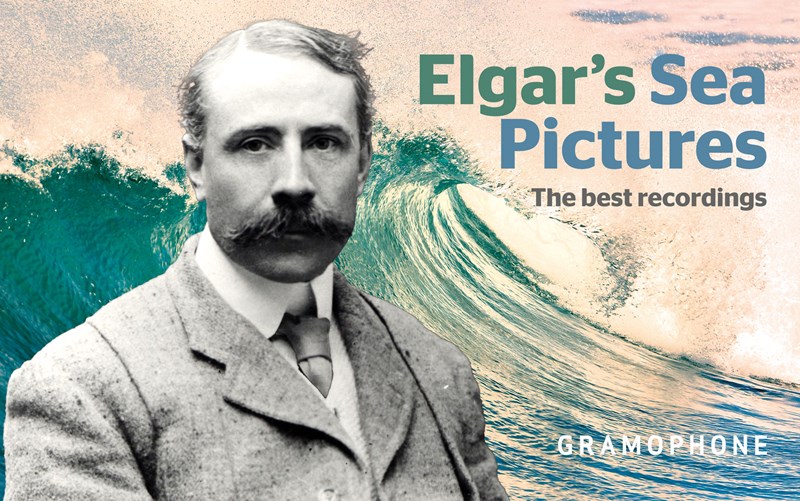 Edward Elgar finished scoring his Enigma Variations in February 1899 and immediately set to work on an orchestral song-cycle to be performed at the Norwich Festival that October. As a kind of anchor for the new project, he turned to 'Love alone will stay', a brief song for voice and piano he'd written some years earlier on a poem by his wife, Alice. She tweaked her simple verses, substituting maritime imagery – 'Closely cling, for winds drive fast' became 'Closely cling, for waves beat fast', for example – and changed the title to 'In Haven (Capri)'. This would become the cycle's second song. Elgar then set four other poems with sea imagery, each by a different poet in the manner of Berlioz's Les nuits d'été.
Elgar's taste in poetry has been much criticised over the years, even by some of his most ardent admirers. From a modern perspective, at least, Elizabeth Barrett Browning's 'Sabbath Morning at Sea' (the cycle's third song) and Adam Lindsay Gordon's 'The Swimmer' (its fifth) appear creaky and overblown, while Roden Noel's excessively alliterative 'Sea Slumber-Song' (the opening number) is simply mediocre. These faults are thrown into stark relief by the succinctness and sincerity of Alice's poem and the endearingly elliptical qualities of Richard Garnett's 'Where Corals Lie' (the fourth song). Yet, as the composer reportedly said later in his life: 'It is better to set the best second-rate poetry to music, for the most immortal verse is music already.' And I think it's fair to say that all five poems are greatly elevated by Elgar's music.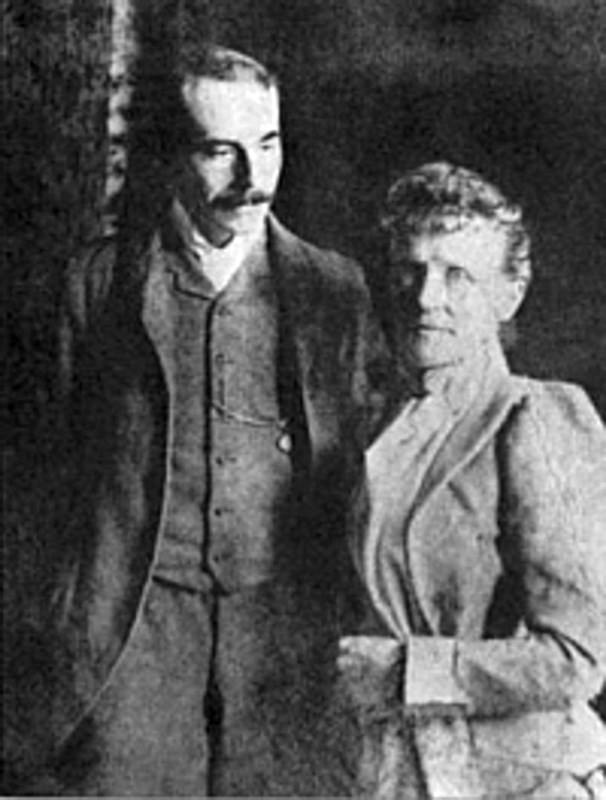 Elgar with his wife Alice, who wrote one of the poems for Sea Pictures (photography: The Picture Art Collection/Alamy Stock Photo)
Contralto Clara Butt, just 27 at the time and a rising superstar, sang the premiere at the Norwich Festival, with the composer conducting. 'The cycle went marvellously well', Elgar reported afterwards, and Sea Pictures has now secured its place in the repertoire, thanks at least in part to Janet Baker's 1965 recording with John Barbirolli – the flipside of an EMI LP featuring Jacqueline du Pré's legendary interpretation of the Cello Concerto – but more on that in due course.
The voice part of Sea Pictures is quite demanding, requiring a range of more than two octaves and, in the third and fifth songs, a voice large enough to buoy itself over orchestral writing that occasionally aspires to Wagnerian grandiloquence. At the same time, much of the vocal line is marked piano or pianissimo to create an intimate effect. In fact, in all of 'Sea Slumber-Song', 'In Haven' and 'Where Corals Lie', only once is the singer is asked to rise to a forte (in the latter song), and then only very briefly – not that you'd know this from several of the recordings discussed below in which the dynamic markings are largely ignored.
That said, Sea Pictures has fared reasonably well on records, and – happily – most modern recordings remain readily available. I've tried here to be as comprehensive as possible, although the limitations of column inches has necessitated setting aside the recordings of the version for voice and piano.
FIRST RECORDINGS
Clara Butt recorded 'Where Corals Lie' twice: in 1912, with an unnamed conductor (and out-of-tune orchestra) for the Gramophone Company, and again in 1920 with Hamilton Harty for Columbia. Standing at 6ft 2in, she was an imposing figure, and on records it often seems her voice overwhelms the nascent technology. As a result, perhaps, it's her quiet singing that's most alluring. Otherwise, her low notes are commanding, her diction clear, and there's real passion in the line 'Leave me, leave me, let me go'. Rhythmically, however, she can sound undisciplined and the overall effect is somewhat ungainly.
The first complete recording of the cycle (albeit incorporating a few cuts) was made for HMV in March 1922 and January 1923 by the Welsh mezzo-soprano Leila Megane with Elgar on the podium. Those who believe that the composer was far from an ideal interpreter of his own music will find plenty of ammunition here to bolster their case. He often sounds impatient, choosing tempos that are nowhere near the printed metronome marks. Perhaps he was worried about the time limitations of the record sides? Even so, I find the result unsettling. Megane tends to sing behind the beat and can be oddly tentative, as in her approach to the high G in 'Sabbath Morning' for the line 'full Godhead's burning'. She's at her best in the final song, 'The Swimmer', where Elgar sets a frantic tempo and she has to work hard to get the words out clearly – but how exciting it is, nonetheless. What's most impressive about the performance overall, perhaps, is Elgar's extremely supple rubato.
Muriel Brunskill recorded Sea Pictures for Columbia in 1926 with an unnamed conductor. The following year she sang it under Elgar's direction in a BBC broadcast celebrating the composer's 70th birthday, so presumably he was happy with her interpretation. Brunskill can sound slightly arch at times – in 'In Haven', for example – but she captures the inward qualities of the music exceptionally well, offering plenty of beautiful, quiet singing. Her diction could occasionally be clearer, but unlike Butt her rhythmic sense is absolutely secure.
It would be two decades before another complete recording appeared. Sadly, Gladys Ripley's 1946 HMV account with George Weldon conducting the Philharmonia Orchestra (7/46) is currently out of print, although her 1954 recording, with Weldon conducting the LSO, has been reissued. Both performances have a lot to offer. Ripley's voice is a bit thicker and more covered in 1954 but her deep emotional connection with the score is readily apparent and equally moving in both. In 1946 she sings the opening of 'Sabbath Morning' as if it were an internal monologue, a marvellous effect that she doesn't quite achieve eight years later, while 'The Swimmer' is considerably more dramatic in 1954. Weldon is a masterly Elgarian, allowing Ripley room to roam while giving the loosely structured third and fifth songs a sense of inevitability.
BAKER AND BARBIROLLI
There are a couple of live recordings of Sea Pictures with Barbirolli conducting, the earliest a 1958 broadcast from the Royal Albert Hall featuring the Hallé Orchestra and Constance Shacklock – a true contralto. Perhaps because she was singing in such a cavernous space, the intimacy of the first, second and fourth songs goes mostly for naught. (Her oh-so-proper delivery in 'In Haven' – a tender love song at its heart – makes me think of Margaret Dumont, the actress who played snooty, wealthy women in the Marx Brothers' comedies.) Like Megane, she's best in 'The Swimmer', where her imposing voice and clear diction generate a satisfying frisson.
Then we come to Janet Baker's venerable 1965 recording with Barbirolli leading the LSO. It's a performance I've heard countless times, but listening to it in this comparative context only deepened my sense of awe and appreciation. Yes, Baker is in her absolute prime here – her tone darkly reedy, like a clarinet/cor anglais hybrid – and Barbirolli is as sensitive a collaborator as one can imagine, but it's their mastery of the details that makes an extraordinary musical experience. Baker was the first, and remains one of the few, to take Elgar at his word throughout. She only sings forte when the score asks for it, and her poetic response to music and text makes every phrase come alive. How dreamy and delicate 'In Haven' is here, for example, and yet it's also a perfectly unfussy reading that's made special simply by being so sustained and sincere. And note the faint whiff of tragedy she communicates when she sings 'Yes, press my eyelids closed' in 'Where Corals Lie'.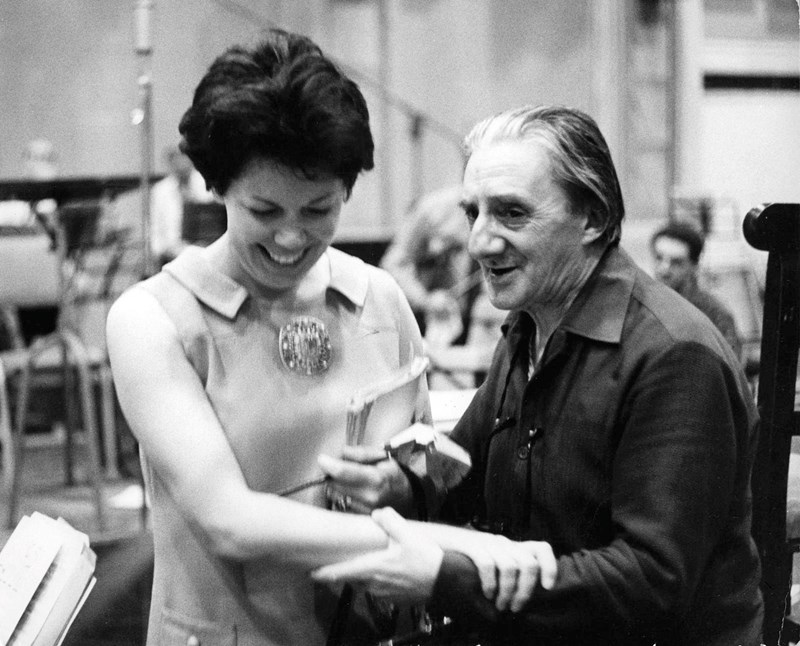 Janet Baker's 1965 recording of Sea Pictures with John Barbirolli remains a benchmark account
The LPO has released a live 1984 recording with Baker and Vernon Handley (7/07, 8/10) that comes close to capturing the magic of the earlier studio release. Yes, her vibrato has widened slightly, but she's also found new insights along the way. In the first song, say, she now sings the line 'I, the Mother mild!' as a different character, and in the third, she makes the line 'He who brooded soft on waters drear, Creator on creation' a watershed moment. I also love how she seems to be singing the first stanza of 'Where Corals Lie' to herself alone. Barbirolli holds the last song together more tautly, perhaps, but Handley consistently elicits polished, evocative playing from the LPO.
A few years earlier, Handley and the LPO had made a highly atmospheric studio recording with Bernadette Greevy (EMI/Warner, 11/81), although it sounds uninspired – a little sleepy, even – relative to his live account with Baker. Greevy's tone is attractive, certainly, and she's unfailingly musical but sometimes sings too loudly in confidential passages.
SHEEN OF SILVER, GLAMOUR OF GOLD
A few recordings are notable for their sheer vocal splendour. Yvonne Minton, taped in 1977 with Barenboim and the LPO, may not illuminate the score's details as magically as Baker does but she has her own insights, and the plush beauty of her tone, unfurled in long phrases, is at once commanding and consolatory. When she sings 'The new sight, the new wondrous sight!' in the third song, her ardour helps us to see it, too, and I like the way she lightens her tone for 'Where Corals Lie'.
Felicity Palmer's 1986 account, aided lovingly by Richard Hickox and the LSO, is equally gorgeous in terms of pure sound, and she offers an attention to detail that almost rivals Baker's – although her lowest notes lack Baker's (and Minton's) robustness. Tempos are relatively slow, too – close to Elgar's metronome markings, in fact – which enhances the music's intimate qualities. In 'Sabbath Morning' and 'The Swimmer', she's dramatic and incisive, and offers a welcome variety of expression, while Hickox paints the orchestral seascapes with deeply saturated colours (and the optional organ part in the third and fifth songs will shake your floorboards).
Linda Finnie's recording from 1991 with the LPO under Bryden Thomson is nearly as impressive. She sings really quietly when the score calls for it, and the orchestra follow suit. In the first song, she gives the line 'I, the Mother mild' a tender hush, like a mother comforting her infant – a touching conceit. In the more dramatic third and fifth songs, however, she often sacrifices diction in order to create a sustained melodic line.
Whether Della Jones belongs in this golden-toned group will be a matter of personal taste. Her voice seems to fall between soprano and mezzo, which brings a refreshing lightness to Elgar's score, although some passages (particularly in 'The Swimmer') seem to sit uncomfortably in her passaggio. But Jones's reading is so unaffected and so characterful that I'm hardly bothered. Indeed, any kitschiness in Browning and Gordon's verses evaporates here, so when she brightly implores 'Love me, sweet friends' in the third song, you can't help but do just that. With thrilling support from the RPO under Mackerras and Decca's brilliant sound, Jones's is a formidable account.
Kathryn Rudge's voice is like a soft, comfortable cushion with a firm core, and she, too, sings with an appealing naturalness in her 2019 recording with Vasily Petrenko and the RLPO. She mostly observes the many piano and pianissimo markings, and somehow manages to combine seamless legato and clear diction, even in the treacherous verbal riptides of 'The Swimmer' – no small feat. Petrenko is terrific in his own right. In the first song at the line 'Sea-sound, like violins', the RLPO seem to make salinity audible, a tiny but astonishing detail.
VOICES WILD
Sarah Connolly has recorded Sea Pictures three times now. The earliest, from 2006 with the Bournemouth SO under Simon Wright, is the most satisfying, but even there, before her vibrato widened considerably – as can be heard in her vocally wild and woolly later recordings with Andrew Davis (2014) and Oliver Zeffman (2022, live) – you can hear her working to pare down her sonorous tone. And, much as I admire her artistry, I find her voice simply too big, and her delivery often slightly too grand, for such a delicate song as 'In Haven' – although in Bournemouth her account of 'Where Corals Lie' is quite ravishing.
Alice Coote's 2014 recording with Mark Elder and the Hallé Orchestra is wild in a different way, as she seems to be trying to turn away from Old School grandeur to project something more inward and, at times, other-worldly. Coote begins 'Sea Slumber-Song' with a ghostly tone, for example, and her delivery often has an unexpected conversational quality. She can come across as rather precious, too, as she does in 'Where Corals Lie', but I quite like it in this context. It's a risky reading, all told, yet the risks are taken with intelligence and steadfast musicality.
I absolutely prefer Coote's risk-taking to Elizabeth Campbell's monotonous 2002 performance with Nicholas Braithwaite and the Adelaide SO. Campbell sings all five songs at more or less the same volume, never getting softer than mezzo-forte, and employs insufficient variety of expression.
Elīna Garanča is another risk-taker, although Barenboim is very much her partner-in-crime on their 2019 recording with the Staatskapelle Berlin. It's not the Latvian mezzo's tone or delivery that's particularly individual but rather both artists' approach to tempo and overall expression. Indeed, not since Elgar's own recording with Megane have interpreters engaged in such flexible rubato. At times they even contradict the score, as when they hold back the tempo at 'Love! Love!' in the final song, despite the fact that Elgar marks it a tempo – but it serves both music and text very well. Garan∂a's English pronunciation is very good, although I can't help smiling when she sings 'The sheep went on with solemn face' at the beginning of 'Sabbath Morning'.
EXOTIC VOYAGES
Other non-native English speakers have dived into Elgar's cycle, too. I like Swedish mezzo Kerstin Meyer's expressive portamento captured in a live performance with Barbirolli and the Hallé from July 1970 – the conductor's last recorded concert (once available on an Italian pirate label), although her accented pronunciation is extremely distracting. I have similar issues with German mezzo Rosemarie Lang, whose approach to the climactic sections of the third and fifth songs is a little too Wagnerian for me, and her garbled diction in the latter renders the text largely unintelligible.
I have far warmer feelings for French-Canadian contralto Marie‑Nicole Lemieux's recording with Paul Daniel conducting a French orchestra. Lemieux's slight Québécois accent isn't too intrusive, and her interpretation overall is undeniably heartfelt and abounds with individual touches – she somehow manages to render the opening of 'Sabbath Morning' as a memory recounted, for example, as the poem indicates it should be. Like Connolly, however, Lemieux is clearly working to pare down her prodigious instrument and still her vibrato can occasionally intrude.
Lemieux is not the first Canadian to record Sea Pictures, and I fervently hope that Maureen Forrester's 1985 performance from Montreal will be reissued. The Canadian contralto was well into her fifties when she recorded it with Richard Hoenich and the excellent orchestra of McGill University (for the school's in-house label). Some strain in the high-lying lines of the final song is apparent, and throughout Forrester displays a tendency to scoop up to notes, though at least she does so in a stylish way. In general, though, her tone remains lovely and she connects deeply with music and text. The way she almost whispers 'Yes, press my eyelids close' in 'Where Corals Lie', for instance, gives me gooseflesh every time I hear it.
If you want to hear Sea Pictures sung in Russian, there's a live recording (once available from Scribendum) with Svetlanov conducting and mezzo Larisa Avdeyeva, who always sings beautifully but never quietly. Their 'Sea Slumber-Song' could almost be by Mussorgsky.
MAN OVERBOARD?
Although Sea Pictures was clearly composed with women's voices in mind, Roderick Williams proves a baritone can survive the voyage down an octave. His low notes can be shaky but otherwise he handles the challenges with aplomb. My concerns come in the third and fifth songs, however, as a male voice simply cannot ride the music's magnificent wave crests the way a female voice can. This means the cycle's finale is ever so slightly anticlimatic, despite Williams's vocal allure and impeccable musicianship. As recompense, perhaps, hearing Williams sing the recitative sections of 'Sabbath Morning' shows this song to be a step on the road to Gerontius, which Elgar started writing immediately after the cycle's premiere.
FINAL DECISIONS
When I started surveying these recordings some months ago, I wondered whether any version might edge out the obvious choice, and I worried that choosing Baker and Barbirolli might make it seem that I took the easy way out. But, now, after having listened closely to some 20-odd interpretations and studying the score closely, there's simply no question in my mind that this justly famous performance is not only the most faithful to the letter of Elgar's score, it's faithful in the most deeply felt and imaginative way. In his invaluable book The Grand Tradition, our sorely missed JB Steane described Baker's Sea Pictures as 'just about the most glorious piece of full-blooded and completely English singing on record', adding that it moved him in a 'quite unexpected and (emotionally) almost alarming way'. His book was published in 1974. Nearly half a century later, his words still ring true.
---
This article originally appeared in the August 2023 issue of Gramophone magazine. Never miss an issue – subscribe today