Ethel Smyth's opera Der Wald: a journey of discovery
Richard Bratby
Monday, October 30, 2023
John Andrews has gained a well-earned reputation for brilliant recordings of unknown operas and operettas. As he turns his attention to Ethel Smyth's Der Wald, Richard Bratby listens in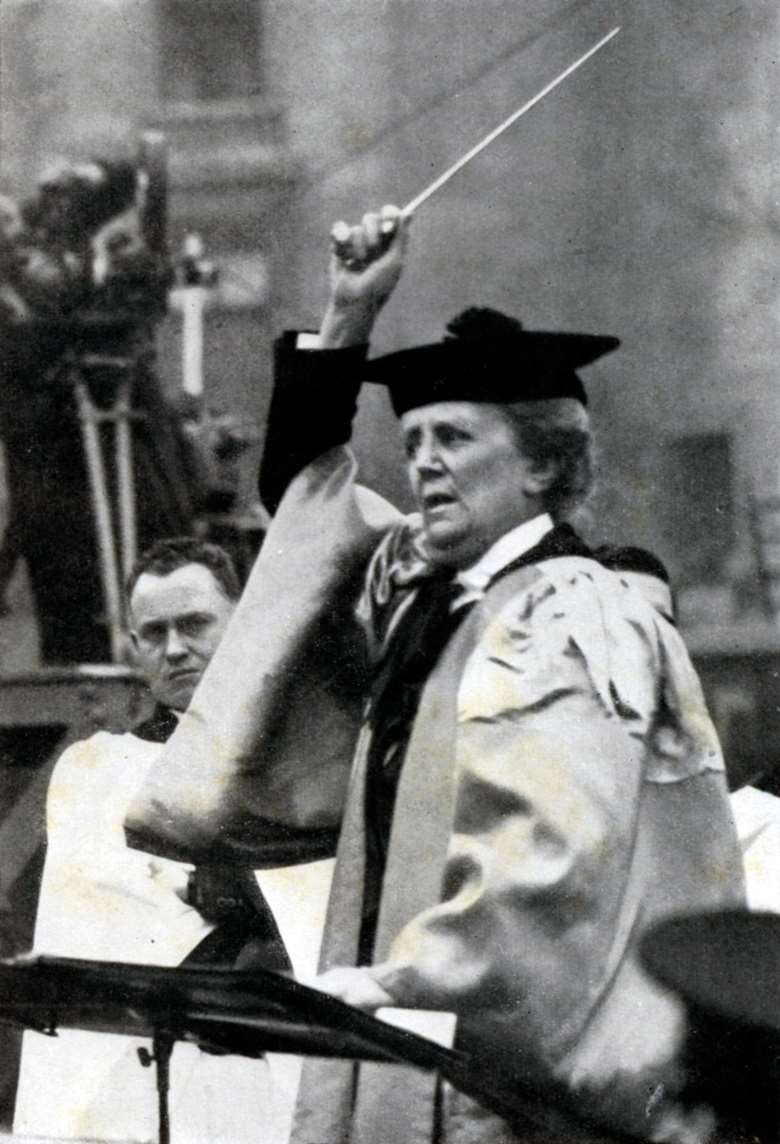 The January gales blow wild in Maida Vale, and the rain is blasting sideways when I arrive at the BBC studios. Today they're making the first full recording of Ethel Smyth's Romantic opera Der Wald (premiered in 1902), and it's as if the elements themselves are part of the cast. The afternoon session starts, and the sound is not what I expected: rich, chromatic, lit from within. But if the music is restless (with conditions outdoors to match), the atmosphere is businesslike. The BBC Singers, the BBC Symphony Orchestra and a cast that includes soprano Natalya Romaniw and tenor Robert Murray are all focused, with absolute seriousness, on music that hasn't been heard in full orchestral colour for more than a century. At the heart of it all is the conductor – a slim, dapper figure with a ponytail, navigating the intricacies of a score that's barely been heard before with an assurance that can only be described as unflappable.
'It was emotional to discover that the orchestral parts we're using are the ones from 1902. They've still got the pencil marks from that original run!'
Well, naturally: this is John Andrews, and that's what he does. Andrews is no one's idea of a podium megastar, but if you've been following the British operatic scene for the last two decades you'll certainly have encountered him: doing G&S at Buxton Opera House, perhaps, or Wolf-Ferrari in Holland Park. And if you have a passion for rare repertoire on disc – forgotten Romantics, unfashionable modernists, Baroque byways and discarded operettas – you almost certainly own his recordings. He's become the go-to maestro for the quirky and the (supposedly) unrevivable: bringing the same scholarly engagement and chameleon-like idiomatic flair whether he's recording Lampe's 1737 operatic spoof The Dragon of Wantley, Arnold's one-act opera The Dancing Master (1952) or the recent album of piano concertos by Lutyens, Maconchy and Errollyn Wallen. Who better to resurrect Der Wald?
'It's been on my radar for years,' he says when we finally catch up – a few months later, in rather better weather, as he rests between rehearsals for Cav & Pag at West Green House Opera. 'I first looked at the score probably six or seven years ago, and thought that it would be a really bloody good piece to do, given the right opportunity. Actually, it came about by a slight accident. I'd been talking to the BBC Symphony Orchestra about a recording of orchestral works by Malcolm Sargent – this was as we were coming out of Covid, when doing things with a large chorus was still looking pretty dodgy. So I said, "Oh, and by the way, there's this fantastic one-acter by Ethel Smyth."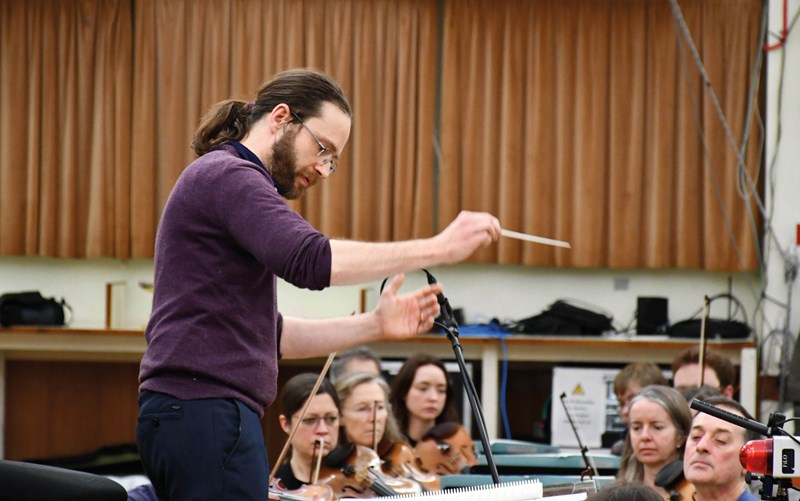 John Andrews at the recording sessions (photography: Resonus Limited)
'We realised that it doesn't require a large symphony chorus, so we could do it with the BBC Singers, who are utterly fantastic – able to slip effortlessly from being an ethereal chorus of woodland spirits, to being a bunch of drunken villagers, to being psychotic huntsmen. Because of that, Der Wald jumped the queue a bit. They had a slot in January 2023, so we put it in the diary. Like so many of these projects, the initial discovery and enthusiasm occurred years (and sometimes that can be as long as a decade) before the moment when all of the planets aligned and we could suddenly make it happen.'
The stars are certainly in alignment for Der Wald. With the successful 2022 Glyndebourne revival of Smyth's The Wreckers and the recent well-received publication of Leah Broad's book Quartet (2023 – a biography of four female British composers with Smyth very much to the fore), interest in Smyth as an operatic composer has rarely been higher. Like several of Smyth's operas, Der Wald enjoyed initial success in its composer's lifetime: performed in Germany and in London (at Covent Garden) as well as (in 1903) at the New York Metropolitan Opera, where a canny management presented it in a double bill with Il trovatore.
Andrews explains that while the public loved this torrid German-language fairy-tale opera, the critics took a rather different line. 'It's fascinating reading the reviews, because the response from New York critics ranged from lightly hostile to bitterly, vitriolically poisonous. A lot of this was politics: it wasn't a great time to be an upper-class Englishwoman in New York, and it's very hard to get a sense of what they actually thought of the music. But none of them can disguise the fact that the audiences were clearly enjoying it.
'It's an incredibly Germanic piece: a tale of the supernatural set in a forest. So for the critics, Smyth was either too Wagnerian or not Wagnerian enough. The music around the potion scene – where you've got a horn melody and harp – is certainly redolent of Wagner; but only inasmuch as anything written in the late 19th century is influenced by Wagner. We've been trying to work out whether Smyth could have known Hänsel und Gretel. Like Humperdinck, she starts with music that's very tonal and in a recognisable folk idiom; there are dances, and even the initial forest music is in a luscious, Romantic style. But then the further you go into the forest, the darker it gets, the more expressionistic it becomes – the stranger the harmonies, the more angular the rhythms, the more experimental the orchestration. As a composer, she'd had Tchaikovsky's encouragement, and then Hermann Levi – Wagner's assistant, who conducted the first performance of Parsifal – steered her towards opera. So she was working with a huge range of influences. It's incredibly sumptuous.'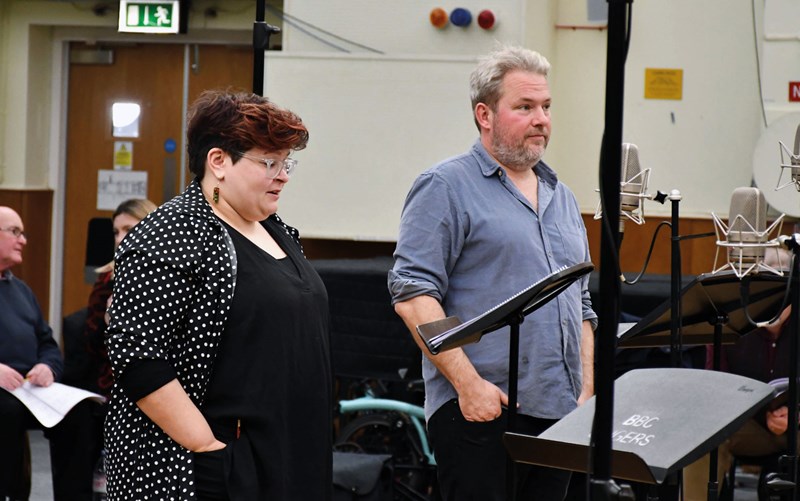 Claire Barnett-Jones (mezzo) and Robert Murray (tenor) (photography: Resonus Limited)
For Andrews, though, it's simply a thrill to hear Der Wald – and to be in a position to make these judgements – at all. The decade-long lead time for some of his larger projects is no joke: when a work on this scale has lain unperformed for so long, planning a revival is rarely as straightforward as pulling the score off a library shelf and simply playing the notes.
Talking of performing materials, Andrews says: 'In this case it was actually very emotional to discover that the orchestral parts we're using are the Covent Garden ones from 1902. They've still got the pencil marks from that original run! The main problem with Der Wald is the handwritten score. When we recorded Arnold's The Dancing Master, it was even worse: the full score is beautifully written, but the vocal scores are almost illegibly handwritten – practically impossible to read.'
At this point I have to ask him about a long-cherished future project (one that we've often discussed, and which now looks, at last, like a real possibility): a premiere recording of Bantock and Kennedy-Fraser's 1924 'Celtic folk opera' The Seal-Woman. A cast and a willing record label have been lined up for some time; the problem is the performance material, which has become so damaged by water during its long years in a publisher's warehouse that the only extant full score is now too delicate to be moved, let alone used. In a case like this, musical preparation goes hand in hand with conservation work. 'I've just been sent the digital files of a beautifully edited new score; it's taken a full year of painstaking work by an editor. But that's one of the reasons why I think these recordings are so important, because if you're trying to persuade someone that a piece is stageworthy, expecting them to negotiate a handwritten score can be the toughest bit.'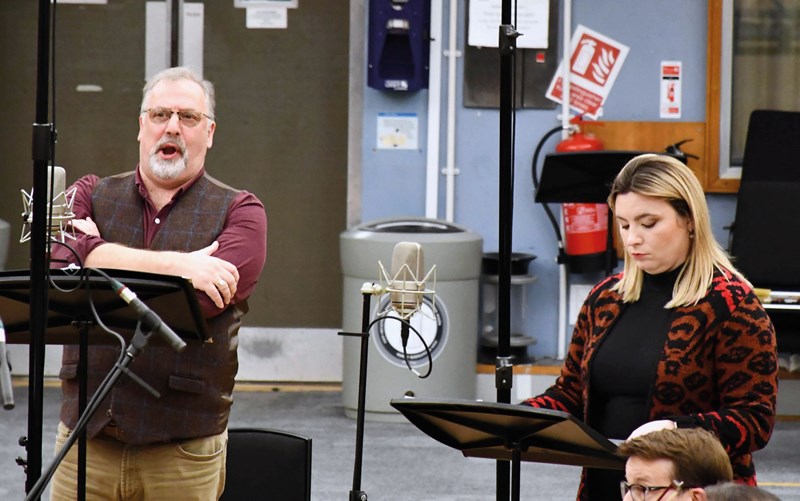 Matthew Brook (bass), Natalya Romaniw (soprano) (photography: Resonus Limited)
Over two decades in the theatre and concert hall, Andrews has built up a network of like-minded singers willing to approach these forgotten works in the same enthusiastic, open-minded spirit. 'None of us are getting rich doing these recordings, so you have to develop a sense of who's going to enjoy doing them. I look for singers who are capable of bringing operas to life dramatically, while being respectful of the score. That was a tough line to tread for The Dragon of Wantley, because we could easily have taken the humour very broadly. We did get a couple of reviews saying, "Oh, this is all a bit too staid." Well, yeah – but come on, it's going to be the first and quite possibly the only recording. You've got to sing the notes as printed. It's a reference document.
'Of course, on stage you might do it differently – but not on disc. Actually, I thought there would be more resistance with Der Wald: I felt nervous asking Natalya Romaniw, Claire Barnett-Jones [who plays the opera's unfortunately named villainess Iolanthe] and Robert Murray to learn these big, stonking arias. I thought they'd be more sceptical, but not at all.'
Andrews is too modest to admit it, but perhaps one reason why singers of this calibre are so willing to take a leap of faith with him is the sheer breadth of his industry experience. He has built a reputation as a person who, confronted with unknown scores, can and will deliver, and makes it a pleasure. His natural musicality, coupled with a cheerful professionalism, explains, in part, his working relationship with the film composer Debbie Wiseman, whose score for the 2021 Roald Dahl biopic To Olivia he conducted, and whose album of orchestral works 'The Music of Kings & Queens' features him (uncredited) as conductor. 'A lot of it was going to be recorded to a click track,' he recalls. 'But in the end, we just turned it off and made music.'
'It's hard to capture that fizz of excitement in audiences when doing mainstream works. That's why I care so much about rare music'
The remarkable fact is that in an era when it's common to lament the disappearance of the traditional career path for a conductor (the long journeyman years in regional or touring opera companies where the Karajans, Beechams and Kleibers honed their art), Andrews has somehow managed to acquire that same invaluable grounding. Born in Nairobi but raised in Stockport, the school-age Andrews started out as a brass-band euphonium player (a full-size tuba was too big for him) before winning a place at Cambridge, where he wrote his doctoral thesis on Handel. From that came an interest in popular musical theatre in the 18th and 19th centuries. 'The pot-boilers of an era will often tell you a great deal more about the world that they were emerging from than the high art,' he says.
As his conducting career gathered momentum, he worked with English Touring Opera; as assistant to David Parry at Garsington Opera; and at festivals great and small. 'My interest in bel canto came from assisting David Parry,' he says. 'I loved the Rossinis and the Donizettis, and David introduced me to that repertoire, then I acquired a taste for really getting into and enjoying pieces that were not particularly well known.'
Today, relative rarities like Donizetti's Pia de' Tolomei, Rossini's Elisabetta, regina d'Inghilterra or Wolf-Ferrari's Il segreto di Susanna are as much Andrews's Fach as Sullivan's The Light of the World (which he recorded for Dutton in 2017) or Handel's Tolomeo, re d'Egitto. And needless to say, he can turn in a fizzing Die Entführung aus dem Serail or a red-blooded La bohème: Andrews's specialisms enrich his approach to the whole repertoire. Still, for us hardcore repertoire nerds, asking about his future plans feels like lifting the lid on a fabulous toybox. There's The Seal-Woman, of course, but what else?
'We're doing a disc of English baritone scenas with orchestra, with Roderick Williams: pieces by Holst, Quilter and Cyril Scott, plus some Delius and Havergal Brian. I'm doing a mixed disc of music for string orchestra by British women – so some Maconchy and some Gipps; and there'll be a Grace Williams disc with the BBC Philharmonic. Leah Broad is helping us with those: she's got a catalogue of works by women composers for which there are unpublished scores and parts in British libraries. The last time I spoke to her, it had more than 1600 works, including substantial figures like Imogen Holst, Maconchy and Williams who require no special pleading.' If the stars align, he'd like to record a William Mathias symphony cycle.
What, no Mahler or Beethoven? 'I feel that if the music industry is going to contract, then getting these discs done means that they can't be taken away. It's why I'm throwing myself at a lot of this repertoire now: once the disc is there, it's out there, and the people who want to hear this music can hear it. I know major conductors who focus on the most predictable repertoire. I know of at least one multimillion-pound plan to re-record another symphony cycle by one of the most recorded composers ever, and I just think, "All that money and you could be bringing so much to the public that they don't already know."
'Three or four years ago, I jumped in to do a Beethoven Ninth for a charity concert with a lot of schoolkids involved, and the pleasure of playing that piece to people who absolutely did not know what they were going to hear was phenomenal. They clapped in all the wrong places, and it was fantastic because they kept thinking it was over. They kept cheering, and then there was more, and they would cheer again. It's very hard to capture that fizz of excitement – of something that is genuinely surprising – in classical audiences when you're doing mainstream repertoire. And that's why I care so much about rare music. There's the joy in itself of playing it. Then there's the joy of reappraisal: lots of these pieces disappeared for reasons that have nothing to do with their quality. And finally, it's wonderful to come back to familiar masterpieces, having lived in the world of the works that surrounded them. You come back to Beethoven and Brahms and Mozart and Puccini very differently if you've spent a bit of time in the company of their contemporaries. I want listeners to be able to enjoy that moment of discovery.'
---
This article originally appeared in the October 2023 issue of Gramophone magazine. Never miss an issue – consider subscribing to Gramophone
Listen to Der Wald on Apple Music: