Gabriel Jackson: the power of the Passion
Martin Cullingford
Thursday, April 30, 2020
Martin Cullingford visits Merton College, Oxford, to explore an important new addition to the music for Holy Week by British composer Gabriel Jackson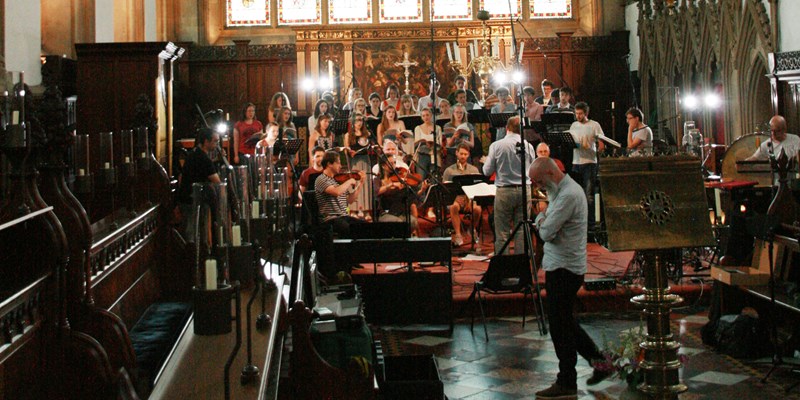 Were you wanting to recreate the stark desert heat of the Holy Land in Oxford, the summer of 2018 would have been a good place to start. I won't draw too many parallels between lush and leafy Christ Church Meadow and the scorched sand of the Middle East, but when Merton College Choir, soloists and players gathered to record Gabriel Jackson's ambitious Passion setting, it was, for Oxford at least, extraordinarily hot.
And the unexpected temperature did prove oddly suitable in terms of evoking the right atmosphere (and, for that matter, for sitting in an Oxford beer garden having a post-session pint). From the work's striking opening, where a soprano saxophone bursts out above a foreboding subterranean rumble – somehow managing to reference the sounds of the medieval shawm or even ancient shofar, yet at the same time feeling compellingly contemporary – Jackson's music transports us straight into a richly coloured, vividly crafted world.
That said, those in charge clearly (and thankfully) knew a surprising amount about temperature control when they built Merton's chapel in the late 13th century as, once enveloped in all that weighty stone, it was, surprisingly, relatively cool (although, perhaps less happily for the Fellows of the day, the early 14th century also ushered in the beginning of what's known as the Little Ice Age). Though work on building the chapel began in 1290, the college itself was founded earlier, in 1264, and it was to mark that 750th anniversary in 2014 that Jackson's 70-minute-long work – The Passion of our Lord Jesus Christ, to give its full title – was commissioned.
It's a powerful journey, taking us through not just the events but the emotions and inherent meaning of the Passion
In fact the anniversary celebrations were more ambitious still, the Passion being the central part of an entire new choir book drawing on many of the leading composers of our day – a project which, as Merton's Director of Music Benjamin Nicholas puts it, offers 'a snapshot of choral composition in 2014', a claim more than justified by the who's-who (and impressively diverse) list of leading composers who contributed works, including Harrison Birtwistle, Judith Weir, James MacMillan, Jonathan Dove and, of course, Jackson. Furthermore, as Nicholas continues, 'it also includes almost something for every bit of the liturgical year': seven composers, including Jackson, have each set one of the Advent Antiphons; there is music for Christmas and Epiphany; there are two Masses (one with organ, one unaccompanied) plus the Evening Canticles in both Latin and English; and Jackson's Passion sits at the heart of the music for Holy Week. Nicholas ensures that some of this music is always in the choir's repertoire, and some of it can already be heard on a number of the choir's recordings made for Delphian.
But soon to join them in the label's catalogue will be the longest work of the whole anniversary endeavour. Indeed, it's the longest work Jackson, one of Britain's leading choral composers, has himself written. A monumental undertaking – but then a Passion setting seems inseparable from the notion of a great cultural and religious monument. It depicts, after all, the events leading up to the crux, figuratively and literally, of the Christian story. And, thanks largely to Bach's masterpieces, the Passion has come to define the pinnacle of the choral repertoire. Not that this awareness felt in any way to Jackson like a weight: 'I think that, actually, if you start worrying about what your predecessors have done you wouldn't do anything!' But that an institution such as Merton should choose to mark its 750th anniversary with a new Passion is both an unsurprising and inspired choice – even more so given that the day in 1264 on which the College was founded, September 14, is Holy Cross Day.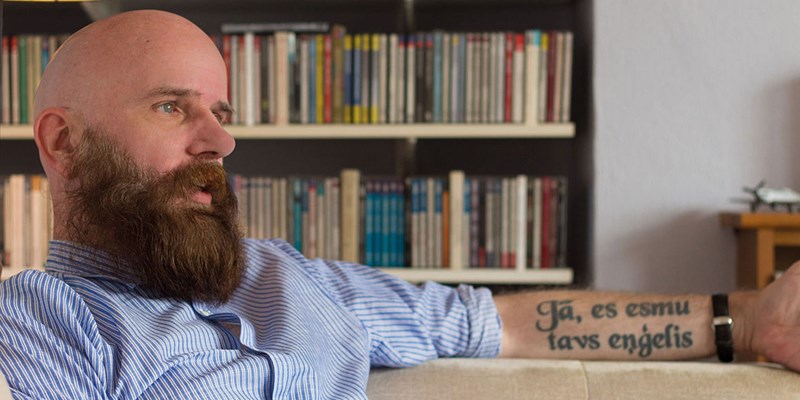 Undaunted: 'If you worry about what your predecessors have done, you wouldn't do anything!' says Jackson of his approach (photo: Joel Garthwaite)
But that's not the only link to Merton's history. Unlike, say, Bach's Passions, which use a specific Gospel text as the basis of the narrative, the brief given to Jackson here was more complicated. The events of Holy week, leading up to the Crucifixion, are indeed told through words drawn from all four Gospels. But then added to this is poetry by two writers associated with Merton – Edward Blunden, Merton Fellow and First World War poet, and TS Eliot, who was a graduate student – as well as a selection of liturgical texts, including, from the 1662 Book of Common Prayer, the General Thanksgiving prayer written by Edward Reynolds, a warden of Merton. Even the use of the King James Bible has Mertonian meaning – part of it was translated at the college.
The structure of Jackson's Passion is as follows. The dramatic first movement, 'Palm Sunday', opens with the choir loudly proclaiming the shocking outcome of what's to come (using here the sixth-century Latin text Vexilla regis), before beginning their telling of how this event came about. In this movement, as throughout, much of the narrative is given to the choir, their words invariably set with a poignant sense of sadness, as if witnesses to an inevitable unfolding tragedy in which they are powerless to intervene. In the second movement, 'Anointing at Bethany', Jackson sets the episode of the woman anointing Christ with perfume and her tears, the story of this broken human being finding forgiveness and peace set with a heart-breaking tenderness – it's here that the General Thanksgiving from the Book of Common Prayer is interwoven.
Redemptive beauty gives way to the falling darkness and looming betrayal of 'Last Supper and Footwashing', references to ancient chant and a tolling bell featuring throughout this movement. 'Gethsemene', the fourth movement, takes us back to the parched earth and thorny ground – and draws upon both Blunden's First World War poetry and a quite extraordinary, chilling effect on the harp. Peter's denial and Christ's trial follow, while the Crucifixion itself is painfully sparse; that subterranean rumble and the shrieking soprano sax return, and it is bleak, frightening, hostile – as well it should be. And then, in the seventh and final movement, 'The End and the Beginning', all this pain, this loss, is gathered up, held, and turned into something consoling and hopeful, the entire movement setting words by Eliot. Overall, it's a powerful journey, taking us through – exposing us to – not just the events, but the emotions and inherent meaning of the Passion.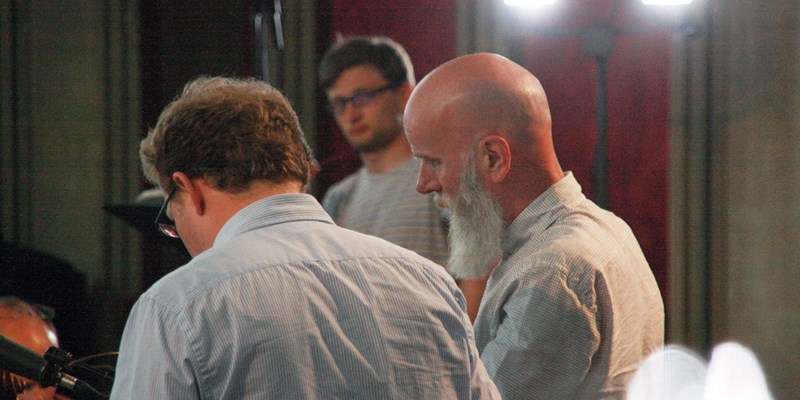 The conductor Benjamin Nicholas consults Jackson during the Delphian sessions
The libretto was drawn together by Merton's Chaplain, the Rev Simon Jones. 'We wanted it to be a liturgical Passion,' he explains as we step outside into the Oxford sunshine and sit around the stone table in the Fellow's Garden said to have inspired CS Lewis when writing his Narnia chronicles. 'Which is why we've drawn on a variety of texts from different Gospel writers, not just one Gospel writer, and also interspersed liturgical texts. For example, for Maundy Thursday we wanted to include the Last Supper and Footwashing, so to help us to do that we included Ave verum [celebrating the body of Christ] and Ubi caritas [usually sung during the remembrance of Christ washing His disciples' feet] in the text.' Meanwhile, in the Crucifixion, the horrific narrative of Christ's execution is followed by a soprano singing the Pange lingua – a prayer about victory over darkness. 'There's a sense that at the moment of great desolation and God forsakenness, you then get the soprano singing about the triumph of the Cross, and that to me is a beautiful juxtaposition. We want the Gospel narrative to speak for itself, but there's a sense that, when you bring in a soloist like that, there's a commentary on it from the perspective of the church, the Resurrection community.'

As for the choice of poetry, its use underlines a key theme Jones wanted Jackson's work to embody: that the Passion isn't intended to be a mere record of historic events, it's meant to be universal. Its themes of sacrifice, suffering, forgiveness and love should resonate for everyone, everywhere: for a soldier amid the carnage of the Western Front, for a spiritual poet reflecting on faith in middle age, and for a community of students and scholars in early 21st-century Oxford. Given this, the use of the final section of Eliot's 'Little Gidding' – the last section of his Four Quartets – is inspired. Eliot's masterpiece explores, among many things, the idea that life and death are all part of one whole, and that, as is stated at the poem's opening, 'all time is eternally present'. 'Little Gidding' also contains the famous words of Julian of Norwich, that 'all manner of things shall be well' – not a pithy assertion that 'it'll be alright in the end', but a deep statement that everything now is, in ways we don't and can't understand, part of the working out of God's world which will, in the end, 'be well' (it's a line Jackson here sets with a touching serenity). Everything is here drawn together: themes, faith – even the musical forces, as the two soloists and entire choir are unequivocally united for the only time in the entire work, in the sort of redemptive musical conclusion that Jackson is so skilled at. It's a very moving moment.
'We didn't want to stop with the Crucifixion, but because this is a Passion we didn't want to go on to the Resurrection narrative,' explains Rev Jones. 'Incorporating that Eliot text was a way to bring the Passion and the Resurrection to the present moment – or perhaps a better way of expressing it is that, because of the Resurrection, the Passion is now, and is relevant to us as a community today.'
'I thought of creating an imagined ancient sound world. What survived of that idea is the extreme instrumentation'
Gabriel Jackson

Back inside the college, meanwhile, Jackson says that Eliot's poem was 'an amazing text' to work with: 'I found it actually very easy to set because although it is quite opaque in terms of meaning, the images are so extraordinary and vivid and rich – so I was so pleased we were able to do it.'

Apart from the texts, another parameter for Jackson was the forces he was to write for. Ultimately, given that it was a commission by a choir to mark its college's anniversary, it seemed obvious that this should be a Passion for choir – in other words, that they should be the leading voice rather than singers supporting soloists, as is more common. 'And if the choir are going to have a big role, they are going to need to narrate the story,' says Jackson. 'I already knew the Merton choir, so I did think about their sound, and I did think about their personality, at least as I understand it – as I wrote the music, I could see them in the building, and I kind of heard them. The same was true of the soprano solo.' He'd asked Nicholas if he could write the part specifically for Emma Tring, a singer he knew from working with the BBC Singers.

As for the instrumental forces, as Nicholas explains, he didn't want the number of players to be 'so lavish that it would never be performed again. So it seemed to us that 10 players was practical.' Practical, then, and also allowing the greater possibility that 'other choirs who wanted to put it on could cope with it'. By contrast, the week before this recording, the choir had performed Elgar's The Apostles with the RPO – 'and that was a very different story!' laughs Nicholas. And as Jackson adds: 'If it is a chamber choir, like Merton, then you don't want to have millions of instruments because then you're going to have balance problems.'

But one of the most intriguing and distinctive aspects of the score, something which indelibly colours its sound world, is the choice of instruments themselves – many of which seem to be drawn from the extreme ends of their respective families. 'I originally had this idea, though I couldn't work out how to see it through to its total vision, of creating an imagined, ancient sound world,' Jackson says. 'I'm not interested in what music was actually like in biblical times and what instruments there were, but I was quite interested in imagining it. In the end, I wondered how you'd do that in any meaningful sense – but what survived of that idea is this slightly unusual, extreme instrumentation. There's no flute, only piccolo or alto flute. There's a sometimes very shrieky soprano sax, there's only a bass clarinet honking away a lot of the time. The choice of instruments – these rather raucous, rather raw sounds – was a survivor from that idea of the ancient musical world, Because, actually, you're talking about what's ultimately a pretty grim story in desert heat.' In another effective move, however, by the time we reach the powerful final movement, those extremes have been tempered, the wind instruments no longer evoking scorching sun but birdsong.

Sitting in the improvised control room, set up in the sacristy, it appears as if the chapel's acoustic is coping admirably with Jackson's sound world. The inevitable time pressures of a recording session are also being calmly dealt with, thanks to the producer and head of Delphian, Paul Baxter. There doesn't appear, however, to be any pressure of ego; it feels like a creative, collaborative process, with Nicholas, Jackson and Baxter all contributing ideas. Jackson is clearly very happy with this. While he admits that a large part of writing a piece is having an idea of how it should sound, he also says that his outlook has changed over time: 'As I've got older and more experienced, I'm more interested in what other people – Ben in this instance – wants to do with this bit or that bit. You can't control what people do, and I think the sooner you learn to just enjoy what everybody else brings to the thing, the better.'

And of course others, too, will now be able to enjoy it. Thanks to the act of recording, a work commissioned by, and performed in, a medieval Oxford college, now becomes something to be experienced by other people, in other places, at other times – which is, perhaps rather appropriately (and beautifully), reflective of the Passion story itself.

This article originally appeared in the March 2019 issue of Gramophone.
Listen