Gramophone Awards Shortlist 2023: Choral Category
Tuesday, September 5, 2023
Explore the six albums that have been shortlisted for the Choral Award at this year's Gramophone Classical Music Awards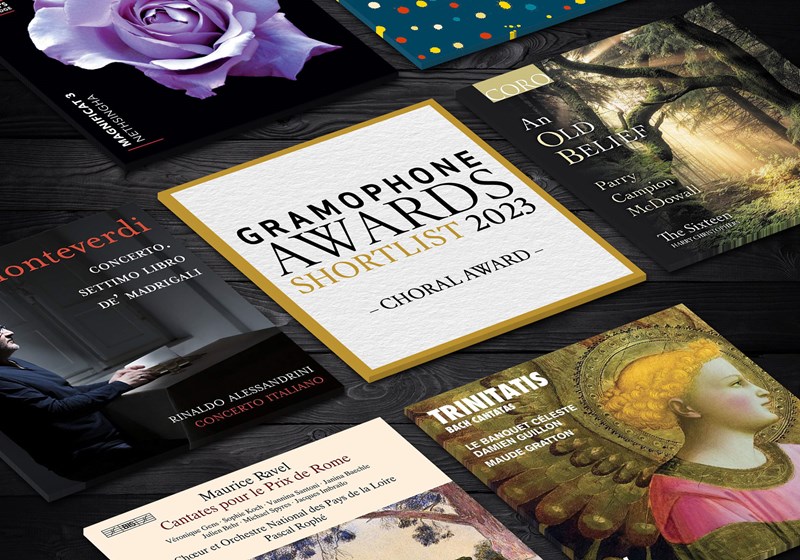 The Choral category in this year's Gramophone Awards Shortlist is exceptionally musically varied, ranging from Monteverdi to Cage, featuring recordings by Le Banquet Céleste, Latvian Radio Choir, Concerto Italiano, ONPL Chorus, The Sixteen and The Choir of St John's College, Cambridge. Last year's winning recording in this category was JS Bach's St Matthew Passion by Pygmalion and Raphaël Pichon. 
You can explore this year's six nominees below, or the complete Shortlist in our free digital magazine. 
Choral Award 2023: The Shortlist

JS Bach 'Trinitatis'
Cantatas – No 47, Wer sich selbst erhöhet, der soll erniedriget werden; No 60, O Ewigkeit, du Donnerwort; No 78, Jesu, der du meine Seele. Organ Sonata No 2, BWV526. Prelude, BWV546
Damien Guillon counterten with Céline Scheen sop Thomas Hobbs ten Benoît Arnould bass Maude Gratton org Le Banquet Céleste
Alpha 
These three cantatas have long been in the canon as celebrated examples of Bach in the first flush of Leipzig creativity – from 1723 to 1726, before he realised that his talents were better employed in compositional ambitions that didn't involve clerics. Jesu, der du meine Seele is one of the most glittering achievements of the period, and Guillon marshals his responsive one-to-a-part Le Banquet Céleste, luminously capturing the bittersweet of Christ's death in the exquisitely refined opening passacaglia. Attention to rhetorical detail and harmonic coloration are extended to one of Bach's most delectable duets, 'Wir eilen', which finds the same conceit of joyful discipleship that Teresa Stich-Randall and Dagmar Hermann so gloriously conveyed for Felix Prohaska in 1954 (Bach Guild, 1/60)... Jonathan Freeman‑Attwood
---

Cage Five. Four. Four. Hymns and Variations
Latvian Radio Choir / Sigvards Kļava
Ondine
There are, I think, two possible approaches to this recording. One is simply to listen through it and let the effect of the (very different) pieces on it wash over one, reacting to each in turn. The other is to read the excellent booklet notes by James Pritchett and then listen to the music, following in more or less detail what he explains in them. Either process would work, because the music is intrinsically interesting and frequently very impressive... Ivan Moody
---

Monteverdi Madrigals, Book 7
Concerto Italiano / Rinaldo Alessandrini hpd
Naïve
The first thing to say is just how vivid and foreground it all sounds. Listen back to Alessandrini's earlier 'Tirsi e Clori' (Opus 111/Naïve, 1999) and it's like the whole drama has stepped beyond the proscenium and into the room. Speeds may be slower in the recent account but the effect is the reverse; there's a new energy driving the dialogue forwards, and the ensemble dances and ensembles towards the end throb with vitality. Clori herself is sterner, less obviously flirtatious than Les Arts Florissants' (Harmonia Mundi, 4/17), but the demure shepherdess still has plenty of charm... Alexandra Coghlan
---

Ravel 'Cantates pour le Prix de Rome'
Alcyone. Alyssa. L'Aurore. Les Bayadères. Matinée de Provence. Myrrha. La Nuit. Tout est lumière
Clarisse Dalles, Véronique Gens, Vannina Santoni sops Janina Baechle,  Sophie Koch mezs Julien Behr,  Mathys Lagier,  Michael Spyres tens Jacques Imbrailo bar ONPL Chorus; Orchestre National des Pays de la Loire / Pascal Rophé
BIS
Pascal Rophé and the Choeur et Orchestre National des Pays de la Loire make this whole disc a thoroughly authentic (and beautifully engineered) affair, and when it comes to the miniature choral settings – the polyphony full but limpid, too, elegant and graceful – their juxtaposition highlights their distinctions. L'Aurore is possessed of a fragrance suggestive of Shéhérazade, Les Bayadères does what it says on the tin (Bizet is lurking close by), and La Nuit is headier and goes deeper.
Absolutely fascinating, then, and always seductive. Resistance is futile... Edward Seckerson
---

'An Old Belief'
Anonymous Benedicite Deo. Deo gracias, Anglia. O blessed Lord. Saint Thomas honour we Campion Author of Light. Never weather-beaten sail. Tune thy music to thy heart Howells Take him, earth, for cherishing McDowall An unexpected shore Parry Songs of Farewell
The Sixteen / Harry Christophers
Coro 
This is a magical recording, and among those presently extant I would say it is only rivalled by Nigel Short's splendid reading. (Regrettably, Richard Marlow's fine recording with Trinity College, Cambridge – Conifer, 9/87 – is nowadays commercially unavailable.) Hats off to The Sixteen, and I look forward to the possibility of more recordings of English Romantic repertoire... Jeremy Dibble
---

'Magnificat 3'
Chesnokov Nunc dimittis, Op 40 No 4 Dyson Magnificat and Nunc dimittis in F Howells St Paul's Service. Westminster Service B Kelly Magnificat and Nunc dimittis in C Leighton Collegium Magdalenae Oxoniense Moore Sancti Johannis Cantabrigiense Stanford Magnificat and Nunc dimittis in B flat
The Choir of St John's College, Cambridge / Andrew Nethsingha with George Herbert org
Signum
The choir inflect works spanning a world-changing few decades, from the First World War to the 1960s, with distinct personality while maintaining a core sound that's always free and full, refreshingly natural (if trebles naturally phrased with this level of taste and care). It's sad that Nethsingha's departure means that the next volume will be the last. I can't think of a greater or more apt epitaph to the music director's time at St John's... Alexandra Coghlan
Explore all of this year's shortlisted albums in our FREE digital magazine – out now!