Gramophone Editor's Choice: February 2022 | The best new classical recordings
Thursday, January 27, 2022
This month we feature outstanding new albums from Le Concert des Nations and Jordi Savall, Michael Collins and Stephen Hough, Marc-André Hamelin, Francesca Aspromonte, Jeanine De Bique and The Hermes Experiment
Recording of the month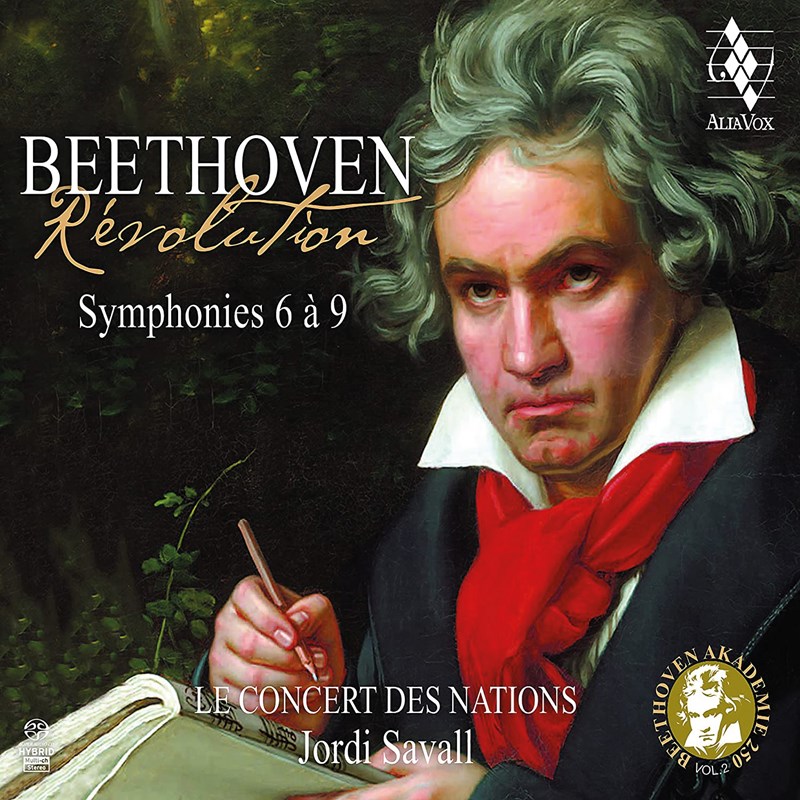 Beethoven 'Révolution, Vol 2'
 

Symphonies Nos 6-9

Le Concert des Nations / Jordi Savall

Alia Vox 

This is a thrilling, physical, probingly musical and invigoratingly alive-feeling period performance set of Beethoven symphonies, and a triumphant second half of conductor Jordi Savall's full cycle.
---

Respighi. Schoenberg. R Strauss
 

'Métamorphoses nocturnes'

 

Appassionato / Mathieu Herzog 

Naïve 

Extraordinary string sound here from the former Ébène Quartet member's ensemble.
---

Brahms
 

Clarinet Sonatas

 

Michael Collins cl Stephen Hough pf 

BIS 

The third recording of the Brahms's Clarinet sonatas from Michael Collins – see the January issue for his reasons for returning to the works – and a very beautifully performed one too.
---

Weinberg
 

'Light in Darkness'

 

Linus Roth vn et al 

Evil Penguin 

Linus Roth's invaluable contribution to the Weinberg discography is here added to with another fine album, encompassing most of the works involving violin he'd not previously recorded.   
---

CPE Bach
 

Sonatas & Rondos

Marc-André Hamelin pf 

Hyperion 

Music of the 'maverick of the Bach dynasty', as reviewer Michelle Assay puts it, brought splendidly to life by a master pianist in both the reflective and the rhythmically joyous pieces alike. 
---

Liszt
 

'Vol 1: Death and Transfiguration'

 

Kenneth Hamilton pf 

Prima Facie 

Kenneth Hamilton offers a richly rewarding and brilliantly played Liszt survey, clearly deeply thought-through, and furthermore recorded on a fabulous sounding piano. 
---

'Maria & Maddalena'
Francesca Aspromonte sop I Barocchisti / Diego Fasolis 
Pentatone 
Music exploring the Virgin Mary and Mary Magdalene, communicated with compelling engagement, in a superb Baroque recital.
---

'Song'
The Hermes Experiment 
Delphian 
An entrancing album of songs, at times disarmingly moving, the group's unique line-up (harp, clarinet, soprano, double bass) lending them all, despite their diversity, an intimate shared sound world. 
---

Rameau
 

Acante et Céphise

 

Les Ambassadeurs – La Grande Écurie / Alexis Kossenko 

Erato 

An 'enthralling triumph' writes reviewer David Vickers, owing as much to perfect principal casting as to the impeccable instrumental playing throughout.
---

'Mirrors'
Jeanine De Bique sop Concerto Köln / Luca Quintavalle 
Berlin Classics 
A glorious showcase for Jeanine De Bique, whose rich and characterful voice displays jaw-dropping precision in passages of thrilling virtuosity, and poignant grace in the slower numbers. 
---
DVD/blu-ray

Mozart Die Zauberflöte
Sols; Royal Opera / Julia Jones 
Opus Arte 
A chance to see David McVicar's 2003 Royal Opera House production – previously released under Colin Davis – with different forces, led by Julia Jones.
---
Reissue/archive

'The Many Loves of Antonín Dvořák'
Various artists 
Supraphon 
Well-known classics and little-known Dvořák gems, expertly drawn from Supraphon's superb catalogue of the composer's music. As Rob Cowan puts it: 'a terrific set'.
---
Welcome to

 

Gramophone

 

...
We have been writing about classical music for our dedicated and knowledgeable readers since 1923 and we would love you to join them.
Subscribing to Gramophone is easy, you can choose how you want to enjoy each new issue (our beautifully produced printed magazine or the digital edition, or both) and also whether you would like access to our complete digital archive (stretching back to our very first issue in April 1923) and unparalleled Reviews Database, covering 50,000 albums and written by leading experts in their field.
To find the perfect subscription for you, simply visit: gramophone.co.uk/subscribe