Grieg's Piano Concerto: A deep dive into the best recordings
Jeremy Nicholas
Thursday, February 10, 2022
Grieg's Piano Concerto has been tackled by many great pianists, but not all of them strike the right balance between refined pianism and Lisztian zest. Jeremy Nicholas surveys recordings spanning a century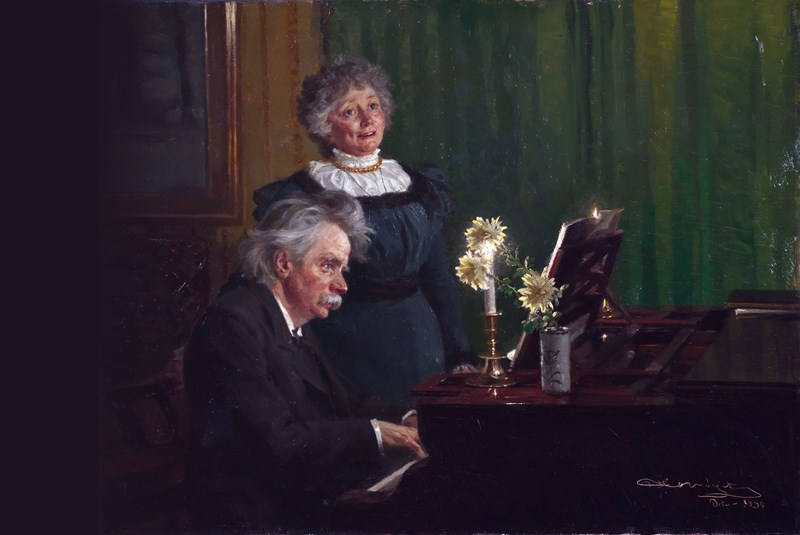 Edvard and Nina Grieg, 1898, by Peder Severin Krøyer (1851-1909) – Grieg composed the Piano Concerto the year their daughter Alexandra was born (Bridgeman Images)

There are currently more than 400 recordings available of Grieg's Piano Concerto, different either by soloist, coupling or date of recording (there are those who have recorded the work more than once). Some would say that to compare them is a foolhardy task, one that's impossible to accomplish successfully given the wordage granted by this magazine and the lifespan of the reviewer. One can already see the letters arriving in the Editor's in-tray: 'How could he possibly have left out so-and-so?' 'The credibility of this survey has been seriously compromised by the omission of such‑and‑such.'
So, faced with making this impossible assignment, I shall break convention and begin with a teaser: I think I already know which recording will be the winner. Competing against it for the palme d'or will be, inter alios, Dinu Lipatti (of course), Stephen Kovacevich and four more recent recordings, all of them memorable in their own way, all of them having a rival: the very first complete recording ever made of the work.
The work's origins
But first let us put this much-recorded (over-recorded?) work in context. Grieg studied, reluctantly, at the Leipzig Conservatory (Arthur Sullivan was a fellow student), telling his biographer in 1881: 'I must admit, unlike Svendsen, that I left the Leipzig Conservatory as stupid as I entered it. Naturally, I did learn something there, but my individuality was still a closed book to me.' Whatever else, he certainly learnt how to orchestrate, as demonstrated in the Piano Concerto's score. Equally significantly, during his time there (1858‑62), he heard Clara Schumann play her late husband's Piano Concerto in A minor, a work which, as we shall see, made a profound impression on him.
After Leipzig, Grieg made his base not in his native Norway but Denmark. Having married his cousin (the talented singer Nina Hagerup) in 1867, the following summer he went to visit his wife's family in Copenhagen, to present their newborn child, Alexandra. The idea of composing a piano concerto was already firmly planted in his mind and his friends found him a room with a piano at Mothsgården in Søllerød, about 20km north of the city. So, much of this work, soon to be seen as quintessentially Norwegian, was written in Denmark, at least a year before Grieg came into close contact with Norwegian folk music. Yet that 'individuality' he referred to permeates the piece, already a unique and instantly recognisable voice, marinated in his country's folk tradition and synthesised with German Romantic practice.
Grieg was 25 years old. Listening to it, it's hard to believe that this was his first large-scale work with orchestra. The confidence of the solo writing and his handling of the orchestra are almost miraculous. Like Henselt and his F minor Concerto, the inspiration seems white-hot, and yet was never to be repeated. (In 1883 Grieg began a second piano concerto in B minor but only sketches remain; inspiration dried up.) Both composers came to realise their forte was in shorter forms.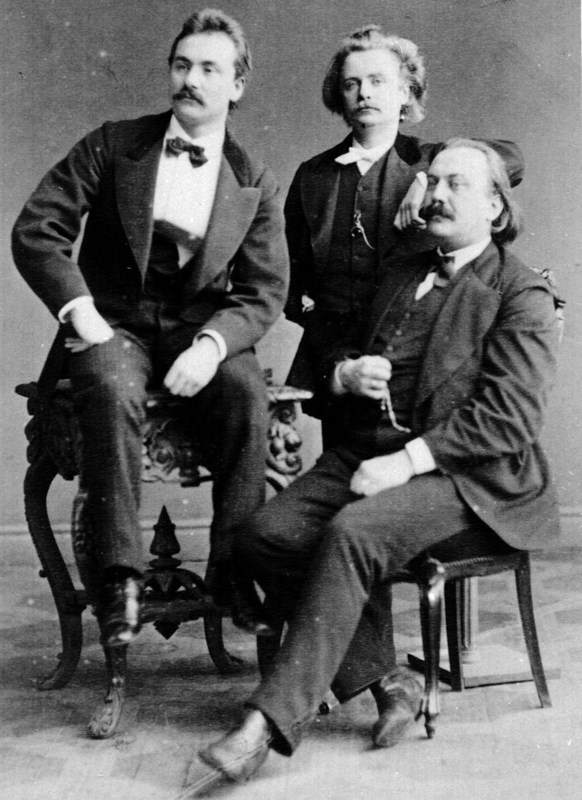 Svendsen, Grieg & Neupert – who gave the premiere (Alamy)


The premiere took place on April 3, 1869, in the Grand Hall of Copenhagen's Casino Theatre, Edmund Neupert the soloist, Holger Simon Paulli conducting the Orchestra of the Royal Theatre. The audience burst into spontaneous applause after the first-movement cadenza. Anton Rubinstein, Niels Gade and Johan Hartmann sat in the stalls and 'applauded with all their might', reported Neupert. Liszt invited Grieg to visit him in Rome where, famously, he sight-read the manuscript of the concerto and gave Grieg words of encouragement that would sustain him for the rest of his life. The score was first published in 1872 but Grieg kept tinkering with it (a trumpet, not the cellos, originally introduced the first movement's second subject, a second pair of horns was added and the tuba was dropped, among other changes). The echt version comes from the final years of the composer's life.
The concerto begins with a drum roll crescendo and the immediate, dramatic entry of the pianist at the top of the keyboard with a fortissimo descending figure in double octaves. The main theme follows, quietly played by the woodwinds, then by the piano. Schumann's Concerto begins in the same way. Both works have wind solos in their first movements with piano arpeggios underneath (and there's also the key relationship between the two works in the last movement with the development section in F major). A scherzando passage ending in a downward chromatic run in thirds (very Chopin) leads to the lyrical second subject introduced by the cellos. After developing these ideas, Grieg launches into a mighty solo cadenza, beginning quietly and building into a fire-breathing Lisztian virtuoso display. An entirely new theme enters to launch the coda.
The slow movement is in the tonally remote key of D flat major, theoretically the enharmonic of the major third, C sharp (Beethoven did the same thing in his C minor Piano Concerto). This hymnlike melody, played with muted strings (is there a more beautiful opening to a slow movement than this?), and the piano's soulful meditation that succeeds it are closely related to the first movement's themes.
The finale (Allegro moderato molto e marcato) follows immediately with the first of two Norwegian-style folk tunes, the first a halling (an athletic dance), the second a ravishing pastoral theme introduced by the flute. After a dramatic pause, a new section marked quasi presto presents the halling theme in the triple time of another popular dance form, the springdans. The pastoral theme returns, transformed into a joyous and grandiose finale, bringing the work to a conclusion with, as it began, a mighty drum roll.
Early recordings
The earliest recording of any section of the Piano Concerto was made in 1908, a mere eight months after Grieg's death, by his friend Percy Grainger, who made a 10-inch disc for The Gramophone Company of the first-movement cadenza (APR, 4/11 – how he must have kicked himself for smudging the single A natural, seven notes in!). Strange that one who was considered the supreme interpreter of the work never recorded it commercially, though the live performance with Leopold Stokowski from 1945 at the Hollywood Bowl is certainly worth hearing. Despite some untidy moments, one feels that this is the spirit in which Grieg envisaged the work to be heard. In 2009, the 2L label issued a recording of Percy Grainger's piano roll of the solo part accompanied by the Kristiansand Symfoniorkester and the conductor Rolf Gupta.
In the following year (1909) came Wilhelm Backhaus, with the Royal Albert Hall Orchestra under Landon Ronald in a recording often billed as 'the first recording ever made of a concerto'. Except it's not. It's actually only part of the concerto, heavily abridged and thus solely of historical interest.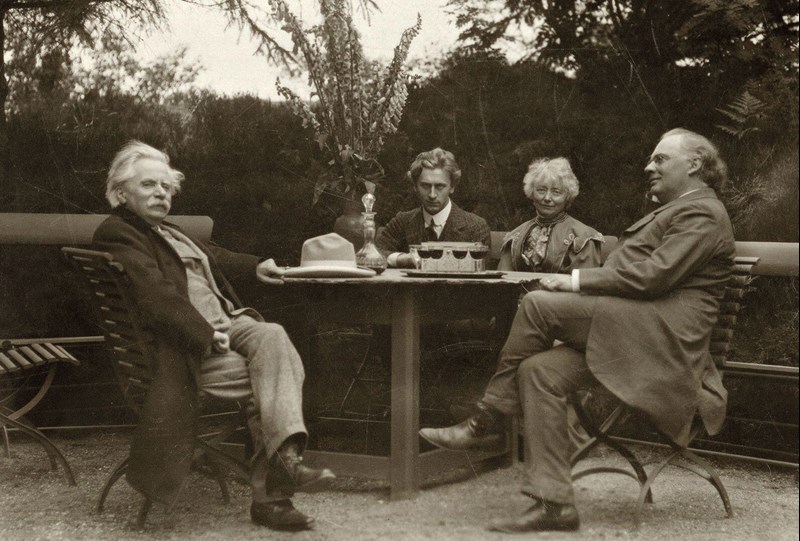 Grieg, Grainger (who made the earliest recording of the work), Nina Grieg & composer Julius Röntgen (Alamy)


The same forces recorded a (less) abridged version in 1921 with the Belgian pianist Arthur de Greef (1862-1940). And it was de Greef who, in 1927, made by far the most important – and successful – historic account of the complete concerto with, again, the RAHO under Ronald. Not only was he a superb pianist, a pupil of Louis Brassin (who gave the first Brussels performance of the work), but de Greef was a close friend of Grieg, who conducted many performances of his concerto with the Belgian as his preferred soloist. It is worth quoting at length from a letter Grieg sent to the violinist Ole Bull: 'De Greef is the best interpreter of my music I have met with. It is surprising how he understands my meaning. Whether I roam over the mountains or through the valleys, whether I am refined or vigorous, he follows me with a wonderful instinct. I feel happy and honoured by his sympathy for my art. He is a real Master; that I see more and more, just one of those whom you may look for with a lantern all around the musical world.' Quite an encomium – which Jonathan Summers includes in his booklet to accompany this great recording's latest incarnation on APR in Mark Obert-Thorn's vivid transfers. Required listening. As Summers remarks: 'The downward scale that sets off the third movement has rarely been produced with such aplomb.' Yes, there are some splashy moments and the occasional lapse of ensemble but this is a fiery, gripping account that pits the work firmly in the Lisztian tradition.
The next important pianist to follow de Greef was Ignaz Friedman on March 6, 1928 (not 'late 1927' as the Naxos annotation attests), curiously his only issued concerto recording (a late acoustic recording of the Grieg with Hamilton Harty was approved, never released and the masters subsequently destroyed). From the opening six bars, you know this is not going to be a front runner. The unidentified orchestra under Philippe Gaubert sounds under-rehearsed. Too frequently, Friedman ignores dynamics and note values, snatches at phrase endings and, despite many felicitous turns of phrase, generally goes his own way. The horn solo after the big second-movement theme sounds as if it's being played on a kazoo.
Another great pianist and Leschetizky pupil who recorded the Grieg was Benno Moiseiwitsch. His 1941 recording with the Hallé under the ailing Leslie Heward suffers from recessed piano sound in the generally unfavourable acoustic of Houldsworth Hall, Manchester. Preferable is his 1953 account with Otto Ackermann and the Philharmonia on top form, though even here (in Abbey Road) everything is set too far back. There are a surprising number of smudges from the great man, who harmonises the three solo trill notes at the end of the first-movement cadenza and the double-octave E naturals just before the finale's coda. Nice, but not a contender.
Rubinstein et al
Arthur Rubinstein played for Grieg. He made four commercial disc recordings of the concerto, once with Ormandy (1942, a best seller in its time) and Dorati (1949), and twice with Wallenstein (1956, 1961). There are several others, including one with Giulini and a DVD performance with Previn (1/89). The Ormandy, with a somewhat lemony sound, is the best and liveliest of these, for Rubinstein thereafter takes a far too mellow view of the work, refusing to play the virtuoso card and thus missing out on an essential ingredient of the concerto's attraction. The slow movement of the second Wallenstein recording, however, is grace personified and deeply felt.
But not quite as deeply as Georges Cziffra in 1969, superbly accompanied by his son György Cziffra Jr and the Budapest SO at the Salle Wagram in Paris. Played much slower than anyone else (7'41" as opposed to an average of about 6'20"), I've always found this an intensely moving account. Belying his reputation as a speed merchant of little depth, Cziffra is immensely respectful of Grieg's instructions (pace the rather too leisurely treatment of the first movement's second subject) – listen to those roaring chromatic scales in the cadenza marked pp crescendo to fff. How often do you hear that, and with such incredible articulation? With a mellifluous horn player, and against all odds, this is a version well worth considering.
And so to the most famous account on disc: Dinu Lipatti in September 1947 with the Philharmonia and Alceo Galliera. I shall refrain from quoting here the original Gramophone review – it is one of the most fatuous of its kind – and instead repeat the summary in The Record Guide (1951): 'It has … had many recordings, but none so scintillating, and in the cantabile sections so meltingly beautiful, as Dinu Lipatti's.' Well, perhaps. There are good reasons why it has never been out of the catalogue in 74 years: Lipatti's noble, sumptuous rendering of the solo part, fastidious in its perfection and carefully detailed (he had been playing the piece since 1933); clever marketing, manufacturing its 'legendary' status from Lipatti's tragically early death – a revered artist stolen away far too young; and simply because it is a wonderful and accurate account of a popular work. If it leaves this listener admiring rather than emotionally enraptured, it is a response that merely echoes his reaction to the same pianist's Chopin Waltzes.
For those – and there are many – who think the spoils should go to the legendary live performance by Arturo Benedetti Michelangeli with the New Philharmonia Orchestra under Rafael Frühbeck de Burgos, look away now. Our own David Fanning thought it so outstanding that he saw 'no point in listing any comparisons'. It is indeed an extraordinary performance that demands to be heard – a far cry from the cool, dispassionate Michelangeli we encounter all too often – with stunning, unrivalled virtuosity. But to me, for all its undeniable visceral excitement, it comes across as impatient, petulant and simply angry, as though the pianist has just had a stand-up row with someone and is taking it out on the Concerto. The two Chopinesque animato sections in the first movement marked p molto leggiero < ff are brutally dispatched, and while it's good to hear the bass strings rattled whenever there's an fff dynamic, where are the charm and lightness of spirit when needed?
Another revered account, but at the other end of the scale, is by Radu Lupu with André Previn and the LSO (Kingsway Hall, 1973). Others may rave, but not this writer. I had not heard it for ages and my first listening note after the introductory pages was 'sounds like Brahms'. I then turned up the original Gramophone review by Richard Osborne (February 1974) and read: 'Lupu gives the concerto a certain Olympian size and splendour as though it were by Brahms (the Brahms of the B flat Concerto).' Whatever it is, it's not the Grieg as I want it.
Kovacevich and Hough
The recording made just 50 years ago (January 1971) by Stephen Kovacevich (or Bishop as he then was) with Colin Davis and the BBC Symphony Orchestra has acquired the same affectionate status as Lipatti's. Kovacevich's articulation in the first movement is exemplary. The horn and woodwind solos are beautifully blended with the soloist's dialogue, and the slow movement is surely among the most eloquent of many eloquent slow movements. Is the final movement a little on the cautious side? It is magisterial in concept but I confess that I was never swept away by it.
As we have come to expect from Stephen Hough, every detail of a score is respected, painstakingly absorbed and then let loose in this great pianist's imagination. For his 2011 Hyperion recording, he is partnered in with his frequent collaborator Andrew Litton, who is equally alive to Grieg's every request (listen to the clear semiquaver triplets he gets from the Bergen strings with the tutti return of the first subject of the finale). The recording, coupled unusually with Liszt's First and Second Concertos, is superb (Simon Eadon, Andrew Keener) but Hough does not quite do it for me. Uncharacteristically cautious in the first movement and its cadenza, he is also disappointingly flat-footed in the finale's halling.
Space precludes further nominations – among them Curzon, Katchen, Perahia, Ania Dorfmann, Van Cliburn, Thibaudet and many others who made fine recordings of the Grieg, let alone Winifred Atwell (the first black pianist to record the concerto, 1954 – nla, but one for Decca Eloquence to re-release perhaps?), Dudley Moore (the first comedian to do so) and Oscar Levant (the first Hollywood actor to record it).
More superlative recordings
Four recordings supersede the classic Lipatti and Kovacevich accounts. The first is by Howard Shelley on a Chandos disc that, remarkably, has not only the Grieg Concerto but also the Schumann and Saint-Saëns No 2. All three works are, as is Shelley's custom, conducted from the keyboard. He inspires some wonderful playing from the Orchestra of Opera North, with notably fine horn and woodwind solos, but also, for once, gives due prominence to the important timpani part. It's a performance that balances virtuosity with poetry in an ideal way, and is altogether a hugely underrated account on a most appealing CD.
Captured in state-of-the-art sound, the same forces used by Hough and Litton but here conducted by Edward Gardner and with soloist Jean‑Efflam Bavouzet offer a more enlivening experience than the Hyperion team, beginning with one of the most explosive timpani drum rolls of any version (aptly and emphatically returning for the final bars of the work). This is an assured, robust performance to which Bavouzet brings his own brand of refined pianism – certainly the equal of Lipatti and Kovacevich – in a reading that is similar to and on a par with Shelley's.
So we come to the acclaimed recordings by Leif Ove Andsnes. Back in November 2003 he told me that as a 16-year-old Norwegian he had never heard the Grieg Concerto. He then studied it, fell in love with it, recorded it with the same Bergen orchestra (they should be able to play it in their sleep by now), performing it so much that for eight years (1994-2002) he didn't touch it at all. His first recording (1990) under Dmitry Kitaenko is a curate's egg with a disappointingly tame first movement – Andsnes takes Rubinstein's melancholic view of the opening subject and sectionalises the cadenza – while a serene slow movement is followed by a finale that simply fizzes with life. Where, one might ask, has that come from?
His second recording (2002) is markedly different and won a Gramophone Award in 2004. This was with the Berlin Philharmonic and Mariss Jansons. Tempos in the first movement are brisker, there's a natural flow between sections and the cadenza is superbly phrased and thrillingly executed; the slow movement is arguably the most moving on disc (listen to the svelte cellos under the return of the big tune); and the finale scampers along full of Lisztian aplomb, with the second subject's peroration leading to a shattering conclusion. In short, there is only one reason to deprive Andsnes of the pole position he has held for nearly 20 years.
And that is the recording by another (but less well-known) Norwegian pianist, Sigurd Slåttebrekk. His 2004 recording with the Oslo Philharmonic Orchestra under Michail Jurowski has all the qualities of Andsnes's Award-winner adumbrated above, combining as it does Hough and Litton's attention to detail with Lipatti and Kovacevich's refined pianism (Slåttebrekk's fantasy in the slow movement and the central section of the finale makes time stand still). And it is Slåttebrekk who, for me, gets closer to de Greef's Lisztian zest and authority than even Andsnes, Shelley and Bavouzet. He is always on the qui vive, pushing things forwards, then relaxing into the most sublime reflection. And even after a lifelong familiarity with this much-loved work, it's a performance that greatly moved me. The composer would surely have recognised a kindred spirit in Slåttebrekk – a pianist who plays all the notes, all of them most definitely in the right order.
---
Welcome to

 

Gramophone

 

...
We have been writing about classical music for our dedicated and knowledgeable readers since 1923 and we would love you to join them.
Subscribing to Gramophone is easy, you can choose how you want to enjoy each new issue (our beautifully produced printed magazine or the digital edition, or both) and also whether you would like access to our complete digital archive (stretching back to our very first issue in April 1923) and unparalleled Reviews Database, covering 50,000 albums and written by leading experts in their field.
To find the perfect subscription for you, simply visit: gramophone.co.uk/subscribe