How Shakespeare has inspired composers through the centuries
Michelle Assay
Wednesday, November 8, 2023
Michelle Assay traces a history of music inspired by William Shakespeare, uncovering a treasure trove of well-known as well as lesser-known gems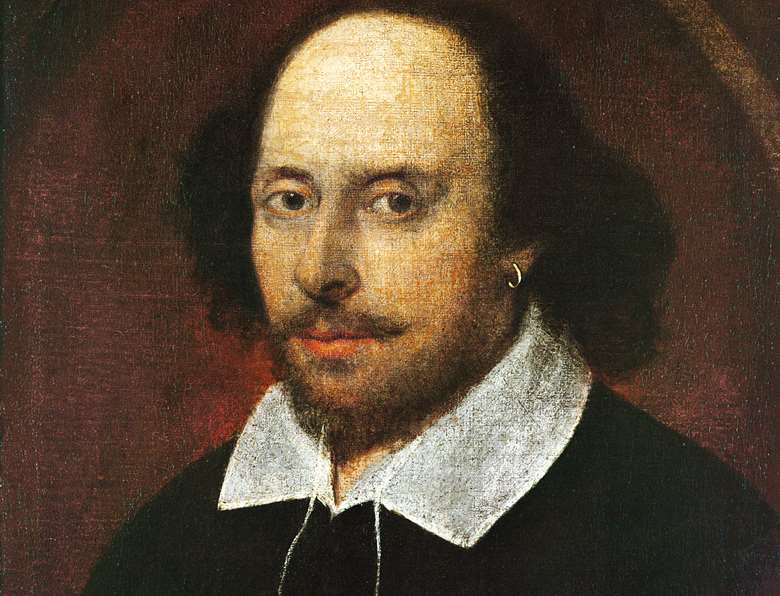 'He really didn't have to die,' a pre-teen me whispered at an underground cinema in post-revolutionary Tehran, where a heavily censored version of Grigori Kozintsev's Hamlet had somehow magically found its way to the screen. Soon my quiet sobbing was drowned in Shostakovich's Funeral March as Fortinbras's solders carried Hamlet's body out of Elsinore. This was my first encounter not only with Shostakovich's music but also with Shakespeare: 'Forswear it, sight! For I ne'er saw true beauty till this night.' Berlioz was surely not exaggerating when he exclaimed: 'To arrive at 45 or 50 without knowing Hamlet! To have lived that long in the dark!' Back in Tehran I was thankfully much younger. But my life would be shaped for ever by the magnificent power of music and Shakespeare.
'Their savage eyes turn'd to a modest gaze / By the sweet power of music'
(The Merchant of Venice)

Shostakovich's scores for Kozintsev's Hamlet (1964) and King Lear (1971) are among the most often recorded and performed of Shakespearean film music, rivalled only, perhaps, by Sir William Walton's for Sir Laurence Olivier. But despite the similar symphonic nature of their soundtracks, the two director–composer collaborations were very different. Walton described the three principal functions of film music as 'the creation of mood, atmosphere, and the sense of period'. For Kozintsev, Shostakovich played a much more central role: 'The world of Shostakovich's imagery truly expresses the scope of Shakespeare's thoughts and feelings … The music does not accompany the shots but transforms them.' One of the best examples of Walton's modest principles in action is in the work of Patrick Doyle, whose pastiche-epic approach to Kenneth Branagh's Shakespearean films also owes a debt to Rota's scores for Franco Zeffirelli, especially his flamboyant and recently once again controversial 1968 Romeo and Juliet, whose central song, 'What is a youth?', acquired a life of its own in popular consciousness.

Somewhere in between accompanimental and shaping roles we find Takemitsu's score for Akira Kurosawa's Ran, a 1985 screen adaptation of King Lear. His score ranging from austere solo flute cues to a plangent Mahlerian full orchestra, and with the ritualistic clicking of woodblocks to punctuate the action, Takemitsu provides a fascinating soundscape for Kurosawa's evocations of violent chaos: at times illustrative, at times independently commentating. An East-meets-West approach also highlights the collisions of worlds and ethics in Roman Polanski's 1971 adaptation of Macbeth. Here the percussive experimental group Third Ear Band provides a psychedelic medley of folk music, Middle Eastern music, jazz and Indian raga, which Polanski freely edits in order to reinforce the horror at the heart of his first work following the brutal massacre of his wife and guests by the Manson Family.

In the same vein but with a clear period emphasis, Jocelyn Pook's score for Michael Radford's 2004 The Merchant of Venice juxtaposes Jewish and Christian worlds through Yiddish chants and plainsongs. Pook's highly accomplished setting of 'How sweet the moonlight', featuring Andreas Scholl, certainly deserves a place in the song repertoire beyond its original function. The words are from the same speech as Vaughan Williams's exquisite Serenade to Music (1938), a passage that most eloquently illustrates Shakespeare's use of music as both a metaphor and a dramatic device to affect both characters and audience: 'Such harmony is in immortal souls.'
'Here will we sit and let the sounds of music / Creep in our ears'
(The Merchant of Venice)

Any incidental music on the early modern stage was diegetic, that is, a part of the play itself, heard and responded to by characters and audience alike; this was the case also for music that Shakespeare required to be played under the dialogue. Over the next centuries, such underscoring gradually grew to encompass music that was non-diegetic – heard only by the audience and hence was meant to comment upon, shape and enhance both the characters' and the audience's emotional response. Increasingly during the 19th and 20th centuries, eminent composers became associated with Shakespeare stage productions. Some of their scores, and the song settings within them, have in turn enjoyed an independent afterlife outside the theatrical context, be it in original or in reworked form, or have fed back into their composers' other concert music.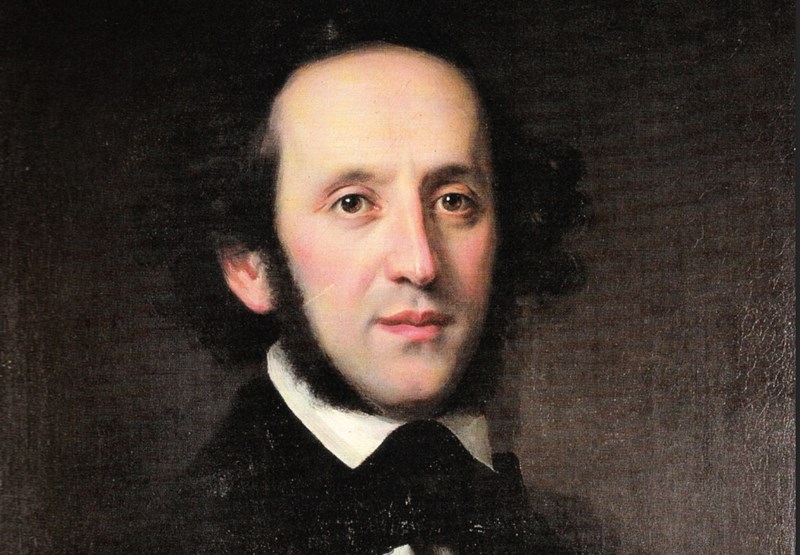 Mendelssohn (1846): inspired by A Midsummer Night 's Dream
The 17-year-old Mendelssohn's 1826 overture and his later incidental music for A Midsummer Night's Dream are a special case, because the concert work actually preceded the stage music. More obscure, though still noteworthy, is Chausson's score for an 1888 marionette production of The Tempest at the Petit Théâtre des Marionettes. Featuring a surprisingly light-footed Caliban, Chausson's hyper-Romantic idiom falls easily on the ear; but his enthusiasm for Shakespeare finds a more rewarding incarnation in his later Chansons de Shakespeare, Op 28. Of still greater originality is Fauré's 1889 suite Shylock, Op 57, whose music was written for an adaptation of The Merchant of Venice by Edmond Haraucourt at the Paris Théâtre National de l'Odéon. This comes from the top drawer of Fauré's inexhaustible store of lyrical charm, and it is no surprise that parts of it found their way into George Balanchine's 1967 ballet Jewels. Debussy's two movements from his unfinished 1904 King Lear (for a production by André Antoine) are uncharacteristically impersonal – an accusation no one could level at Honegger's ferocious Prelude from his incidental music for a 1923 production of The Tempest, or against Korngold's music for the 1920 Max Reinhardt production of Much Ado about Nothing, best known via its associated suite for violin and piano: bright, genial and engagingly Prokofievian, with Straussian undertones.
But head and shoulders above the crowd stand Sibelius's full-length score for The Tempest (completed 1926), from the same expressive world as austere late masterpieces such as Tapiola; and Shostakovich's pungent, at times uproarious, music for Nikolay Akimov's zany 1932 Hamlet at the Vakhtangov Theatre in Moscow. That production was as short-lived as it was controversial, but Shostakovich's music lives on, thanks to his orchestral suite and to extracts being used, alongside his 1964 film score, in various ballet adaptations of Hamlet within and beyond Russia. Six years later, with Socialist Realist controls now firmly in place, Prokofiev's 1938 Hamlet score for Sergey Radlov's production was a much more restrained affair. But it still carried the composer's balletic signature moves, such as his mincing gavottes. Long-term chess partners, Prokofiev and Radlov had previously worked together on the ballet Romeo and Juliet (1935), much of whose concept, in particular the original idea of an optimistic tragedy and the depiction of the star-crossed lovers as Komsomol youths fighting for their right to love, goes back to the director's own previous stage adaptation (1934, with far more conventional, now more-or-less forgotten, music supplied by Asafyev). Following Stalin's death in 1953, there was a wave of new Soviet Shakespeare productions, involving some of the leading composers of the time: in Ukraine, for instance, Boris Lyatoshinsky's incidental music (and derived symphonic suite) for a 1954 Romeo and Juliet incorporated pseudo-antique and music-hall idioms into an otherwise highly romantic symphonic score; and Khachaturian's contributions to a 1955 Macbeth and a 1958 King Lear, both in Moscow, were routinely heroic-symphonic, not matching the quality of his music for Sergey Yutkevich's 1955 Othello film.
Meanwhile, in the UK, mainly in 1913, Vaughan Williams composed several Shakespearean incidental scores (including the recently unearthed and recorded 1944 Richard II), putting into practice his maxim: 'Shakespeare makes an international appeal for the very reason that he is so national and English in his outlook.' From a very different mindset, Birtwistle's Shakespeare music for the National Theatre during his tenure as music director (1975-83) consists mainly of simple, functional cues, with stepwise melodic tunes designed for actors' abilities. More fully Birtwistlian is his spin-off ritualistic 1976 'ceremony', For O, for O, the Hobby-Horse Is Forgot (Hamlet's line at the end of the play-within-a-play The Mousetrap).
With the development of the early music movement came a new shift in the nature of theatre music. Spearheaded by composer and music director Claire van Kampen, and with Mark Rylance as artistic director, from the 1990s the 'Original Practices' of Shakespeare's Globe, London, offered audiences an experience of Shakespeare as close as possible to that of his contemporaries. In a 2021 podcast interview, van Kampen offers a summary explanation of her approach (soundsandsweetairs.buzzsprout.com).
'If music be the food of love, play on'
(Twelfth Night)

Back in the 19th century, with European bardolatry in full swing, the question of fidelity to text and tradition was of less concern. Yet there was probably more of Shakespeare's irony, mood shifts and elusiveness in purely instrumental works than there was in operas of the time. The trend continued throughout the 19th century and well into the 20th, ranging from commentary on characters, most notably, perhaps, in Henze's two 1970s 'sonatas' for solo guitar The Royal Winter Music, to ruminations on themes and actions, as in Smetana's protracted Macbeth and the Witches (1859) for piano, his Lisztian tone poem Richard III (1858), Dvo∑ák's melodious Othello overture (1892), Strauss's Macbeth (1888), Yury Kochurov's remarkably Straussian Macbeth Symphony (1948) and Henze's Eighth Symphony (1993), which takes its inspiration from A Midsummer Night's Dream. However, all these are eclipsed in the concert repertoire by Elgar's symphonic poem Falstaff (1913), thanks to its virtuoso representation of actions and interactions, athough its programmatic overkill has raised eyebrows, even among passionate Elgarians.

Berlioz had blazed a trail by turning infatuation with Shakespeare into an almost obsessional leitmotif. Notwithstanding the Romeo and Juliet choral symphony (1839) and the King Lear and Béatrice et Bénédict overtures (1831 and 1862, respectively, the latter the overture to his opera), it was Hamlet that occupied the most central place, starting with his 1827 fateful encounter with his wife-to-be Harriet Smithson as Ophelia at the Odéon in Paris. Berlioz's crusade includes musings on Hamlet in his choral-orchestral sequel to Symphonie fantastique, initially entitled Le retour à la vie (1831) then revised as Lélio, ou Le retour à la vie (1855); and in two parts from Tristia: La mort d'Ophélie (1848) for female choir and orchestra and Marche funèbre pour la dernière scène d'Hamlet (1844). Yet Berlioz never attempted a more comprehensive musical portrait of the play in the manner of the overtures by Joachim (1853) and Gade (1861) and Liszt's symphonic poem of 1858.

Liszt's work is notable for the influence of his friendship with the Polish-born German actor Bogumil Dawison, who was known for portraying Hamlet in marked contradiction to the Goethe-inspired weak prince: not as a dreamer, but as a clever man of action. For Tchaikovsky, too, an actor was the catalyst for his first engagement with Hamlet, in his 1888 overture-fantasia, Op 67. By comparison with his contemporaries, Tchaikovsky concentrated less on character study and more on surrounding images, the most memorable being that of Ophelia. When Tchaikovsky was later asked to compose incidental music for an actual performance, he found the task more challenging and less fulfilling. Tchaikovsky's Hamlet scores may have received much less attention than his sublime Romeo and Juliet overture (1880), but they have enjoyed a rich afterlife, as incidental music and in adaptations of Hamlet as a ballet, most notably Robert Helpmann's 1964 choreography featuring Rudolf Nureyev.
'I never heard / So musical a discord, such sweet thunder'
(A Midsummer Night's Dream)

Tchaikovsky's Shakespearean scores were touched off by critical reactions to Balakirev's 1861 overture (and incidental music, though it was never used for any production) for King Lear following its premiere at a Shakespeare tercentenary concert on April 23, 1864, in St Petersburg. César Cui's review of that concert singled out Bellini's I Capuleti ed i Montecchi, Rossini's Otello and Verdi's Macbeth when concluding that 'Shakespeare gives birth to the very worst operas written by Italians' (this was around a quarter-century before Verdi's two Shakespearean masterpieces, Otello and Falstaff). French composers received equally short shrift in Russia. Tchaikovsky considered Shakespeare 'scandalously distorted and corrupted' in the operas not only of Bellini but also of Gounod, and he openly criticised Ambroise Thomas's Hamlet (premiered 1868), questioning its respect for 'the sacredness of Shakespeare's art'. Despite all its oft-rehearsed shortcomings, Thomas's happy-ending Hamlet makes occasional returns to the opera house, albeit mainly as a vehicle for demonstrative singing and staging, such as Krzysztof Warlikowski's recent production at the Opéra Bastille, in which the action opens in an asylum, where 20 years after the notorious 'happy ending' a decrepit Gertrude is watching Robert Bresson's revenge film drama Les dames du Bois de Boulogne (1945) on an old TV set.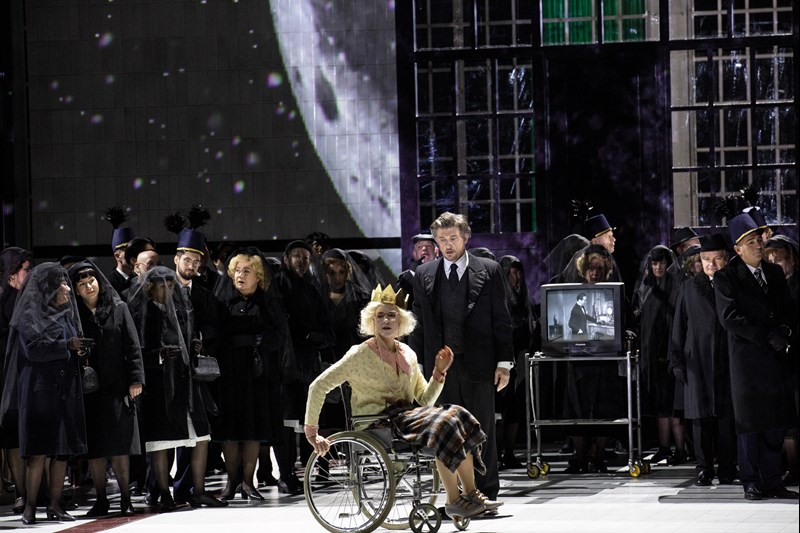 Eve-Maud Hubeaux and Jean Teitgen: Warlikowski's 2023 staging of Thomas's Hamlet (photo: Bernd Uhrlig)
Hostility towards foreign efforts may explain the near absence of any Russian Shakespearean operas before the Revolution, except (arguably) for Mussorgsky's Boris Godunov (1873), in which King Lear and Macbeth are subtexts heavily mediated by Pushkin. Cui's and Tchaikovsky's comments also point towards ongoing heated discussions of the compatibility between Shakespeare and opera. The sheer number of unfinished and unrealised operas by prominent composers testifies to the problem; and of the well over 400 Shakespearean operas only the barest handful have survived their first runs. Britten's A Midsummer Night's Dream (1960) is indestructible, likewise Verdi's Otello and Falstaff. As for others, much depends on the country and occasion. In England it may be that the bar was set so high by Elgar's symphonic poem that the Falstaffian operas of Holst (At the Boar's Head, premiered 1925) and Vaughan Williams (Sir John in Love, premiered 1929) struggled to make their mark, much though the latter's spin-off cantata In Windsor Forest remains a treasure of the choral repertoire. It would be unusual to see a staging of Hahn's Le marchand de Venise (anachronistically Gounodesque for 1935) anywhere outside the French-speaking world. But equally improbable would be to see Stanford's Much Ado about Nothing – revived occasionally since its first staging in 1901, and most recently in Leeds in 2019 – on the Parisian stage. For Straussian dramatic immediacy, Bloch's Macbeth (completed 1906) eclipses almost all other late Romantic Shakespearean operas; jealousy was the reason for the curtailment of its first run at the Opéra-Comique, and it was banned in Italy after its 1938 production in Naples.
Of 19th-century German contributions, Nicolai's Die lustigen Weiber von Windsor (completed 1848) and Goetz's Der Widerspenstigen Zähmung ('The Taming of the Shrew', 1872) represent the milder side of Wagner's legacy, almost as if Weber had lived on for another half a century. From these appealing scores, Nicolai's gently swaying overture still gets an occasional outing, as does the entire opera, especially in Germany. Wagner's own Das Liebesverbot (1836), based on Measure for Measure, is another occasional visitor to opera houses (its first hearing at Bayreuth was also in 2013), but it hardly matches up to the composer's later remarks on the genius of Shakespeare (supposedly equalled only by his own).
Soviet Shakespearean ventures are represented, perhaps curiously, by two comic operas: Shebalin's The Taming of the Shrew (1955); and Much Ado … about Hearts (1973) by Khrennikov from his power base as Secretary of the Composers' Union, drawing on his theatre and film scores for Much Ado about Nothing (1936, 1956). In 1976 Khrennikov would recycle his music again for a ballet. None of these versions is an obvious candidate for restaging.
In America, away from the self-contained world of the musical (the peerless and timeless West Side Story and the rather awkwardly aged Kiss Me, Kate and The Boys from Syracuse), Barber's 1966 Antony and Cleopatra has occasionally been revived but has struggled to find favour beyond the composer's own devotees. In 2022 John Adams's homonymous opera again sharply divided critics, Alex Ross finding that it captures the music of Shakespeare, but Zachary Woolfe dubbing it the composer's dullest, least inspired work to date.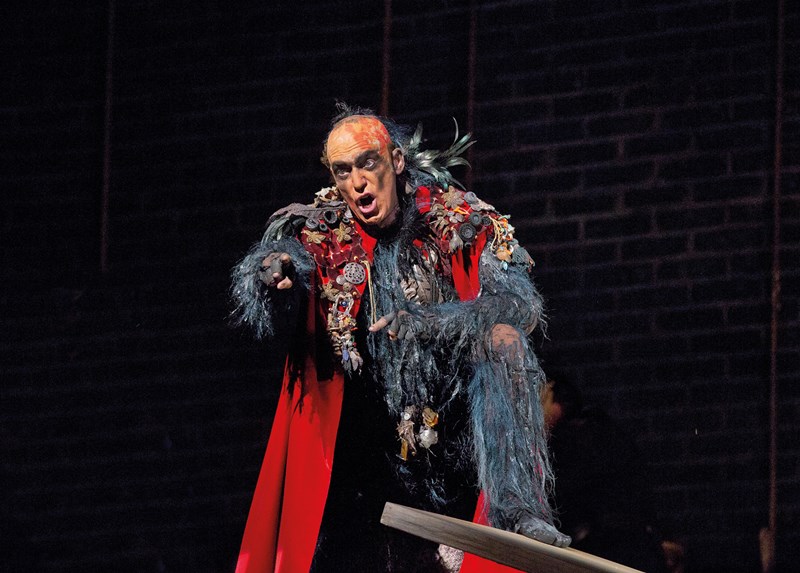 Alan Oke (as Caliban) in Adès's The Tempest at the Met Opera, New York, 2012 (photo: Ken Howard / Metropolitan Opera)
With multiple different stagings so far, and with far greater unanimity of critical approbation, perhaps the strongest contender for a 21st-century canon of Shakespearean opera is Thomas Adès's The Tempest (2003). Famous for its stratospheric coloratura soprano casting of Ariel, but equally distinguished by its vividly orchestral writing, its most controversial aspect is librettist Meredith Oakes's non-Shakespearean rhyming couplets, which are, to say the least, hit and miss: 'Fearful story / I'm so sorry' is not an obvious improvement on the Bard. Even so, Adès's critical success has seemingly overshadowed Ryan Wigglesworth's The Winter's Tale (2016) for English National opera, which had a rather more lukewarm reception. A modern Shakespearean gem was unearthed in Bregenz in 2013, three decades after its completion, in the form of a darkly lyrical and neo-expressionist The Merchant of Venice by André Tchaikowsky, the pianist-composer who famously bequeathed his skull to the Royal Shakespeare Company.
A separate category of 'para-Shakespearean' operas would be necessary to describe those that only obliquely relate to their source. Shostakovich's Lady Macbeth of the Mtsensk District (1932), based on a story by Nikolai Leskov, is perhaps the most famous operatic example of a Shakespearean character acquiring an independent life and operating at an archetypal level. Delius's A Village Romeo and Juliet (1901) would be another. Shostakovich's justification for his protagonist's crimes passes directly into Britten's Peter Grimes (1945), and it also resonates with recent attempts in theatre and literature to redeem the bloodstained lady. Berio's powerful azione musicale Un re in ascolto (completed 1983), which references The Tempest as an opera-within-an-opera, is another example of Shakespeare's themes and characters populating a quasi-opera without necessarily following Shakespearean plotlines.
Hamlets and Lears: '… or not to be'
The annals of Shakespearean opera are filled with an impressive list of might-have-beens: Verdi and Britten for King Lear, Beethoven, Bizet and Saint-Saëns for Macbeth, Mozart, Mendelssohn and Wolf for The Tempest, Rachmaninov for Richard II and Debussy for As You Like It. Hamlet has proved especially tempting, yet also intractable, simultaneously attracting yet thwarting such luminaries as Schumann, Prokofiev and Shostakovich. In pre-Soviet Latvia, J¯anis Kalni¸n's 1935 attempt drew national attention, and even after his move to Canada in 1948 it has retained some nationalistic cachet, being staged periodically in his homeland, including as recently as 2022. However, its musical language, while accessibly neo-romantic, is essentially impersonal, melodramatic and lacking in tension.
Anniversaries have often provided occasions for new or revived Hamlet operas. Following the 400th anniversary of Shakespeare's birth in 1964 there was a flood. Pascal Bentoiu's (1969), in Romanian, to the composer's condensed libretto based on his own translation, is impressively atmospheric and austere. In their operas, both completed in 1968, Humphrey Searle (in England) and Sándor Szokolay (in Hungary) stayed closer to Shakespeare's plot, employing a consistent dodecaphony that effectively conveys Hamlet's alienation but proves deadeningly monotonous in the long term. In Soviet Georgia in 1967, Aleksi Machavariani drew on Berg, Stravinsky and Shostakovich to create a drama that unfolds through the disintegrating mind of the title-character. Following a complex set of political and practical circumstances, this Hamlet has remained unperformed, though plans are afoot in Tbilisi. In 2014, coinciding with Shakespeare's 450th birth anniversary, the revival of Franco Faccio's passionate Amleto (1865) received a warm response, thanks to its intense drama and applause-garnering vocal writing.
Faccio, Machavariani and Szokolay had the advantage of dealing with translations. For English composers the problem is that Shakespeare's own works, especially Hamlet, have become 'expectational' in the sense that audiences come to an adaptation with anticipations regarding the text, character portrayals, order of events and resulting emotions. Brett Dean, for instance, told me how certain audience members were disappointed not to hear some of their favourite lines in his Hamlet, commissioned for Glyndebourne and premiered there in 2017. Dean and his Canadian librettist, Matthew Jocelyn, decided to keep Shakespeare's words but not necessarily in the 'right' order or assigned to the same person as in the play. The vibrant and highly tense score, with a lively and colourful orchestration and a breathless rhythmical drive, still has to pass the test of time, but the signs are promising, thanks not least to stellar performances from Allan Clayton, Barbara Hannigan and Sir John Tomlinson.
John Casken and Tomlinson (as collaborator on the libretto)took a similar, though less radical, approach to Shakespeare's text in their 50-minute King Lear-based 'drama' The Shackled King for two vocal soloists and four-piece ensemble, which shows Lear and Cordelia reconciled in prison, ruminating on the past; in fact, 'Two Birds in a Cage' was the title Tomlinson originally suggested (Casken and Tomlinson discuss the opera in a 2021 podcast interview at soundsandsweetairs.buzzsprout.com). Notwithstanding its brevity, there is a much greater range of emotions in The Shackled King than there is in the overlong Kuningas Lear (1999) by Aulis Sallinen, whose post-Sibelian arioso-style language feels weighed down by traditional bel canto values, with little sign of the imaginative fire and flair of his breakthrough operas of the 1970s (The Horseman and The Red Line). By contrast, Aribert Reimann's 1978 Lear grabs the listener by the throat and doesn't let go. Composed for, and at the behest of, Dietrich Fischer-Dieskau, this tremendously powerful score, whatever its debatable points of casting (perceptively identified by John Steane in Gramophone, 6/07), comes closer than any other full-length opera to the devastating power of Shakespeare's tragedy. Both Casken and Dean took it as a reference point for their work. A more readily approachable King Lear is Russian Sergei Slonimsky's, composed in 2001 and premiered in 2016. This, and his 1991 Hamlet, both styled dramma per musica by the composer, serve at least to illustrate the continuing importance of Shakespeare for post-Shostakovich Russian composers.
'Music, awake her! Strike!'
(The Winter's Tale)

One stage further removed from Shakespeare's words are the numerous ballet or dance adaptations. While Prokofiev's Romeo and Juliet reigns supreme as a score of devastating originality, the general tendency among ballet companies has been to focus on new choreography, using music compiled from various other pre-existing sources. Before Prokofiev's, however, there was another Romeo and Juliet. Commissioned by the Ballets Russes impresario Diaghilev, Constant Lambert's 1925 ballet is a delightfully Ravelian score that uses elements of the tragedy in what is effectively a ballet-within-a-ballet: well worth revival in the concert hall, if not in the theatre.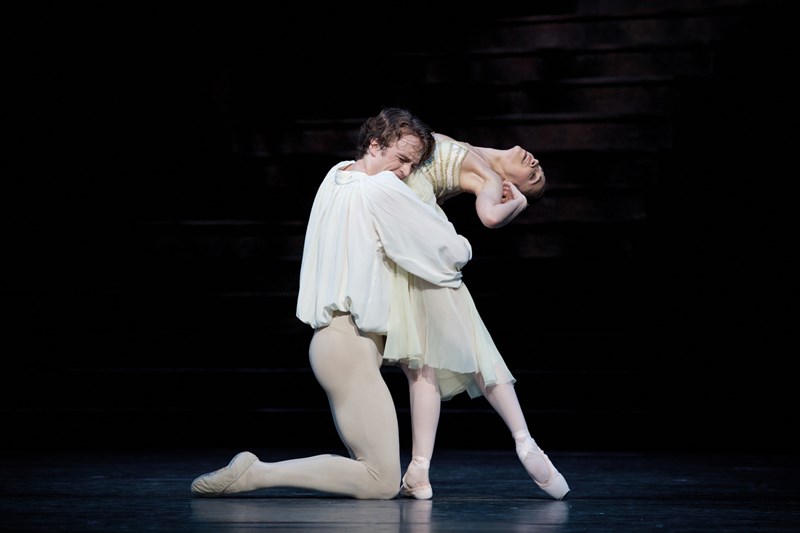 William Bracewell and Fumi Kaneko dance to Prokofiev's Romeo and Juliet in 2021 (photo: Alice Pennefather)
Several Soviet original scores for Hamlet ballets came and went without leaving much trace (composed by the likes of Nikolai Chervinsky in 1970, Revaz Gabichvadze and Aida Isakova, both 1971). None matched the success of Machavariani's intensely dramatic 1957 Othello. But preparing this article has brought me several welcome discoveries in this general area. For instance, John Cage's five-minute Ophelia for piano and solo dancer, from 1946 (so before he became the Cage we know), is attractively skittish and episodic. Nordheim's 1979 ballet The Tempest and its derived orchestral suite evoke a magically elemental world, with electronics for added atmosphere and an exhilarating pace representing the unstoppable passing of time. Elliot Goldenthal's 1997 exciting yet accessible and kaleidoscopic score for Lar Lubovitch's Othello, with hints of Khachaturian, Stravinsky and Mahler, is a talented addition to the select category of original Shakespeare ballet music. Two spin-offs have followed: an orchestral suite and a symphony. More recently, Joby Talbot's imaginative 2013 score for Christopher Wheeldon's A Winter's Tale, with folk instruments on stage and conventional orchestra in the pit, has been justly acclaimed.
'The rude sea grew civil at her song'
(A Midsummer Night's Dream)

Songs and allusions to songs abound in Shakespeare's works, but for early modern performances they may have been detachable from their imminent context, since they were added separately from the playbooks. After the Reformation, the addition of new songs, or interchanging songs between plays, became the norm, in line with the audience's taste for parenthetical entertainment. Composed in the early to mid-18th century for commercial playhouses, Arne's 'Shakespeare' songs continued to feature in various Shakespeare plays into the 19th century and beyond.

For anyone interested in meticulously documented accounts of 'Shakespeare' songs and their music, Ross Duffin's beautifully presented 2004 book and its accompanying CD offer the state of the art, including several new discoveries and reconstructions. Duffin warns against automatically considering Morley's and Johnson's songs as being among very few remaining 'original' songs for Shakespeare plays. Morley's in particular are often included in Shakespearean song compilations, such as Ian Bostridge and Sir Antonio Pappano's superb CD released for the 2016 Shakespeare celebrations (the 400th anniversary of his death; Warner, 10/16). Their programme includes a number of the usual favourites, from Haydn's moving She never told her love (from Twelfth Night) and Schubert's An Sylvia (Two Gentlemen of Verona), to a selection of Korngold's charming Shakespeare song settings and Stravinsky's etiolated late-period Three Songs from William Shakespeare (1953). The disc also covers a wide selection of English composers, from Shakespeare near-contemporaries John Wilson and Robert Johnson, to Quilter, Gurney, Warlock, Finzi and finally Britten and Tippett, as well as a rather over-the-top rendition of the anonymous Twelfth Night song When that I was but a tiny little boy (hard to imagine anyone surpassing Alfred Deller in this).

Elliott Carter's haunting setting of Tell me where is fancy bred for Orson Welles's 1938 radio adaptation of The Merchant of Venice is a rare bird in the concert hall, as are settings of the sonnets in general (except for Shostakovich's of Sonnet 66, from his 1942 collection Six Romances on Verses by British Poets). Weinberg's beautifully contrasted 1946 set of Six Shakespeare Sonnets, which had the honour of a place on the Communist Party's infamous 'banned' list of 1948, is gradually receiving the attention it deserves. An equally obscure but attention-worthy attraction comes from that most Anglophile of Russian composers Alexander Lokshin, who chose two sonnets (66 and 73) for his post-Bergian two-movement Fifth Symphony (1969) for baritone and string orchestra. In Nordic lands, of great interest is Rautavaara's Three Sonnets of Shakespeare (1951) for voice and orchestra, while Swedish composer Gösta Nystroem's 1952 Fourth Symphony (Sinfonia shakespeariana – a purely orchestral piece) reworks the composer's earlier incidental music for The Tempest, subheading each movement with quotations from Sonnets 33 and 60.

Musical responses to Hamlet's Ophelia deserve their own separate appreciation, although there is little room here for more than a list. Brahms's five folk-like Ophelia Songs of 1873 were composed specifically for the then leading actress of the role, Olga Precheisen. In their simplicity and innocence, these are worlds apart from Strauss's 1918 Drei Lieder der Ophelia, or Schumann's Herzeleid (1851), which is a paraphrase of Gertrude's speech describing Ophelia's death. Berlioz chose a non-Shakespearean text, Ernest Legouvé's ballad based on the same speech of Gertrude, for his exquisite La mort d'Ophélie for voice and piano of 1842 (later arranged for choir and orchestra and published as part of Tristia). Frank Bridge's There Is a Willow Grows aslant a Brook (1927) is a purely orchestral evocation of the selfsame words, also arranged for viola and piano by Bridge's pupil, Britten. Also in England, Maconchy's Ophelia's Song and Madeleine Dring's Shakespeare Songs are delicate, grateful on the ear and ideal for student voices.

Composers have regularly responded to non-Shakespeare poems and texts that retell or comment on Shakespeare's works and characters, in particular the story of Ophelia and her relationship with Hamlet. Gradually these texts have taken on more feminist undertones, challenging the hero-image of the self-absorbed prince. Composed in 1967 for voice and cello, Shostakovich's Ophelia's Song sets the homonymous poem by the Silver Age poet Alexander Blok, which gives voice to Ophelia's chagrin at the departure of her beloved. Shostakovich's next Hamletian song, Hamlet's Dialogue with his Conscience (1973), offers an entirely different take on the Hamlet–Ophelia relationship. Marina Tsvetaeva's proto-feminist poem juxtaposes Hamlet's protestations of love with haunting reminders of Ophelia's muddy death. More recently, Hans Abrahamsen's 2013 song-cycle Let Me Tell You, composed for the all-encompassing voice of Barbara Hannigan, is a ravishing exercise in expressive distillation and extended orchestral and vocal timbres. Derived from Paul Griffith's novel of the same name, the text uses only words assigned to Ophelia in the play but reconfigured in such a way as to retell her story from her own perspective.

Popular and jazz musicians have also made isolated references to Shakespeare's words and characters. Duke Ellington's 1957 suite Such Sweet Thunder; the all-black 1939 musical Swingin' the Dream (with Louis Armstrong as Bottom!), which has been described as a '$2m flop' and featured the Jimmy Van Heusen song Darn That Dream; and Cleo Laine and John Dankworth's 1964 album 'Shakespeare and All That Jazz' are all notable cases of riffing on Shakespeare in the world of jazz.

Over time, Shakespeare and music have become allied in songs with protest or other agendas. One of the more unlikely alliances is the Ukrainian girl band Dakh Daughters with Sonnet 35, under the title Rozy/Donbass: a hallucinatory cocktail of freak cabaret, the Spice Girls' Wannabe and Ukrainian folk music which chimed with the 2013 Euromaidan anti-Russian protests. Shakespeare and music have also joined forces to address mental illness: the 2006 album 'Opheliac' by the American rock artist Emilie Autumn explores her bipolarity through her self-identification with Ophelia. Shakespeare and music have even played a part in simulation games, as in Adam Gubman's Elizabethan pastiche music that accompanies the time-looping Elsinore (2019), in which Ophelia is forced to relive the four fatal days of the Hamlet story over and over again. Perhaps to the mixed horror and/or approval of educationalists, the typically ingenious Horrible Histories Shakespeare songs use generic pop and suave Sinatra-esque idioms to teach us about Shakespeare's influence on everyday language and life.
'Bequeath to death your numbness, for from him / Dear life redeems you'
(The Winter's Tale)

In all these and other Shakespeare musical 'afterlives', the interaction between composers, performers, Shakespeare and the audience encapsulates the essence of their time and context: the 'soul of the age', as Ben Jonson put it in his preface to the First Folio, whose 400th anniversary we celebrate this year. Yet it is also the universality and timelessness of Shakespeare that lies at the heart of what has become understood as 'Shakespearean'. As Jonson enthused, 'He was not of an age but for all time!'

Perhaps we could add: 'and transcending time', somewhere between the finite and infinite, between life and death in the region of the River Styx, yet floating back towards life. Shakespeare brought music back to Sir John Tavener for his 2010 Three Shakespeare Sonnets, a gift to his wife for her care during a period of serious illness. Among things that will enshrine the memory of Kaija Saariaho, whose death was announced as I complete this essay, is her Tempest Songbook, composed between 1992 and 2004 for soprano, baritone and ensemble, in which each song is dedicated to a significant person in her life and career. Even more moving, though, is Kancheli's 1999 Styx, an uncategorisable hybrid of viola concerto and cantata, where the chorus evokes the allegorical character of Time from A Winter's Tale. The composer was inspired by the urge to commemorate his recently departed composer friends, and this hypnotically elegiac meditation on the power of music to set aright the out-of-jointedness of time enshrines Shakespeare's message in an extraordinarily moving way: at once timeless and timely.
---
This article originally appeared in the August 2023 issue of Gramophone magazine. Never miss an issue – subscribe today