How we made England, my England: 'They actually built a sort-of London for me to burn down. What heaven!'
Tony Palmer
Monday, August 17, 2020
Tony Palmer reflects on the making of his acclaimed 1995 film on Purcell, now being re-released as a deluxe edition
It all started on a mad late-night drive from Stratford-upon-Avon with John Osborne and his wife Helen. The date was August 25, 1993, and we had been to see Robert Stephens as Lear. I was playing Britten's Young Person's Guide on my car's hi-fi, and when it came to the Purcell at the end, Osborne et al began singing the big tune so loudly that I almost drove into a ditch. 'Got any more of that stuff?' Osborne asked me. It so happened that I had the collected works of John Eliot Gardiner in the boot (appropriately), so, recovering from my near-fatal ditch escapade, I produced JEG's recording of King Arthur. 'Arfer, Arfer,' John kept saying as we sped towards Shropshire and The Hurst, the Osborne castle in the hills of Clun. 'Wasn't he born around here?'
The following morning (after champagne, of course), we decided to 'look up' old Purcell. Don't forget this was before the days of the internet, but John had an extensive library including an ancient if incomplete edition of Grove's Dictionary (the 5th Eric Blom Edition, 1954, I think), and to our astonishment, and disbelief, hardly a thing. No one seemed to know for sure where Purcell was born or even precisely when he was born. Grove didn't know who his father was nor the name of his mother. We know where he's buried (in Westminster Abbey), but that's about it. We don't even know who paid for his memorial stone in the Abbey. According to Grove, he lived exactly the same number of years as Mozart – just 36 – but we only know in detail what he did for three of those years. Page after page of the manuscripts of some of his masterworks are completely blank. Purcell was – and is – a mystery, except that we know he wrote over a thousand works, at least one for every working week of his life.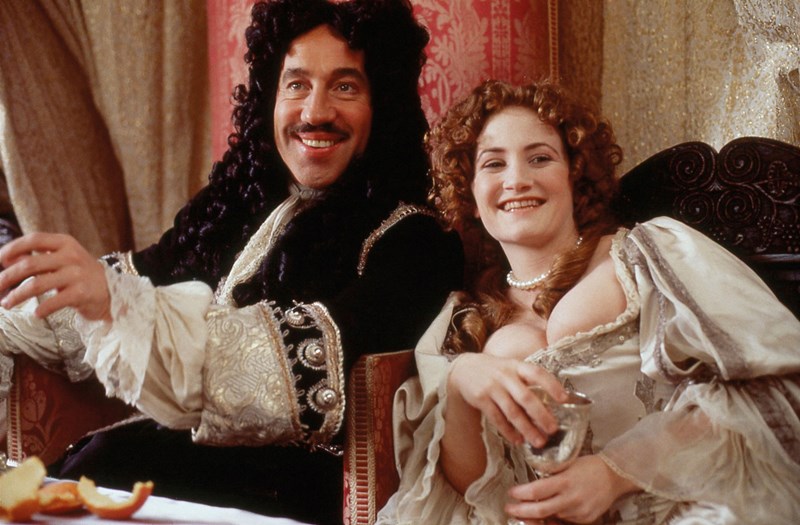 Simon Callow as King Charles II and Lucy Speed as Nell Gwyn

Whether it was the champagne or the Britten/Purcell tune which John kept singing and singing, he suddenly said: 'Now here is a tale for a film, Palmer! "The Mystery of Henry Purcell".'
Less than two weeks later, a draft treatment arrived with a covering note in John's inimitable scrawl, the first sentence of which was heavily underlined. 'Has it occurred to you', he wrote, 'that the 1660s, Purcell's adolescence, was just like the 1960s, your bloody adolescence? England in the 1660s and '70s was preoccupied with freedom of speech, especially in the theatre,' he explained. 'Economic expansion, greed, treaties with Europe, the collapse of conventional morality, the increase of violent crime, unemployment and the futility (and wastefulness) of war. And so it was, too, in England in the 1960s and '70s! And after the economic boom of the 1980s came the economic bust, just as had happened in the 1680s. Look Back In Anger Part Two! I feel a bit of Jimmy Porter coming on.'
And here it was in his draft treatment. For good measure, he threw in a few 'headlines' which he thought might serve as chapter headings for the film, as relevant for Purcell as they are today, he argued: 'In England today we have become encircled by a Cromwellian army of prigs, knighthood seekers, slobbering bankers and greasy delayers of the law'; 'We have thrown up a generation for whom "honour" is a forgotten, meaningless currency'; 'May God rot the tyrannies of equality, streamlining, classlessness and, above all, absurd, irrelevant (political) "correctness"'. And best of all in view of the Brexit to come: 'What we are left with is a crawling underside of expediency and dishonour, beholden to Brussels, wherein the crooked shall be made straight and the rough places plain. England, my England [which became the title of the film] is shuffling about like an old tramp begging for a pair of boots at the tradesman's entrance of Europe'.


'First the music. It had to be of the highest quality, and John Eliot was the obvious choice. "I hate you," was his opening remark when I went to pitch the idea to him'

I could see immediately we were on a roller coaster of vintage Osborne invective, allowing him to deliver perhaps one final withering commentary on what he saw as the shenanigans of contemporary British society under the guise of describing the shenanigans of the Restoration period and its court composer, Henry Purcell. He thought the film could switch back and forth between the two periods (1660/1960) to help us unravel 'The Mystery of Henry Purcell'. So the film had to begin, absolutely must begin he said, in the present day, in the very dressing room of The Royal Court Theatre which Osborne himself had first inhabited as a jobbing actor in 1955.
And thinking of John writing this in his great house in the Clun Valley, Shropshire lad an' all, I found that a final paragraph in his treatment resonated especially deeply for me and convinced me that this was the way to go. John wrote, trying to explain his love of being 'English': 'I live among the hills foot-marked here, rooted here, in ancient English time.' Although he was already very sick, the challenge was breathing new life into the old dog, as he would have said.
That was the easy bit. Now I had to beg for money to get the film made and find actors strong enough to support this madcap venture. And most importantly I had to find a group of musicians who would not feel that their 'artistic integrity' was being compromised by 'larking about in a costume drama', as one 'distinguished' conductor told me. Luckily I had recently directed an Emmy-nominated film for Waldemar Januszczak, the commissioning editor for arts programmes at Channel 4, but it became clear when speaking to him that doing what Osborne and I wanted to do was outside his budget. Enter the saintly David Rose, progenitor of Film 4. 'Oh, just give them the money,' he said apparently. 'Between them they'll produce something completely outrageous, controversial and it will win prizes, loads of them.' With some money now in the kitty, the son-in-law of the Christies of Glyndebourne then got in touch, out of the blue, about another project. Find me the rest of the money I need for Purcell, I said, and I would make him the executive producer.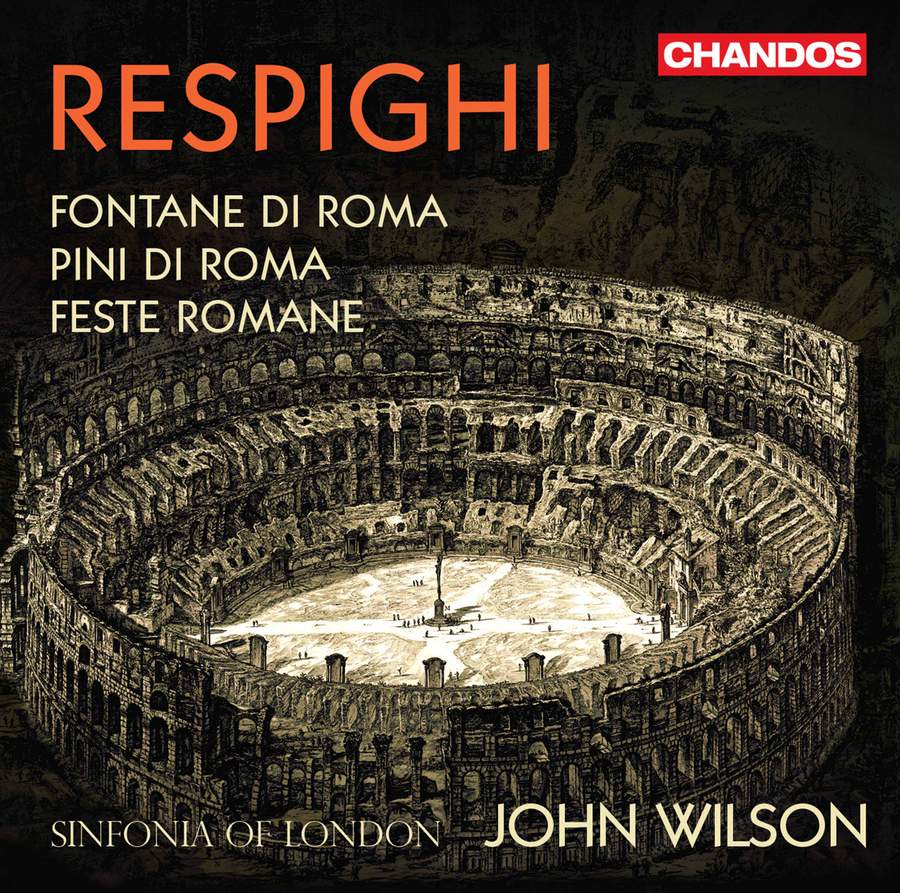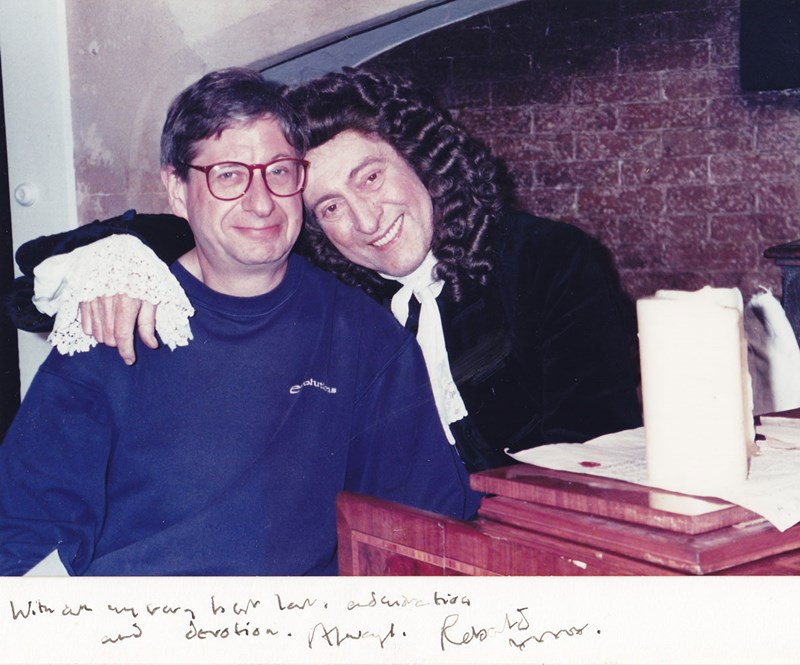 Tony Palmer (left) and Robert Stephens

The bribe worked and he brought me to the National Video Corporation. Their involvement, however, depended on my finding a 'star' to play Purcell. Albert Finney? A bit old. Richard Burton? Dead. David Bowie? Not musical enough, I said. And then one night I was driving past the Royal Albert Hall and hordes of screaming kids and their mums were coming out of a concert by someone called Michael Ball. 'Who?' said the money men. 'But he's a pop star.' Two nights later I met Michael at the bar of the Hilton after another sell-out at the Albert Hall, and I just kept talking until he said yes, although I don't think he had the faintest notion of what he was committing himself to. Nor did I, but as it turned out it was one of the happiest of all my professional collaborations and, as he would later admit, it launched his 'acting career'. He was – and is – a joy to work with.
After that, they all came running. Robert Stephens, determined to be involved despite 'officially' dying in hospital; numerous moonlighting EastEnders actors; the comic John Fortune; Alan Partridge's then sidekick Rebecca Front; the daughter of Miss Australia, Nina Young, whom everyone fancied; the greatly underestimated Corin Redgrave … and who else but Bill Kenwright as Bill Kenwright, part owner of Everton Football Club and one of the busiest West End producers de nos jours.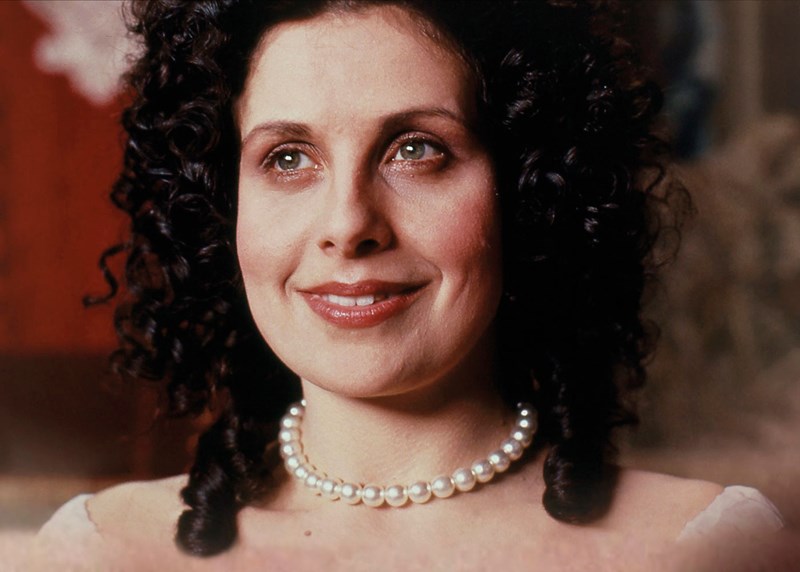 Rebecca Front as Queen Mary

As Charles II, Simon Callow gave some tourists a shock while we were filming at the Royal Naval College in Greenwich. He likes to tell the story of how, in full costume, he took a wrong turn on the way to the loo and found himself in a public part of the College. 'Two American ladies of a certain age happened to turn the corner at that moment and gasped,' he recalls. 'Then they attempted a sort of half curtsey, clearly racking their brains as to the correct etiquette for greeting dead monarchs. I graciously nodded and went back to my privy.'
But even with a cast of this quality, two problems remained. First the music. It had to be of the highest quality, and John Eliot was the obvious choice. 'I hate you,' was his opening remark when I went to pitch the idea to him. Apparently when we had been at Cambridge together some 30-plus years earlier, I had written a sniffy review of his first attempt at conducting the Monteverdi Vespers. He had never forgiven me, until I produced at enormous expense a lacquered and mounted copy of the said review which was not half as bad as he had remembered. He and I were suddenly 'friends', but my God he was difficult. We agreed all the music should be pre-recorded and he chose all the soloists (magnificent) and of course his brilliant choir. We opted to record in Air Studios in Hampstead, and at one particular session recording the Queen Mary Funeral March he became increasingly tetchy because the open-trombone player, David Blackadder, was (according to JEG) not playing in tune. A shouting match ensued and everyone except me was ordered out of the control room.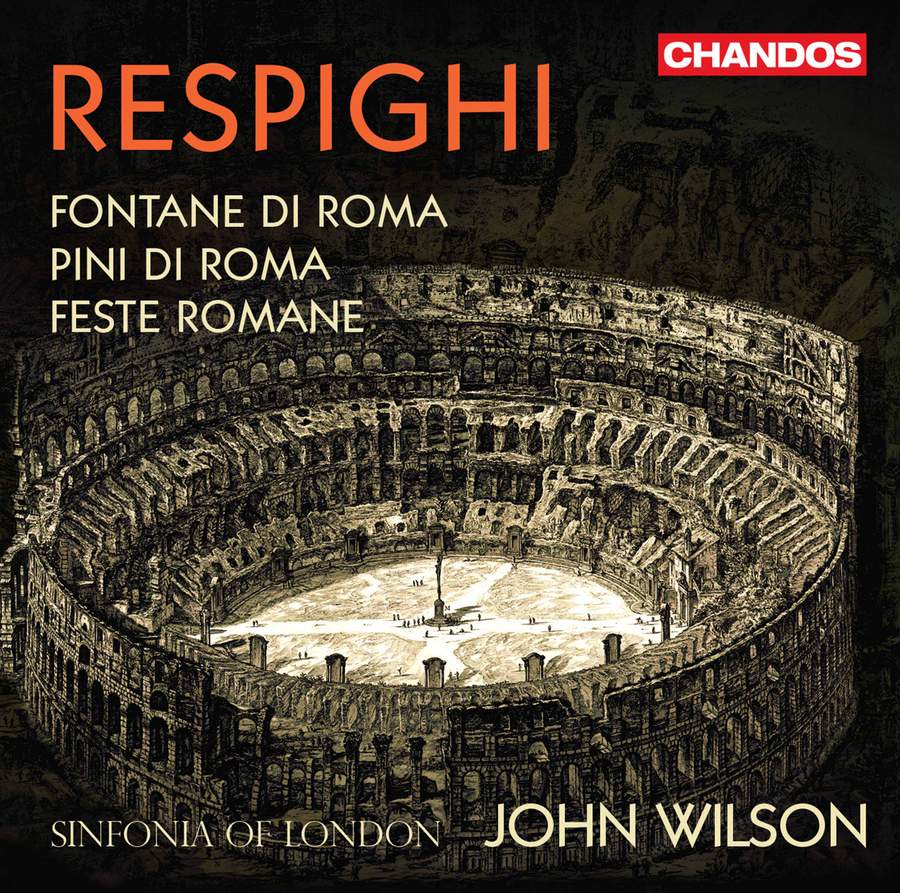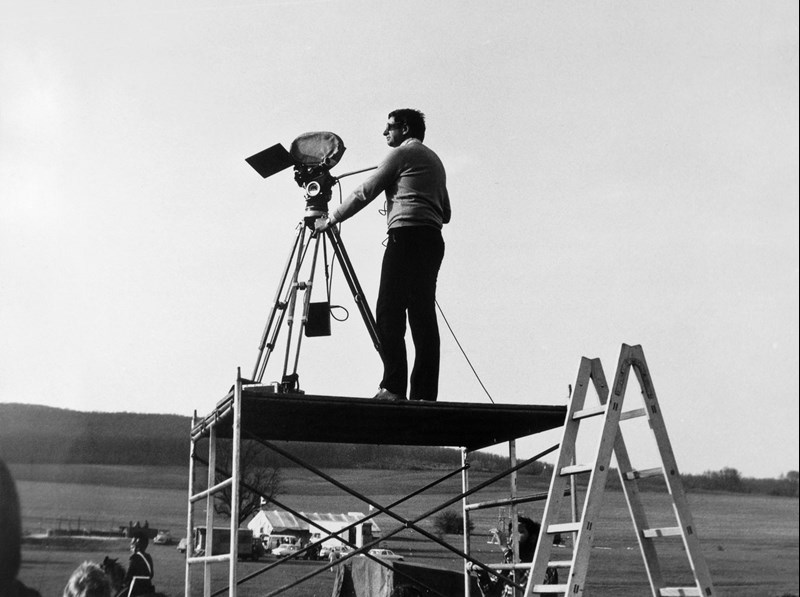 Tony Palmer on set

We started again, and suddenly JEG could see out of the corner of his eye someone lurking in the back of the studio. 'Get out, whoever the fuck you are,' yelled JEG. 'Oh, John Eliot,' I said quietly, 'do meet George Martin,' whose Air studio this was. But the Monteverdis did a great job, and Susan Graham singing 'Dido's Lament' is the most gut-wrenching version in existence, comparable only with Kirsten Flagstad.
Finally, how the hell were we going to stage the Fire of London, the Plague, the many theatres etc etc, on the 3/6d I had left in the budget? I had once taken part in a rock'n'roll festival in Sofia, the capital of Bulgaria, and it so happened that the producer of said festival was in London. 'Oh, we can do all of that – the Fire, the Plague and so on,' he said. 'In Bulgaria!' And then he showed me some pictures of a town near Sofia called Plovdiv which actually looked like 17th-century London with its overhanging wooden houses and narrow streets. It's a deal, I said. They actually built a sort-of London for me to burn down. What heaven! But when eventually we got off the plane some months later, it was snowing. The problem with snow is that it melts, and the Bulgarians had constructed 'London' alongside a river (the Thames). As the snow melted, it flooded London – so the poor Bulgarians had to keep moving it back from the floods. But we did eventually burn it to a cinder – and no one got hurt.
Finally, the film was finished, all two hours and 35 minutes of it. Osborne had become so sick that he'd had to get his friend Charles Wood to provide much of the dialogue, as he had done for Osborne in Tony Richardson's film Charge of the Light Brigade. Wood had also written my Wagner film, so collaboration was relatively straightforward. Robert Stephens had by now died, but not before I had managed to record his voiceovers as he smoked several cigarettes simultaneously and almost set fire to the recording studio.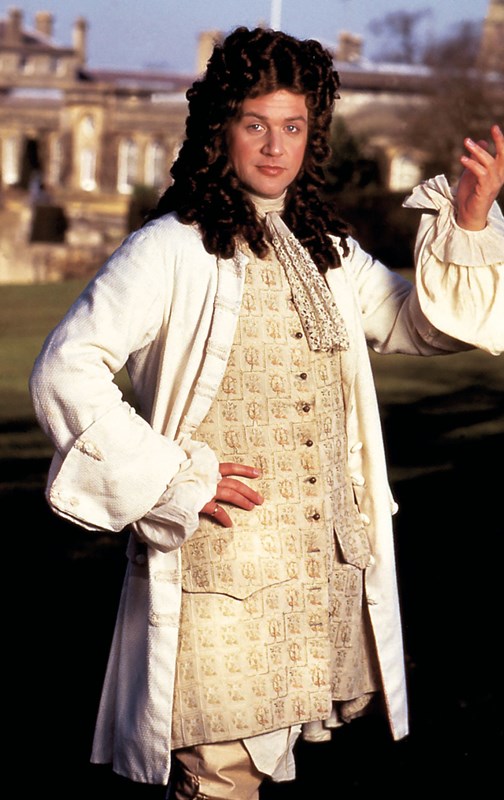 Michael Ball as Henry Purcell

And now came the big viewing for the money men, with me trying to operate the flatbed viewing machine to give some idea of what the mixed soundtrack might be like. Assembled were the heavies from Channel 4, Waldemar, and his assistant Helen Sprott – who announced even before the screening began that the whole idea was absurd and a waste of resources; and in any case, she said, it would have to be cut to 90 minutes otherwise 'the schedulers won't agree to it'.
Until that moment, I had not realised that the National Video Corporation was partly financed by an elderly chap who had made a fortune buying and selling supermarkets, and he insisted that he sat beside me during the viewing so that I could explain to him what was happening as we struggled through the screening. I could see that my non-existent career was now well and truly over – a belief that was only exacerbated by the sound of mutterings and notes being scribbled on pads behind me during the most painful two-and-a-half hours of my life. Mercifully the screening eventually came to an end. I waited.
And then, as it says in the film, a miracle happened. The supermarket king next to me patted me on the knee and said simply: 'Well, I must say that was rather good,' and then turned to beam approval at the assembled knife-wielding focus group. The mutterers were silenced. The film was shown in its entirety on Channel 4 in the UK on Christmas Day in 1995 to mark the 300th anniversary of Purcell's death. Osborne, although now dead, justifiably had the last word: 'Coherence conceals as much as it reveals', so his script reads, 'to the lost, like me, who contemplate the wreckage.'
One last irony. The first film I ever made was about Benjamin Britten, and it is he – specifically his incredible version of Purcell's Abdelazer Overture which became The Young Person's Guide to The Orchestra – who concludes the film. That, too, was down to Osborne – yet another of his ideas suggested to me during that mad car journey from Stratford to Shropshire.
Tony Palmer's Purcell film is officially released at the end of August but is available to buy now in its new deluxe edition at https://www.tonypalmerdvd.com/products/england-my-england-deluxe-box
WIN ENGLAND, MY ENGLAND DELUXE EDITION!
Gramophone has collaborated with Tony Palmer to offer a fantastic competition for our readers. First Prize is the deluxe-edition box-set, while nine runners-up receive a copy of the original DVD. Simply follow the link below; closing date is Friday September 11.