Icon: Leontyne Price
David Patrick Stearns
Monday, February 6, 2017
The American soprano had a gift for fusing voice, words and meaning, and was even able to adapt her vocal colours to her conductor, writes David Patrick Stearns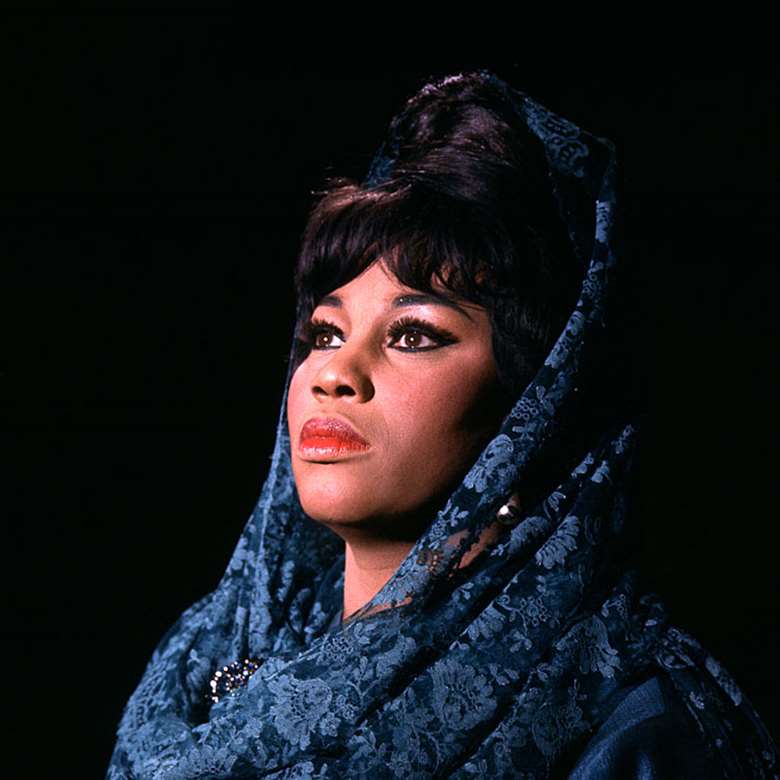 Leontyne Price's story would appear to be spectacularly simple. She had the voice of velvet, used it with wisdom and artistry for 50 years, set vocal and theatrical standards in Verdi, and then wound up her career not with 
a predictable return to the spirituals of her Laurel, Mississippi girlhood, but travelling from gala to gala singing the final scene from Salome.
As they say in theatre, it takes a good girl to play an exceedingly bad one. Price's bad girls trumped them all – the first indication that there's nothing simple about her artistic profile. In her prime, the soprano seemed to be capable of anything. The lirico-spinto weight of her voice – perfect for the Verdi Leonoras – also managed coloratura-orientated Gilda and Violetta arias, the faster passagework moulded at the service of the character behind the notes. 
No wonder John Steane named her the greatest Verdi soprano of her time in his bible of 20th-century singers, The Grand Tradition. But rather than cycling out of Verdi in early middle age, Price sang Aida to the end of her opera career in 1985 at the age of 57. Of course her voice was far from her classic 1961 Aida recording with Jon Vickers, Rita Gorr and Sir Georg Solti. But it was her Aida that changed the world, not just musically, but by making the opera stage a possibility for anyone with the talent.
My best encounter with Price's Verdi was at a Chicago Symphony concert version of La forza del destino in 1979; her free, exuberant performance felt like a mating dance with conductor James Levine. 
A deeper appreciation of Price, though, begins by asking just how her tone worked in comparison to, say, her more Mozartian semi-namesake, Margaret Price, whose cleanly circumscribed instrument revealed abundant character information packed into Verdi's vocal lines. But Leontyne's more succulent voice does much the same work, and with subliminal dynamic tension: a voice this fulsome shouldn't be so agile, so alive with details. In her best years, Leontyne the Singer could accommodate the most minute choices Leontyne the Dramatist could devise. Her vocal colour could even change according to conductor. Among her Verdi Requiem recordings, Leontyne's more lean-voiced outing with Fritz Reiner sounds more like Margaret.
Yet Leontyne was primarily a word-based singer. Growing up in Mississippi in the 1940s, African Americans could aspire to a concert career – but not to opera stardom (Marian Anderson hadn't yet sung at the Met) or a conservatory education. Generous hometown sponsorship took her to the Juilliard School of Music, with an international tour of Gershwin's Porgy and Bess following graduation in 1952. A recently published live recording from Berlin shows a fully matured artist singing English more meaningfully than most Americans at that time. Perhaps this was down to the influence of the African-American church culture, where sung words are prayers? The most obvious proof of her word-centric singing is on 'Leontyne Price Sings Mozart', where the recitative in 'Deh vieni, non tardar' is a perfect fusion of voice, word and meaning.
En route to her 1961 debut at the Metropolitan Opera, Price had three momentous meetings in the mid-1950s: with composer Samuel Barber, who accompanied her Town Hall recital; with Herbert von Karajan, who happened to be in New York on tour with the Berlin Philharmonic; and with Verdi's Aida, which became her signature role. The rest was fairly consistent glory. Though Karajan cycled through singers to keep casts young and fresh, his partnership with Price lasted 20 years, their Carmen collaboration perhaps trumping her Verdi, according to Steane. Agreed. While Carmen interpreters can be too sympathetic for their own good, Price creates a character whose utterly merciless independence unfolds in every scene, and perhaps every phrase.
Her later-career Mozart grew a bit unruly by modern standards but her Puccini 
was predictably wonderful. 
Her mid-life conversion to Richard Strauss came a bit late. Though her Awakening Scene from The Egyptian Helen is acclaimed as one of her best recordings, her Four Last Songs is sung at a relentlessly forte, and Ariadne auf Naxos was best 
left to the other Price. What 
a pity that Les Troyens and 
Alceste were so seldom done back then. They might have suited her magnificently.
Price's greatest failure may eventually be remembered 
as her finest hour: Antony and Cleopatra. Before the opera's high-profile, 1966 flop, composer Barber thought it his greatest work – and wasn't wrong. The often-named culprit was Franco Zeffirelli, whose extravagant production put Price in costumes that made her resemble a walking sarcophagus. But how often has the radio relay of the premiere been duly re-examined? Easily found 
on YouTube, Antony and Cleopatra is a tough work, with Price playing her character not as a variation on Elizabeth Taylor (whose film version came out the previous year), but as a cool, political strategist. The lack of a love duet in this first version of the opera (which was later revised) was no oversight. Barber was creating people, not ornate historic objects. And if his original vision is ever rehabilitated, the intelligence of Leontyne Price's recorded characterisation will likely lead the way.
Defining moments
• 1952 – National and international tour of Porgy and Bess
Though Gershwin's opera never figured heavily in Price's subsequent career, the RCA recording that came out of the 
tour was a career-defining event.
• March 1955 – Auditioned for Karajan at Carnegie Hall
Karajan was on tour with the Berlin Philharmonic and Price sang the Verdi aria, 'Pace Pace', so convincingly that their relationship was cemented; they subsequently recorded Carmen, Tosca and Il trovatore. Their relationship was built on honesty: when Price began falling into bad vocal habits, Karajan emphatically corrected them.
• May 1957 – First Aida in Ann Arbor, Michigan
No matter if the role was racially appropriate, her singing could 
be heard above full orchestra and chorus without audible strain 
or diminution in tone. Her pièce de resistance was 'O patria mia' with high floated tones aching with conflicted emotion.
• January 27, 1961 – Double debut in Il trovatore
The final ovation for Price and Franco Corelli at the Met lasted 35 minutes, though Corelli was so incensed at all of the attention lavished on Price that he threatened never to work with her 
again. He later became one of her most frequent co-stars.
• September 16, 1966 – Antony and Cleopatra at the Met
The opera all but finished Samuel Barber. The lavish Zeffirelli production got in the opera's way, and at one rehearsal Price became trapped inside a pyramid that refused to open.
• January 1985 – Operatic farewell in Aida
Price had returned to the opera a few years previously opposite Pavarotti and, although that vocal state of grace didn't fully continue in these farewell performances at the Met, how could Price have left the opera world quietly?
• September 2003 – Awarded Gramophone's Lifetime Achievement Award
At a party at the Bulgari showroom in New York City, Gramophone awarded Leontyne Price with an award to mark not just a great voice but a truly great artist.