Icon: Radu Lupu
Geraint Lewis
Tuesday, April 19, 2022
Geraint Lewis appreciates a fastidious perfectionist whose rare visits to the studio and the concert hall excited his international army of pianophile admirers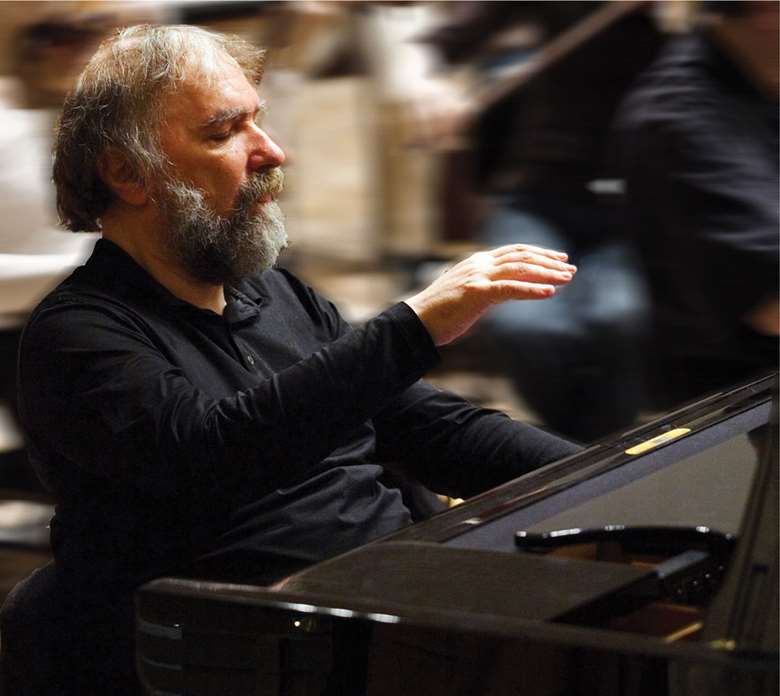 This article originally appeared in the October 2014 issue of Gramophone and we republish it as a tribute to Radu Lupu, who has died at the age of 76
Could there be a greater living pianist than Radu Lupu? Even if you factor in the varied claims of Argerich or Ashkenazy, Pires or Pollini and so on, Lupu must surely remain primus inter pares at the very least: a figure who commands universal awe and respect, not only from audiences worldwide but also among his keyboard peers and colleagues. And yet…as a famously reclusive musician, he can be an enigmatic and frustrating pianist even to his most ardent admirers, both in the concert hall and on disc.
Lupu's very occasional public appearances these days surface suddenly with little warning, in unexpected venues, offering tantalisingly unpredictable programmes, and to which the musical twitchers flock at short notice from many continents – knowing full well that he may then disappear from view again for several years. But they nevertheless live in hope, given that at a mere 68 the pianist is still in his prime. His fans on disc, however, are less sanguine. A few years ago his loyal label, Decca, issued two complementary sets of the 'complete' solo and concerto recordings, together with a final-sounding statement that Lupu would never record commercially again. And the last of these discs – of Schumann's Kreisleriana – was in fact made as long ago as 1993! So that would seem to be that…


'The sheer quality of what little we have of Lupu on disc serves merely to intensify the hunger for what might have been'

Having already won the Van Cliburn Competition in 1966, Lupu was catapulted to global fame and acclaim when at 23 he came first in the 1969 Leeds International Competiton in succession to Michael Roll (1963) and Rafael Orozco (1966). I first saw Lupu perform live in 1971, when he and Orozco teamed up for a broadcast of Mozart's Two-Piano Concerto, K365, from Llandaff Cathedral. Lupu's innate command of the keyboard and unique sense of 'touch' still ring in my memory, together with his remarkable modesty of demeanour. He was later to choose his own like-minded successor at Leeds in 1972 – Murray Perahia – for heart-melting recordings of Mozart and Schubert duets and concertos, luckily still available on two priceless Sony discs.
For the 1969 Leeds final, Lupu chose to play Beethoven's Third Concerto and his debut concerto disc for Decca, made a year later, captures something of the sheer charisma and musical depth which led Sir Clifford Curzon, as a judge, to utter 'Thanks be to God that I heard that performance'. We can all say amen to that when hearing this Kingsway Hall recording with the LSO, now issued for the first time on CD in both of Decca's box-sets, as a valuable supplement to the later complete Beethoven cycle with Zubin Mehta and the Israel Philharmonic. It soon became apparent that if he was indeed the quintessential pianist's pianist, Lupu was also very much a 'musician's pianist', eschewing any flamboyance of manner or personal showmanship in favour of a single-minded devotion to the music at hand, which he communicated with rare purity of purpose coupled to the most intense insight.
Seated low on a straight-backed chair instead of the usual piano stool, Lupu not only seems somehow closer to the instrument but to be in literal communion with it and his chosen composer of the moment. These favoured few are a sovereign bunch – Mozart, Beethoven, Schubert, Schumann and Brahms are the only composers captured on disc in solo or chamber context, and the same list (minus Schubert of course) features for concertos too, with the addition of Grieg's – an early party piece. This repertoire luckily includes a certain core of the essential piano literature; but even a cursory inspection will soon spot heartbreaking omissions: Brahms's First Concerto but not the Second; just two – K414 and 467 – of Mozart's solo concertos. In the 10-disc solo box the same applies: only five of Beethoven's sonatas, just three of Schumann's masterpieces, a handful of Brahms but, thankfully, most of Schubert's great sonatas – minus only the D major, D850, which he does in fact play!
But we do mercifully have his astonishing disc of the final B flat Sonata, D960, which is arguably the finest ever made of this elusive swansong – revealing its mysteries through a scrupulous attention to every dynamic detail yet with a spontaneous capacity to sustain the linguistic parameters as if almost verging on a quality of enhanced speech. And he does observe (pace Brendel and his Viennese-trained followers) the absolutely essential first-movement exposition repeat, to dramatic but subtle effect, in giving the only fortissimo occurrence in the whole movement of that haunting but also structurally crucial low bass rumble of thunder. Definitely one for that desert island! All of Mozart's violin sonatas can be found in a separate four-disc partnership with Szymon Goldberg – no solo sonatas sadly – but the Mozart and Beethoven piano-and-wind quintets are happily enfolded within the six-disc concerto box.
The only reason for pointing out any gaps in such detail is naturally that the sheer quality of what little we have serves merely to intensify the hunger for what might have been, given an awareness too of what else he could have recorded from his wider repertoire: solo Bach, Bartók, Chopin and Debussy in particular, as well as a good baker's dozen of the great Mozart concertos. At a time when recording companies continue to spew out wholly unnecessary discs by minor artists, Lupu's reticence can in one sense seem positively virtuous and is itself, of course, a consequence of that very fastidiousness that makes his existing legacy such a rare treasure-trove. We must therefore be doubly grateful for these invaluable discs, for Decca's uniquely tactile sound quality and for the sheer privilege of thus eavesdropping on the communication of musical genius.