Iestyn Davies: countertenor with attitude
Lindsay Kemp
Monday, March 27, 2017
Iestyn Davies is in demand as a recitalist, opera singer and West End star. But, says Lindsay Kemp, now with a Bach disc to add to his name, this countertenor still has his feet firmly on the ground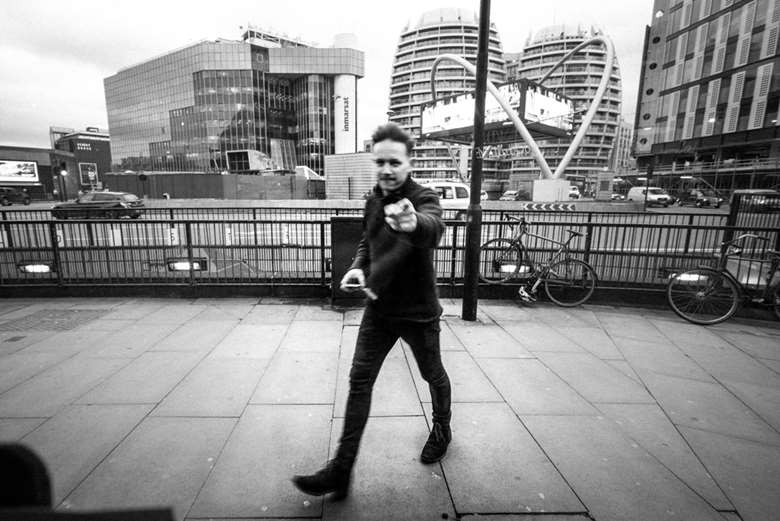 'That's the beauty of recording. You can do it the way pop singers do. You know, in the wrong order.' Iestyn Davies – whose Wigmore Live recital recording won a 2014 Gramophone Award – means what he says. 'There's a shame among classical musicians about doing small takes but, with everything you do live going up on the internet for everyone to hear for nothing, if you've got a chance to do something properly in the studio it's important that you do.' The recording he is talking about right now is his latest collaboration with Jonathan Cohen and his band Arcangelo for Hyperion: solo alto cantatas by Bach, which present technical challenges enough for any concert. Ich habe genug, for instance, is 'much harder to do live. The final aria is very low, coming after 20 minutes, and quite fast. Even on a recording that's tough, but at least then you can get at it out of context, and get it right.'
Davies has been getting it right for a while now. Not just the notes, but the career too – a career that is full of opportunities, all of which he seems perfectly able to take smoothly in his stride. He has performed and recorded core countertenor repertory such as Dowland, Purcell and Handel, and curated programmes such as his disc of 'Arias for Guadagni' (another Gramophone Award-winner in 2012). His Wigmore Hall residency, meanwhile, led to two live discs and also included a work commissioned from Nico Muhly. And let's not forget his stage roles in Handel and in major new operas by the likes of George Benjamin and Thomas Adès, or how he shared the stage with Mark Rylance in the highly successful stage show Farinelli and the King. The Observer has celebrated the fact that 'he can sing, whether full blast or hushed pianissimo, with a strength, steadiness of tone and musical confidence almost unknown in a voice type which has tended…to prefer ethereal frailty as a calling card', while in these pages, back in 2009, Michael McManus wrote that Davies 'can dominate a stage with all the physical poise and balance that characterises the best singers…He also has a voice to die for.'
Impressively, he has achieved this with a professionalism that is both unfussy and efficient. I meet him at the end of a day spent rehearsing for a semi-staging of Purcell's The Fairy Queen, a one-off performance at London's Barbican that has nevertheless meant several days in an Airbnb apartment away from his home in York, but he is relaxed, unruffled, and more than willing to talk about Bach. First of all, he is happy to admit that it was Andreas Scholl's 1997 recording of the achingly beautiful Vergnügte Ruh', beliebte Seelenlust and the punchier but still exquisite Widerstehe doch der Sünde that first inspired him to become a countertenor. So beautiful are these pieces that voices as naturally honeyed as Davies's or Scholl's can easily get away with, as Davies puts it, 'slipping into jobbing choral-singer mode of just loving the sound'. But there is more to it than that, a fine line to be trodden between over- and under-interpretation. 'With each aria there's so much drama and character that you have to distance yourself from getting obsessed with how you sound. It's such beautiful music, and sometimes you just have to forget that. When you see the text in front of you, and the way it's been set, it's very important to pay attention to it.'
And yet it is possible to go too far. 'I remember Janet Baker once saying: "Don't try and put the music into Bach, it's already there." So with Bach you can't go off into flights of fancy like you can with Handel, and whereas with Handel and most other Baroque composers you sit on top of the texture, with Bach the voice is in there as part of the framework of the orchestra, the bass-line and you. You're part of the texture and it's more about the communal spirit of the aria. It's perfect chamber music in a way.' True enough; in the final aria of Widerstehe the singer is one voice in a three-part fugue.
Does the answer lie, then, in finding and feeling an authenticity of spirit? 'What appeals to me about Bach's arias in general, in the cantatas, in the Passions, is that there seems to be a certain aesthetic within the music, whether it be to the Spirit or the Holy Ghost or something similar. But Vergnügte Ruh' [which sings of a desire to leave the world and all its horrors and trials behind] also borders on the evangelical in a way; you can really feel it in the uplifting final aria about being taken away to Jesus. And in Widerstehe the singer is more the preacher in the pulpit.'
Widerstehe indeed, with its warnings to resist sin and temptation, is a reminder that Bach's church cantatas were designed as musical complements to the Sunday sermon. 'You get words in there like "Sodomsäpfeln" ("Sodom's apples") which you certainly don't get in Handel! But it's a joy to sing these sorts of angular texts sometimes against such beautiful music; the word-painting is much more interesting than in Handel. Bach's sense of humour and joy in life also come through in the things he sets. If he puts a sexy dance tune to a text about Satan, as he does at the end of Widerstehe, perhaps he's saying that he's living with the Devil in that moment. He knows the audience or congregation is not going to interpret everything [to this degree], but he also knows that if you study this music you can begin to inhabit it.'
With a solid musical background – his father Ioan was cellist in the Fitzwilliam Quartet and Iestyn was a chorister and later a choral scholar at St John's College, Cambridge, before studying at the Royal Academy of Music – Davies is a fast and reliable learner, and his increasingly busy career in operas both Baroque and modern gives him plenty of opportunites to get inside the music, and even on occasion to work with the composer. Recent examples include Thomas Adès's powerful The Exterminating Angel, premiered in Salzburg last summer, and George Benjamin's Written on Skin in revivals in Vienna, Paris and Munich. How well does he think modern-day composers write for countertenor? 'Well first of all, I have to say that George's opera is simply the best of its kind written in the past 30 years and an absolute joy to sing. The countertenor has one of three main roles, and I think George wrote it for that voice because of the nature of the character he had in mind. He's quite specific, and Bejun Mehta sang it first because George liked his voice. But the first thing you notice when you sing it now is that it's extremely well written for the countertenor. It's also difficult, because he's such a precise composer and the music won't work if you're even slightly out with it. He's as precise as a conductor, and will often take you through every bar, but then he'll say "Now go and make it your own" which is frustrating but also good because it challenges you!
'Nico Muhly has also written stuff for me [most recently Sentences, a 30-minute cantata on episodes in the life of Alan Turing, premiered at the Barbican in 2015], and of course the more you and a composer get to know each other, the less they're writing for you just because you're a countertenor. Nico, who's obsessed with Alfred Deller and really wanted to write for me, was asking at every point: "Is this OK? Is this OK?" With Tom's it's very different. He'll write anything and say: "That's the countertenor role, now sing it!" And it'll be virtuosic, but then if you go to him and say "It's hard!" he'll ask "Which bit?" – and then when you demonstrate, he'll say: "Well you just sang it!" If your body can do it, that's enough for Tom. That's frustrating in a different way because you don't want to damage your voice, but again it's good because it means he's looking for extremes of expression in the voice. And I've found you can get used to anything!'
Operas will continue to keep Davies busy in 2017. There are revivals of Written on Skin in January and The Exterminating Angel in April, both at the Royal Opera House. Then he will be doing Britten's A Midsummer Night's Dream at Aldeburgh. Later in the year, it is rumoured, there will be a Broadway run of Farinelli and the King. Claire van Kampen's play proved so successful at London's Sam Wanamaker Playhouse in 2015 that it transferred to the West End later that year; in it, Davies played the singing voice of the famous 18th-century castrato opposite Mark Rylance as King Philippe V of Spain, whose mental turmoil the great singer soothed. For the ever-alert Davies, the experience of being in the production was another stage in his education. 'It's sort of half-like being in an opera, and half-like being in a concert, but you never get as many goes at performing something as you do in the run of a play. Actors do the same thing every night, so as the run goes on they can start to change things slightly. Someone like Mark Rylance can get different responses on different nights, without you necessarily being able to tell why. He's always reacting with the audience, and a lot of it is about timing. You realise that when he says a line it's not always about what he says but how he says it, and as singers we can do certain similar things with our breathing. Mark himself is very musical, and says he was inspired as an actor by the way singing is phrased, so the parallels are definitely there. It has been a very valuable lesson in the art of performance.'
This article originally appeared in the January 2017 issue of Gramophone. To find out more about our latest subscription offers, please visit: gramophone.co.uk/subscribe