Inside Brahms's Piano Sonata No 3 – with Nelson Goerner
Tim Parry
Thursday, November 14, 2019
Tim Parry talks to Nelson Goerner about the special qualities of Brahms's finest piano sonata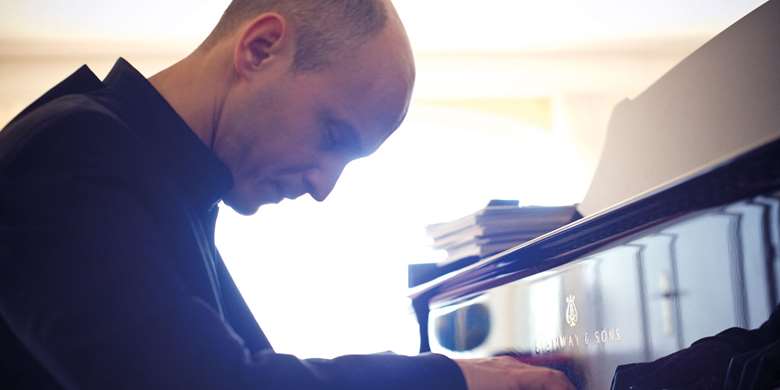 Brahms composed three piano sonatas – Opp 1, 2 and 5. As the numbers suggest, these are all early works, full of youthful athleticism and virtuoso exuberance; he never again returned to the genre. The fullest expression of Brahms's early genius is found in the F minor Piano Sonata, Op 5, written in 1853 when the composer was just 20 years old, interestingly within a few months of Liszt's sole Piano Sonata, a work that in very different ways also fuses instrumental virtuosity with musical depth and originality.
Nelson Goerner has played this work for many years, and has now recorded it for Alpha Classics. I travel to Geneva to meet him, and when I arrive at his home, overlooking Lake Geneva, Goerner welcomes me with a generosity and affable warmth that, it strikes me, are characteristics that come through in his playing. I ask Goerner how long he has played this sonata. 'I performed it in London in 1994,' he tells me, 'so at least 25 years. This is very attractive music to a young man, full of ardour and passion, and it has stayed in my repertoire ever since.' Goerner is not a tall man, and I find myself thinking of larger-framed Brahms pianists – Julius Katchen, say, or Garrick Ohlsson – and wondering aloud whether there is any advantage when playing a sprawling work such as this in having large hands. Goerner deftly sidesteps the issue: 'I don't have very large hands, but I don't think this is a real problem in this music. More of a challenge is balancing the dynamic range. Take the opening: it starts forte, but we must allow enough space for this to grow with the crescendo through the first few bars. We must begin with a full sonority but still leave somewhere to go dynamically. The rhythmical pattern of the opening, too, with those rapid jumps to full chords, is very difficult to play in time. This is one of those cases where the technical difficulty – these leaps – really adds to the meaning of the music. This physical nature needs to be conveyed.' So you need to find a balance between abandon and control? 'Yes, exactly. If the pianist is too careful, then it doesn't sound right.'
While discussing issues of dynamics, Goerner points to the beautiful left-hand, cello-like theme later in the first movement, when the music has slipped into a rich D flat major. This is marked pianissimoand espressivo, but presumably, I suggest, still has to sing out. As if to mirror the music, Goerner talks quietly, almost reverentially about this passage: 'This needs such an illuminating sonority, even at pianissimo, but at the same time if the pianist tries to be overly expressive it can sound too emotional, whereas it needs to unfold with real intimacy. But yes, it still needs to sing out. As always, this pianissimo must be heard in relation to the piece as a whole, and the actual volume will vary according to what instrument you're playing and the acoustic.'
The first movement, Goerner believes, is the most difficult to pace. It yields the widest divergence in the tempos adopted by different pianists. The movement is marked Allegro maestoso, but for Goerner there is a danger of focusing on the maestoso character and playing the movement too slowly. He believes that Brahms added the Allegro to guard against this. 'If it's played too slowly the music becomes stolid; I don't think this is what Brahms, as a young man of 20, was after.'
The emotional heart of the work lies in the second movement, which Claudio Arrau described as 'the most beautiful love music after Tristan'. 'What a marvellous contrast to the majestic first movement,' Goerner says with some understatement. He zones in on the Poco più lento B flat minor episode on the second page, where the two hands alternate pianissimo rising and falling sixths. This passage has a tender simplicity that lingers in the memory. Goerner agrees: 'This is incredibly beautiful, it's just divine. It's like the music floats and doesn't touch the earth.' He elaborates more generally: 'Another thing that can go unnoticed in this movement is the richness of the accompaniment. Those semiquavers at the beginning give the music its specific quality and colour, its feeling of voluptuousness. This music would sound completely different without this accompaniment. The intervals are so beautiful, and they embroider the melody in a wonderful way.' The end of this movement, with its arpeggiated chords and harmonic progression, has always reminded me of Liszt's Harmonies du soir. 'Ah yes,' says Goerner. 'In music you find these parallels and influences much more than composers are ever willing to admit.'
'This music sounds so lonely, but at the same time there is a consolation, like the music is floating. It's so striking, so wonderful'
The third movement, at the centre of the five-movement structure, is musically more straightforward. I wonder if it is a challenge to keep the music light even though it's marked forte. 'Yes, but it's forte, not fortissimo,' Goerner says. 'It's a full sound but not heavy like the first movement. It's an easy mistake to see the energico marking, and to play this music too marcato, to see it vertically rather than focus on the line. The accents are very spare. This music can sound earthbound, when it needs to be light and airy.'
What follows is a masterstroke. Brahms inserts another slow movement – itself a novel structural feature – that recalls the sublime second movement, a Beethovenian act of remembrance and transformation. 'Only two pages of music but it says so much,' Goerner observes. The music is now coloured by ominous timpani effects. 'This music should plunge you into an abyss,' he says. 'It should sound menacing, frightening. This music sounds so lonely, but at the same time there is a consolation, like the music is floating. It's so striking, so wonderful.' Goerner turns the page, as if mentally playing the music in his head. 'And then there is an entire bar of silence, followed by this bass tremolando. It's amazing. Psychologically, Brahms already had at the age of 20 this incredible depth and complexity. It's extremely original. The sonata without this movement would be unimaginable.'
That the young Brahms composed a finale that rounds off this disparate work in such a convincing manner is a mark of his musical stature. It's true that the real revelations in this sonata come in the first, second and fourth movements, but as Goerner says, 'to create a finale that is so compelling given what has come before is no less impressive an achievement'. The writing becomes increasingly intricate and virtuosic, and it must be exciting to play. Goerner smiles and nods. 'It is. And it's so free. It's one of the rare examples in Brahms where, at the very beginning of the movement, he marks it ma rubato. This needs to be played without being too conscious of the bar lines, with delicate and subtle variations of tempo and timing.'
The passagework gets more challenging as the movement progresses, and I ask whether the increasing difficulty arises out of Brahms's wanting to convey the music's sheer physicality and excitement. 'Yes, I think so,' Goerner confirms. 'The music is extremely difficult, but lots of the difficulties don't get noticed. It's not a spectacular virtuosity; the virtuosity is there but it's not about showing off. But then, when we reach the coda, the pianist needs to take risks. It needs to feel as if the music is nearly but not quite coming off the rails, otherwise the meaning is lost.' We marvel at the thematic transformations Brahms uses in the coda, where the earlier chorale tune returns in a quite different context, and at the contrapuntal ingenuity of the music. 'What a master of counterpoint Brahms was already,' Goerner says. 'Even if he'd composed nothing else, this sonata would be enough to place him among the truly great composers.'
As a postscript, I should add that not all pianists like to talk about the playing of other artists, or about recordings, but our conversation later develops into a lovely off-tape discussion about pianists who were an inspiration to Goerner as he was growing up, musicians we each heard live when in our teens, and historic recordings that still mean a lot to us. Cortot, Friedman, Lhévinne, Rubinstein, Rachmaninov and many more … We lose track of time, to the extent that I nearly miss my flight home. But it reveals to me that Goerner is not only a musician who thinks deeply about his art, but an enthusiast who retains his love of his instrument, its repertoire and its exponents.
This article originally appeared in the Awards issue of Gramophone. Never miss an issue – subscribe today!