Interview: London Contemporary Orchestra – reinventing music for film and television
James McCarthy
Wednesday, June 28, 2017
Co-Artistic Directors of the LCO Hugh Brunt and Robert Ames talk about how the orchestra's new sample library, LCO Strings, is giving composers new worlds of sound to explore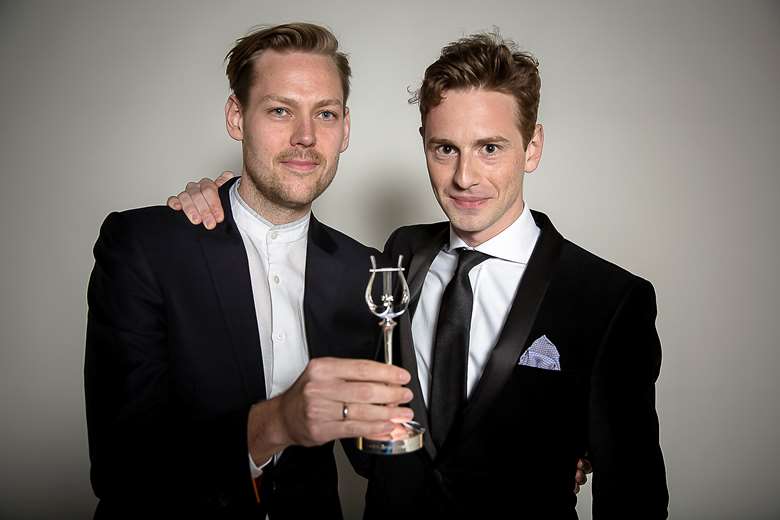 The London Contemporary Orchestra have recently collaborated with Spitfire Audio to create a bold new sample library. I spoke to Robert Ames and Hugh Brunt, the co-Artistic Directors of the LCO, about the project and asked what new vistas of sound are opened up for today's composers by LCO Strings?
The number and quality of orchestral sample libraries has greatly increased in the last decade, could you tell me what helps the LCO Strings library stand out from the crowd?
HUGH: Firstly, for us Spitfire Audio are the leaders in that field – their libraries have a huge amount of character and authenticity; they never sound too pristine or clinical. And secondly, an interesting feature of the LCO Strings library – besides the range of its more unusual, contemporary techniques and articulations - is that it was recorded on Spitfire's dry stage (as opposed to a room like AIR Lyndhurst), so that allows for a more direct, intimate sound, whilst giving the user a good amount of control to add their own reverbs and blend with other libraries.
How did the project come about with Spitfire Audio?
HUGH: We'd heard that Spitfire were the guys to go to, so we approached them about two years back and developed the project together from there. In terms of the idea itself, it was borne partly out of frustration that there weren't the tools already out there for us, and many of the artists we work with, to draw on. It can be challenging when, for example, a film composer is trying to get a cue signed off by the director/producer and they're not able to clearly communicate in demo/audible form how some of those integral, more 'experimental' sounds are going to live with the scene. Hopefully something like this kind of sample library eases that process a little.
Do you think there is a danger that sample libraries could replace 'real' musicians?
ROBERT: There isn't really a chance of that happening. You can never beat real players in a great room. The techniques on the LCO library are really the tip of the iceberg. In session we can play with them and find hundreds of variations on each. LCO sessions are very collaborative, the players are always wanting to give more than what is on the page.
What are the special technical challenges of recording a sample library as opposed to recording a complete work?
ROBERT: Its pretty intense work and happens over a period of days. For the musicians its difficult because they never get an overall sense of what the finished product is like. Its very bitty and for the library to be successful the energy has to be high at all times. The LCO library is really pushing at the boundaries of accoustic sound, its not something you can relax into when recording.
This sample library has extended instrumental techniques at its core, were these techniques drawn from the works of any particular composers?
ROBERT: The techniques really represent a sound world that the LCO has been inhabiting for the last 10 years. Many sounds were curated by me and Hugh from live music we have performed and past film scores. A lot of the sounds were developed as part of our collaborative, semi-improvisational recording work and put forward by our musicians.
Techniques previously associated with the classical avant-garde have been heard far more frequently in film and television productions in recent years, for instance, in the scores of Jonny Greenwood and Mica Levi. Could you tell me about the LCO's work with these composers?
HUGH: Yeah, it's exciting that there seems to be this new wave of film composers - particularly coming out of the UK – whose music just stands on its own, arguably with or without the picture. We've been performing Jonny Greenwood's music since our first season, in 2008, and subsequently recorded his score for The Master, leading to a touring project with Jonny playing with, and writing for, a chamber ensemble of LCO Soloists. Mica has been composing concert works for us over the past couple of years. Most recently we performed some of her film scores at a support set for The xx at O2 Brixton Academy, and in August we'll be taking Under the Skin: Live to Kazakhstan.
Which TV or film soundtracks would you recommend for listeners wanting to explore the kinds of sound worlds that can be created using the LCO Strings library?
ROBERT: We are really proud of Alien Covenant and Macbeth by Jed Kurzel. Also our work on The Master and You Were Never Really Here by Jonny Greenwood. Listening to the music of Xenaxis, Vivier, Edmund Finnis and Grisey is also a good place to start.
Once a composer has created a composition using these samples, how easy is it for them to then write the music down in a form that it can be played by a real orchestra?
HUGH: With a switched-on orchestrator and talented group of players, it's pretty straight-forward to understand what's going on with the sounds in the library. In terms of the LCO's working method, it's about getting the composer and our musicians in a room together to workshop material as early on as possible in the process, and then arranging/orchestrating in-house ahead of the recording sessions or rehearsals/performance.
Do you have plans to record further sample libraries with Spitfire Audio?
HUGH: We'd love to, but we'd want to come up with something really special. Watch this space…!
Where can we hear the LCO play live this year?
ROBERT: We have a massive show coming up at Printworks in East London. For the first time in its history Printworks will feature acoustic instrumentation, including four orchestras playing simultaneously with electronic sampling, all in its unique 30,000 sq ft main space.
For more information about LCO Strings, visit the Spitfire Audio website. To find out more about the LCO and their upcoming performances, visit lcorchestra.co.uk