John Adams – An American Idol
Philip Kennicott
Monday, February 13, 2017
By combining East and West Coast ideals in his music, John Adams continues to create a sense of what it means to be alive today in America, writes Philip Kennicott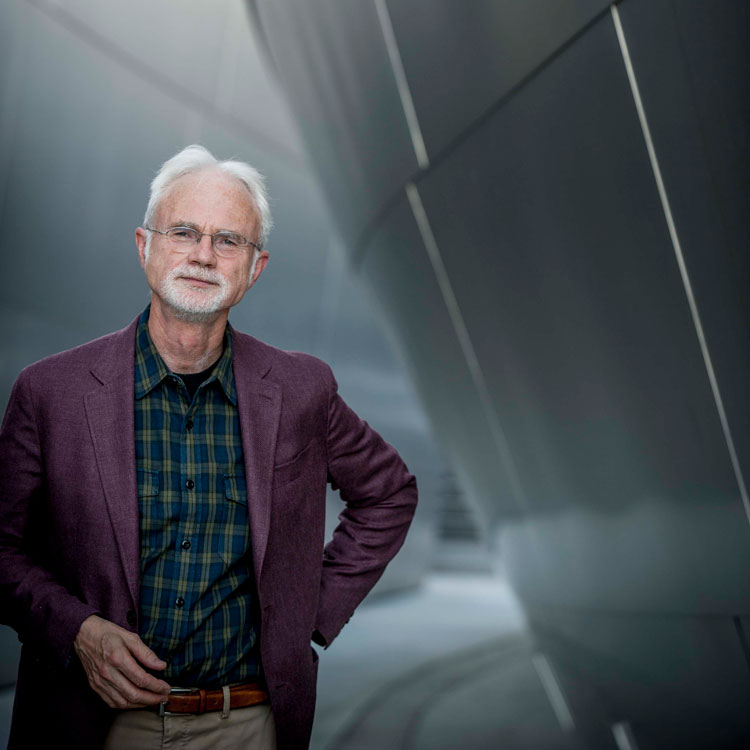 Art isn't obligatory in America. Few serious artists are household names. Composers of classical or art music may fare the worst among the creative class, creating work for ensembles that are stressed economically, desperate to hold on to conservative listeners, uncertain how much time and energy they can invest in perpetuating 'new' music. Perhaps only the poets are more lost in the wilderness.
And yet art continues all the same, every art has its niche, and every niche has its loyal cadres. If there is a contemporary cultural pantheon in America, then John Adams is in it. Like the films of Woody Allen or the novels of Philip Roth, the music of Adams is awaited with anticipation, received with excitement, parsed by the critics and committed to the general public for long-term consideration. Literate Americans may not know the work of Adams but they know they should know it.
Adams, however, isn't quite convinced of his centrality. A doubt, a kind of darkness, has crept into a composer whose musical esprit is so profound that it functions like an alter ego he calls the 'trickster'.
'I'm sure every composer has terrible paranoia,' he says. 'It is easy to fall into that mode of thinking.' The fear is of irrelevance: 'There are days when I feel that a composer writing for the symphony or opera house, like me at this time, is not an important cultural event.'
But it's a mark of Adams's success as a composer that everything, even the doubt and paranoia, is ultimately important material. The opera house and the symphony may be marginal venues in 21st-century America but they are the venues that keep him productive and elicit his best work. They may be removed from the preoccupations of the vast majority of Americans but he has used them to create a panoptic vision of what his society sounds like. No matter what its larger cultural status, the music of John Adams suggests a clearly audible sense of what it means to be alive today, in America.
John Adams On Wound Dresser from John Adams on Vimeo.
It all seems to flow from something elemental in Adams's personality. He is, first and foremost, comfortable in his skin. After early struggles and confusion, he found a voice that is distinctive, absorptive, flexible and open to development. The music of Adams, with its restless, forward thrust, its colourful orchestration, its dizzying juxtapositions of dark and light, serious and silly, is immediately recognisable as Adams, but there is no simple-minded Adams 'brand'. Every Adams work is a surprise, but a surprise within intelligible parameters.
Adams has also fashioned himself as a quintessentially American composer, using his biography, his significant powers as a writer, his cultivated understanding of American history and his genial personality, to weave together the disparate strands of Transcendentalism, the American sublime, the wanderings of the beat generation, the pragmatism of New England and the spiritual restlessness of California. And while Adams has created works for various ensembles and experimental instruments, he has remained committed to the basic tools, venues and institutions of classical music, which has given his music focus and continuity. He is unembarrassed to bring the wide multitudes of Walt Whitman into the old-guard habitats of the European inheritance. If America is his fundamental idea, the orchestra is his ideal medium.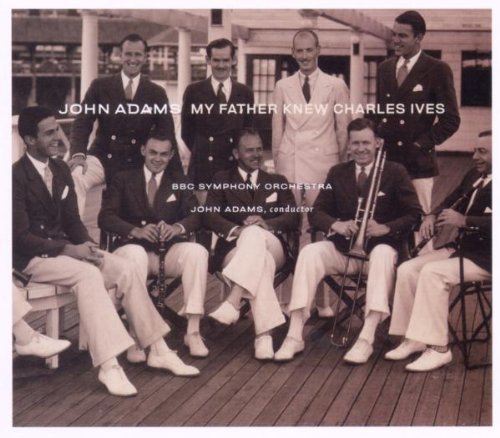 Finding his voice may have been the most significant of his accomplishments. Born in Massachusetts in 1947, Adams was the son of musical parents, a jazz-sax-playing father and a mother who sang. His parents met at his maternal grandfather's New Hampshire lakeside dance hall, a regular stop for touring big bands. In My Father Knew Charles Ives (2003), which uses Ivesian collage techniques, the sounds of a jazz band are heard softly and lontano, as if filtered through the night air from Winnipesaukee Gardens, his grandfather's musical pavilion. The cover of the album features a picture of sharply dressed men in blazers and white pants, one of them his father, holding a clarinet loosely between his legs.
Just as Ives's personal musical memories of marching bands, hymns, church bells and other iconic sounds of New England became part of his sonic language, Adams is deeply connected to his past in Massachusetts and New Hampshire. Like Ives, he has retained a powerful set of deeply individual musical reminiscences that make their way into his scores. The sudden eruptions of wildness in his music may have something to do with memories of playing clarinet in a community orchestra at a local state mental hospital, in which patients were prone to 'go off' during Schubert symphonies. In some cases, such as the lonely trumpet solos in the Ives homage and in his more recent Doctor Atomic Symphony, Adams's memories may be mediated by Ives himself, whose Unanswered Question made that particular sound as powerfully evocative to American ears as Rimsky-Korsakov's octatonic scale is to Russian ones.
This early idyll of a sonic democracy, in which classical, jazz and pop all commingled in a dimly remembered musical utopia with no artificial boundaries, wasn't to last. The ideological conflict between musical styles that reigned in the United States in the 1960s and '70s would become an evolving conflict in Adams's life as a composer.
'It is a very profound collision,' says Adams. 'And I have felt it so deeply in my life, trying to be a classical composer but not some person way on the outside, looking in. I want to be a thriving, meaningful person in American culture, the way Duke Ellington was.'
An education at Harvard in the late 1960s wasn't going to help him find the right the balance. Adams remembers his college years as an uneasy time, a period of ravenous musical curiosity but stultifying indoctrination into serial techniques that were not nourishing for the young composer. 'It was a period of profound cognitive dissonance,' he told an interviewer in the 1990s. An encounter with John Cage's book Silence offered a sense of freedom and release but not much help finding his own path forward. It did, however, provide the impetus to head west, where he took up residence in San Francisco, inaugurating one of the basic dualisms – East Coast, West Coast – that has remained elemental to his music-making ever since. When he recorded My Father Knew Charles Ives, he paired it with The Dharma at Big Sur, a 2003 concerto for electric violin as improvisatory, spacious and hypnotic as the Ives score is structured, nostalgic and historically allusive.
It was, of course, Adams's encounter with minimalism in the early 1970s that gave him the material he needed to find himself. Exposure to Steve Reich and Philip Glass opened up possibilities, and by 1977-78 Adams had produced what he said, in 2004, was probably his 'Opus One', a technically challenging three-part piano score called Phrygian Gates. It has the restless, iterative, repetitive surface of classic minimalism but the style is distinctly different, full of sharp contrasts of mood and mode. The title suggests some kind of Herculean architecture but also refers to electronic 'gates', a term Adams says he 'co-opted from electronic music', evoking sudden changes in waveform or current. Gates, loops, junctions, wild rides, road movies – the Adams lexicon of musical titles often suggests a map, or journey, through idealised, remembered or imaginary landscapes. He has written a String Quartet and a Violin Concerto but otherwise has eschewed conventional names, even while refreshing conventional forms.
John Adams On Hallelujah Junction from John Adams on Vimeo.
Large-scale orchestral works followed, the 1980-81 Harmonium, and the 1984-85 Harmonielehre with its explicit reference to Arnold Schoenberg's classic treatise. 'It was part whimsical, part an acknowledgement of my puzzling father-son relationship to the master,' wrote Adams in his autobiographical Hallelujah Junction, published in 2008. But it was the 1987 opera Nixon in China that made him a household name. The title, he has said, is 'wry and mischievous, like a pop-art mangling of Iphigenia in Tauris'. But the project, developed with the avant-garde theatre director Peter Sellars, emerged as more than pop mangling. It was as if a musician steeped in the pop art rebellion against abstraction had suddenly decided to paint an enormous history painting, in the old manner. It was a source of mirth and confusion, derision and obsessive fascination for American audiences, at a time when Nixon himself was still alive and still haunting the collective conscious with a jowly smile of satisfaction at his miraculous rehabilitation. And yet even in Nixon in China the relation to the pop sensibility is complicated. 'There's always irony,' says Adams. But not all irony is created equal. Excoriating irony, total irony, irony that dissolves all else isn't for Adams. 'That's where I get off the boat,' he says. 'I have no interest in making my entire statement ironic.' For all its humour, its almost absurdist premise, Nixon in China is deeply human and moving.
By now, opera was fundamental to Adams's work, offering him, he says, a way to be fully immersed in a project, to research and read, and forge something that called on his total powers. The Death of Klinghoffer (1991) ran afoul of pro-Israel cultural forces in New York but has survived to be acknowledged as one of his finest and most subtle works. Other stage pieces and oratorio-like works followed, culminating in the 2005 Doctor Atomic, which Adams says is the work that most defines his recent career. 'It was certainly the biggest piece,' he says. It's also one of the most thorny and dissonant, with striking cacophonies of sound, and echoes of the film-score sumptuousness of Hollywood, as if the composer was channelling both Schoenberg and the popular culture into which Schoenberg was thrust, an alien and anomalous presence, in the Los Angeles of the 1930s and '40s. 'I took on a very serious theme, that dealt with American consciousness and our place in the world.'
When Adams speaks of Doctor Atomic, which yielded the material for his Doctor Atomic Symphony, it is with an increasingly blunt sense that the opera's seriousness is no longer an easy fit in American culture. He worries about the gravitas of younger composers, the marginal place of serious music in American society. He fears he may be pouring his life's energies into something that means very little to the vast majority of the population, that he has not found a way to be Duke Ellington. Although he has commissioned younger composers and supports their work, he also remembers visiting a music class in Aspen in the late 1990s and 'being shocked at how most of the questions had to do with careers'. They weren't digesting Xenakis or reading Cage but fretting about commissions and the arc of success.
But he is too steeped in the eternal recurrence of American generational angst to be a curmudgeon. 'I remember Elliott Carter snorting to a friend about Nixon in China and saying that my students could do something better than that,' he says of the still formidable avatar of American atonality. 'I worry that I'm turning into that sort of person because I'm dissatisfied with the music being written by younger composers. I think we are shying away from really treating music as something that is capable of dealing with the deeper issues of life.'
Some composers rebel all their lives, says Adams. Others need to find and keep an audience. 'I've always felt that if what I did didn't have some kind of audience, if it didn't show up on the cultural radar, then in a certain sense it was failing.'
Adams says he can only discuss his music once it's finished. When it is in progress, he doesn't know what to say. But his statements on music have been almost as much of an adventure as the music itself. His programme notes to his recordings are brilliantly written and evocative. His memoir is one of the finest composer memoirs of the past century. His conversation rolls and loops with the logic of his Phrygian Gates, constantly changing wavelength and modality. That ability to articulate a sense of what he is about, what his music is doing and how it relates to the larger world has been fundamental to building his loyal audience. 'I'm more of a practical composer, like Bach, very much involved in the music-making community,' he says. And yet, very much in the spirit of American artists before him, Adams is also independent, self-contained, a force unto himself. Just as it took years to know the influence of Bach on subsequent generations, it's not clear what Adams's influence will be on younger American artists. Steve Reich, Terry Riley and Philip Glass are revered for the supposed purity of their musical vision. Adams, especially in the 1980s and '90s, and in the wake of 'trickster' works such as the rollicking Century Rolls (1996), has been critically accused of muddying the waters of minimalism and indulging in a wanton and suspect eclecticism. But that criticism has faded as critics increasingly admire the consistent invention of his music, his variegated orchestration, his sense of humour and his seriousness of purpose.
Adams has broken all the rules but he has never shattered the old paradigm of composer. He has indulged the West Coast cool, and channelled it into music fundamentally grounded in the East Coast establishment institutions of orchestra and opera house. He has played with the pop sensibility and fed off its energies but arrived at a point where what matters is depth and emotional substance. He has inhabited the role of Yankee composer so long and so thoroughly that he is becoming a kind of sage.
'I don't think every composer has to write Mahler's Sixth Symphony,' he says. 'But it is difficult in this society, this American society, because pop culture is given such enormous prestige that every serious composer works under this suffocating cloud…So you are constantly questioning: Am I relevant? Does it even matter what I am doing there? I think it would be a great mistake to look at pop culture and try to ape it, and try to adopt its simplicities, and pay more attention to how many hits you get on your website or how many fans are in the audience, as opposed to saying something that is deep and complex and really describes the human condition.'
Adams is determined not to make that mistake but it should be noted, for the record, that his own website is busy and he has legions of fans, even in a country where art is not obligatory.
This article originally appeared in the April 2012 issue of Gramophone. To find out more about subscribing to Gramophone, visit: gramophone.co.uk/subscribe