John Williams's concertos: the other side of cinema's great musical genius
Andrew Farach-Colton
Monday, July 25, 2022
Exploring the concertos of John Williams with conductor Leonard Slatkin, cellist Yo-Yo Ma and violinist Anne-Sophie Mutter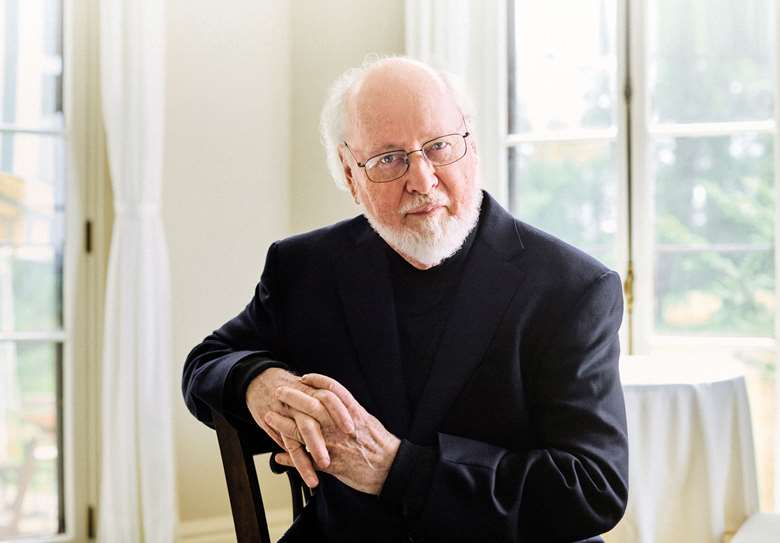 'Let me tell you a story,' Leonard Slatkin says. 'As the year 2000 was approaching, I received a request to do an interview with Time magazine. They were looking for people to talk about the most important figures in their fields in the 20th century. I said, "Sure," and one question they asked was who I thought was the most influential composer of the last hundred years. Without missing a beat, I answered, "John Williams." "No, no, no," they said. "We don't mean that. We're talking about Stravinsky or Schoenberg." So I said, "Look, can you name seven people on the planet who haven't heard something by John Williams?"'
➤ Gramophone Podcast: John Williams on writing a new violin concerto for Anne-Sophie Mutter
Slatkin's anecdote made me laugh in part because it comes so very close to the truth. And yet I know why Time's journalists were protesting. It wasn't to deny Williams's blockbuster success, but rather to separate his work as a film composer from the sacrosanct canon of classical music.
It's a story almost as old as cinema itself, as any fan of Korngold or Herrmann can tell you. Some will argue that Korngold and Herrmann were classical composers first, and worked in Hollywood only to support their families; and they might be surprised to discover that Williams's story isn't so different after all.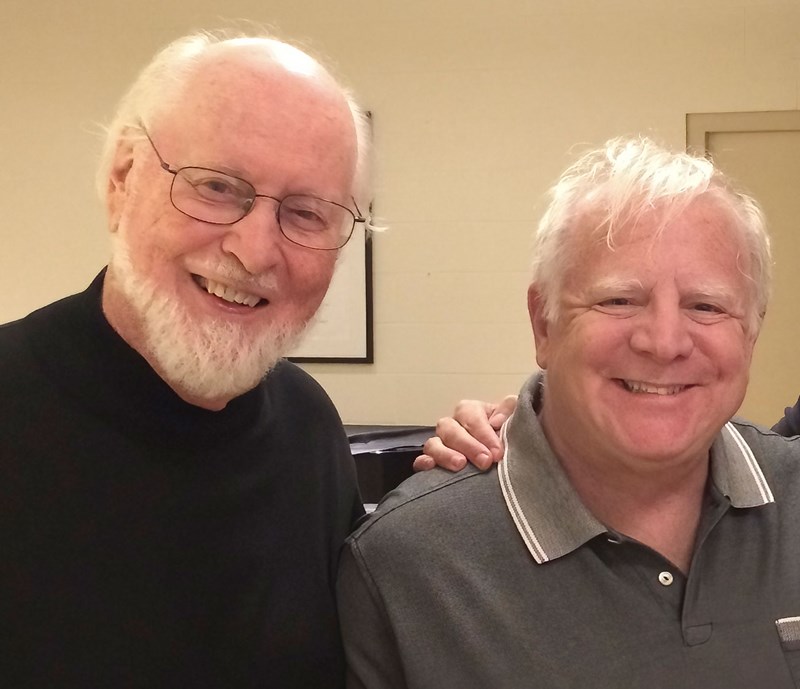 [John Williams and Leonard Slatkin]
His initial background was in jazz, it's true. His father was a drummer who worked with the inventively zany bandleader Raymond Scott, and by all accounts John Jnr's talent as a jazz pianist put him in the prodigy category.
Yet classical music was an early interest, too, and he studied composition with Castelnuovo-Tedesco while at university in Los Angeles. Then, after service in the US Air Force, he went to Juilliard.
'Even when he first started writing for TV in the late '50s and early '60s,' Slatkin says, 'John was simultaneously writing what we would traditionally call classical music.'
Slatkin's parents – brilliant classically trained musicians who founded the Hollywood String Quartet – made their living playing in studio orchestras, so the entire Slatkin family knew Johnny Williams (as he called himself then) from the very outset of his career.
One can hear Williams's jazz expertise and his penchant for stylistic intermixing in a Prelude and Fugue he wrote in 1965 for Stan Kenton's Los Angeles Neophonic Orchestra. In the Fugue, the brass and woodwind slither and strut in a manner that's redolent of noir detective television programmes.
What I find most striking, however, are the Prelude's darkly coloured sonorities, and the chaotic explosion about a minute and a half in, which in a single dramatic stroke allies the work with other experimental new music of its time.
That same year, 1965, Williams also produced a brooding, monochromatic Essay for string orchestra.
A bracingly acerbic Sinfonietta for wind ensemble followed in 1968 (recorded by DG around 1970, along with works by Mayuzumi and Penderecki; the disc – reviewed in Gramophone in September 1972 – demands to be reissued), as well as a Flute Concerto in 1969 in which the solo part sometimes evokes the piercing sound of the Japanese shakuhachi.
Like most of his colleagues at the time, Williams employed 12-note techniques in his concert music, although never very strictly.
'In all these pieces you can hear that he was very much influenced by Penderecki,' Slatkin says, 'and maybe to some degree by Lutosławski, too. The sense of him as an American composer never really pops up in these pieces. He's simply writing abstract music along more or less the same lines as his contemporary European counterparts.'
Slatkin believes that it was writing for films that changed Williams's outlook when it came to concert music.
'Now as he's scoring films he has to deal with imagery and creating specific moods, and I think that wound up influencing the concert music. I'd say that his First Violin Concerto was the turning point.'
Completed in 1976, the concerto wasn't written with any particular soloist in mind but rather as a homage to his first wife, Barbara, who had died a couple of years earlier.
Slatkin conducted the premiere in 1981 with violinist Mark Peskanov, and they recorded it with the LSO soon thereafter (along with the Flute Concerto, featuring the orchestra's principal Peter Lloyd).
The First Violin Concerto has been taken up by other violinists since, including Gil Shaham, who recorded a revised version of the work for DG in 1999 under the composer's direction.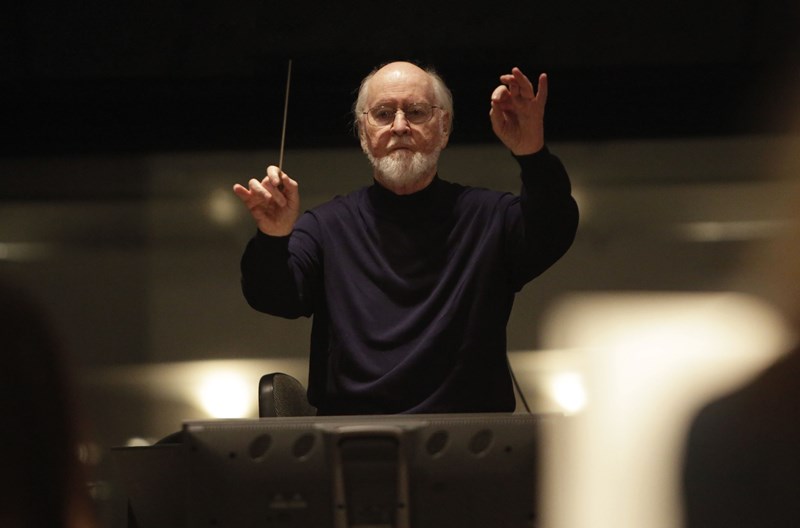 [John Williams conducting]
If one encounters Williams's concert music having only heard his film music, the experience can be a jolt.
The surprise is not so much that he's continued to employ 12-note techniques (for even as early as the First Violin Concerto, he sews tonality and atonality together quite seamlessly); what I imagine will be most disconcerting is the relative lack of memorable tunes and motifs of the sort that are so plentiful in his film scores.
Indeed, in his concert music there are precious few tunes at all. There's abundant lyricism, certainly, but the melodic writing is extraordinarily long-breathed and seems to evolve organically, often spreading out in curling tendrils.
Compared with his concert music, says Slatkin, 'In his film music there's not so much counterpoint – simply because if you put in too much at once, you're going to distract from what's on the screen; the music is dictated by the visuals. But in his concert music, of course, he can do that.'
And, yet, despite these sometimes stark differences, the concert music still bears Williams's unmistakable fingerprints. 'There are sounds that run through most of his music, usually involving chimes and bells, and the way the brass are voiced – so you might recognise that it's John's music not necessarily through the musical language but through the sonic language. The interesting thing to me is that as he's moved through what must now be 18 concertos or so, he seems to have been having more fun with it. Some of the concertos, like the First Violin Concerto and the Cello Concerto, are very serious pieces, but the others have more humorous moments where he gives you a little bit of a smile.'
That smile is quite evident in Williams's next concerto after the first for violin: the Tuba Concerto, which followed nine eventful years later, in 1985.
In the interim, he'd produced some of his most iconic film scores, including the first three Star Wars releases, Close Encounters of the Third Kind, Superman, two Indiana Jones adventures and ET The Extra-Terrestrial.
In 1980, he'd also assumed the directorship of the Boston Pops Orchestra following Arthur Fiedler's death, and the Tuba Concerto was composed for the orchestra's principal, Chester Schmitz, to mark the orchestra's 100th anniversary.
Of all the concertos, this is perhaps the one that sounds closest to his film music. The opening, with eagerly pulsing violins accompanying the tuba's jovial, syncopated dance (all in an unambiguous C major), suggests a rollicking adventure ahead.
And if Williams adhered to an international style of modernism in his concert works from the 1960s and '70s, here he sounds unabashedly American: note the Coplandesque rhythms and bright colours in the orchestral tutti two minutes into the first movement.
As in the case of the previous concertos, however, as well as in those to come, the Tuba Concerto is not very easily pigeonholed.
One is never sure what might emerge from the shadows in the nocturnal central Andante, for instance, and although the finale's fanfares create a festive air initially, that sense of something possibly malevolent lurking in the dark corners remains to the end.
Since his Tuba Concerto, all of Williams's subsequent concertos and concert works have been composed for particular players – both star soloists and orchestral musicians – and he's produced them in a fairly steady stream.


'There's no genre of music John doesn't know and that he hasn't studied. And that's all available to him as the many hundreds of arrows in his quiver' – Yo-Yo Ma

Each concerto is a character study of sorts, inspired by both the player and the instrument itself.
Nature is another inspiration, and trees in particular. The Bassoon Concerto, titled The Five Sacred Trees (1995), draws upon poetry by Robert Graves; Treesong (2000) for violin and orchestra is a tone-painting in concerto form; similarly, Heartwood (2001) for cello and orchestra is described as 'lyric sketches'; and the Harp Concerto, On Willows and Birches (2009), draws on Psalm 137 and the nature poetry of Robert Frost.
Slatkin believes the Bassoon Concerto to be among Williams's most imaginative works.
'I think it's an extraordinary piece,' he says, then adds (adopting contemporary youthful parlance): 'It's got all the moods. Honestly, for me it's the finest work for that instrument and orchestra that I can think of. I did it recently in Lyon with the principal bassoonist there, and that these concertos are being played by orchestral musicians all over the world speaks volumes. Obviously, we can't predict what the ultimate future holds, but his showcasing of instruments that don't have a lot of repertoire and the consistent quality of his writing just might ensure John a strong place in the concert world for a long time.'
The Oboe Concerto (2011) doesn't display any overt reference to trees or nature, but with its bucolic tone it's not so far removed from the English pastoral school. (In my listening notes to the first movement, I wrote: 'If Alan Hovhaness had lived in the Cotswolds.')
The composer has spoken in interviews about his love for 20th-century English music, and Slatkin – whose own affection for English music runs quite deep – says he hears this connection often in Williams's music, both in the concert works and in the film scores.
He believes Walton to have been if not a direct influence then at least an inspiration, adding that Williams's overall knowledge of film music is profound: 'From Walton's epic scores to Vaughan Williams's Scott of the Antarctic, and, of course, all the Hollywood composers including Korngold and Max Steiner – he knows them all.'
Yo-Yo Ma on the Cello Concerto
'There's no genre of music John doesn't know and that he hasn't studied,' says Yo-Yo Ma, for whom Williams wrote his Cello Concerto in 1994. 'And that's all available to him as the many hundreds of arrows in his quiver. He's always curious, and as a composer, I think, he's always trying to understand.'
Ma first met Williams when he was a soloist with the Boston Pops Orchestra some four decades ago. 'We've had so many conversations where he's just finished a book and can't stop thinking about it, and he'll tell me how much he'd love to have the opportunity to meet the author and ask questions. So I feel I've gotten to know a bit about the pattern of his thinking over the years. He's a gentle, thoughtful person yet he has very deep convictions, and he's always observing and interpreting what's around him – and he translates all that into sound.'

The Cello Concerto is a substantial, complex and remarkably serious work.
Even the two middle movements, 'Blues' and Scherzo, seem to harbour an element of danger.
In the opening 'Theme and Cadenza', the cello part is nearly always striving for something, its melodic line curving ever upwards.
The finale, 'Song', begins in an elegiac mood and hints at redemption or love (or both); the way it ends depends on whether you listen to the original version (recorded in 2001) or the more recent revision (2021), which was released in May (both on Sony).
[John Williams and Yo-Yo Ma (photo by Lawrence Sumulong)]
Williams has said that he cast the cello in 'a kind of hero's role', but the hero the music conjures for me is no Hollywood figure but rather Don Quixote.
When I sheepishly mention this to Ma, he says, 'That's so interesting, because I think of the work as being somewhat autobiographical, and as we know, heroes never emerge unscathed. There's always a cost to heroism, right?'
We speak about Don Quixote being among the most human of literary heroes. 'We have ideals and goals, and sometimes these are flawed,' Ma says.
'What's beautiful about this new version of the Cello Concerto, I think, is that a human figure emerges who's certainly not unscathed, but is intact. John has created this arc from the first note to the last, and as with all great works, you as the player or the listener experience that journey. Each movement gives us another view of this character, and I'm clearly narrating from the character's point of view. At the end – that last movement – there's a kind of apotheosis, an integration, that's truly and deeply moving.'
The new recording of the Cello Concerto was made with Williams conducting the New York Philharmonic, and Ma says it was one of the first projects the orchestra had undertaken since the start of the pandemic. 'The players are great musicians and they don't suffer fools gladly, but something happened during that session. He was conducting and saying very little, and I can't tell you how moved they were to be playing his music and playing it for him. I've never felt the New York Philharmonic more humanly vulnerable and pliable. So many players went up to him afterwards and said it was one of the most beautiful experiences they'd ever had. It's an experience I'll certainly never forget – to be watching and playing for this great master at work. We all knew it and felt it. It wasn't Williams the film composer or the classical composer – it was Williams the man.'
Ma, like so many other musicians who've worked with Williams, says he's in awe of the composer's craftsmanship. 'You should look at one of his manuscripts – the writing is so beautiful, and I think that attests to his artistry. It's so clear what he's thinking – it's more Bach than Beethoven, if you know what I mean. He edits, of course, but what comes directly out of his mind is already so lucid, and that's a measure of his unbelievable clarity of thinking, and of all his work over the years. It's really part of his nature. He has this incredible discipline. He's working at his standing desk for five hours every day, period – and this work ethic speaks to his total devotion to his craft.'
Anne-Sophie Mutter on Violin Concerto No 2
The fact that at 90 Williams still adheres to this regime – in addition to conducting concerts, touring and recording – is remarkable, to say the least.
Anne-Sophie Mutter, for whom Williams has composed his Second Violin Concerto (2021), believes that he's driven by what she describes as 'his relentless search for the perfect musical solution', and says that being a part of that process is humbling.
'He's so deeply and passionately involved with everything he writes, and is constantly crafting it to an even higher degree so that one day he might finally (hopefully!) be satisfied. The score to the new concerto was absolutely perfect from the beginning,' she assures me, 'but still he's constantly readjusting to what he might have heard in a rehearsal or concert.'

Slatkin has had similar experiences. 'John is always very self-critical and self-effacing,' he says.
'I remember that every time I programmed one of his pieces he'd ask me if I really thought it was good enough. I guess that's why he's constantly revising. Maybe there's a little bit of Mahler and Bruckner in him?'
The new concerto for Mutter is Williams's largest yet, in terms of duration at least (it's 35 minutes in DG's recently issued recording premiere), and its emotional scope is matched only by the Cello Concerto.
Indeed, there are striking similarities between the two works, in terms of both architecture and tone.
But to my ears, the Second Violin Concerto takes a step beyond; I find its elegiac splendour sublimely poignant, and I see it as Williams's crowning achievement to date.
The final pages are especially affecting, as the solo violin tries again and again to find a home in the orchestra's crepuscular key of A major.
'Yes, the ending is very personal, almost private,' Mutter says, 'and I find it such an honest and purely poetic way to conclude a work that also deals with great drama, sarcasm and wit. You know,' she adds, 'it's amazing how skilfully he writes without losing sight of the narrative or the expressivity of every single instrument in the orchestra. Unlike many other great contemporary composers, he really knows the personality and physiognomy of each instrument and what it brings to an orchestral score. So it's not just the quality of the musical thoughts themselves, but how he sets them for the instruments – he is second to none in that regard.'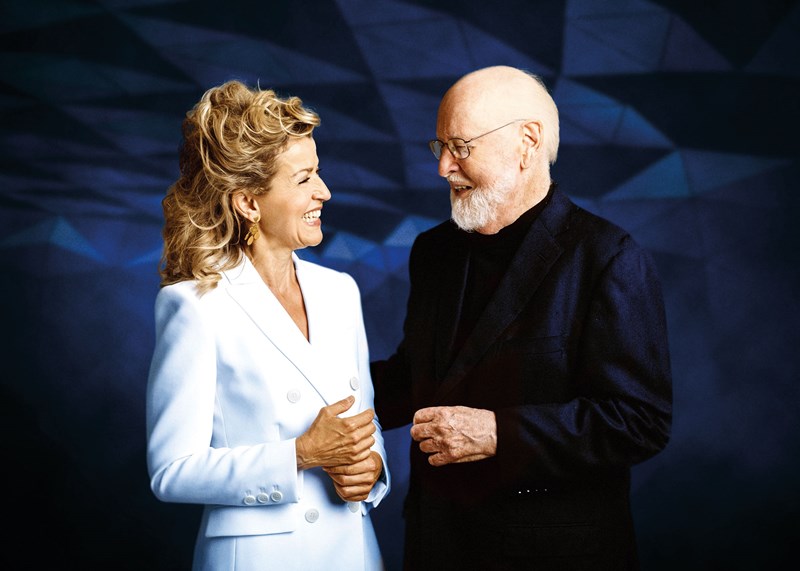 [John Williams with Anne-Sophie Mutter]
Listening to the Second Violin Concerto alongside Ma's recent recording of the Cello Concerto is instructive.
One of the most striking changes Williams made in the latter comes at the very end: there was a tragic sense of finality in the original version, with emphatic orchestral chords slamming the doors shut, as it were.
There's darkness in the final moments of the recent revision, too, but also a glimmer of light – the 'hero' does emerge intact, as Ma put it, however bruised and battle-scarred.
In the Second Violin Concerto, I don't hear the conclusion as a struggle for life or death so much as I hear it as a search for self-acceptance – for a sense of peace with the world and oneself.
In truth, each of Williams's concertos has something to offer, and each has enough subtleties and ambiguities to allow each listener to find their own connection with the music, to create their own narrative.
Or, as Slatkin says: 'If film music is dictated by the visual element, then in concert music it's the listener who creates their own vision. Having said that, I don't differentiate all that much between his film music and his concert works. I hear too many threads that interact and I think they end up influencing each other. After all, they both come from the same soul.'
---
Read our reviews of the Violin Concerto No 2 with Mutter (DG) and 'A Gathering of Friends' (including the Cello Concerto) with Yo-Yo Ma (Sony)
This article originally appeared in the July 2022 issue of Gramophone magazine. Never miss an issue – subscribe today