Leif Ove Andsnes interview: 'It's amazing what happens in three years of Mozart's life'
Hugo Shirley
Friday, May 28, 2021
Despite Covid's devastating tidal-wave effect on the music world, pianist Leif Ove Andsnes has miraculously salvaged his Mozart Momentum project for Sony Classical. He is amazed and grateful, he tells Hugo Shirley in Berlin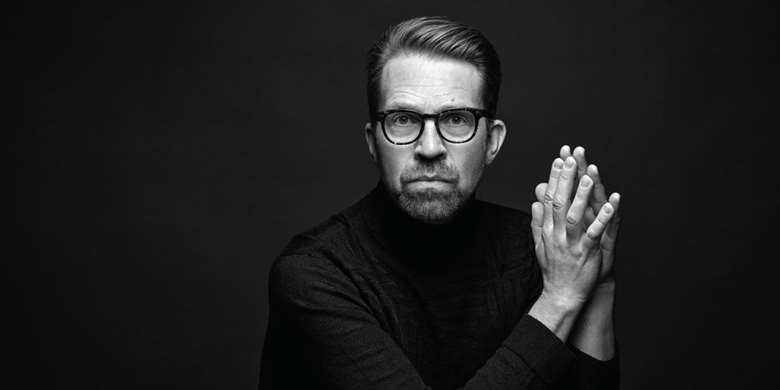 Berlin, early November. It's only days since the city's concert halls and opera houses have been forced to close as Germany – like most of the rest of Europe – moves towards another lockdown. Projects and plans are once more shelved, or straightforwardly binned. But then I receive a phone call. Would I be free to attend a recording session at the Philharmonie and interview Leif Ove Andsnes the following week? It's an assignment that was supposed to have happened in May, in Prague, which I've long ago given up on. 'Of course,' I say – and for the interview itself I suggest a socially distanced stroll through the Tiergarten. It comes as no surprise that Andsnes – one of classical music's coolest customers, and a hardy Norwegian for whom Berlin's autumn is, well, a walk in the park – agrees.
A week later, and after much toing and froing about how a pair of music journalists might slip quietly into the back of the Philharmonie without unleashing a second wave, a German colleague and I are waiting to be admitted to the main hall of Hans Scharoun's iconic building. Strains of the famous Andante from Mozart's C major Piano Concerto, K467, waft like a siren song over the intercom as Mark Parker, communications manager of the Mahler Chamber Orchestra (MCO), reels off a hushed inventory of what-should-have-beens and what-we've-managed-insteads.


'In May 2019 we were supposed to have our first tour, and I got pneumonia. I was in hospital just a couple of days before I was supposed to fly. It was like I was a prophecy of the pandemic!'

There's a pause, and we are admitted, shuffling to seats well away from the stage, where musicians of the orchestra are spaciously arrayed around a Steinway pointing upstage. Andsnes is there, casual but tidy in jeans and smart trainers, in the midst of a discussion with Matthew Truscott, the MCO's leader. There's another take: against murmuring triplets, the famous melody gently takes flight in the first violins before it passes to Andsnes, all singing tone and seamless touch. Then come more discussions, relaxed but focused, including contributions from producer John Fraser, who is sitting not in the Philharmonie's recording booth but 600 miles away in London. After some topping and tailing it's time for the finale, rattled through with dizzying sparkle, wit and accuracy. I sit there, thankful for Mozart and for this unexpected chance to savour his music, served up like fine champagne at the beginning of a drought.
Those involved in this project seem hardly less grateful – and, frankly, amazed – that it should have been possible to salvage something from plans that, as with Andsnes's previous 'Beethoven Journey' (2012-15), were to have incorporated extensive touring activity as well as recording sessions. 'This project has, to put it mildly, had a difficult birth,' the pianist admits as he talks to us in the foyer at the start of a break. And those difficulties started even before Covid turned the world upside down. 'One and a half years ago we were supposed to have our first tour, and I got pneumonia. I found myself in hospital just a couple of days before I was supposed to fly. It was like I was a prophecy of the pandemic!'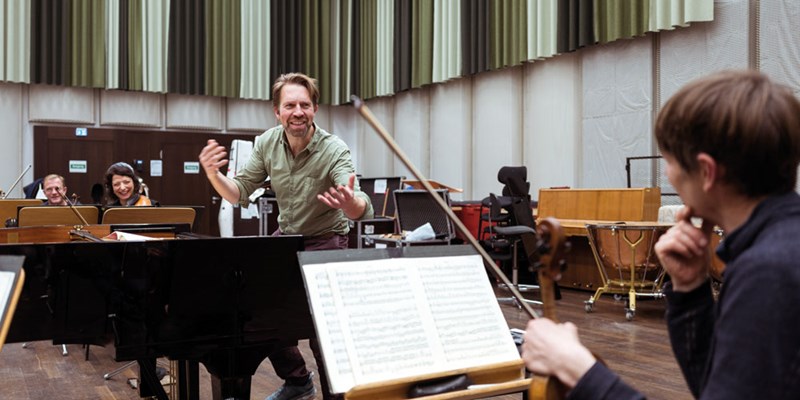 Mozart Momentum 1785/1786: recording sessions in Berlin with Mahler Chamber Orchestra, November 2020

A tour in spring 2020 inevitably got cancelled. Then an alternative plan for three concerts plus recording sessions was hatched. 'It looked like it would really happen,' Andsnes says. 'And then Germany closed down, and for the first time I thought, "That's it – all doomed!"' With some quick thinking, though, it was possible to salvage the sessions, even if they had to go ahead without the opportunity for pianist and orchestra to hone their interpretations in concert beforehand. 'We decided that we'd have to have proper rehearsals if we did it: we've had three very intensive days in the Staatsoper, and two days here in the rehearsal room of the Philharmonie,' Andsnes explains. 'And, of course, another challenge is the distancing,' he adds. 'I mean, we're sitting on stage like we're doing a Bruckner symphony! But it's fascinating what one gets used to.'
A major factor in making such a quick operation possible is Andsnes's relationship with the MCO, cemented during the years of their Beethoven Journey (he's been an artistic partner ever since). 'It created such a bond,' he says, 'especially in the last year, when Matthew Truscott joined.' That project focused on all Beethoven's piano concertos, and for its Mozartian follow-up Andsnes turns also to five piano concertos – Nos 20 to 24. But 'Mozart Momentum 1785/1786' has a chronological focus, looking at works that Mozart composed in the years 1785-86 across a variety of genres. 'It was my idea', Andsnes explains, 'to try to use this time in Mozart's life as a starting point.'

The 'momentum' starts with Piano Concerto No 20 in D minor, K466, the work that perhaps Andsnes knows better than most. It was the piece with which he made his debut with an orchestra, aged 14, and which he recorded in 2007 with the Norwegian Chamber Orchestra. (That recording was well received at the time, but Andsnes has clearly moved on: 'I was listening to it a bit the other day,' he admits, with a laugh, when I ask him about it, 'and I couldn't stand it, to be honest. Very lively, but …') For him, K466 marks a key point in Mozart's career, and in particular a turning point for the piano concerto as a genre. 'It's amazing what happens in three years of Mozart's life. In the year before 1785 he wrote six piano concertos, from the E flat, No 14, so that within three years there are 12 – up to the big C major one at the end of 1786, which we're not playing.
'There are such developments with those concertos that you would think the composer would need 15 or 20 years,' he goes on. 'But Mozart needed only three. All these pieces are ingenious, of course, but he nevertheless does something revolutionary and new when we get to the D minor. He separates the soloist from the orchestra much more, and when the soloist enters it's with very different music to that which the orchestra presents at the beginning.' This innovation, Andsnes goes on to suggest, perhaps even laid the foundations for Romantic concertos 'where the pianist has a kind of heroic role'.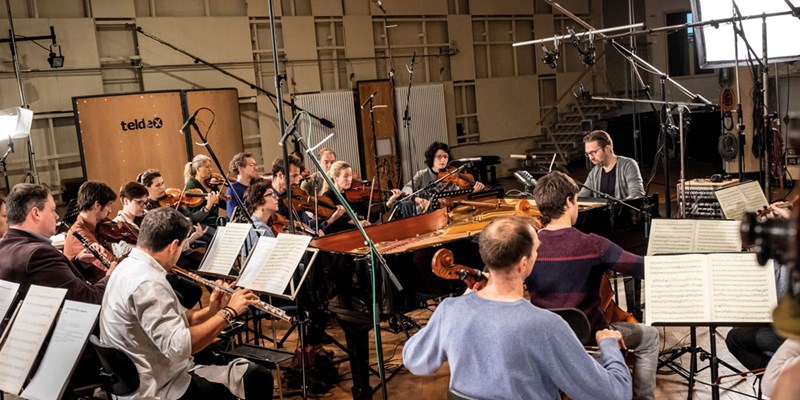 Andsnes and the MCO: Unboxing Mozart recording session pre-Covid – Berlin 2018

Beyond the five concertos, Mozart Momentum 1785/1786 sees Andsnes feature as both pianist – alone, as well as with his colleagues in chamber music – and conductor. These Berlin sessions cover the concertos Nos 20, 21 and 22, as well as the remarkable Masonic Funeral Music. A related educational initiative, 'Unboxing Mozart', kicked off as far back as 2018, and then came the chamber music in early 2020, the one part of the project that could run to plan in the year of the pandemic: Andsnes and colleagues from the MCO were able to perform and record the two Piano Quartets (K478 and K493) and the Piano Trio in G, K496, as well as the solo C minor Fantasia, K475, before Covid struck. At the time of writing, the remaining sessions for the project are still planned for late spring.
The Concertos
As we leave the Philharmonie en route to an autumnal Tiergarten, I ask what Andsnes sees as the advantages of programming in this way. It seems to me, I venture, a way of bringing the piano concertos out of the abstract sphere of the Köchel catalogue and helping us hear them as the work of the living, breathing – and performing – composer. 'Yes, you're right,' he replies. 'It's easier to envisage how he created them and how he performed them, particularly in those places which need to be decorated in the piano part – mainly in the slow movements, but also in the magical serenade in the middle of the last movement of the E flat Concerto No 22 [K482], which is so unusual.'
Andsnes's playing in the session, especially his impish, playful way with the finale of K467, is still ringing in my ears, helped by his choice of the quicksilver cadenza by Dinu Lipatti – 'An idol,' the pianist notes, calmly. And as we talk, he reveals the effort he's made to find cadenzas he likes. In K467, alongside Lipatti's in the finale, it's Géza Anda's in the first movement. For the D minor, he's opted for well-known historical cadenzas – Beethoven's in the first movement and Hummel's in the finale. But the other concertos look set to throw up some historical surprises. 'We're going to do a kind of residency at the Vienna Musikverein with this project at some point, and they offered to send some autographs of manuscripts they own of cadenzas from Mozart's time. They are anonymous, nobody knows who composed them, but I got a couple of cadenzas sent from the 1790s. For No 24 in C minor, which is coming up in the next session, I will use one of these. It's not huge, but it's interesting.'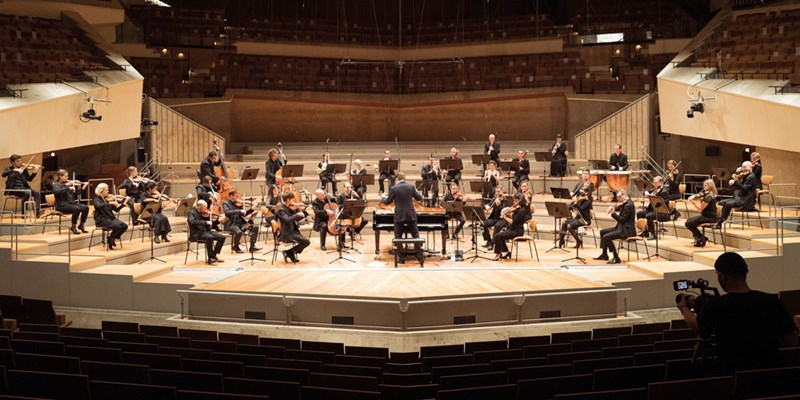 Mozart Momentum 1785/1786: recording sessions in Berlin with Mahler Chamber Orchestra, November 2020

For the finale of K482, Andsnes calls upon Anda once more, but he wasn't happy with any existing options for the first movement. 'I had problems finding something that I liked. A few years ago, I was talking with our producer John Fraser, who's also a pianist, and he said, "I'll give it a go." He wrote this huge cadenza, and we worked on it, and I really, really like it. It's become the cadenza for me for that concerto.' As we chat, it becomes clear how much Andsnes admires this piece – something of an ugly duckling, in terms of popularity, compared with the other four he's performing.
Why, I ask, does he think it's a relative rarity? 'One of the reasons it might be played less often is that it's so hard,' he explains. 'In terms of technical challenges at the piano, it's two steps up from the others, especially if you want it swinging in the finale, where you have passages in octaves in both hands – it's really a Lisztian feature to write like that. But it feels like such a pivotal and important piece. It's the longest, the grandest of all. And this minuet, this serenade in the last movement, makes it especially long. And I wonder if it's not a nod to his first masterpiece in the genre, the Jeunehomme, No 9 (K271), which is also in E flat and which does exactly the same thing; these are the only two occasions when he did that. It's such an operatic moment, you can imagine it as like one of those little ensembles on the side of the stage in Don Giovanni.'

It's typical of Andsnes's broader contextualisation that he should hear the operatic in Mozart's concertos, and he goes on to reveal that it was the operas that helped unlock the composer for him as a young man. 'As a student and a young pianist with a career, it took me a long time to enjoy Mozart,' he admits as we dodge cyclists along one of the Tiergarten's main paths. 'Haydn felt more grounded; and Beethoven, of course, is great for younger people, where you feel the revolutionary character and the irrationality.
'But Mozart was very ambiguous for me for a while. When you're young, people tell you: "This is 'Classical' music; this is from the 'Classical period'; it has this structure called sonata form; try to avoid the pedal!" It can feel like limitations instead of possibilities. I had a long period when I was not playing it all that much. It was much more obvious to me to play the later Romantic and 20th-century music. Then I remember having an epiphany listening to and seeing the operas and thinking: that's what this music is all about! It's theatre, it's people, it's conversation.'
A turning point 
Andsnes turned 50 last year and his more recent career in the studio shows a marked contrast to the voracious covering of the repertoire – and the no less voracious hoovering up of Gramophone Awards – that characterised his earlier years as a Virgin and then EMI artist. He joined Sony Classical a decade ago, starting a partnership that has seen reappraisals of Beethoven and now Mozart alongside selected solo albums, of Sibelius (11/17) and Chopin (11/18). Away from Sony, there has been a rip-roaring Stravinsky collaboration with Marc-André Hamelin on Hyperion (2/18) and a thoughtful Schumann programme with Matthias Goerne (7/19), as well as recent recordings of music by Bent Sørensen (7/20) and Ketil Hvoslef.
One might put this shift in rhythm and focus down to changes in the industry, but for Andsnes it was also a conscious choice. With the arrival of a first child in 2010, he gave up his role as artistic director of the Risør Chamber Music Festival in Norway (after 17 years) and cut down on concert appearances. 'I was 40 and had been doing 110 to 120 concerts a year for quite a while. I was kind of exhausted by the lifestyle, and because I was never getting home. So, for the last 10 years I've played about 70 concerts a year. I also had to reduce the number of different projects I was doing. That's given me a focus, and I have to ask myself: what do I really want to concentrate on?'


'I had an epiphany on seeing Mozart's operas. It's what the concertos are all about! It's theatre, it's people, it's conversation'

It didn't take him long, however, to find another festival to be associated with. 'I thought I'd done enough of that when I stopped at Risør. But then I found that it's in my blood – the curating of programmes has been part of my life since I was in my early twenties. In 2016 the opportunity arose to start this new festival in Rosendal. It's not big, so there's not a lot of work, but I feel it's important.' The 2020 Rosendal Chamber Music Festival fell foul of Covid, with Andsnes able to salvage only a streaming concert: a refreshingly unorthodox programme mixing Beethoven with a new quartet for flute, saxophone, cello and piano by Norwegian saxophonist and composer Marius Neset (b1985). 'That piece was really hard work,' he admits. 'I spent so much time in the summer working on it, but it was really exciting and I would love the opportunity to record it sometime!'
Before that, though, there's not only the second half of the Mozart Momentum project to record, but also a characteristically interesting solo project: a recording of Dvořák's 1889 Poetic Tone Pictures. 'It's an hour-long solo piano cycle of 13 pieces', Andsnes explains, 'which I think is very neglected, and which I'm very excited about – and for me it's just incredible that this music isn't known!' The sessions, brought forward to fill lockdown-induced gaps in the pianist's schedule, are planned – at the time of writing – for late spring.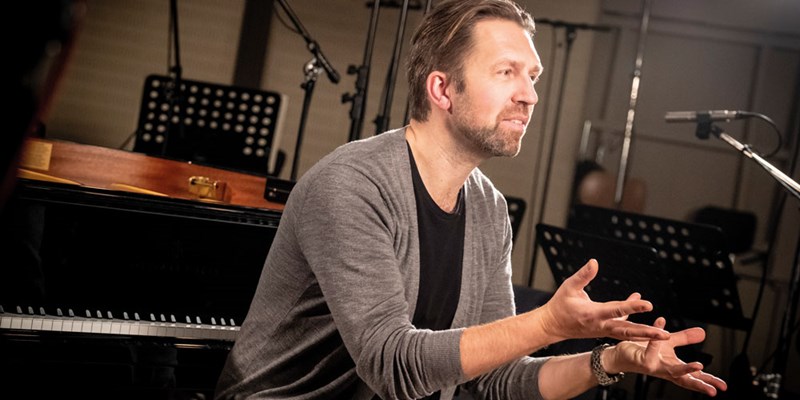 Andsnes and the MCO: Unboxing Mozart recording session pre-Covid – Berlin 2018

Lockdown has brought other opportunities, or at least did so once Andsnes had got over the initial shock. 'I found it very difficult in the beginning,' he admits, 'and also we have three children and they were doing homeschooling. I found myself totally without direction for the first month. I couldn't think about music and the piano. Then, after a while, a little bit, I started studying the Chopin preludes, which I had never played.' It's still early days with the Chopin, and there are no plans as yet to perform or record them. Nor, when we talk, has Andsnes got any further tranche of the repertoire in mind to which he might apply the concentrated 'project' treatment he's afforded Mozart and Beethoven. He would like to revisit Brahms and Rachmaninov, he tells me, and perhaps, too, Szymanowski's Symphonie concertante. But he doesn't see himself playing-conducting repertoire later than Beethoven. 'I'm not going to do Brahms concertos without a conductor,' he says, with a small laugh – a statement that might or might not imply a mild criticism of colleagues who have.
Coda
As we wend our way back to the Philharmonie, Andsnes reflects on some of what's changed over the last year. 'We were editing the chamber music part of this recording online recently, and I had no idea that this could work,' he notes. 'With all my recordings I've always flown to London for two days and been part of the editing process, and now that I realise it's totally unnecessary I will never do it again. And when John brought up the idea of producing it from London I agreed, although of course it would be nice to see him!'
The previous day, he tells me, someone had asked him how he felt about needing to quarantine on his return home. 'I would quarantine for a hundred days to be able to do this project!' he says now. 'I feel so lucky this week to be in a room like that,' he adds, gesturing towards the Philharmonie, 'and to hear such sounds. I've learnt to really appreciate being in this kind of space – with a good piano, and with great musicians around me. I never realised how lucky I was. Now every project is a gift.'
Leif Ove Andsnes's first Mozart Momentum 1785/1786 recording is reviewed in the June issue. Read the review in the Reviews Database.
This article originally appeared in the May 2021 issue of Gramophone. Never miss an issue – subscribe today