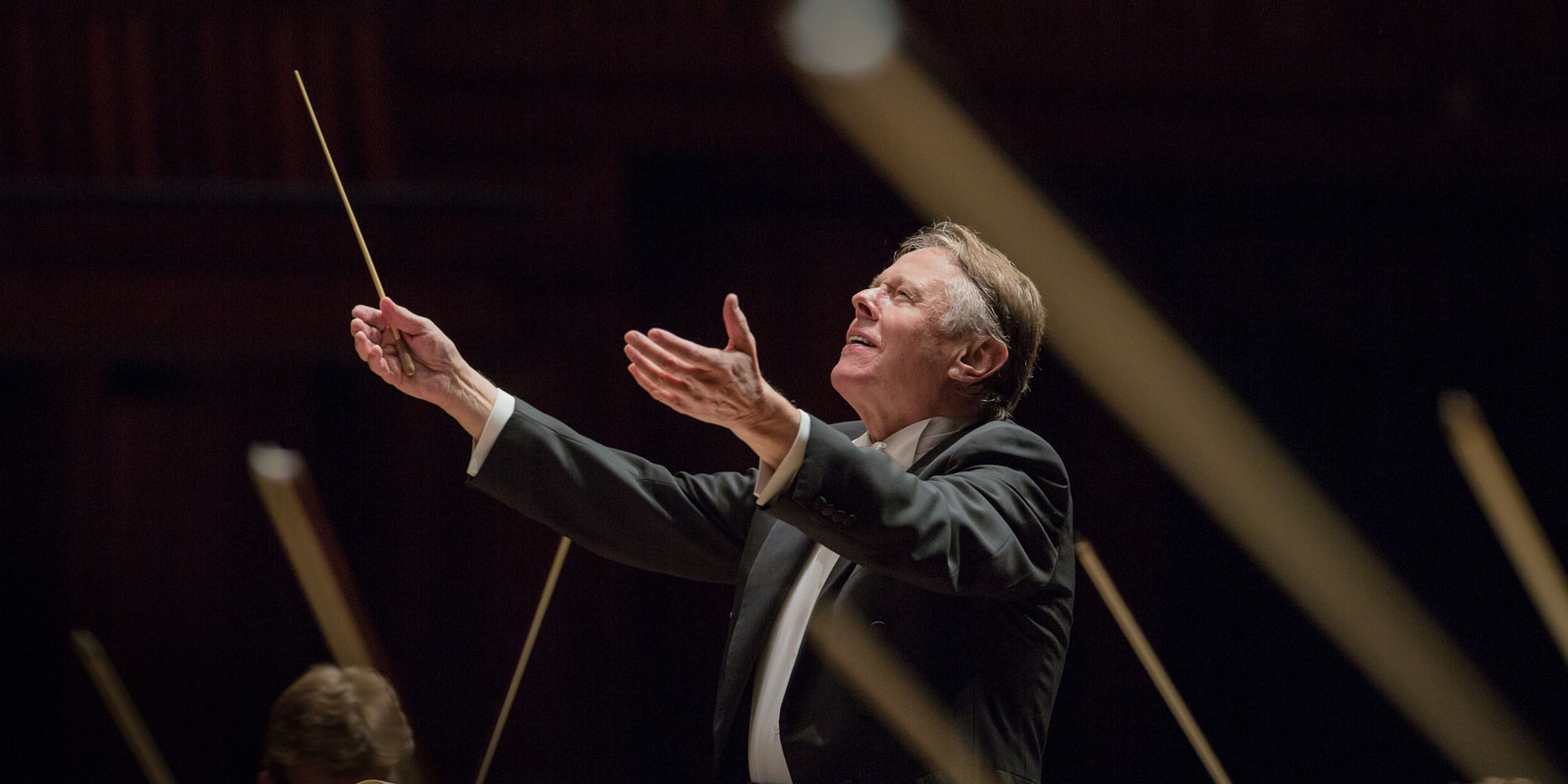 On the cusp of his 75th birthday, the Latvian conductor Mariss Jansons reflects on his long and distinguished career with Michael McManus but says he still has ambitions to fulfil
Lunchtime approaches on a bitingly cold November day in Munich. In the suffocating acoustic of the generally loathed Gasteig, Mariss Jansons and the Bavarian Radio Symphony Orchestra (BRSO) have been recording 'patches' or 'pick-ups'. Earlier in the week they meticulously rehearsed Bruckner's Symphony No 8 section by section, and yesterday morning they played it from start to finish, without a break. As the only person privileged enough to be listening, I clambered silently up from the stalls to the furthest point of the hall. The musicians might as well have been a world away by the time I attained the summit. Tonight they will play the work before a packed house and, in 10 days' time, a fortunate audience will hear this superlative creative partnership play the work in the peerless Great Hall of the Musikverein in Vienna. For now, though, most thoughts are of posterity: any tiny slips from yesterday can be forgiven and forgotten, because a full, immaculate performance is now 'in the can'.
The much-loved producer Wilhelm Meister is making his last recording, and the musicians have serenaded him and presented him with a retirement gift. Now he asks whether there is anything else Jansons wants to do before the players depart. Yes, replies the maestro, who then thanks his 'dear colleagues', profusely, sincerely and touchingly, for giving him the opportunity to work with such talented musicians at this level of creative endeavour. The mutual respect and affection are palpable and one cannot but reflect upon the role Jansons has played in ushering out the demagogues and taskmasters of yore, replacing them with a democratic, even republican, spirit on the podium. His arrival in London a week later is preceded by publication of an interview in which he says women on the podium are not his 'cup of tea'. For all his sophistication as a musician, there is a certain, old-world naivety about Jansons in the modern world of PR, instant offence and social media. His team from Munich close ranks fiercely: if they are annoyed, they are annoyed for him and not at him. A statement is issued and, in a carefully calibrated, humble and gracious acceptance speech for the Royal Philharmonic Society's Gold Medal, Jansons makes a point of expressing his hope that future generations of aspirant conductors might enjoy good fortune comparable to his: both boys and girls.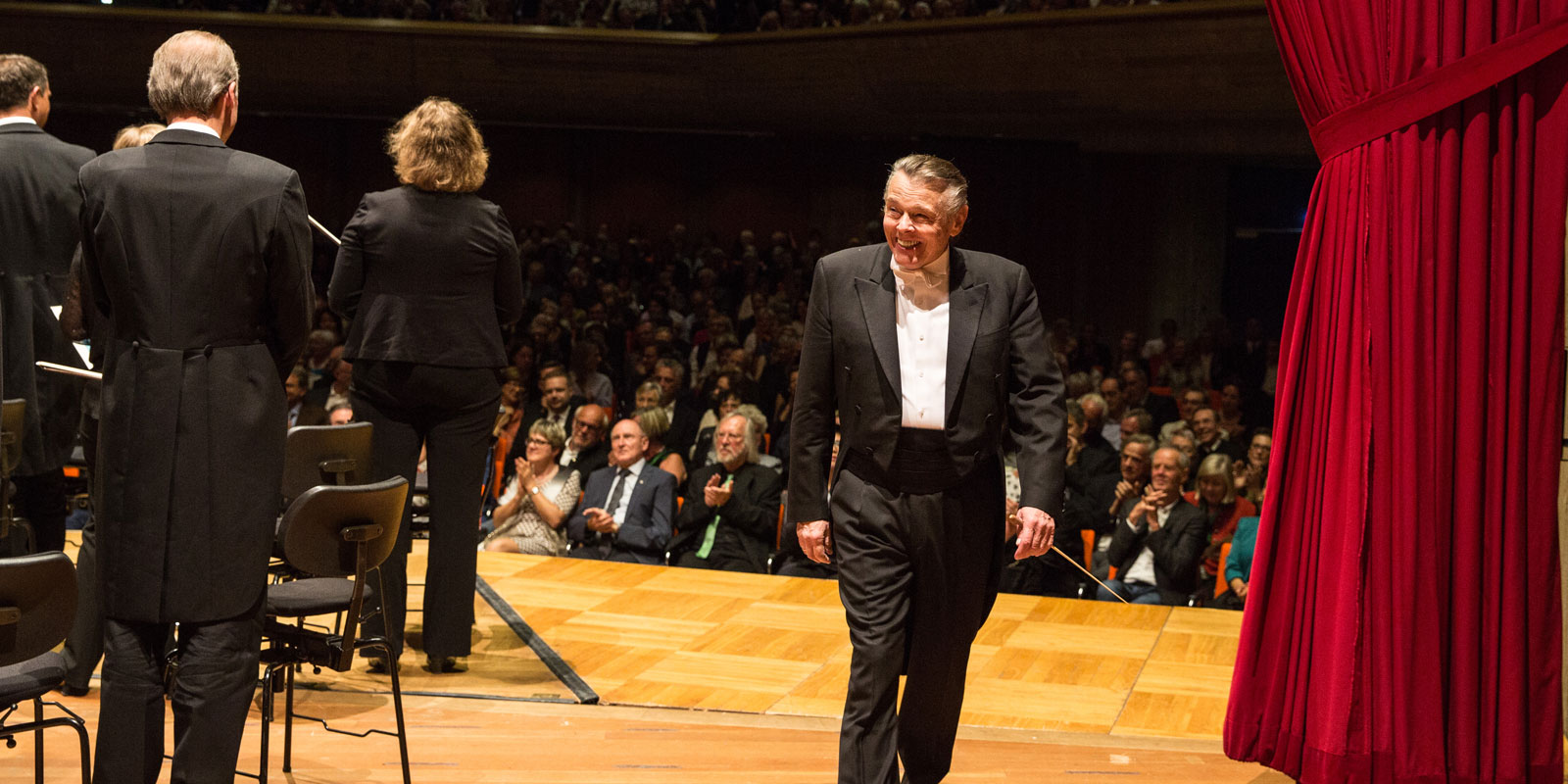 Talking to Jansons as he contemplates his imminent 75th birthday, I am struck once again, as I so often am, by his boundless energy, positivity and essential good nature. We have spoken numerous times before, but on this occasion I had sent through some lines of questioning in advance to help him focus. He picks up immediately on the first of them. I have often read about how difficult his earliest years were, with he and his family enduring the brutal German occupation of Latvia, and I had planned to ask how much effect that experience had on his development. He immediately puts any early travails into perspective: 'I can't say my life was very difficult – everything is relative. My parents were wonderful and gave me so much affection.' Despite the undoubted challenges of the time, during which the small Baltic state was reannexed by the Soviet Union, becoming a musician was an ineluctable calling. 'I grew up in a musical atmosphere and there was no babysitter,' he explains. 'So I went with my parents to the opera house from the age of three and listened to rehearsals and performances. Soon I knew all the ballets from memory and some operas too. Then my father bought a violin and started to teach me.'
A greater challenge came after the family moved to Leningrad (St Petersburg) in 1956 and Jansons was enrolled at the music academy there. 'It's difficult to leave your native country when you're 13 years old. I knew very little Russian and many things I didn't understand, purely because of the language. I felt uncomfortable. Also, it was not so easy to be the son of a famous conductor [Arvı¯ds, 1914-84]. People had the perception he would just support me, regardless, so it became a question of what Mariss could do for himself and I became very serious and studied very intensely. I had a house teacher who taught me Russian and helped with translations of my work. Within half a year I was becoming fluent, and also successful in my studies.' This is characteristically modest: at 28, Jansons won the Karajan Prize in Berlin. 'Then, of course, I felt sure that I could be completely my own person. It gave me the strength and courage to feel: 'I am Mariss Jansons'. It was then that my career started.'
In the late 1980s he emerged, as if from nowhere, as the coming man of a new generation, and it was his recordings that helped to make his name. By the time that Glasnost began to open up the Soviet Bloc, Jansons – then a mature artist in his mid-40s – was already working frequently in the West, principally with the Oslo Philharmonic and the BBC Welsh Symphony Orchestra. His superlative recorded cycle of the Tchaikovsky symphonies was produced in Oslo between January 1984 and December 1986 by Chandos. This not only refreshed jaded ears in the familiar triptych of late symphonies; it also demanded that we should reassess the lesser works of that canon (Manfred and Nos 1-3), the Oslo Philharmonic itself and also the conductor responsible for this orchestral alchemy. In November 1986, Jansons made his only studio recording with the BBC Welsh – a rather underfilled but first-rate CD of works by Shostakovich on the shortlived BBC Enterprises label – and also recorded the complete version of Rachmaninov's Second Symphony with the Philharmonia, again for Chandos.
In autumn 1987, it was Jansons who led the legendary Leningrad Philharmonic Orchestra on its first foray to the West in almost a decade. Following in the footsteps of his father, who had died three years earlier, Jansons was assistant to the feted (but now ailing) Evgeny Mravinsky. Chandos took its A-team to Dublin to set down Prokofiev's Symphony No 5 on that tour, a recording that more than holds its own today and one of the last to capture that orchestra while it still sounded truly distinctive.
In 1992 the London Philharmonic appointed Jansons as Principal Guest Conductor for five exciting years. The end of that partnership coincided with the start of his tenure in Pittsburgh, leading an orchestra with a proud history but with a home city in seemingly terminal decline. This partnership nearly didn't happen at all. Just as Jansons was reaching an early zenith, he suffered a heart attack while conducting Bohème in Oslo. Although his father had died after a similar incident in Manchester, this came as a 'great shock' – would he ever be able to pick up the pieces? 'I was afraid at first,' he says. 'How was I going to manage?' For his comeback concert he chose not Berlin, Vienna or even Oslo, but Wales – the BBC Welsh, simply because 'I liked them very much'. The experience was revelatory. 'At the beginning of the rehearsal I was very careful because I was afraid. Then, in the break, I said to my wife, "You know, I can't do it like this. Either I'm conducting 100 per cent or I'm not conducting at all." So, after the interval, I was back to normal, to full strength. Gradually I started again to work too hard, too much – and my life started again.'
I well recall being amazed – and not a little alarmed – the first time I saw Jansons conduct after this life-changing event. If anything, he was more energetic than I had remembered, ending the concert doused in perspiration.
Jansons's unhappy propensity for jet lag eventually defeated him in Pittsburgh and, in 2002, he announced he would step down in 2004. He did make a handful of impressive recordings there, however, and the CD of Shostakovich's Symphony No 8 includes a priceless excerpt from a rehearsal, which reveals the man even more than the music itself does: we hear Jansons speak with authority (yet humility), illuminating musical insight and unerring historical authenticity. In 2003, he became Chief Conductor of the BRSO and, a year later, the sixth ever Chief Conductor of the Concertgebouw Orchestra.
When leading two major orchestras became too much for him, Jansons surprised many people – but not those who knew him well – by forsaking Amsterdam and extending his tenure in Munich. Nowadays Jansons can conduct wherever, whomever and whenever he likes, but he has chosen to focus his energies principally upon one orchestra. 'I always held a position with two orchestras,' he says, 'but now it's only one … it is difficult to be Chief Conductor of two such great orchestras. When you're young it's OK, but in later years you must think more about your health. It was very difficult to leave the Concertgebouw. I liked them and they liked me.'
It seems like the merest blink of an eye since I was with him and the BRSO in Tokyo, just a month before Jansons turned 70, as he and his colleagues performed (and also recorded) a full cycle of the Beethoven symphonies in Suntory Hall. Five years on, this most genial of maestros seems as energetic as ever, devoted not only to maintaining and indeed raising musical standards of the BRSO, but also playing a dogged role in ensuring that, after years of squatting in the Herkulessaal (too small) and the Gasteig (wrong in almost every way), this outstanding ensemble will at long last have a home to call its own. It was precisely that struggle against the odds – against bureaucracy and against all kinds of obtuse political logjams, which seemed for so long to be in vain – which inspired Jansons to favour Munich ahead of Amsterdam. He sees parallels with Simon Rattle's stop-start campaign for a new, purpose-built concert hall in London and believes that Rattle, too, will ultimately win through.
'It is terrible that culture is not supported enough anywhere, but nobody can live without culture or without art. This is impossible. It will live forever.' – Mariss Jansons
When we speak, architects and acousticians are on the cusp of being appointed to the Munich project. 'I am 100 per cent dedicated to Munich. We have struggled for 10 years to have a hall of our own. We have a great victory, but it took a lot of energy. Now the politicians are less involved and the professionals take over. We should start to build this year, but it will take five years to complete. The new house must be comfortable, but it must also be such that the acousticians can make a really good acoustic.' Jansons cares not only about the spiritual aspects of great music: he wants people to hear every note, every instrument, in perfect balance; he is passionate about classical music reaching out to new, young audiences; and he continues to explore new work as well as shining his distinctively inspiring, exploratory light upon familiar repertoire. 'It is terrible that culture is not supported enough anywhere, but nobody can live without culture or without art. This is impossible. It will live forever.'
Jansons and his players have adapted readily to the new contours of the market for recorded music. When this magazine gamely listed the world's top orchestras in 2008, the Concertgebouw came top and the BRSO sixth, way ahead of any other radio orchestra. Jansons sees the fact that the BRSO is a radio orchestra as a major advantage. 'They are completely comfortable that everything they do is recorded. That is what they are used to – it does not add any pressure whatsoever.' The Bavarian Radio has always recorded every concert anyway, which gives the players a considerable advantage in today's climate. 'In live performances, of course, there can always be mistakes – we are human beings, not machines,' he concedes, but 'live recording has a special atmosphere … It's very specific. When I did make studio recordings, I would always endeavour to generate a concert atmosphere – a spirit – and to influence the players to play as though the public were there.' Microphones, then, hold no terror for members of a radio orchestra: 'When musicians see a microphone, they are mobilised more – but if they play very rarely with microphones, then they get nervous. For these BRSO players, it is just normal.'
Even so, as I saw for myself last November when Jansons and the orchestra played and recorded Bruckner's Symphony No 8, the production team has found a modus operandi that is both economical and relatively stress-free. 'We record our general rehearsal, then we have a "patch" session. So, when the public come to the concert, the dangerous parts, the risky ones, we already have in the can. If the concert is better, then, of course, we choose the concert.' Jansons has always had half an eye on posterity, and he records for those years yet to come, not for the here and now. 'We can listen to Mengelberg, Carlos Kleiber – and future generations will be able to listen to us, to our documents for the future. Perhaps they will like what they hear, perhaps not, but they will know how we did things, how we sounded.' It's certainly not a question of money, he insists. 'It's about satisfaction, it's not a commercial thing. Before, it meant money for the orchestra, but now it's almost impossible to earn royalties.'
'I want to do opera – that has always been my dream – but I never had the time to devote myself 100 per cent to it' – Mariss Jansons
Jansons continues to explore new and unexpected repertoire. He recently premiered a substantial choral piece by Wolfgang Rihm and, in this year of Leonard Bernstein's centenary, he will take his Divertimento and the Candide Overture to Lucerne. 'I like Bernstein as a composer, enormously as a conductor, but, above all, as a human being. I knew him and he was a fantastic man, a fantastic human being.' He is also considering conducting – and recording – the Chichester Psalms. I really, really hope that happens. So what else might the future hold? 'I want to do opera – that has always been my dream – but I never had the time to devote myself 100 per cent to it. Opera takes so much time. I hope my future work with the Concertgebouw will focus on opera. In 2017 I did Lady Macbeth by Shostakovich and this year it will be The Queen of Spades.' In recent years, Jansons has confined his guest-conducting to one programme per year with each of the Berlin and Vienna Philharmonic Orchestras. Consequently, barring the occasional Prom concert or appearance with 'his' orchestras at the Barbican Hall, he has become a relative stranger to London, where he was once a major presence. 'Of course I would like to come back to the London Philharmonic or the London Symphony,' he says. 'I don't know how they are now, but I'm sure they are on a high level – they were always very quick – and it's a fantastic thing that Simon [Rattle] is now in London. If they invite me, I will try to come.'
We close with my asking about any remaining ambitions. He laughs, then turns serious. 'To live and work at a high quality – not going down. I would like to remain, for as long as possible, a good conductor. And, if I feel I can't be on a good level anymore, then I must have the strength to make an immediate decision for myself: "That is enough!" It's a difficult moment. Who else will tell you? My wife, or a very, very close friend? I'm not sure. I think this is a task you must reserve for yourself.'