Meeting conductor Gianandrea Noseda: 'You don't create anything from nothing; you always build on someone else's work'
David Patrick Stearns
Thursday, September 21, 2023
Gianandrea Noseda's insatiable appetite for exploration and communication takes in Beethoven, neglected modern masters and more. David Patrick Stearns meets the unstoppable servant of the big idea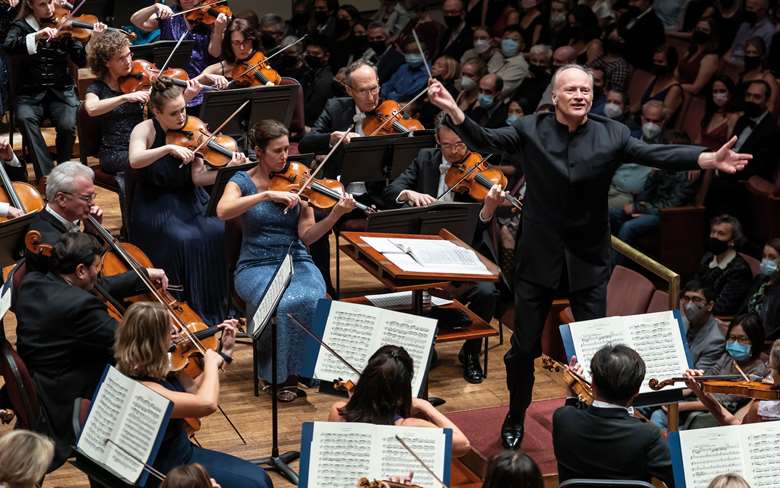 With its panoramic view of the iconic Potomac River and history of legends-in-residence such as Leonard Bernstein and Mstislav Rostropovich, the Kennedy Center of Washington DC has something unexpected lurking in the gift shop. Amid chocolates, T-shirts and other tourist-geared items, conductor Gianandrea Noseda is curiously represented in the CD corner by symphonic composers who are barely heard of, much less heard – Goffredo Petrassi (1904-2003) and Alfredo Casella (1883-1947).
At the other end of the recognition spectrum, Noseda is conducting a Beethoven symphony cycle with the National Symphony Orchestra (NSO) at the Kennedy Center in a new high point of his six-year tenure here – but Beethoven is paired with George Walker (1922-2018), whose long-neglected, ultramodern sinfonias are a counterpoint to the Classical composer's symphonies. Meanwhile, Noseda the violin collector keeps his eye out for good instruments that he makes available to his musicians on a two-year loan – often knowing a violin's city of origin from a moment's glance. 'Actually,' he admits, 'I'm not good at recognising instruments from Florence or Rome … yet.'
Multiple Nosedas, it seems, are out and about, though they come together seamlessly with the experience of the key positions he has held over the decades: Principal Guest Conductor of the Mariinsky Theatre, St Petersburg (1997-2007), and the London Symphony Orchestra (2016-present), Principal Conductor of the BBC Philharmonic (2002-11) and Music Director of the Teatro Regio di Torino (2007-18) – plus his current, long-contract relationships. He spends 12 weeks a season as Music Director of the NSO (contracted till 2027), and next season he leads the orchestra on its first European tour since 2016. As General Music Director of Zurich Opera (17 weeks a season till 2028), he is continuing the Wagner Ring cycle he began last year.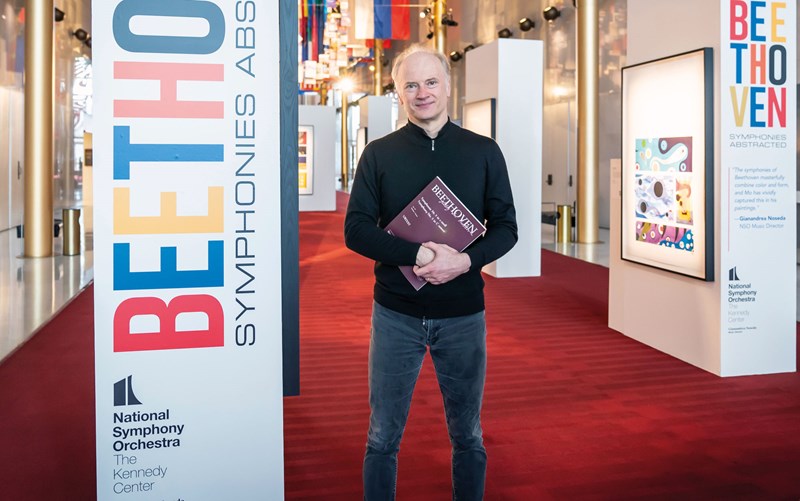 At Kennedy Center, 2022, when Beethoven symphonies were featured alongside an art exhibition (photography: Scott Suchman/The Kennedy Center)
Although he is approaching 60, which usually is a time of consolidation for artists, 'yet' is the emblematic word in his life. 'I'm very curious … not exclusive with anything,' he says. That temperament matches his over-six-foot-tall stature and expansive arms that give him perhaps the most inviting 'wingspan' in the business. At times, according to some musicians, he almost seems to cuddle the orchestra, though with eyes that often have an intense look of surprise. But as precise as he can be, there's a demonic side, the musicians say, in what adds up to 'a power wash of musicality', says NSO principal hornist Abel Pereira.
Often, repertoire finds him. Walker's five dense sinfonias came highly recommended by Sir Simon Rattle some seven years ago: 'We ended up in a bar together, in Toronto. He was conducting the Berlin Philharmonic on tour and I was guest conducting the Toronto Symphony Orchestra. He said, "When you go to Washington, you should look at the music of George Walker. Fantastic composer! Neglected." And when Simon Rattle suggests something …' Washington DC was Walker's home town.
There was nothing remotely pretty, glowing or superficial in the Ninth's first movement. This was Beethoven on a mission – and, with Noseda, profundity without pretence
Evidently, Noseda's not one to avoid less-charted territory. Making his 1998 US debut at San Francisco Opera with Prokofiev's then little-known comedy Betrothal in a Monastery might not seem like the most advantageous career move, but Valery Gergiev opened the run and Noseda was tapped to finish it. He has since made debuts elsewhere in that opera and has recorded more Prokofiev than any other conductor.
His programming tends towards complete cycles, from Beethoven to Casella to Walker – a mentality that carries over into presenting complete performances of Stravinsky's The Firebird and Prokofiev's Romeo and Juliet rather than the usual suites. 'Just to play one symphony is a journey, but a complete cycle is a journey that takes you from one point to another,' he says. 'If I can, I do it chronologically. In Beethoven, you start to anticipate the change of harmonies, how he displaces accents from the strong part of the bar to the weak part of the bar. You then become familiar with the composer, like a relative, a part of the family.' Not that Noseda connects with everything. He still doesn't quite know what to do with Prokofiev's going-everywhere-fast Symphony No 2, nor does he get Shostakovich's Second and Third symphonies, which are more like patriotic cantatas.
In general, Noseda is a servant of the 'big idea' – overarching themes that unify a series of concerts, galvanise audiences, empower musicians and attract donors. Some call it 'conceptual virtuosity', examples of which were burgeoning during his journeyman decade with the Mariinsky Theatre, the doors to which opened to him following his piano and composition studies, and later conducting studies, at the Milan Conservatory.
As he transitioned into conducting, Noseda attended a postgraduate seminar in 1993, working with Gergiev, from whom he learnt 'how to shape sound and convey energy during the performance'. A different kind of impact came from conductor Ilya Musin (1903-99), a true connection with pre-revolutionary Russia, and a feature of the same seminar. Only three years after Noseda's 1994 professional conducting debut, he was working at what was then called Kirov Opera (now Mariinsky Theatre), exhilarated by living amid sites once frequented by Stravinsky and Shostakovich – as well as observing the adventurous model of the Stars of the White Nights festival, whose 1993 founding on a bare-bones budget helped bring a post-Soviet identity to the company.
Noseda discusses Gergiev with carefully chosen words that neither praise nor detract. But Gergiev's early audaciousness – such as flying his company in and out of London on the same day for a concert performance of a Rimsky-Korsakov epic – must have partly inspired Noseda's great gamble, years later, at Teatro Regio di Torino. There, to tell the world that world-class opera exists in Turin, he conceived a North American tour of Rossini's greatest, grandest and least-portable opera, William Tell. The price tag for a four-city 2014 tour was roughly 1m euros, requiring Noseda to raise funds himself. In the US, conductors appear at fundraising events but stop short of what's called 'The Ask'. Noseda, however, says: 'In Italy, I asked. If you present them with something easy, they don't listen. But if you present them with a crazy idea, that will get their attention. Lucia, my wife, pushed me to go to the top. The worst they could say was no.'
Right on the verge of the tour, however, Noseda threatened to leave his position (though he would continue as a guest conductor) because he felt his efforts weren't supported by management. A settlement was finally reached. Noseda now says that he learnt to aim for 'the highest possible compromise'. He stayed for four more years, his departure from Turin dovetailing elegantly with the announcement of his appointment in Zurich, a tenure that was to begin three years later, in 2021.
Both Zurich and Washington were places in need of big ideas – less so the former, where Fabio Luisi (2012-21) had built the Philharmonia Zurich into a solid, stand-alone concert ensemble and recording presence. With 1100 seats and sympathetic acoustics, Zurich Opera House was one of the few places where one could hear Europe-based, travel-shy singers such as Cecilia Bartoli (box office personnel would assure ticket buyers, 'You will see the whites of her eyes!'). Adventurous productions of Offenbach's lighter-weight La belle Hélène had seen Nikolaus Harnoncourt forsaking the orchestra pit to join an onstage kickline in 1997. But however provocative, the 2002 Otello production set in a spaceship was less than meaningful. Artistic backbone was needed.
The big idea waiting for Noseda in Zurich was the current neoclassically designed Ring cycle with its pristine-white sets and directed by intendant Andreas Homoki. It is nothing if not thoughtful for having been conceived at length during lockdown. Noseda talks about some of his casting coups involving lighter voices in heavy roles – such as Camilla Nylund (normally a Sieglinde) as Brünnhilde, and Klaus Florian Vogt (normally a Parsifal) as Siegfried.
The NSO's history was more complicated. Many glamorous figures had been there, but none left the sort of artistic personality that yields high standards no matter who is conducting. Noseda is considered to be responsible for the orchestra's greater artistic consistency, though he won't take full credit: 'You don't create anything from nothing; you always build on someone else's work. Whenever there is something rhythmically challenging, you feel the legacy of Leonard Slatkin (1996-2008); in the core central European repertoire, you feel the hand of Christoph Eschenbach (2010-17). It's never a one-man show.'
The orchestra's media presence had been haphazard, but this is no longer the case. Already established on Medici TV through the Verbier Festival and the LSO, Noseda brought the NSO with him, and the orchestra now has five videos on the channel. The in-progress recorded Beethoven cycle and Walker sinfonias are put out by the orchestra's own label but distributed, along with other Noseda releases, by LSO Live.

But for all of Noseda's savvy (also including guest engagements in New York, Amsterdam, Munich and with the Tsinandali Festival youth orchestra in Georgia), he almost saw much of it go down the drain in June 2017 when, just as he was about to start his opening Music Director concerts in Washington, he required emergency back surgery in Italy – within 48 hours, or he might never walk properly again. Conductors can be too driven to attend to their self-care. Also, Noseda happened to be conducting Verdi's bad-luck opera Macbeth in Turin. 'It was absolutely that,' he says, with no irony. Retreating to his home on the southern end of Lake Maggiore, he cancelled two months of concerts, lost weight, established a daily exercise regime, acquired a special ergonomically sound rehearsal chair and, says NSO principal viola player Daniel Foster, never took it easy or asked for sympathy.
Noseda is in it for the long haul, maybe beyond Washington and Zurich. Some conductors frankly don't want the kind of top opportunities that are being handed to the likes of Klaus Mäkelä. The pressure is extreme. But Noseda doesn't rule that out. There's pressure everywhere, he says.
Career ambition, however, is not foremost in his mind. He ponders the placement of the fermata in the opening statement of Beethoven's Symphony No 5. 'I spend a large amount of time asking myself, "Why that note that follows the previous note?" … trying to find the truth behind the notes,' he says. 'It helps me be like a playwright … Of course, I'll never know if Beethoven wanted to tell that story through the music, but … it's a possibility.'
It's here that Noseda recalls the 15th-century tradition of the Italian cantastorie – bards, of sorts, who told stories through song and physical gesture. And when the composer is telling a programmatic story explicitly, listeners are likely to hear it as never before. With Noseda, the Anvil Chorus in Il trovatore at London's Royal Opera House became the more brisk, strict work song that it was originally intended to be. The opening scene of Otello in Turin conveyed the heaviest of weather and near-hysterical terror behind it. Most remarkable was his 2021 NSO Sheherazade, in which he established an expansive orchestral frame for violin solos by leader Nurit Bar-Josef that became anguished, detailed operatic soliloquies by a heroine spinning tales while staving off her execution. Duality is everywhere in his music-making. That's expected in Shostakovich, whose surfaces and subtexts say opposite things. But tensions often run even higher in his Prokofiev, whose bass lines become downright subversive.
This heightened emotional presence isn't merely the result of an operatic temperament at work, it's also due to a depth of insight, and perhaps something else. One random bit of Noseda philosophy overheard during an NSO rehearsal at Carnegie Hall was, 'Generosity rewards generosity.' He later explained: 'If I'm generous to the musicians, the musicians are generous to the music, and the audience will be generous with us.'
How did that all shake down in the Beethoven Ninth in Washington on June 1? Nothing remotely pretty, glowing or superficial was heard in the opening movement. Noseda tried, as per usual, to adhere to the composer's ultrafast metronome markings (even though audiences sometimes complain at their briskness). This was Beethoven on a mission – and, with Noseda, it's profundity without pretence. Beethoven may have been taking music into places it had never been, but only because he was doing what he needed to do. Noseda's trademark long arcs of tension seemed to eminate from his extended left arm, held at eye level and seeming to say, 'Hold it! Hold it longer …'
Counterpoint at its most obsessive was the primary characteristic of the second movement, which pursued a severe, narrow path but with tension that seemed on the verge of breaking out of its bounds. The third movement became Beethoven at his most candid, despairing as to whether he would experience the depths of love that had been denied to him. In the final movement, the opening double-bass recitative was so specifically inflected as to speak beyond words. Then, the first vocal solo, sung by Ryan McKinny, showed how much words are necessary when properly declaimed for their meaning – and how that meaning can override the clumsiness of Beethoven's vocal writing. From there, the fourth movement, for all of its numerous moving parts, no longer seemed episodic. Each event followed the last with perfect inevitability and headlong momentum.
Oddly, the more Beethoven exulted, the less Noseda conducted – at least physically. When he did conduct, his arms never rose above ear level. As the 'Ode to Joy' developed, so did the string colour into a warmer, larger sound in which the music's humanitarianism became three-dimensional. Seemingly, Noseda did little to make that happen. Everybody was rehearsed and, for the rest of the movement, was ready to let Beethoven shout through them. And Noseda simply got out of the way.
---
This article originally appeared in the September 2023 issue of Gramophone. Never miss an issue of the world's leading classical music magazine – subscribe today