Military band music - a listening guide
Jack Pepper
Tuesday, November 9, 2021
At this time of Remembrance, we explore the links between classical music and military bands, and recommend some of the finest recordings
In the 21st century, 'military music' is a catch-all phrase that can embrace everything from classical favourites to new commissions, traditional marches to the latest film scores. Much like the term 'classical', it can mean many things.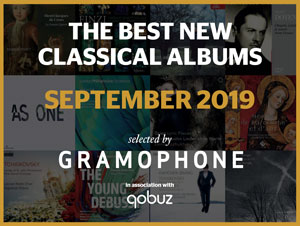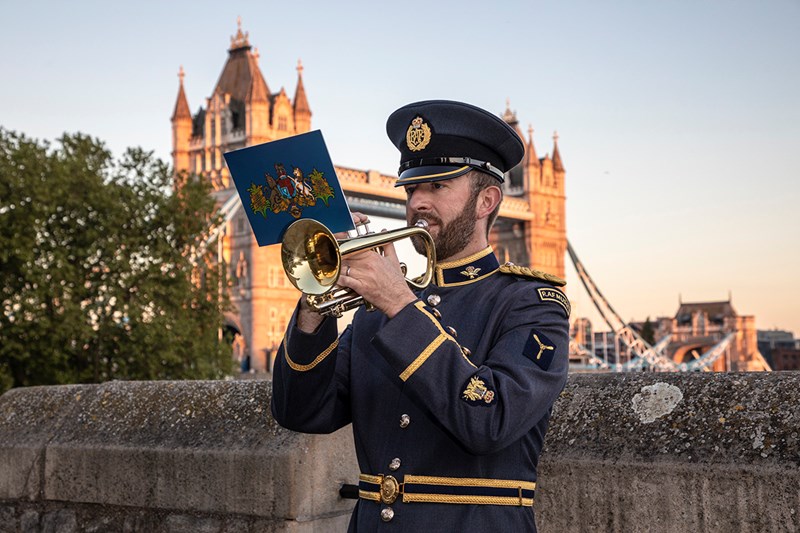 Senior Aircraftman Alan Thomas sounding the Last Post at the Tower of London (photo: Crown Copyright 2021)
There are several classical composers who worked directly in this field. Franz Lehár was the son of a bandmaster who served in the Austrian military for 40 years; Lehár himself played in his father's band, and then succeeded him in leading it. The composer only left his military music role aged 32, a mere three years before his phenomenal stage success with The Merry Widow. Surely the experience of writing marches and dances for an ever-changing military outfit helped shape Lehár's sparkling sense of orchestral colour, so evident in his operettas? Likewise, in Britain, Arthur Sullivan's father had served as a bandmaster at Sandhurst for over a decade, and then became a professor of clarinet at the Royal Military School of Music at Kneller Hall; it's said that Sullivan was able to learn virtually every instrument of the orchestra to a high level, thanks to his father's experienced guidance and the wide availability of different instruments.
It can't be a coincidence that two of the great popular stage writers had military music backgrounds. As the instrumentation of a military ensemble is not fixed, a composer learns to conjure colourful sounds with an ever-changing palette of instruments. Military music thus provides the ultimate lesson in orchestration and arranging.
'The military was Britain's single largest employer of professional musicians in the Great Depression. Then, and now in the pandemic, military bands have helped sustain the UK arts scene'
The route from military music to classical runs both ways. The last year has demonstrated the precariousness of a civilian orchestral player's position; compare this with military musicians, who throughout the pandemic have been receiving regular paycheques and performance engagements. Many have made the move. Alan Thomas used to be the Principal Trumpet of the BBC Symphony Orchestra and the City of Birmingham Symphony Orchestra; in the pandemic, he joined the RAF Music Services. Indeed, since the RAF do not train musicians – they only take them on once fully qualified – a large number of their ranks come from music colleges; 93 per cent of RAF musicians are graduates, with 42 per cent having studied at a music college or conservatoire. Then, on the Royal Navy side, the Royal Marines Band Service expect applicants at around Grade Six standard, and then train new recruits at their School of Music with tuition from military musicians and civilian professors from top universities and orchestras, including the Bournemouth Symphony. In other words, military musicians are top quality players.
It's not just in recent times that the military has been a lifeline for the arts; around 7,000 bandsmen served in the British Army between the two World Wars, representing a whopping 1/3 of all musicians working in the country at the time. This means the military was Britain's single largest employer of professional musicians in the Great Depression. Then, and now in the pandemic, military bands have helped sustain the UK arts scene.
This makes military bands a highly desirable outlet for a composer. They have an almost-unparalleled degree of consistent, weekly performance experience, embracing the unlikeliest and most challenging of venues, acoustics and audiences: the Royal Marines Band alone perform on aircraft carrier HMS Queen Elizabeth, on stage at the Royal Albert Hall and outside on the red carpet at a Bond premiere. Adaptability with performance space is in turn reflected by versatility of repertoire; these musicians are at once able to rock, groove, march or soar. This sense of possibility is extremely liberating for a composer.
'Every piece had to be timed exactly to coincide with the next wave of aircraft flying overhead'
As someone who has had the pleasure of writing for both professional civilian orchestras and military bands, I can testify to the many similarities between the two worlds. In both, acoustic and context are key; Handel had to keep in mind the fact his Water Music would be performed outdoors on floating barges (hence the abundance of brass and attention-grabbing fanfare figures), in the same way a composer writing for the Mounted Band of the Household Cavalry will have to keep horse movement and street noise in mind. In 2018, I wrote a song for choir and the Royal Marines Band which was premiered outdoors with a Spitfire flypast overhead; such a unique setting – outside, on a hill, with choir and band separated by a distance, and timed to extra-musical events – inevitably shapes your writing. It makes you more aware of the visual aspect of music, of how you can break down a large-scale orchestration into smaller sub-groups, and how you can be more inventive with your use of space and layout.
This isn't just an acoustic consideration. Both the classical orchestral and military music worlds abound in theatricality; there's a visual element to both a full symphony orchestra bowing and breathing as one, and to the sight of a hundred musicians marching in step. Indeed, what could be more theatrical than the Royal Marines Corps of Drums, their white gloves and white sticks spotlighting their virtuosity as their arms move up and down against the backdrop of their dark tunics? Is that so different to the pyrotechnics of the 19th century piano virtuosi, raising their hands high above the keyboard? Both worlds embrace the spectacle of sound.
That said, there are some key differences. Military musicians provide the accompaniment to official and state events, right up to flypasts over Buckingham Palace. When I chatted with the RAF's Principal Director of Music on my Scala Radio show, he shared the unique challenges of playing in such an arena; with the musicians on the forecourt, every piece had to be timed exactly to coincide with the next wave of aircraft flying overhead. Such rigidity goes against the instinct of a trained musician, when you have been taught the importance of expression, interpretation and spontaneity of performance.
'Music could not be more important than when dealing with the ineffable suffering and loss of conflict; it could not be more important in bringing people together in the face of adversity'
With such versatility, quality and experience, why do we not hear more of our fantastic military musicians? We have siloed these players a great distance from their classical orchestral colleagues. Perhaps there remains a snobbery of the kind that was levelled against composers who embraced film as well as the concert hall, not so long ago. Or perhaps it's simply a lack of understanding about the full role and capabilities of military musicians; the stereotypical image of musicians marching on parade obscures the true depth and range of their work (much the same as with orchestras, who are rarely given full credit for their outreach programmes in schools and care homes). Both orchestras and military bands do far more than they're given credit for.
At this time of Remembrance, here's a playlist that highlights the blurred lines between classical music and the military, from famous composers writing for military bands through to today's uniformed musicians playing classical masterpieces. Let's put a spotlight on an unsung treasure of music…
Holst – First Suite in E Flat for Military Band
The Central Band of the RAF / Eric Banks 
This piece was Holst's first for military band, and premiered at the Royal Military School of Music in 1920; it remains one of the mainstays of the concert band repertoire. In writing this, Holst was challenging perceptions; up until this point, most British military bands had played transcriptions rather than original pieces by famous classical composers. After Holst's attempt (which was followed by a second suite, premiering in 1922), many other composers went on to embrace writing for this wind ensemble instrumentation.  
Given that military bands of the time had no standard instrumentation, Holst had to build flexibility into his scoring; he created 19 separate instrumental lines, and then an additional 17 parts that could be added or ignored should extra players be available to certain bands. The flexibility of a military ensemble, then, must be reflected in the mindset of the composer; in keeping with his and Vaughan Williams' belief that music should be useful and relevant to the local community, here Holst is writing with a clear sense of purpose and adaptability.
George Dyson – 3 Wartime Epigrams: No 2, con moto tranquillo
Simon Callaghan pf
George Dyson might be best remembered today for his church music and for his time as Director of the Royal College of Music, but before all this he was a military man; Dyson served in the Royal Fusiliers in the First World War, and even penned a standard army textbook on grenade warfare. He suffered shellshock in France in 1916 and was sent back to Britain. Then, following the conflict, he joined the newly-formed RAF with the task of organising military bands. Alongside Henry Walford Davies, Dyson wrote the RAF March (penning the trio section); it remains the official march of the service to this day.
It was Dyson's time in the trenches, however, that inspired this set of pieces. The softly singing melody, the gentle dynamics and uncluttered texture hardly suggest the horrors of shellshock; here, we can see the escapist power of music.
Saint-Saëns – The Carnival of the Animals: Introduction
Band of the RAF College / Jun Märkl
Now we move to a military band that composer (and RAF Major) George Dyson helped establish. Since its founding in 1920, The Band of the RAF College has supported the school at RAF Cranwell; it made history as the first ever military band to be recorded in concert, live for broadcast.
Naxos released this 'Music For Wind Ensemble' album in February 2021, reclothing Saint-Saëns's music; there's something exceedingly helpful about instrumentation such as this, as every line is sparklingly clear, every texture remarkably uncluttered. Such clarity and luminescence provide an interesting cross-section of the original symphonic scoring. Contrary to the stereotype of a military band as some grand, weighty force capable only of a plodding march, here, we're fleet of foot…
Imogen Holst – Fanfare for the Grenadier Guards
Onyx Brass / John Wilson
The only child of wind band music pioneer Gustav Holst, and a student of George Dyson at the Royal College of Music, it's no surprise that Imogen Holst would herself come to write music reflective of the military. Incidentally, she played a key part on the home front in the Second World War; she worked with the Council for the Encouragement of Music and the Arts (CEMA), encouraging evacuee singalongs and brass band concerts across wartime Britain to help raise morale.
This 2018 Chandos release forms a tribute to the fanfare; this genre is surely one of the supreme examples of 'music for use', written with specific occasions, dates and people in mind (like a great deal of military band music). It showcases fanfares on many subjects and from many leading British writers, including one on peace by Arthur Bliss; he served in the Grenadier Guards in World War One and was mentioned in dispatches, and went on to compose a whopping 30 fanfares. Along the way, the album also presents fanfares 'For A Naval Occasion', for the Royal Artillery and for the Air Force, courtesy of Albert Ketèlbey. Always optimistic, these four dozen fanfares underline the importance of music as morale-booster: as vital a tool in conflict as any aircraft or warship.
Kenneth Alwyn – Fighter Command March
Central Band of the RAF / Duncan Stubbs
Alwyn led a distinguished career with both civilian and military ensembles. He led the BBC Concert Orchestra and the Central Band of the RAF on tours of North America; he conducted ensembles like the London Philharmonic and Philharmonia; he wrote marches that were performed at Trooping The Colour; he worked as a Music Director in the West End for such musicals as Lerner and Loewe's Camelot at Drury Lane; he conducted the London Symphony Orchestra in their first-ever stereophonic recording (in 1958); his readings won Gramophone Awards in the 1990s. If anyone exemplifies the versatility of military musicians, it's this man.
Having served as an RAF Pilot in the Second World War, Alwyn was well-placed to write this vibrant march. Swirling woodwind shoot upwards to suggest take-off, whilst transitional passages carry references to the RAF March Past and the national anthems of the various powers involved in the conflict. You can definitely sense the theatricality and colour of the theatre pit. It makes for a rousing tribute to his friends in the service, commemorating the can-do spirit and courage of those he fought alongside; since Alwyn passed away in December 2020, this march in turn becomes a fitting commemoration of the little-celebrated part he himself played in securing our freedom.
Dan Page – Vanguard
Massed Bands of HM Royal Marines
At the Royal Marines Band Service's 2020 Mountbatten Festival of Music, the work of Hans Zimmer featured alongside Vaughan Williams, Two Steps from Hell and Richard Strauss. The year before, I came across this piece: a march penned by a Royal Marine musician.
Dan Page is the Principal Percussionist of the RM Band Portsmouth, and is one of the rare musicians who can say they've played at two James Bond premieres (Skyfall and No Time To Die); he's also performed at The Queen's 90th Birthday celebrations, and at the funeral of Margaret Thatcher. Beyond music, Dan assisted the fight against COVID-19, joining a military detachment that provided extra pairs of hands in NHS hospitals through the pandemic. This march, then, is a fitting tribute to the continued creativity and agility of today's military musicians.
Nigel Hess – Monck's March
Central Band of the RAF / Nigel Hess
From Ladies in Lavender to a Piano Concerto in honour of The Queen Mother, the ever-versatile Nigel Hess is a natural collaborator for similarly diverse military bands.
Although in this characterful Chandos album Hess conducts RAF musicians, his Monck's March began as a commission by the Coldstream Guards. George Monck was their first General, serving in Cromwell's New Model Army. Hess's piece portrays the 7000 soldiers who, under Monck's command, marched from their headquarters in Coldstream down to London to restore order in the city in 1660, in readiness for the return of exiled King Charles II. Their arrival in London is suggested here by references to 'oranges and lemons', complete with ringing bells evoking the chimes of Big Ben. With a brass and percussion barrage, the piece becomes a quasi-cinematic experience: a moment of military history captured in sound.
Percy Grainger – Lincolnshire Posy for Military Band: Lord Melbourne (War Song)
City of Birmingham Symphony Orchestra / Simon Rattle
Percy Grainger served as a bandsman in the US Army in the First World War, playing the saxophone and later teaching the oboe. A famous pianist, Grainger also played piano duo concerts with members of the 15th Coastal Artillery Corps Band. Years later, Grainger continued to be a regular collaborator; living just a train ride away from the military academy at West Point, Grainger regularly composed, arranged and conducted for their musicians. He even used them as a testing ground for his latest (non-military) compositions. His payment for such services consisted of a pair of official parade trousers and combat boots, which Grainger happily donned for each performance on site!
Grainger scored these Lincolnshire folk songs for marching band in 1937, and it remains one of the peaks of the wind ensemble repertoire; alongside Holst, his writing has helped elevate the role and perception of the wind band above mere usefulness, into something artful. Here this transition is made clear, in a full-blooded account from the brass, woodwind and percussion of the CBSO.
James P Johnson – Victory Stride
Leslie Stifelman pf, Concordia Orchestra / Marin Alsop 
Stride pianist, and composer of sixteen musicals, a symphony, a piano concerto and an opera… Now we can add to this extensive CV: wartime morale-booster. James P Johnson wrote his Victory Stride in 1944, when an end to the War seemed at last a not-ridiculous dream; it's filled with dancing rhythms, facing the continuing horrors of war with a smile.
Johnson originally wrote this for his Blue Note Jazz Men, and you can imagine it being performed by one of the many jazz ensembles formed out of military bands too; that said, it has since found an equal home with the orchestra. Marin Alsop has conducted the BBC Symphony Orchestra and Benjamin Grosvenor in this toe-tapping romp at the BBC Proms; here she's joined by an energetic Concordia Orchestra in an album that showcases Johnson's quirky symphonic output. It captures the raucous energy of a wartime jazz band.
Samuel Barber – Symphony  No 2, 3rd Movement
Detroit Symphony Orchestra / Neeme Järvi
This symphony came about because of wartime service. Due to weak eyesight, Samuel Barber was unable to enlist in a combat role in the Second World War; however, he quickly joined up to support with a desk job. With rather more free time than he cared to enjoy, Barber decided to pitch an idea to the senior officers: why not write a symphony, dedicated to the armed forces? They leapt at the idea. In 1943, Private Barber was sent from New York to the Army Air Corps HQ in Texas. Generals there were confused that their higher-ups were sending them a composer, but soon realised the potential power of a musical rallying cry; they allowed him to work from home with their complete support. Barber's resulting Second Symphony was nicknamed the Flight, and was premiered by the Boston Symphony Orchestra and Serge Koussevitzky in 1944. The agitated unison strings, trills and fast-moving rhythms in this final movement suggest the dogfights criss-crossing the sky and the tension of battle; it's music that rarely pauses for breath.
Morton Gould – West Point Symphony, 2nd Movement
Eastman Wind Ensemble / Frederick Fennell
Morton Gould was a man in high demand during the Second World War, with the likes of Reiner, Stokowski and Toscanini conducting his work. Gould's First Symphony was premiered in 1943, the work dedicated 'to my three brothers in the Armed Forces of the United States and their fellow-fighters'. It is at times strikingly literal; the 'Pastorale and Battle Music' movement uses tonguing and glissandi to mimic the sound of bomber aircraft gathering overhead. That said, slow tempi and a mournful quality predominate: this is music shaped as much by the emotions of war, as by the literal sounds of it.
Seven years after the War came Gould's Fourth Symphony, nicknamed 'West Point'. It was written for the 150th birthday of the US Military Academy, and is one of the first major American symphonies written for wind band. In the second movement, the group mimics the sound of a drum corps and fife, and a wooden device is used to suggest the sound of boots clanking on the ground; it takes us on an eclectic whirlwind tour of marches and marching, as if the tunes themselves are parading past. Gould admitted that part of his inspiration came from the cemetery on the grounds of West Point; he sought to suggest generations of soldiers on parade.
Elgar – Nimrod (Enigma Variations)
Band of the Coldstream Guards
The Band of the Coldstream Guards are the UK's oldest military band. The Regiment had drummers stretching back as far as 1685, with officers hiring eight civilian musicians to play each month for the Changing of the Guard; they were established as a regular outfit in 1785. They sit at the heart of Army life. In June 1944, the Band lost six musicians (including its Director of Music) when a flying bomb hit the Guards Chapel at London's Wellington Barracks during a Sunday morning service; yet within weeks the Band was following Allied forces to Europe after D-Day, providing vital morale-boosting concerts near the frontline. Since then, it has toured widely, pioneering the first tours to Japan and performing in some of the world's most prestigious concert halls.
It's not just live performances. The Band of the Coldstream Guards are the oldest continually recording artists on the planet, having recorded on a wax and cylinder disc in 1898. Wind forward, and in 2009 they signed a record deal with Decca; the resulting album, 'Heroes', was nominated for a Classical BRIT Award.
What better composer to include on this disc than Elgar, who once said: 'I like to look on the composer's vocation as the old troubadours or bards did. In those days it was no disgrace to a man to be turned on to step in front of an army and inspire the people with a song. For my own part, I know that there are a lot of people who like to mark events with music. To these people I have given tunes.' Music could not be more important than when dealing with the ineffable suffering and loss of conflict; it could not be more important in bringing people together in the face of adversity. Tunes they may be, but also they are surely the ultimate commemoration.
Jack Pepper is a composer, broadcaster and writer. He spent his teenage years writing for orchestras, military bands and jazz/pop groups around the world, and is currently writing a new musical. He is a presenter on Scala Radio, a UK Council Member for Creative UK and an Ambassador for Music For Youth.
Welcome to

Gramophone

...
We have been writing about classical music for our dedicated and knowledgeable readers since 1923 and we would love you to join them.
Subscribing to Gramophone is easy, you can choose how you want to enjoy each new issue (our beautifully produced printed magazine or the digital edition, or both) and also whether you would like access to our complete digital archive (stretching back to our very first issue in April 1923) and unparalleled Reviews Database, covering 50,000 albums and written by leading experts in their field.
To find the perfect subscription for you, simply visit: gramophone.co.uk/subscribe