Pavel Haas Quartet: 'We spent quite a few days with Shostakovich during recording, and I feel like we've lived with him. We didn't only play him: we lived him'
Richard Bratby
Thursday, December 12, 2019
The Pavel Haas players share an easy rapport which translates into a profound musicianship, most recently evident in their approach to Shostakovich's string quartets, finds Richard Bratby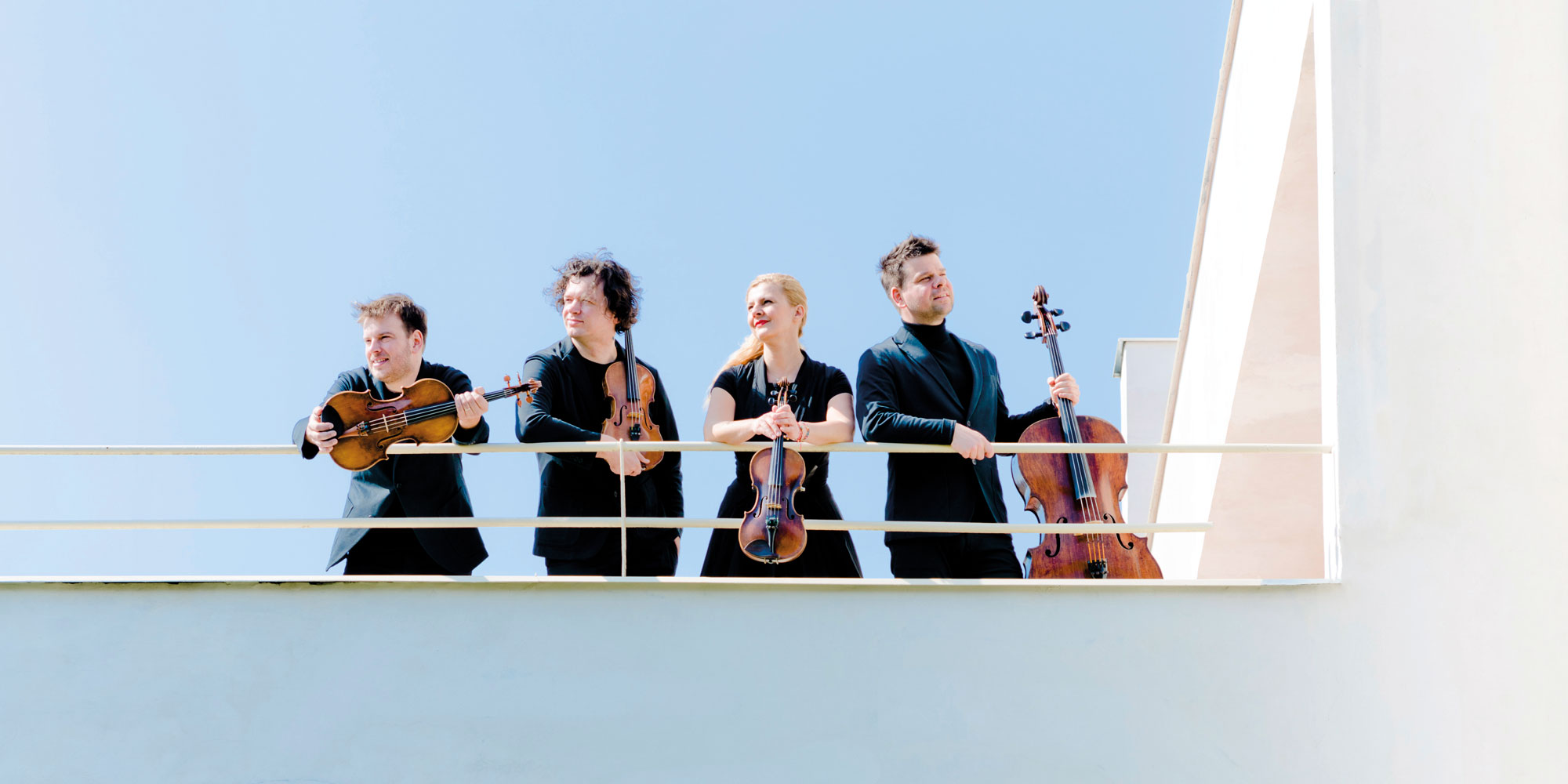 Pavel Haas Quartet (photo: Marco Borggreve)
For as long as two violinists, a viola player and a cellist have sat down together to make music, it's been held up as an idyll. It's Vikram Seth's 'equal music'; it's the 'friendly communion of instruments' of which Ernst Heimeran wrote in The Well-Tempered String Quartet (1936). Above all, the string quartet has been described as a conversation. Which is all very well, but I'm sitting in a Marylebone hotel lounge near Wigmore Hall with all four members of the Pavel Haas Quartet, and the practical business of conducting a literal four-way conversation with a string quartet turns out to be another matter altogether. If you've ever played in a quartet, it won't come entirely as a surprise to learn that the cellist, Peter Jarůšek, jumps in first: 'We're doing the Trout Quintet tonight – which is something we don't do very often because we don't have the free time.' And with the cue thrown, the others quickly start to chime in. 'Oh, it's so beautiful,' comments Veronika Jarůšková, the first violinist. Who are you playing it with? 'Boris Giltburg,' says Jarůšková, and viola player Jiří Kabát can't hold back: 'He's great!' he says. 'Yes, I mean he's outstanding,' agrees Jarůšek. 'We feel close, very close.' And Kabát: 'Fifth member of the quartet almost, right?'
Gramophone readers who've heard the PHQ's recording of Dvořák's Second Piano Quintet with Giltburg will already have experienced the freshness, warmth and unforced expressive rapport that made it the runaway winner in the Chamber category of the 2018 Gramophone Awards. But then, this young Prague-based quartet – they still seem youthful in spirit, though they've been playing as a group for 17 years now – hoover up awards almost every time they release a disc. Their debut recording of quartets by Janáček and Haas won the 2007 Gramophone Chamber Award; discs of Schubert (2014) and Smetana (2015) both followed suit, with recordings of Prokofiev quartets and a second Janáček–Haas album both receiving nominations. And in 2011, their recording of Dvořák's quartets Opp 96 and 106 went the whole way and was voted Gramophone Recording of the Year.
'What can I say?' responds second violinist Marek Zwiebel, slightly sheepishly. There's clearly something about the way that this friendly, unfussy group of musicians play together that both listeners and critics adore. With a track record like this, the PHQ's next recording automatically becomes a subject of particular interest – and it perhaps comes as a surprise, for a quartet that has been building its discography predominantly around Czech repertoire. The next release will feature Shostakovich's quartets: the Second (his best known and one of his longest), the Eighth and the Seventh (his shortest). Swapping Bohemia's woods and meadows for the steppes of Soviet Russia looks, superficially, like a radical departure. Is Shostakovich really so central to the group's musical life?
'We feel that he is,' says Zwiebel. 'We've played Shostakovich's music from the very beginning.' 'We always just really felt it's a part of our hearts, actually,' says Jarůšková. 'It's really very close to us. So, we just decided, after years of playing it, to put it on disc.' It turns out to have been quite a long-established project. 'We've planned, I think, two times already, to record a Shostakovich disc,' explains Jarůšek. 'But the first time, purely coincidentally, Pavel Nikl, one of our original members, was forced to drop out of the concerts because of family illness, so that was one reason why we couldn't do it.'
'It was just not the right time,' observes Jarůšková. And that matters, because performing these works takes a particular emotional and physical toll on the performers – and performing is a vital element in preparing a recording. Zwiebel describes the impact: 'Right now we're playing Schubert, after such an intense period of work on Shostakovich. If you let Shostakovich's music into your body, into your soul, into your heart, it could be … I don't know – it's a strong word: "devastating". But in a way, such strong and intense emotions are exhausting.' Jarůšek backs him up. 'I've always noticed with Shostakovich this pressure he puts on individual players throughout the quartet – with long pedal notes and long, intense solos.'
Zwiebel agrees: 'The Eighth is not a typical quartet structure.' 'No, it's not,' says Jarůšek. 'But on the other hand, it is not only darkness. There is a lot of hope and some really very personal, very gentle music.' 'There is always something behind those solos,' comments Jarůšková. 'Some hidden world, some hidden light.' She continues: 'We spent quite a few days with Shostakovich during recording, and I feel like we've lived with him. We didn't only play him: we lived him.'
And, of course, few string quartets since Beethoven's have been the subject of more relentless extramusical analysis than Shostakovich's Eighth. For the PHQ, though, the path to the work's soul is through the notes on the page, plus the players' own experiences. Kabát speaks up: 'It's a combination of things. We are all individuals, and we're here together finding and making our own little messages and stories in the music. We're imagining it anew each time. It could have something to do with Shostakovich's biography; or it could be just music, you know?' 'We've been playing No 8 for maybe 12 years,' adds Jarůšek. 'We've talked about it every time we play it. So there's a never-ending process.' 'We worked for a few hours just on the opening of No 8, just these few notes,' says Jarůšková. 'The speed of the vibrato, the speed of bow – it can be dark, it can be cold.'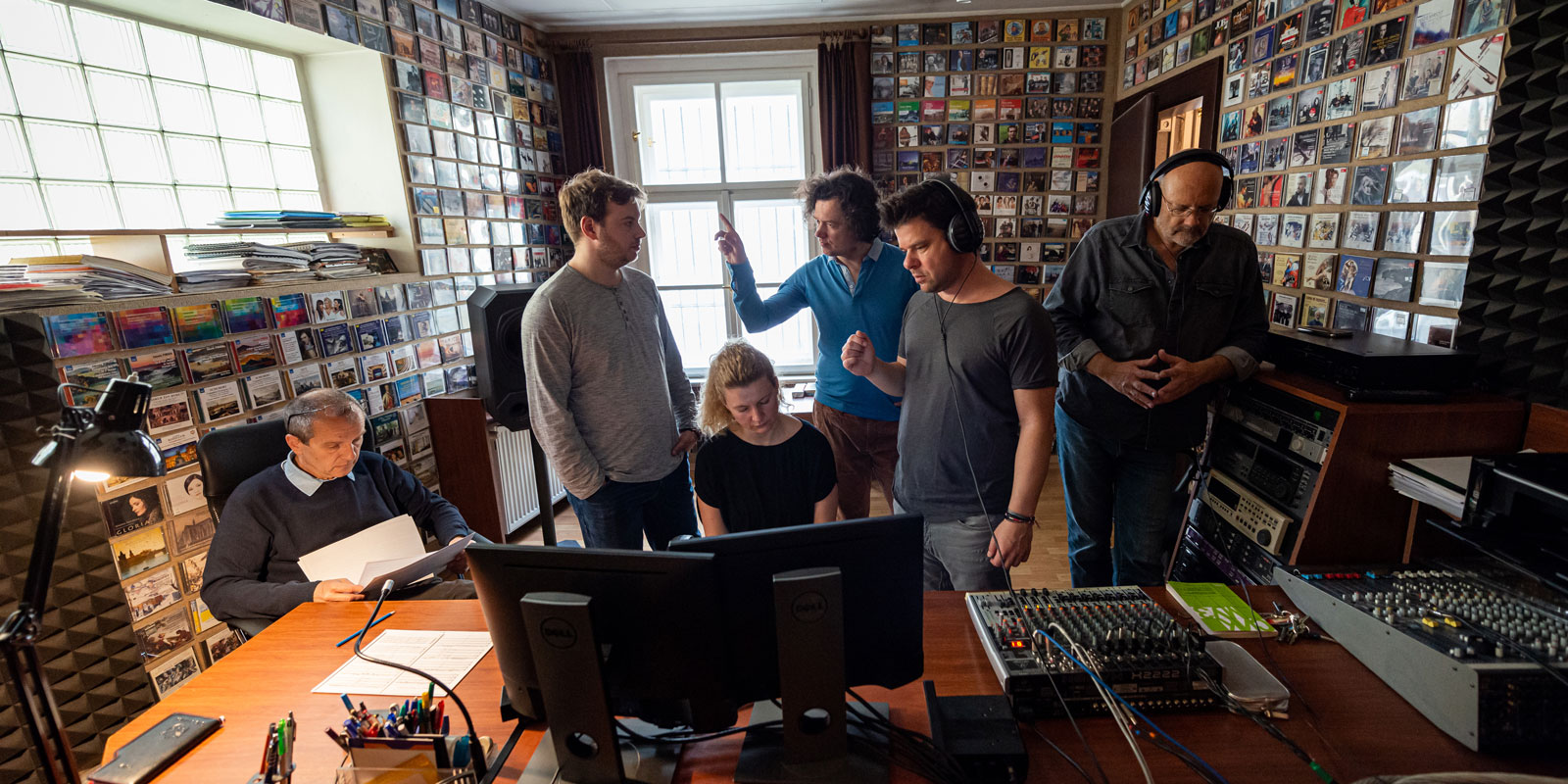 Pavel Haas Quartet (photo: Lukas Kaderabek/Supraphon )
Jarůšková admits to feeling a particular closeness to perhaps the least familiar quartet of the set, the expansive and (for Shostakovich) surprisingly optimistic Second. 'I love it,' the violinist says. 'For me, it's very, very personal, very intimate.' Yet it's also something of a blockbuster in concert. 'It's big,' she agrees. 'It's huge!' exclaims Jarůšek. 'For me, it's like imagining playing in a full symphony orchestra, complete with bells. When we performed it, we planned to do it in the first half, with Beethoven in the second. Then we realised, as soon as we did that, that it just wasn't musically possible. So we changed the order after the first concert.' 'There was no possible encore after the Second,' says Jarůšková. 'It was like the audience had been overwhelmed, and so had we.'
The conversation seems to be going well: a lively exchange between all four players, in true quartet style. It's always inspiring when, in person, artists live up to the impression they create in their music-making – in this case, good humour and the 'unerring' and 'completely unstudied' give and take perceived by Harriet Smith on reviewing their Gramophone Award-winning Dvořák disc in 2017. Having recently read Valentin Berlinsky's memoir of his career in the Borodin Quartet, I'm struck by the fact that the PHQ – like many 21st‑century chamber ensembles – has a very different philosophy of chamber music. It is no less committed to excellence, but is perhaps less top-down in its approach, more patient, more individualistic – in a word, more friendly.
In its early days, the group trained under the late Milan kampa, the viola player of the fabled Smetana Quartet. Do the players see themselves as belonging to a particular Bohemian school, or tradition, of quartet playing? 'No,' says Jarůšek. 'There isn't really a Czech school. Even the famous older quartets played very differently.' 'Especially the Vlach and Smetana quartets,' agrees Jarůšková. 'They were really different.' She continues: 'Mr kampa was always speaking about the importance of finding something behind the notes. It helps to find a way to communicate to the audience, because really our aim is just to speak to them.' Jarůšek adds, 'And to speak to each other. It's like singing, let's say. Singing without words. We spend a lot of time rehearsing, and we occasionally listen to other quartets, but we never over-analyse. We're following our instincts as well.'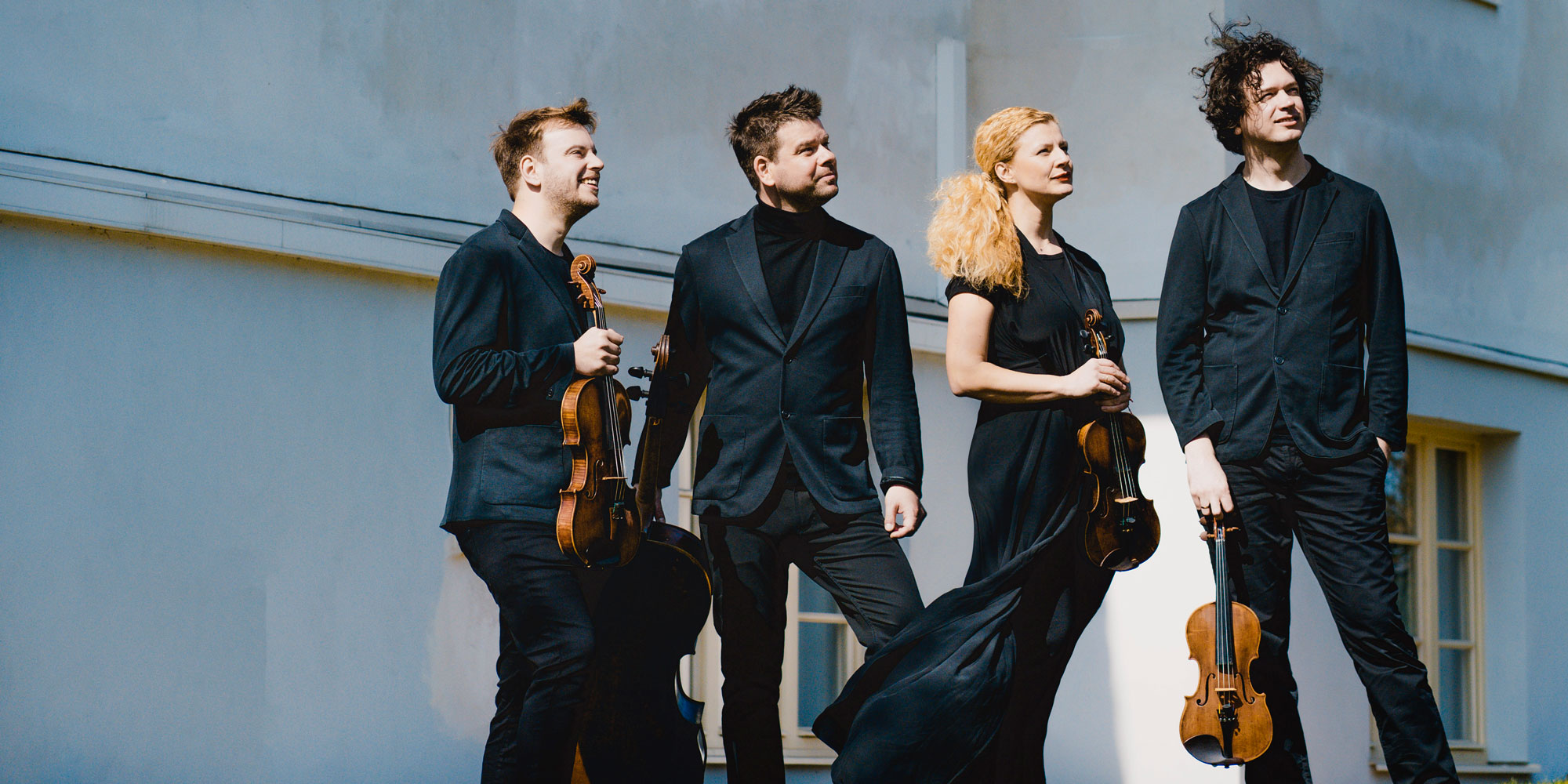 Pavel Haas Quartet (photo: Marco Borggreve)
But when you're pursuing an artistic career in tandem with three colleagues, in close and constant enforced proximity, it's surely crucial that those instincts align? Jarůšková and Jarůšek are married, with a young daughter. 'She understands, thank God!' exclaims Jarůšková. Zwiebel and Kabát both agree that time spent with family, away from the quartet, is vital. Kabát lives in the countryside and they meet to practise in Prague, usually in Peter and Veronika's apartment: 'It's practical,' says Jarůšková. 'The kindergarten is just around the corner.' Life is clearly not something that is separate from music.
'We're very flexible,' says Jarůšek. 'We could close the door on our rehearsals, but in a sense we can't really, because our personal lives are still there.' While kampa famously described life in a quartet as 'the most beautiful prison in the musical world', the PHQ's rehearsals are built around the free and friendly exchange of ideas.
'We always rehearse in the mornings,' says Jarůšková, 'but the thing is, we are always late – all of us. Then, we have a coffee.' The others laugh in agreement. She continues: 'We already know what we will play and what we will work on. I mean, I think all of us know what we need to do.' Her husband takes up the theme: 'We all have our different ears. Someone is more worried about the rhythm; someone wants to concentrate on the dynamics …' 'I'm like, "Guys, it's about the love,"' says Jarůšková, 'and then someone else will say, "Yes, but we are not together." The ideas come together like a mosaic.' 'This is the combination, and it works,' agrees Jarůšek. 'We are trying to reach something ideal. It's unattainable. But this is the way to try to get there.'
This relaxed to and fro – and all these late starts and coffee breaks – feels a long way from kampa's 'prison'. When members of the Borodin Quartet left, Berlinsky denounced them for betrayal. When Nikl, the PHQ's original viola player, left in 2016, he and the quartet stayed firm friends; in fact, he was appointed their 'permanent guest' for string quintet performances. They recruited Zwiebel in 2012 in the most disarmingly informal – and modern – way. 'I knew Peter only from playing soccer together, in a musicians' team,' the second violinist recalls. 'Then one of my friends heard that the Pavel Haas needed a violinist, so I left a message on their Facebook page. And then Peter, one nice Sunday, called me. He was like, "Play a concert!"' 'I'd already checked out his playing on YouTube!' laughs Jarůšek.
It was thanks to Zwiebel that the group has, at last, ventured into Bartók. 'Until then, I felt that this was fantastic music, but I didn't understand it,' says Jarůšek. 'And then Marek came. It was his idea; he loves Bartók, and he opened the door for us. And next season we'll play No 4. Everything in its time.' That seems to be how the PHQ operates. The idea matured, colleagues were listened to, a consensus was reached – and anyone who's enjoyed the group's work so far will already be excited at the prospect of what's to come. That includes ('Spoiler alert!' pipes up Kabát) a Martinů quartet cycle at Wigmore Hall, starting in 2021. 'Many notes,' smiles Jarůšková. 'But Martinů is very special music,' counters Kabát. They have no intention of rushing it – of spoiling the naturalness, the insight, and the very human communicative quality that emerges from their particular way of working, and living, as a string quartet.
'We can't just play what people expect,' says Jarůšek. 'We have to have a strong connection to the music. Really, really strong. I mean, we don't play that much repertoire.' Zwiebel agrees: 'We like to go very deep inside the piece. It takes ages.' The others nod in agreement, and Jarůšek reaches around for the perfect metaphor. 'You've heard of slow cooking, slow cuisine? So, we are a slow quartet, you know. We are very slow. It takes a really long time. We don't want to say the other quartets are not good. We are just slower.'
This article originally appeared in the November 2019 issue of Gramophone. Never miss an issue – subscribe today!