Remembering Lukas Foss
JoAnn Falletta
Monday, August 15, 2022
JoAnn Falletta remembers the composer and conductor on the centenary of his birth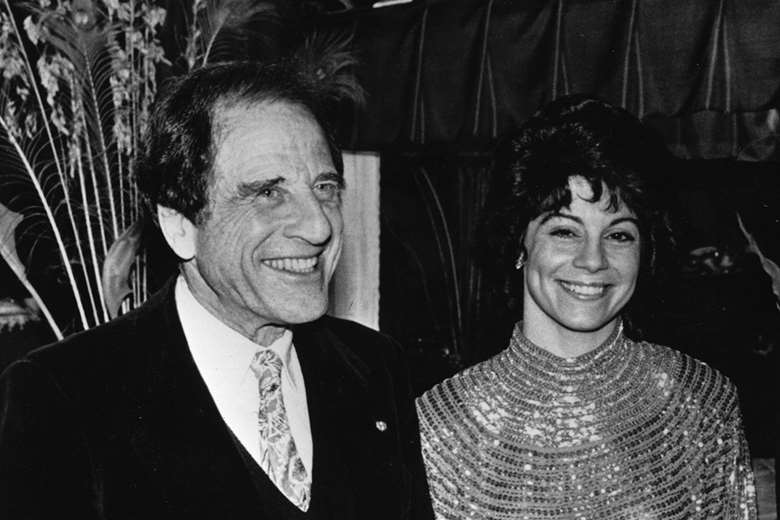 As a young conductor dazzled by an appointment as Associate Conductor of the Milwaukee Symphony, I could never have known that many years later the person who hired me – Maestro Lukas Foss – would be the most important figure in the history of the orchestra where I was to spend the greatest portion of my life as music director, the Buffalo Philharmonic.
Life as Lukas's Associate Conductor was an amazing experience for a person who was still a student at the Juilliard School. Flying back to New York to attend as many classes as I could, I certainly did not have the best record of attendance. I remember apologizing to my professor Milton Babbitt for having missed his class, only to have him peer at me and say 'My dear, there is nowhere you can learn more about music than watching Lukas conduct, and hearing him speak about music'.
Mr Babbitt was absolutely right about that. I was mesmerized by seeing Lukas in rehearsals, where his brilliance as a composer made him a maestro who actually became the music, understanding the mind of the composer in a way I had never experienced. Lukas loved everything new – and was a kind of enfant terrible when it came to shocking his listeners (and even his orchestra members), but his adoration for composers like Mozart, Bach and Tchaikovsky gave him a reverence for music that illuminated him. 
As a composer, he was always behind in his deadlines, but his music possessed a kind of youthful playfulness and humor that belied the struggle the creative process imposed on him. One of the first duties of my new position was to accompany Lukas and the Milwaukee Symphony on an important tour to Europe, complete with several heavy programs of repertoire spanning two centuries. In addition, Lukas told me, he had to write a flute concerto in those two weeks, because he had a serious deadline. I was thrilled and quite astonished when he asked for my help. Since his concerto was to be based on the Renaissance, I could provide some authentic music of that time. (Lukas knew that I played the lute and had performed in Renaissance ensembles). My charge was to provide him with as many lute songs as I could find, which I was thrilled to do.He spent most of the time on the tour closeted with those anthologies, and  the stunning result was his glowing Renaissance Concerto, written for flutist Carol Wincenc, and commissioned by his former orchestra, the Buffalo Philharmonic.
Another especially wonderful week I recall was a festival that Lukas mounted in honor of his friend Lenny. Maestro Bernstein came for a full week in Milwaukee, and his obvious affection for Lukas was beautiful to witness. They were great fans of each other, and the highlight of that week was Maestro Bernstein conducting his Age of Anxiety, with Lukas as the blazing solo pianist.  For Lukas, his years with the Buffalo Philharmonic were a golden age, where he had the adoration and support of an orchestra and community who recognized his gifts. Did Buffalonians like all the pieces Lukas conducted for them? Maybe not – but they nonetheless recognized his absolute genius.
When I came to Buffalo myself as their Music Director, I began to see even more clearly the astonishing affect that Lukas had on this snowy, blue collar, industrial city. He had squarely placed the Buffalo Philharmonic and the Creative Associates at State University of New York (SUNY) Buffalo at the epicenter of new music during the 60s and 70s.  His own music was groundbreaking, but Lukas went far beyond that in his generosity to American composers through his enthusiastic championing of their works. Lukas was in many ways like his colleague Leonard Bernstein – an astonishing composer, a great conductor and a brilliant pianist. His life-style in Buffalo may have raised many eyebrows, but the vast majority were in agreement – the BPO was fortunate indeed to have hitched its wagon to the star that was Lukas Foss.
After Lukas's death, his music began to be forgotten amidst the clamour of the late 20th century stylistic squabbles. Music seemed to go in all directions at once, and the one time champion of so many did not have many champions of his own who were willing to take up the banner for this iconic musician. The Buffalo Philharmonic concerts in honor of his 100th birthday (in Buffalo and at Carnegie Hall) are our way of honoring our beloved Maestro, of saying that we have never forgotten him, that young soloists like Amy Porter and Nikki Chooi love and perform his music, that his voice is strong and alive. Our dearest hope is that this concert and the recording that will follow it will inspire an ever increasing interest in the vibrant musicianship of the maverick, the iconoclast, the singular musician who was Lukas Foss.
JoAnn Falletta conducts the Buffalo Philharmonica centenary in a tribute to Lukas Foss at Carnegie Hall on October 3, which will include the Renaissance Concerto for Flute and Orchestra. For full details click here.