Renaud Capuçon interview: 'It's not about legacy – I know that the day I die there will be just a few lines in a French newspaper and that's it, I'm gone'
Charlotte Gardner
Friday, March 26, 2021
With multiple concerts and recordings each year, life's busy for Renaud Capuçon – even in lockdown. Refusing to give up on himself or the young artists he supports, the violinist has launched several projects – not least an all-Elgar recording, he tells Charlotte Gardner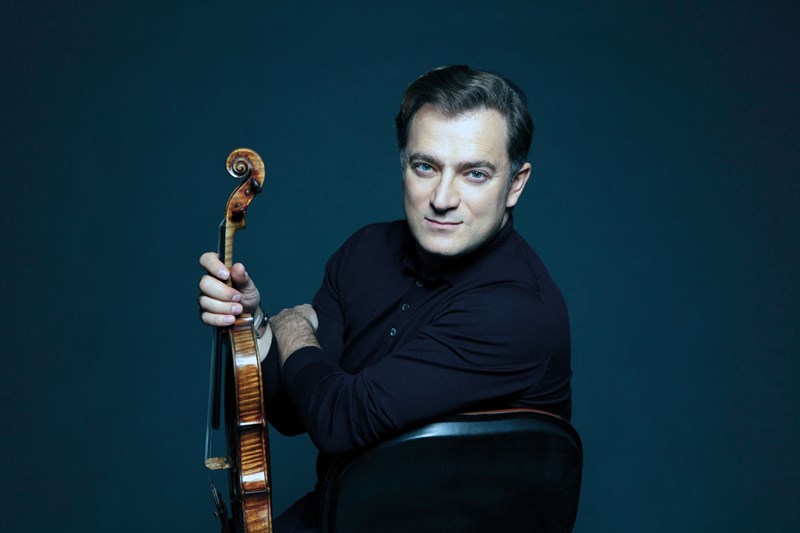 Renaud Capuçon (photo: Simon Fowler / Parlophone Records)
I couldn't say exactly how many times I've interviewed Renaud Capuçon over the years. But I do know that our chats have generally been fixed-length affairs, slotted with military efficiency into exactly the sort of schedule that's constantly throwing up new reasons to hear from him: between rehearsals at the Aix Easter Festival he established in 2013; fresh from his teaching a master-class at Sommets Musicaux de Gstaad, the Swiss winter festival and young artists competition also under his artistic direction; minutes before he took his seat to preside over the jury of the Long-Thibaud-Crespin International Violin Competition, relaunched under his artistic direction in 2018; and in Vienna, straight off the back of his rehearsing Les horizons perdus (2018), the violin concerto Guillaume Connesson dedicated to him.
On that last occasion he was so tired that he was barely upright, having arrived at the Musikverein fresh off the plane after spending half the night in an airport. Yet still he was as good-humoured and sharply focused as ever in his responses – and that's Capuçon through and through: cheerful and businesslike, always delivering, then immediately off and away again with his swift, purposeful walk. Such speed and focus are surely essential when, in addition to all the above, and the 120 concerts on average he plays every year, he also teaches fortnightly in Lausanne and is (since 2019) the artistic director of the International Menuhin Music Academy, Gstaad.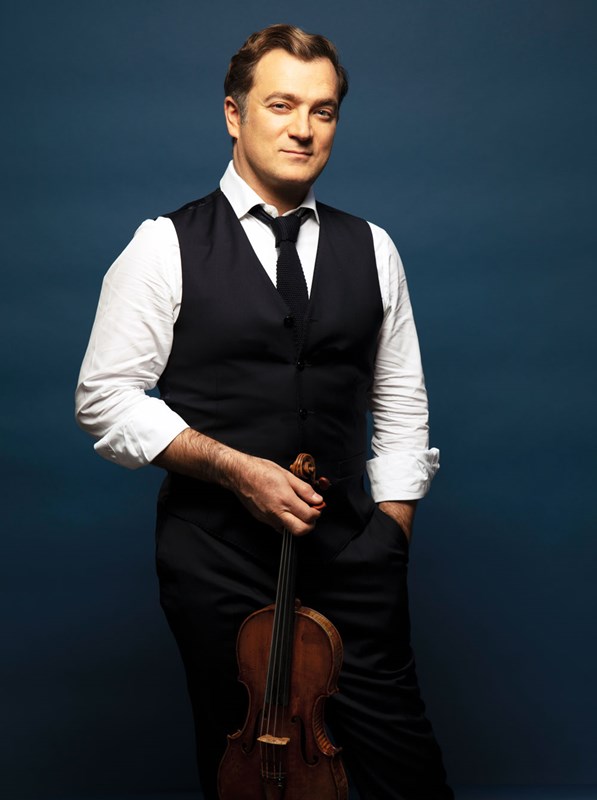 Renaud Capuçon (photo: Simon Fowler / Parlophone Records)
So this particular early-December interview via Zoom from Capuçon's Paris home stands out for the sheer amount of time he is able to give it. Two hours, in all. What's more, he looks unusually settled, with the relaxed, chin-on-arms-on-desk posture of a man who for once doesn't have to be at a rehearsal or meeting in 30 minutes' time. Even today, though, he'll eventually leave to record Beethoven's Violin Sonata No 10 for medici.tv with Alexandre Kantorow – part of 'Ludwig à Paris', one of several 'Covid projects' he's created to provide paid work for young artists, which presents the 10 Beethoven violin sonatas played by himself and nine young French violinists alongside 10 young French pianists.
"

The LSO have this incredible passion. Elgar's music is in their blood – it sounds so natural
Strangely, it's precisely thanks to Covid that the two of us are talking now, because although the pandemic has lost him more than a hundred concerts, along with his 2020 Aix festival and the 2021 Long-Thibaud-Crespin Competition, plus the 2021 Gstaad festival in its usual format, it also gifted him the opportunity in September to record Elgar's Violin Concerto with the LSO and Sir Simon Rattle – a pipe dream of his which he arranged from scratch during the spring lockdown when even Rattle's diary suddenly emptied. He has paired the work on the recording with the Violin Sonata, with Stephen Hough as pianist. While Capuçon has always been prolific in the recording studio, this album feels particularly important: he has loved these two English masterworks for years and now wants to champion them to French audiences; it's the first time he has ever played with Rattle; and it's only the second time he's played with Hough. It's even his first album produced by Stephen Johns (his usual producer was unavailable), and he's thrilled with the edits.
'I was expecting it to be good, because we were on fire during the sessions, but I still got a great surprise,' he says. 'Sometimes in a recording you'll recognise yourself but there may be some aspects missing, because everyone has their own equipment and techniques, and the microphone is subjective. But for this, we recorded the concerto in St Luke's and the sonata in St Jude's-on-the-Hill, and both recordings capture not just my sound but what I mean with my sound.'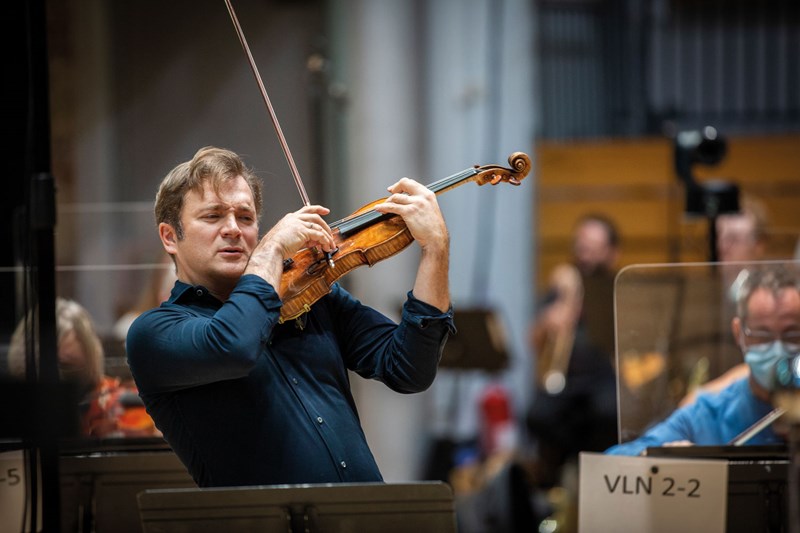 Capuçon at the recording sessions (photo: Paul Marc Mitchell)
He's equally thrilled with the sound of the orchestra. 'It's exactly what I witnessed during the recording: this incredible passion the LSO have, and what Simon is giving them in terms of shape. You can hear that this music is in their blood – it sounds so natural. One place I especially felt this was the case was in the second movement, because while I always thought it was amazing, this was the first time it seemed logical to me from the first note to the last. I can't even really say why, because we didn't discuss it – but when they began to play its first few bars, it conditioned my whole way of playing. Simply because they had exactly the perfect sound. It was the right andante – moving, but not too fast.'
It felt equally right to be working with Rattle. 'I know him so well. We've had dinners, and I've heard him in concerts. So to be inside the piece with him for the first time was both incredibly inspiring and completely natural. I also loved the way he did long takes – so important with this long-lined music. When it came to the edits, I didn't want to change much in order to keep these long lines.'
This wide-arc phrasing is a certainly a highlight of the new recording, as are the plentiful orchestral portamentos. 'Simon was really insisting on this, and he's right,' Capuçon confirms. 'Elgar marked it, too. It's not like some composers who perhaps allowed it but didn't especially ask for it; and if you're doing it as well as the LSO, then it sounds incredible.'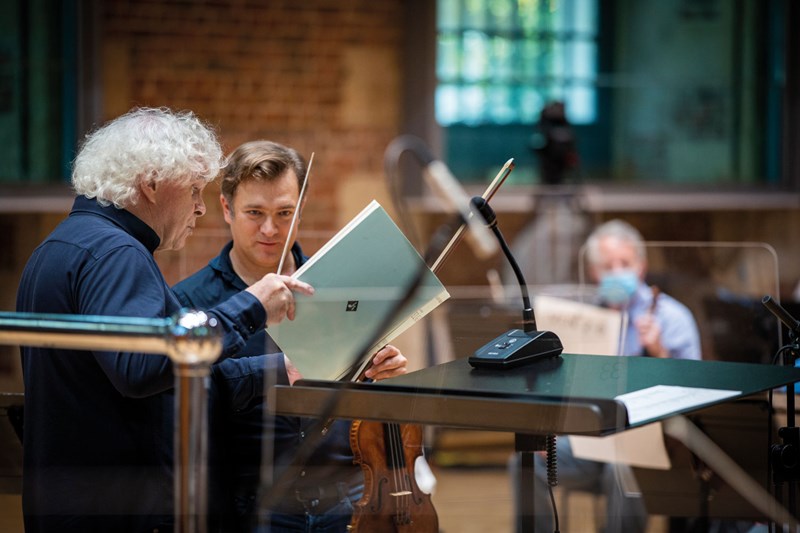 Capuçon, Rattle and the LSO recording Elgar's Violin Concerto at LSO St Luke's, London, in September 2020 (photo: Paul Marc Mitchell)
Another standout feature is the degree to which the tension dissipates in the first movement's sudden moments of calm, and again Capuçon attributes this to Rattle. 'I first fell in love with the concerto when I played it in 2006 with Jeffrey Tate. I've played it about 20 times since, and there are a few places in the score where I previously made a note to take more time as the tempo slows.' He holds up a well-used score, and his handwritten editing notes for the producer come fluttering out (Capuçon writes rather than types when making notes, then sends a photo to the relevant person). 'There's one moment, where there's a lento just after an animato. Simon wanted it to be completely another tempo, and on the recording it sounds really wonderful. Like floating. Little details like that were very precious. He knows the work so well, after playing it with people such as Ida Haendel and Nigel Kennedy. And then there's his personality. He's always digging, but in a good, organic way rather than a pedantic one. If he made a suggestion, we did it without discussion because it was logical. Which is how I like to do music.'
The other way Capuçon likes to do music is with poetry. All across his discography is the impression of singing, drawn from his beloved Guarneri 'del Gesù' formerly owned by Isaac Stern. Now, 'poetry' is his constant refrain across our interview, and it comes up again as we discuss the concerto's final, drawn-out climax, a good eight or nine minutes of music after the atmospheric, accompanied cadenza – because for Capuçon, the success of this passage hangs entirely on whether you've achieved poetry up to that point. 'I'm sorry to say always the same thing, but I really think it's the main theme of the work, and this cadenza, too, is a piece of poetry,' he says. 'The entire concerto is like a long Victor Hugo poem – à l'anglaise, of course – and actually I think that's why I'm so touched by it. It was through poetry that I discovered literature in my teens, and I still find that a few lines will nourish me, in the way that listening to a two-minute Schubert song can just make your day. I have a passion for surrealism. I also read Hugo and Philippe Jaccottet.'

On to the sonata, and while he's known the work since his student days in Berlin when his friend Maxim Vengerov recorded it and invited him to the sessions, he first learnt it for this very recording. His intention now is to put it on the radar of today's young French violinists. 'The concerto is known, but I don't understand why someone like me who's in his forties has never played the sonata,' he exclaims. 'It's not normal! Likewise, why don't we ever play Vaughan Williams's The Lark Ascending in France? But nobody even knows it, and I've only played it once myself. So I've also decided to be The Lark's advocate there.'
His relationship with Hough isn't much older, for all the clear naturalness you hear on the recording. 'I'd known for years that he was an incredible pianist, so about four years ago I sent him an email out of the blue saying I'd like to do something,' Capuçon begins. 'But the first opportunity was actually an invitation from him, to play the three Brahms sonatas in his Brahms residency at Wigmore Hall last January. Straight away I said yes. Then in the run-through it was funny because I'd played those pieces almost exclusively with Nicholas Angelich, so I was a bit scared that because I was so used to Nicholas it would be difficult with Stephen. But it was wonderful. To the extent that after the first sonata we just laughed, because neither of us had anything we wanted to say! Then the concert was twice as good. So when I discovered that there was space on the new CD to pair the Elgar concerto with the sonata, I immediately thought of Stephen, and the recording was as easy as that concert. What was also nice was that he likewise had never played the piece, so we both had a completely virgin view of it. He knew it, of course, and told me we should listen to the Albert Sammons recording beforehand, which funnily enough was exactly what Simon had said to me about the concerto. And it's true. Even though Sammons was British, he sounds almost of the Franco-Belgian violin school. So much noblesse. You know what I mean? It was a wonderful inspiration.'

Inspiration is not something Capuçon lacks in general when it comes to recordings. It was only at the end of 2020 that he released Saint-Saëns chamber music with pianist Bertrand Chamayou and cellist Edgar Moreau, following Beethoven trios with his cellist brother Gautier Capuçon and pianist Frank Braley in the spring – and, indeed, two recordings a year seems to be the pattern. Or, as he puts it, 'only' two. 'I could do five, but we've decided on two because already it's too much. If you were to ask me now, though, for a list of what I'd like to do, there are so many things. Not because I want to leave a legacy – I know that the day I die there will be just a few lines in a French newspaper, and the CD company, if it still exists, will do a little "This Was Capuçon" box-set, and that's it, I'm gone – but because I love to record. I think I need to record. I feel that only when I've recorded a piece do I really, really know it. The microphone is like an X-ray. Also, you have to find it in yourself to give this tiny object everything, without a public, which is tough but I think a fantastic exercise, because if you are able to give it for a microphone, then with the public it's like adding Chantilly.'
His love affair with classical recordings started young. From the age of eight or nine (having begun lessons aged four) he was borrowing three or four recordings each week from his local library. 'To begin with, I was so small that my parents had to lift me up so that the people behind the desk could see me,' he remembers. 'I made a list of all the concertos to listen to. Then I'd take them home and record them onto little cassette tapes, which I still have. I was a bit obsessed! And completely in love with the music. So it was also in this way that I discovered the violinists, because I got whatever was randomly available. I'd say, "Do you have Lalo Espagnole?" and they'd say, "Yes, we have Francescatti" and so on.'
"

In the wake of Covid, the model of different concert formats, more flexibility and less crazy touring could be interesting
As for what to record and when, there's always a handful of works in his head for when he feels it's the right time. Whatever the album, though, it's always him in the driving seat. 'Even with "Cinema", it was my own longstanding wish to do a CD of film music,' he emphasises about the album that achieved Gold disc status in France and was unusually commercial for him. 'Of course, Warner was pressing me to do it as early as I could, but to begin with I said, "It's not the right time". Then I found the right pieces and arrangements, and then we did something. But only something to my taste, because I hate the idea of commercial recordings. "Cinema" is something I never would have done had any aspects of it been forced on me.'
Away from recordings, the idea of nurturing the next generation is often uppermost in Capuçon's mind. Working in schools and with young-artist initiatives are important elements of both his festivals. Likewise, when Covid hit and he created a string of projects to bring music to the public and salaries to musicians, it was young artists who became his primary focus. Beyond the aforementioned 'Ludwig à Paris' in December, in May there was 'Rendez-vous à Paris', 14 audience-less live-streamed concerts on medici.tv in collaboration with the Fondation Singer-Polignac, featuring young talent alongside major artists such as Chamayou. August and September brought three 'Perpetual Music' concerts in partnership with Rolex, again on medici.tv, co-curated with soprano Sonya Yoncheva and tenors Juan Diego Flórez and Rolando Villazón, with Capuçon's own invitees all younger-generation French orchestral musicians. In October came 'Nouveaux Horizons' at the Grand Théâtre de Provence, Aix-en-Provence – home of Capuçon's Aix Easter Festival. Here were five concerts (available on arte.tv) in which young talents played world premieres of newly commissioned pieces from 10 young composers, including Brit Christian Mason. 'First of all you have fear,' he says of his feelings as the musical world ground to a halt last March. 'Then you are angry. Then you think, OK, this is the way it is. And because I like to create things and to share music, straight away I was wondering what I could do at my level just to help. So I picked up the phone and I convinced people to follow me. Sometimes it was private money, sometimes institutions – but all the time it was to help young people.'
As for the long-term impact of the ongoing pandemic on the musical world, he's both worried and interested. 'All crises make the rich richer and the poor poorer, and I'm a bit afraid that it might be the same for the classical music world,' he states. 'The big stars will still be there because the system needs stars, and the people who are really struggling will be struggling more. I'm scared that it will reduce the number of people playing. However, on the positive side, the model of different concert formats, more flexibility and less crazy touring could be very interesting. Also, just the way of living, because I've adored being with my family, and I think that's something I will now naturally want to do more of. I always knew it was great, of course, but somehow that touring schedule never stopped.'
One unequivocally happy event for Capuçon this past September was being named Unesco Artist for Peace. 'It's an incredible honour, an incredible institution supporting peace, culture and education, and it's also exactly what I needed. If I were to do something with Emmanuel Macron then it's political. As Artist for Peace it's not political any more,' he says. 'There are a lot of projects planned, and while it will take a bit of time to make them happen, it's really exciting.'
This coming September, he becomes artistic director of the Lausanne Chamber Orchestra. 'This is my new excitement!' he enthuses. 'Just last week we recorded an Arvo Pärt CD and they are incredible. The strings level is out of this world. I knew this before, but doing a recording brought it home even more.'
His portfolio doesn't stop there either, because he's also a shareholder in the new NomadPlay app, which allows budding soloists to silence a recording's soloist in order to play with the orchestra themselves. He has now recorded six student violin concertos for the platform. 'I'm just imagining what it would have been like for me as a kid, had I been able to listen to a guy like me playing a Rieding concerto, and then play it with the orchestra myself,' he says.
All in all, it's a whopping additional portfolio for a man whose concert diary alone saw him calculated last year by Bachtrack as being the world's fourth-busiest violinist of 2019. And even if he can handle it himself (indeed, watching as a critic, I've noticed how his powers as a violinist currently appear to be actually growing in tandem with his workload, one feeding the other), is there a danger of him being perceived by others as being too 'everywhere'? 'Yeah, it's a lot,' he admits, 'and I will certainly reduce some things in the coming months. But somehow it's all organic, interlinked, and an extension of who I am as a musician – and always with a purpose. Of course, others only see what I've accepted, so it's easy to think, "He takes whatever he's offered". But I don't. I have the luck to be able to choose what fits, and the day it's not organic you can tell me. Although don't worry, my wife would, straight away!'
Of course, an uncomfortably full diary isn't going to be an immediate problem in 2021. 'It looks strange,' he owns. 'A lot of cancellations. A lot of question marks.' However, he's keen to emphasise that at his age and stage of career he's not complaining. 'My personality is such that I will always find ideas. I'm a fighter.' And with that, he's off and away to record Beethoven.
Read the review of Renaud Capuçon's Elgar album in the Gramophone Reviews Database: Elgar's Violin Concerto
This article originally appeared in the March 2021 issue of Gramophone. Never miss an issue – subscribe today!
Listen