Reputations: Michael Tippett
Michael Oliver
Tuesday, February 2, 2016
Michael Oliver examines the legacy of a remarkable musical mind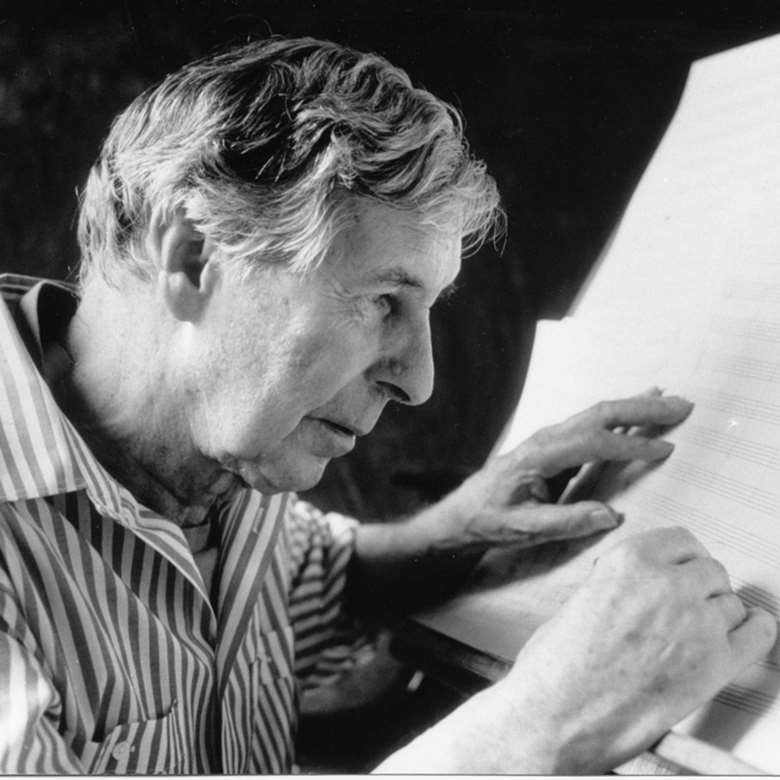 A composer underrated In his earlier years Tippett always seemed in the shadow of Britten (his junior by eight years, but a much faster developer). In particular it was often said that he lacked Britten 's fluency, his clarity of aim and his sheer competence. Britten did not live to become a Grand Old Man, Tippett did (though there was nothing in the least grand or even especially grave about him), but even in his astonishing old age the reservations and accusations that had recurred throughout much of his earlier years and his maturity were only silenced for a time. For some, perhaps many, he is still the composer of confused and confusing operas ('Opera marred by obscurity' was The Daily Telegraph's headline on the day after the premiere of The Midsummer Marriage in January 1955), jerry-built on the foundations of his own hopelessly bad librettos; a composer who changed his style too often in response to what he naively took to be the spirit of the age but usually amounted to no more than trendiness.
However, even the most adverse critics acknowledge the power of a handful of his works - those that have received multiple recordings, for the most part, plus The Midsummer Marriage. These, we are still more than occasionally told, are the real Tippett, before his ravishing lyricism was overlaid by a need to prove himself up-to-date and by a tendency to make of every work a magpie's nest of ill-assorted influences and enthusiasms.
To rebut these charges is almost as hard as to argue (yet, I would say, just as easy to see) that the Bruckner who wrote the Eighth and Ninth Symphonies, the Te Deum and the F minor Mass cannot have been the rustic half-wit portrayed by many biographers and in innumerable anecdotes. Part of Tippett was trendy (the clothes, the would-be up-to-the-minute but often quite hoary colloquialisms), he did have a butterfly mind (editing tapes of interviews with him was a nightmare), his librettos do sometimes have a very high wince-content. But to consider just a few of those works that are generally held to represent the acceptable face of Michael Tippett might make the task of defending the others a little easier.
The Concerto for Double String Orchestra, to begin with, is more than an ecstatic lyrical effusion, created in some sort of inspired frenzy before Tippett had had time to clutter his head with nonsense. Its extraordinary rhythmic fluidity ('additive rhythm', Tippett liked to call it, as distinct from the 'divisive rhythm' of most European concert music) is profoundly original, and it is derived with no less originality from folk music (including jazz) and from the English madrigal. Incidentally, at least part of Tippett's reputation for 'incompetence' is based on the fact that until musicians got used to his additive rhythms they found his music exceedingly hard to play; when the premiere of his Second Symphony in 1958 broke down in confusion after a few bars it was not, as Sir Adrian Boult gallantly told the audience, 'all my fault, ladies and gentlemen', but because the orchestra's leader had insisted on re-barring all the string parts.
Influential predecessors
The other presence clearly felt in the Concerto is that of Beethoven, a central influence on Tippett from his earliest years until his last. The counterpoint, too, of the Concerto is of virtuoso skill, but in this respect it is far surpassed by the Fantasia concertante, by now so often used in film and television soundtracks to evoke the English countryside in summer that it can easily be dismissed as 'mere' lyrical pastoral, mere (as its title implies) fantasy. In fact few fantasies, few sets of variations, have been more creative in their hewing of subject matter from their source. The title, already long, would better be designated 'Fantasia concertante on Two Brief but Ingeniously Chosen and no less Ingeniously Contrasted Fragments of a Theme by Corelli'. The source work (Corelli's Concerto grosso, Op 2 No 6) contains a fugue; so does Tippett's Fantasia, but his is a development of a fugue by Bach (himself paying tribute to Corelli by using a theme of his), and the whole work can be heard as a homage to Italian lyricism, from the 17th century - the staccato opening is as much in Monteverdi's manner as Corelli's - to the 20th: the real origin of the piece, Tippett delightedly recalled, was a realization that if you take Corelli's bass line, transpose it [rom F minor to A flat major and add a few notes, the result is 'pure Puccini'.
In both these works, in fact, the welding of disparate influences that is so marked in the later pieces is already a central feature. It is still more so in such an apparently straightforward work as A Child of Our Time. Here the plot is factual, closely based on newspaper stories of the time, but Tippett's quest to universalize it led not only to a form modelled on Bach, with spirituals in place of Lutheran chorales, but to a libretto that refers to the Bible and to Bunyan, to Wilfred Owen and to Jung, to Blake and TS Eliot. Tippett also took certain melodic features characteristic of spirituals and used them as elements in his 'own' music, the effect being not to give the whole work a flavour derived from the spirituals but to point up kinships with other musics: with Kurt Weill and the Broadway musical, rather obviously in 'I have no money for my bread'; also with (again) the English madrigalists and (a newer enthusiasm) Purcell. The poignant high violin lines at the beginning of the tenor solo 'My dreams are all shattered' were 'borrowed' (and then utterly transformed) from the score to Walt Disney's Snow White and the Seven Dwarfs. It is a profitable exercise when considering Tippett's roots to imagine 'How can I cherish my man' sung firstly by Emma Kirkby, with harpsichord-and-cello accompaniment, then by Ella Fitzgerald with improvised 'replies' to each phrase by, say, Coleman Hawkins.
It was not only The Daily Telegraph that found the plot and the text of The Midsummer Marriage obscure. The first sound I heard after the curtain fell was an exasperated cry of 'Rubbish!', and although some people found themselves bemusedly enjoying a good deal of the music the opera fell from the repertoire for a long time. When it returned, many listeners found it hard to believe that it had once been found puzzling or confused. Those who enjoyed it tended to love it deeply, and found Tippett's words no hindrance to the rapturous vision he was communicating. Perhaps, some suggested, it was inevitable that a visionary would express himself, in words, haltingly or approximately. This pattern - initial bafflement, eventual delighted clarity - has been repeated with many of Tippett's subsequent works. Paul Driver, reviewing the Triple Concerto for Tempo in 1980, was unconvinced either by its technical command or the nature of Tippett's ideals, and could discern only 'a number of enjoyable moments' in it. Five years later, in The Musical Times, he confessed himself 'surprised by joy' on hearing it again.
My own experience has at times been similar. After first hearing New Year I was in part reassured by its lyricism and warmth, after the bonier sounds and textures of its predecessor The Ice Break, but even after preparing myself by reading the libretto I found the plot almost incomprehensible and my teeth were often set on edge by those of the words that I could hear. I was still puzzled when that production was televised (the stage pictures imaginatively rethought for the medium) and I had not heard the work since, until, while thinking about this article, I unexpectedly (I thought I had mislaid it) came across a video of the television performance. I could not find either a libretto or the programme of the stage production I had seen, so I watched it with only a vague recollection of what it is about. Inner-city conflict, racial violence, a step-sister and brother, loving but set at odds by fear of their environment, three visitors from another time - the sequence of events was confusing enough, but the archetypes were not, and Tippett was always talking of archetypes. The piece seemed at once a myth, a parable and a vision and, although I still find it hard to say why, I was very moved by it and am now convinced that it desperately needs both recording and further performances. But a friend watching with me left before the end, angered and embarrassed.
An uncomfortable visionary
That's the word: Tippett has always been embarrassing. Visionaries tend to be. At the first performance of the Third Symphony people were jarred by the strident and literal quotation from Beethoven's Ninth that begins the finale, and were disconcerted when, soon after, Heather Harper rose to her feet with great dignity and shouted the blues at them. Blues, of course, to words by Tippett himself, and no doubt some felt it not quite proper that Miss Harper should be given such lines as 'O, I'll go whirling with my armpits glist'ning and my breast-buds shaking...' or '...and my thighs, and what between there lies, my thighs aflame'. In the Third Symphony Tippett was testing Beethoven's and Schiller's ideals of human brotherhood against the 20th century's experience of total war, genocide and the threat of nuclear extinction. A huge, brave task, a rash one maybe, and not many 20th-century composers have felt equal to it. The texts of his blues refer directly to Schiller (those embarrassing armpits and thighs are no doubt a modern response to Schiller's 'All creatures drink joy from nature's breasts' - the plural is usually suppressed in translation), to Martin Luther King and to anyone else who served Tippett's purpose: to ask whether anything could be saved from Beethoven's and Schiller's vision, or if anything could replace it. "What though the dream crack! We shall remake it... We sense a huge compassionate power to heal, to love.'
A dreamer, too. A member of the audience at the European premiere of The Mask of Time, interviewed on television, said with warm admiration, 'That man is an incredible dreamer of dreams'. Dreams do not always make much everyday sense, but as a Jungian and one who kept a detailed dream-diary Tippett knew the power of their non-sense, and he constantly drew on it. In his vocal works especially, but often also in instrumental ones, his mysterious images often make perfect dreamsense. The "Ritual Dances" in The Midsummer Marriage, the ravishing evocation of music in King Priam, Dov's vision (and Tippett's) of 'the golden Californian West' in The Knot Garden, the moment at which Jo-Anne, the central figure in New Yearrapturously discovers that she can dance – all these are turning-points that make little 'sense', but are all the more powerful and moving for that very reason.
Because there are important elements of dream, of vision and of ethical or political idealism in each of his operas (in most of his vocal works, indeed), each of the operas makes more sense as part of an operatic pilgrimage. It is more true of Tippett than of most composers that his five operas make up a single opera-in-progress. To a significant degree the same is true of his cycles of piano sonatas, string quartets and symphonies. Further than this, most of his bigger works have 'satellites'; not supplements of secondary importance using similar material but developments of new discoveries into quite different domains (the Concerto for Orchestra and the Second Piano Sonata, for example, are very clearly related to King Priam but by no means mere offshoots from it). This leads to the hard-seeming conclusion (but also an entrancing one, once the initial perplexity/eventual acceptance hurdle is passed) that Tippett, more than most composers, repays comprehensive listening. Which means, of course, that his ideal discography consists of every one of his truly major works (the operas, symphonies, quartets and piano sonatas, the Concerto for Orchestra, the Piano Concerto and Triple Concerto, A Child of Our Time, The Mask of Time, Boyhood's End, The Heart's Assurance and the shorter songsets,The Vision of St Augustine, Byzantium and The Rose Lake – only just over 30 pieces, after all, well under 30 CDs).
For the newcomer to Tippett, or one so far put off his music, the obvious introductions to it are the string orchestra pieces, A Child of Our Time and The Midsummer Marriage. Less obvious, but to my mind still more convincing as indicators of his stature as a highly individual modern master are King Priam, the Third and Fourth Symphonies and A Mask of Time. The last, in particular: it is, and was intended, as a grand summation of his thought, his ideals and his developed language. And of course, when it was new, it was ridiculed ('Michael has finally gone mad', said one member of the audience to me after the European premiere). I would call it a masterpiece.
Tippett's most famous definition of what artists are for relates the artist of today to 'an age-old tradition, fundamental to our civilization, which goes back into prehistory and will go forward into the unknown future. This tradition is to create images from the depths of the imagination and to give them form whether visual, intellectual or musical. For it is only through images that the inner world communicates at all. Images of vigour for a decadent period, images of calm for one too violent. Images of reconciliation for worlds torn by division. And in an age of mediocrity and shattered dreams, images of abounding, generous, exuberant beauty.'
(This article originally appeared in the July 1998 issue of Gramophone)
Explore Tippett's life and music...
Alan Blyth talks to Sir Michael Tippett (Gramophone, April 1971)... Read more
A Child of Our Time was Tippett's reaction to tragic events that changed the course of world history. Geraint Lewis traces the genesis of this modern classic and follows its progress on disc... Read more