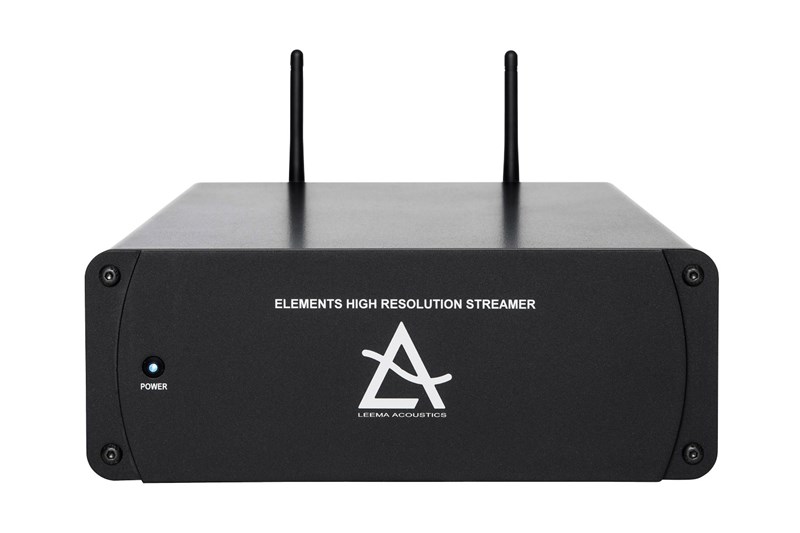 The growing popularity of computer-stored and streamed music has made possible a rethink of the way hi-fi components look and work. Given that music files can carry a lot more metadata information than CDs, and network players are most logically operated using an app running on a smartphone or tablet device, there's no need for the player to conform to the norms of hi-fi separates.
That means the units themselves can do without a display panel, as there's simply too much information on offer to be readable at a distance unless the display is made as large as that on, say, NAD's M10 all-in-one. As a result we've seen the likes of the Naim ND5 XS2 and Audiolab's 6000N Play arriving on the scene with a plain fascia.
Taking things even further, network players don't even need to conform to the normal hi-fi dimensions: Pro‑Ject's little Stream Box RS2 Ultra takes this to the extreme, at just 10.5cm square and 3.7cm tall. And while the Leema Elements streamer we have here isn't quite that small, standing 8.8cm tall and 22cm wide, it's still a very compact piece of equipment. It's an affordable one, too, selling for £1295. That pitches it midway between budget models such as the Audiolab and Pro‑Ject, and the entry-level offerings from the likes of Naim.
"
There's no need for network players to conform to the norms of hi-fi separates
As with all the company's products, the Elements Streamer is hand-assembled at the company's factory in Welshpool, Powys, famously also making electronics for the dairy industry as well as automotive and other applications. It joins the other models in the Leema Elements range, which runs to pre-, power and integrated amplifiers, a CD player, a DAC and a phono stage for use with turntables, all in matching 22cm-wide casework constructed to a very high standard.
Aside from Leema's striking logo and the name of the product, all the Elements Streamer has on its fascia is a power LED, while to the rear things are almost as simple. Twin Wi‑Fi antennae are provided, with a WPS pairing button, along with a LAN port for Ethernet; the unit can also play direct from USB storage devices as well as making the contents of such storage visible for playback on other DLNA players on the network. Outputs are on a choice of RCA sockets or balanced XLRs, plus optical and coaxial digital.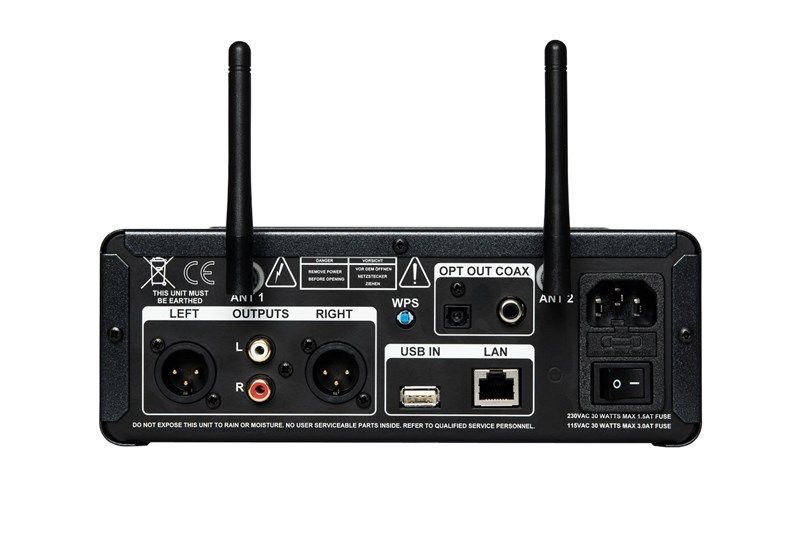 The electronics here are based on the streaming section in Leema's Quasar integrated amp, which sells for £2995. This supports services including Deezer, Qobuz, Spotify Connect, Tidal and vTuner radio, while the unit can also play music from network computers, NAS drives and music servers using the DLNA/UPnP protocols. Control of the Elements streamer is via the free mConnect Play app, which is available for iOS and Android.
In common with quite a few current streaming products, the digital-to-analogue conversion here is in the hands of the excellent ESS 9018 'Sabre' DAC, which comes complete with 32-bit 'Hyperstream' architecture and proprietary jitter elimination. This enables the unit to handle music at up to 192kHz/24‑bit and DSD128, which may seem modest when there are products out there that can handle 768kHz and DSD512 but will actually be more than adequate for most listeners' needs.
And that's about all there is, other than to note that the mConnect control app will also be adequate for most after a little familiarisation, even if it's not the slickest or most comprehensive music-streaming app on the market. It's never obstructive and was stable enough during the review period, but it can require a bit too much user juggling when switching from network playback to streaming music, for example.
PERFORMANCE
A little patience tends to go a long way when following up on product launches with requests for review samples but the Elements Streamer pushed new limits. First announced at the 2018 Bristol Show – yes, two years ago – it was officially launched at the end of November 2018 and the email finally offering a review sample arrived a year after that. Apparently that initial preview was followed by 'an extensive development and testing programme throughout 2018'; but the good news is that the compact Leema unit was well worth the wait, having an honesty and directness to its sound that's as much a tribute to the work put into the analogue engineering as it is a sign of the quality of the streaming/digital section.
This is a simple unit, with not a sniff of the Bluetooth or Airplay wireless connectivity found in many products of the kind, but it's clearly been designed to do its job, and do it very well. The warm, mellifluous presentation is flattering to less-than-perfect recordings but doesn't stint on the detail or impact when a high-quality digital file is fed to the Leema.
The bass in particular is big and generous but at the same time tightly controlled, whether with the scale of a full orchestra or the lower octaves of a piano. Even more striking is the Leema's ability to lay out focused, naturally scaled sound-stage pictures, from both streaming services and locally stored files. Even live concerts on Radio 3 and Classic FM sound atmospheric and involving, despite the relatively modest data-rates used.
The Elements Streamer may look a little basic and lack some of the extras found on rivals at this level but it's certainly capable of high standards of performance, and comes firmly recommended.
SPECIFICATIONS
Type Network Audio Player
Price £1295
Networking Ethernet, Wi-Fi
Outputs RCA/XLR line analogue, optical/coaxial digital
Inputs USB Type A
File formats PCM-based up to 192kHz/24‑bit, DSD64/128
Dimensions (WxHxD) 22x8.8x34cm
This review originally appeared in the March 2020 issue of Gramophone. Never miss an issue – subscribe today!