Review: Pro-Ject CD Box RS2 T and Pre Box RS2 Digital
Andrew Everard
Wednesday, March 25, 2020
Best known for its part in the vinyl revival and a range of record players, the Austrian-based company has launched a two-box CD player – and it's done things the hard way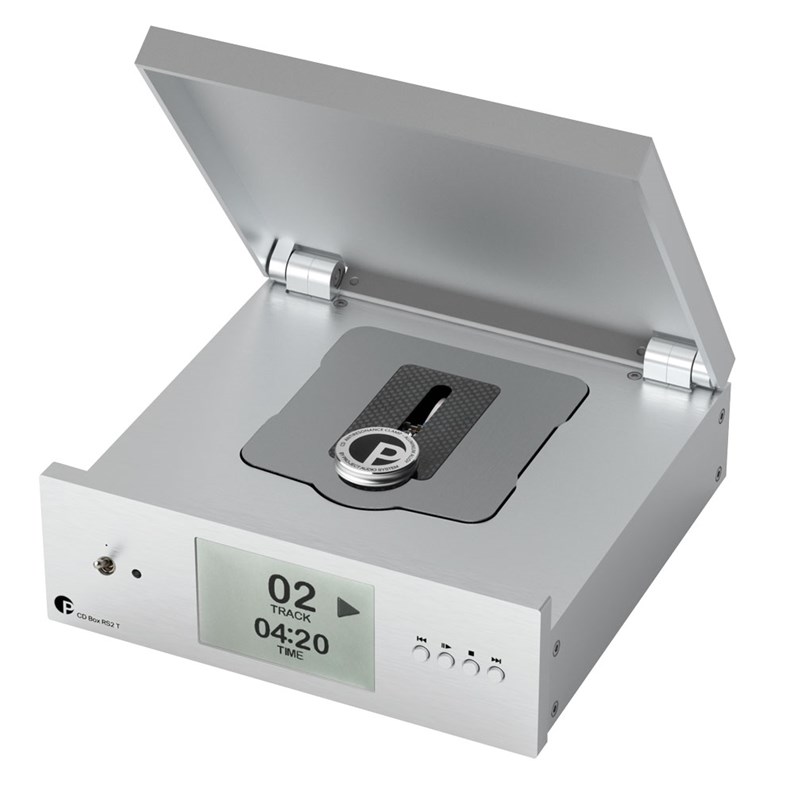 For most hi-fi enthusiasts, the Pro‑Ject name is synonymous with record players. Based in Austria and founded in 1991, the company built itself on its original Pro‑Ject 1 turntable and now has models ranging from the £159 Primary E all the way up to the £8000 Signature 12. What's more, central to the company legend is the factory in which the company's turntables are made, in Litovel, to the south-east of Prague in the Czech Republic.
However, alongside the success of its record player operation – not to mention the sheer scale of both the range and the scale on which it manufactures – the company has developed parallel businesses. This part started when it launched an inexpensive phono pre‑amplifier to allow its turntables to be used with amplifiers having only line-level inputs; and from this original 'Phono Box', hundreds of thousands of which have been sold, sprang a line-up now running to some 60 products including digital, amplification and source components. These are divided into strata, with the C and E lines at the entry level and the RS and RS2 ranges at the top end.
Very much the flagships of this 'Box Design' range are the recently launched CD Box RS2 T CD transport and the Pre Box RS2 Digital, combining the functions of digital-to-analogue converter, headphone amp and pre‑amp, thus enabling it to be used directly into power amps such as the company's Amp Box RS model or a pair of its Amp Box RS monos.
Several things set the new transport and DAC/pre apart. First, they combine high-end aspirations with the same compact form-factor – just 20.6cm wide – as the other Pro‑Ject 'box' products; second, their pricing sets them above the company's other models, at £2150 for the transport and £1750 for the DAC; and third, the company has aimed high with the engineering, rather than merely depending on off-the-shelf solutions.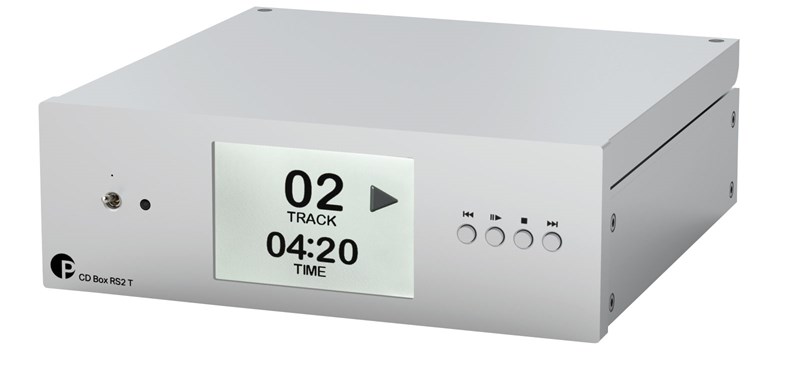 Take, for example, the RS2 T transport. Have a look at the pictures and you'll search in vain for a slot into which to post your discs – this is a top-loading player, with the drive mechanism revealed when the solidly built lid is opened and the disc fixed in place with a magnetic puck, just as happens with some other high-end designs.
However, even more impressive is what's beneath that loading arrangement. The RS2 T has a new purpose-built CD mechanism instead of the now more common strategy of modifying a drive originally built to handle DVDs and the like in computer applications. That's a situation reflecting the relative decline in the CD player market; but Pro‑Ject has chosen to develop a dedicated drive in association with StreamUnlimited, with which it has also worked on network audio products. Founder Heinz Lichtenegger describes the enterprise as involving an investment of millions of euros and expresses his confidence that this mechanism will find its way into other manufacturers' products, including those considerably more expensive than the RS2 T.
This 'Blue Tiger' CD mechanism draws on the expertise of engineers formerly with the now-closed Vienna-based Philips CD development team. It uses the StreamUnlimited CD-Pro 8 with its integrated CD-84 servo, the whole assembly being mounted in a proprietary anti-vibration suspension using dampers mounted on its carbon fibre chassis, which is then fixed in a solid block of aluminium.
This is a pure CD transport, outputting signal only in digital form via optical and coaxial S/PDIF and balanced AES/EBU on an XLR. In addition, when used with a suitable DAC – such as the one we have here – the RS2 T can be connected using its 'I2S plus masterclock' output, which uses an HDMI connector: rather than sending data and digital control data as a single signal, as is the case in conventional digital audio transmission, I2S uses separate feeds for data, the word clock (which lets the receiver sort what's what in the incoming data) and the bit clock. It's the way data is transmitted inside players, hence 'Inter-Integrated Circuit Sound'.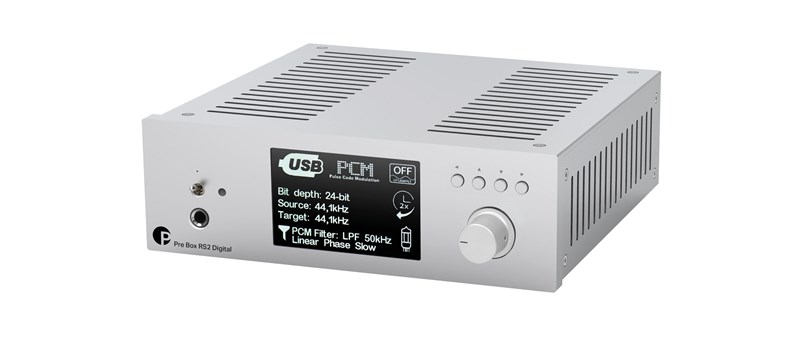 The Pre Box RS2 Digital is just as clever. As well as the matching I2S input – which, despite being on an HDMI socket, isn't to HDMI standard, so can't take sound from your TV – it also has coaxial and two optical S/PDIF sockets and an AES/EBU input, plus a USB Type B asynchronous input for connection to a computer, over which it can accept data at up to 768kHz/32‑bit and DSD512. It also offers user-selectable upsampling of lesser formats to 384/352.8kHz and reclocking, MQA decoding (which could be useful if you use a TIDAL-capable network player) and a choice of seven digital filters and two analogue. Bluetooth is also provided, as are analogue inputs on RCA sockets or balanced XLRs, and the unit offers RCA/balanced outputs, plus a 'full size' 6.35mm headphone socket. A final intriguing option is the choice of solid state or valve-powered analogue outputs: as mentioned, these can be used at variable level straight into power amplification, or at a set level into a conventional pre‑amp or integrated amp.
Performance
With all that flexibility built into the Pre Box RS2 Digital, there's plenty with which to experiment but also plenty to confuse if one allows it. The good news is that there's no such thing as the right configuration here, only the one able to give the listener his or her preferred sound. After a long period of fiddling with the settings, I was still unable to find one I found preferable across all recordings, so I gave up with the small stuff and decided instead to concentrate on the big thing, which is how good this two-box player sounds, almost irrespective of the settings chosen.
That applies whether using it as intended, with the DAC fed from the transport, or with a computer fed in through the USB input to play higher-quality files. In the latter configuration I found myself marvelling at just how good high-DSD files could sound, courtesy of some releases from the specialist website NativeDSD. There's scale and solidity, plus an occasionally jaw-dropping openness, to recordings like this played through a DAC as accomplished as the Pro‑Ject; but just as impressive is the way this two-box combination brings a version of the same qualities to CDs.
"

Pro-Ject has aimed high with the engineering of this pairing, rather than merely depending on off-the-shelf solutions
Not only does it breathe new life into familiar recordings but it manages to do so without that hyper-detailed effect that makes less-than-perfect mastering jobs sound excessively raw and brittle. And that's not just a matter of dialling in the valve output stage to bring a spot of lushness to the party: instead the Pro‑Ject pairing sounds just as convincing whichever output stage is chosen, but perhaps just a smidge smoother and warmer when the valves are in use. To my ears, the slightly sharper focus of the solid state output stage is preferable; your taste may vary.
And focus is there in abundance, along with that combination of mellifluous fluidity and weight, power and dynamics. By any standards this is a remarkable CD-playing package, and its arrival at this stage of the silver disc's history will be a cause for celebration for many.
Specifications
Pro-Ject CD Box RS2 T
Type CD transport
Price £2150
Discs played CD, CD-R, finalised CD-RW
Digital outputs Coaxial, optical, AES/EBU, HDMI
Accessories supplied Remote handset
Finishes available Black or silver
Dimensions (WxHxD) 20.6x7.8x21cm
Pro-Ject Pre Box RS2 Digital
Type DAC/pre-amp/headphone amp
Price £1750
Inputs Coaxial, 2x optical, AES/EBU, HDMI, USB Type B, RCA/balanced analogue, Bluetooth
Outputs RCA/balanced XLR, headphones
File formats handled Up to 768kHz/32-bit and DSD512 on USB, 192kHz/24-bit on others
Accessories supplied Remote handset
Finishes available Black or silver
Dimensions (WxHxD) 20.6x7.2x22.2cm
This review originally appeared in the February 2020 issue of Gramophone. Never miss an issue – subscribe today!