Richard Blackford: we explore the composer's music
Monday, April 11, 2022
From cantatas to concertos, Michael White looks over the artist's ever-evolving musical voice
Not all musicians have emerged out of the void of the pandemic firing on all guns; but one who has is the composer Richard Blackford, making up for lost time with a vengeance.
Last month he conducted the premiere of his own Babel, a 30-minute choral cantata, at Cadogan Hall. This month brings the Spanish premiere of his oratorio Mirror of Perfection, plus performances of another oratorio, Pieta, in St Albans and Winchester (with more outings for that piece later in the year at Gloucester's Three Choirs Festival and Bristol). And if that wasn't enough, there are three forthcoming albums - of his cantata Vision of a Garden (coupled with a new recording of Mirror of Perfection) on Lyrita in May; looking further ahead, of the Sagrada Familia symphony, recorded with the BBC National Orchestra of Wales in Cardiff and also on Lyrita; and of an astutely-done reduction of the Verdi Requiem he made at the behest of choral conductor David Hill, which will come out on Nimbus.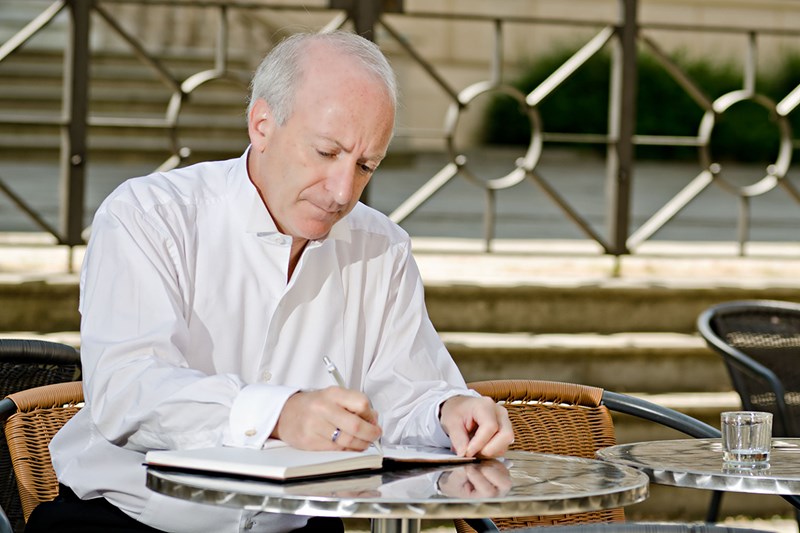 Richard Blackford: the composer making up for time lost by the pandemic 
'A lot of this is due to lockdown postponements', Blackford admits, 'like late-running buses all arriving at the same time; and I'm fortunate that they've only been postponed rather than completely cancelled'. But the hyperactive schedule of events tells you something about Blackford beyond post-Covid recovery. As he progresses through his middle-60s, his career is driving forward with a second wind – perhaps not unconnected with a more permissive attitude these days to tonal music.
As the schedule indicates – with oratorios, cantatas, symphonies accumulating – Blackford's output is, by general reckoning, conventionally formed. He's not the kind of cutting-edge practitioner championed by Ensemble Modern or the London Sinfonietta. And his leanings toward music for the large-scale choral circuit – to be sung by amateurs and, of necessity, accessible, approachable – suggests him as perhaps a fellow-traveller with John Rutter, Will Todd or Karl Jenkins.
But he doesn't share much common ground with any of those names. His (largely tonal) sound-world is distinctive and the product of a personal history that has crossed some standard barriers of style and culture, and occasionally crossed them back: revisiting past interests. Starting out during the 1970s, the youthful Blackford seemed to be amassing the credentials of a serious avant-gardist, studying privately with Elisabeth Lutyens before progressing to the Royal College of Music with Humphrey Searle and then moving to Rome as an assistant to Hans Werner Henze.
But neither Lutyens nor Searle met his needs (at the College he soon changed to John Lambert). And what drew him to Henze was the sensuality that softened the composer's idiom. 'I loved his approach to instrumental colour' says Blackford now, 'as well as his more flexible way with serial techniques: it was something very different to the hard line of Liz Lutyens'.
Also different was the 19 year-old Blackford's debut score: a 40-minute choral setting of the early English mystical text The Dream of the Rood that was performed while he was still a student and conducted by no less than the RCM's director Sir David Willcocks. In retrospect it seems prophetic of Blackford's Christian-leaning oratorios/cantatas that would come much later – and it's notable that, although born to a Jewish emigree mother, he was brought up Christian and retains a strong sense of Anglican devotion that feeds into much of his work (alongside an equally strong sense of social justice).
Close in spirit to the Rood was a community opera on the Gawain legend that he was then, in 1978, commissioned to write for just about the entire population of an Oxfordshire village (most of them music-loving nuclear scientists from nearby Harwell). And bitten by the bug of producing sprawling scores for mixed-disciplinary forces, he went on to write a singing/dancing/instrumental masque called Metamorphoses as a centrepiece for the RCM's centenary celebrations in 1983.
But by then his work had begun to turn in new directions. Always a literate composer, sensitive to text, he formed relationships with several writers, starting with Ted Hughes (for a Royal Opera commission, The Pig Organ, that didn't altogether work – 'because I hadn't  the skill for shape and structure required to mine, as Hughes put it, his text for music'), and then the Yorkshire poet Tony Harrison (a more successful collaboration that developed through several gritty, northern-realist projects for TV and theatre).
Before long, Blackford was edging into the commercial world of film. And by what he calls a 'fluke', he was put up for a German drama series based on the romantic fiction of Rosamund Pilcher that ran on for 20 years. At 10 films per annum, it was conveyor-belt work and far from high-brow (Blackford claims he never actually read the Pilcher novels, 'just the screen-plays') but it was lucrative, well-crafted, and admired - it won awards. And it launched a strong commercial portfolio that embraced British film-work like Song for a Raggy Boy (2003), the acclaimed TV series Fingersmith (2005), and an Emmy-nominated four-hour score for Jeremy Isaacs' epic series Millenium (2000).
He developed a 'popular' voice. And on the way he tried his hand at a West End musical, King, based on the life of Martin Luther King and issued by Decca as a concept disc (with Simon Estes and Cynthia Haymon in the leads) before opening at the Piccadilly Theatre, London. But as Blackford recalls, 'the whole thing was besieged with problems, including threats of litigation from the King family lawyers who were initially supportive but got very difficult. I parted company with the original librettist, who was then replaced by Maya Angelou. Directors came and went like trains at Paddington – one of them being Graham Vick, who left saying he couldn't work with lawyers present in rehearsal. And in the end, the show only ran for 56 performances – though it was resurrected in concert for Bill Clinton's presidential inauguration. That at least was a good experience'.
Another good experience was one of the (relatively rare) classical concert works Blackford composed in those years: his cantata Mirror of Perfection which, paradoxically you might think, was a choral work commissioned by the Royal Ballet School where Blackford was teaching in the 1990s.
'When I arrived, the school didn't have a choir, and many of the students couldn't actually read music. But it was thought a good idea to get them singing as part of a more rounded musical training. And I came up with Mirror' – based on the canticles of St Francis of Assisi, for which Blackford had (and still has) a particular love. Written with a sweeping, cinematic breadth of lyricism, it was BIG music clarified by charm, finesse and, given the saintly subject-matter, an appropriate simplicity where simplicity would count. Premiered in 1996, it was recorded by Sony two years later with the Bournemouth Symphony Chorus (a recording subsequently licensed to Nimbus). And it went on to be Blackford's most-performed work - which explains the new recording about to issue on Lyrita with the Britten Sinfonia under David Hill and soloists Roderick Williams and Elizabeth Watts.
Where Mirror led, more large-scale choral pieces followed. 2001 brought Voices of Exile, an uncomfortably confronting, sometimes downright angry response to the experience of refugees – told in their own words and recorded in 2005 by David Hill and the Bach Choir (for Quartz). In 2011 came Not in Our Time, another conscience-driven score that pulls no punches in its anguished historical survey of the way religion gets used as an excuse for war (recorded by Nimbus in the year of its premiere, it made No2 in the classical charts). 2019 saw the first performance of Pieta, an expansion of the classic Stabat Mater text to embrace broader ideas of mothers who grieve for lost children (it won an Ivor Award and was issued on Nimbus in 2020). And most recently there's been Vision of Garden (a Covid-related piece written last year for the Bach Choir and one of the pieces issuing soon on CD), alongside Babel (the cantata just premiered at Cadogan Hall, linking the Biblical Tower of Babel story with that of Noah's Flood).
Taken together, it's a body of work that gives Blackford an assured place at the table of contemporary English choral writing. And there aren't so many others who do it with his practical or technical initiative. He stretches singers without asking the impossible. He gives them drama, colour, energy. He handles serious subject-matter with conviction and sincerity. And through what has become a mutually rewarding closeness to ensembles like the Bach Choir and the Bournemouth Symphony Chorus, he knows how to make this kind of music deliver – with an immediacy for the audience, and a slower-burning sense of sustained discovery for the amateur performers who will live with the piece over a long rehearsal period.
It's a particular skill. But one that Blackford balances against a quite distinctive catalogue of non-choral works that have grown harmonically more complex in the past few years. Highlights have been a 2007 Violin Concerto, a 2009 Clarinet Quintet, and an explosively entertaining 'symphony with wild soundscapes' called The Great Animal Orchestra, written for the Cheltenham Festival in 2014 and embedding digital samples of wildlife noises in live orchestral textures. In some ways cinematic, with discernible Eastern European influences (notably Janáček) in their DNA, they're all available on CD. Mostly from Nimbus.
But around 2015 came a conspicuous pause, and then a sea-change, in his output. Late in life, and with so much to show for it behind him, he went back to school – to do a doctorate in polytemporal composition at Bristol. It was a bizarre, you might think retrograde, move. But he did it seriously and productively, believing that the decades he had spent immersed in film and TV music had compromised his engagement with what was happening in the non-commercial concert world.
'I knew so little about what other contemporary composers were writing. I needed to learn. And in the process I think my musical language became stronger, tougher, more disciplined. It opened new paths for me'.
The immediate, and striking, results were pieces like Niobe (2017, a sort of violin concerto subsequently recorded on Nimbus by Tamsin Waley-Cohen with the Czech Philharmonic Orchestra) and Kalon (2018, a polytemporal dissertation for two interactive string ensembles, recorded on Signum). On a larger scale is the Sagrada Familia Symphony that gets its premiere this month, as well as the CD that issues later in the year. And with the software equivalent of ink still drying on the page, a new Cello Concerto has just been finished, intended for premiere by Alissa Weilerstein in (hopefully) 2023.
Blackford thinks this concerto his best work to date. And though many composers say as much of the music they've just completed, he has reason to say so. It's the product of a long, sometimes circuitous creative journey that has come good, successfully crossing the not always negotiable divide between commercial and concert writing. If he was once outside the fold of (dreadful word) 'high' art, he's now emphatically back in it. Working with a rediscovered vigour you could very fairly call guns blazing.
Richard Blackford's new album, featuring Mirror of Perfection and Vision of a Garden, conducted by David Hill, will be released on Lyrita on May 6. Pieta is performed at St Alban's Cathedral on April 23, and Winchester Cathedral on April 29.
Welcome to

Gramophone

...
We have been writing about classical music for our dedicated and knowledgeable readers since 1923 and we would love you to join them.
Subscribing to Gramophone is easy, you can choose how you want to enjoy each new issue (our beautifully produced printed magazine or the digital edition, or both) and also whether you would like access to our complete digital archive (stretching back to our very first issue in April 1923) and unparalleled Reviews Database, covering 50,000 albums and written by leading experts in their field.
To find the perfect subscription for you, simply visit: gramophone.co.uk/subscribe