Rising from the ashes of war
Simon Broughton
Tuesday, March 16, 2021
Janusz Wawrowski recreates Ludomir Różycki's Violin Concerto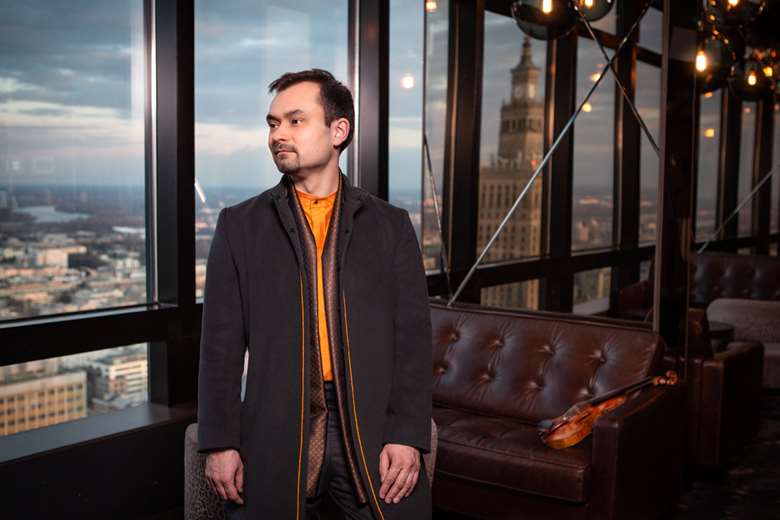 As we know from the book and multi-award-winning film The Pianist, there are some extraordinary musical stories in the terrible devastation of Warsaw in WWII. Jewish pianist Władysław Szpilman escaped the Warsaw ghetto and, after entrancing a Nazi officer by playing Chopin, managed to survive the Warsaw Uprising and return to his job at Polish Radio after the war.
Also during the Uprising, which began in July 1944, Polish composer Ludomir Różycki was writing a violin concerto. Unable to take much with him, he buried the concerto in a suitcase before fleeing the devastated city. His house was destroyed, but Różycki survived the war and worked in Katowice until his death in 1953. When Warsaw was being rebuilt some years later, the suitcase was discovered by builders in Żoliborz, a well-to-do district of northern Warsaw.
From a piano reduction and a full score of the first 87 bars, the concerto, with two movements, has been reconstructed and recorded by Janusz Wawrowski: 'I am the first person to combine all the puzzles together – both the original orchestral score with the piano reduction,' he says. There have been two reconstructions made before, based on the piano reduction, but Wawrowski discovered that both manuscripts had made it into the National Library, but weren't connected to each other.
'You can see the piano reduction was written by a great pianist – and there are a lot of instructions about the instrumentation saying "oboe" or "harp" and so on which helped us a lot.'
The orchestration was made by Ryszard Bryła, who is familiar with most of the other orchestral pieces by Różycki. The album, entitled Phoenix (and released by Warner Classics) pairs the unknown Różycki concerto with the Tchaikovsky, one of the most famous of all. 
Listening to the lyrical, romantic score, you would never guess it was composed in Warsaw 1944. This is no descriptive Leningrad Symphony. 'What impressed me, was that in this darkest time he wrote one of his most optimistic pieces,' says Wawrowski. 'All the pieces I know by Różycki are quite dark, but this concerto is different. It has moments of darkness, but especially the second movement is very optimistic.'
Różycki was a pianist and Wawrowski spent two years making the solo violin part more playable. 'I was working on this with great respect. I didn't want to change too much, but it was very obvious that many things were much more pianistic than violinistic - for instance writing thirds in very high positions. It's possible, but it's much more violinistic to play 10ths so we have the same notes, but wider.' A new edition of the score will be published with both Różycki's original and Wawrowski's revised solo part.
Before writing the concerto Różycki had written another wartime piece, Pieta - On the Ruins of Warsaw, which Różycki describes as 'a funeral lament' for the city. Maybe the composer felt he'd done his lamentation, but there's a moment in the concerto's second movement where we hear a climax, church bells and a military drum. It's like a cinematic glimpse of the ruined city, a church silhouetted against the smoke while the war continues. However much of the texture is light and transparent with a high stratospheric violin line, a low contrabassoon and a harp in the middle. The score requires six percussionists, including timpani, xylophone, various drums, cymbals and tubular bells.
'For sure there is a big tension in the piece, you feel it in the harmonies and in the way he writes the violin lines. In the Pieta he is crying, but here he is still fighting, there is an inner energy.' Wawrowski goes on to talk about the composers Lutosławski and Panufnik who played popular songs as piano duets in Warsaw cafes and restaurants during the war. Those pieces were lost in the Uprising (unless there's a suitcase still waiting to be discovered), but Wawrowski's point is that music was also an escape. 'There was war all around, but Lutosławski and Panufnik were writing entertaining pieces. Sometimes this is the effect of being under intense pressure. I wouldn't like to live in such a moment, I'm glad we only have a pandemic, not a war. But I think this CD can also be a message for this not so easy time now - to show the power of the human mind, creativity and art in difficult times. We know about this in Poland.'
We've seen the recent rediscovery of important Polish composers, including Grażyna Bacewicz and Mieczysław Weinberg, championed by Gramophone Award-winning Mirga Gražynytè-Tyla. Wawrowski hopes for something similar for this concerto: 'Różycki is almost unknown, even to musicians in Poland. But in the last four or five years he has started to be rediscovered. [His piano concertos were reviewed in Gramophone February 2016] The concerto is an attractive piece for violinists. It's very demanding but shows off the beauty of the violin and the player's technique. And I don't know a Polish piece from this time which is similar – between the lyrical Szymanowski concertos and Bacewicz in the 40s and 50s which already sound avant-garde. So it fills a useful gap.'
Różycki, who'd studied with Engelbert Humperdinck in Berlin, had been a member of the Young Poland group with Szymanowski, Karłowicz and others. He had his biggest success with the ballet Pan Twardowski, (based on one of Poland's most famous epic poems) which was performed over 800 times in Warsaw as well as abroad. The violin concerto is so romantic in flavour that it sits surprisingly well alongside the Tchaikovsky, they don't really sound as if they're written 65 years apart. 'I wanted to connect Tchaikovsky with something unknown. It's very demanding to play the Tchaikovsky because every violinist has played it and everybody knows it. So it's great to find something new, but that's also challenging to find the right idiom and interpretation.'
Phoenix, featuring Janusz Wawrowski and the Royal Philharmonic Orchestra conducted by Grzegorz Nowak, is available from Warner Classics - you can listen to the album below.