Symphonic Sounds from UNESCO City of Music Abu Dhabi
Sponsored
Friday, May 20, 2022
The LSO and Abu Dhabi Festival partner to premiere Mohammed Fairouz's Symphony #5 available free to view now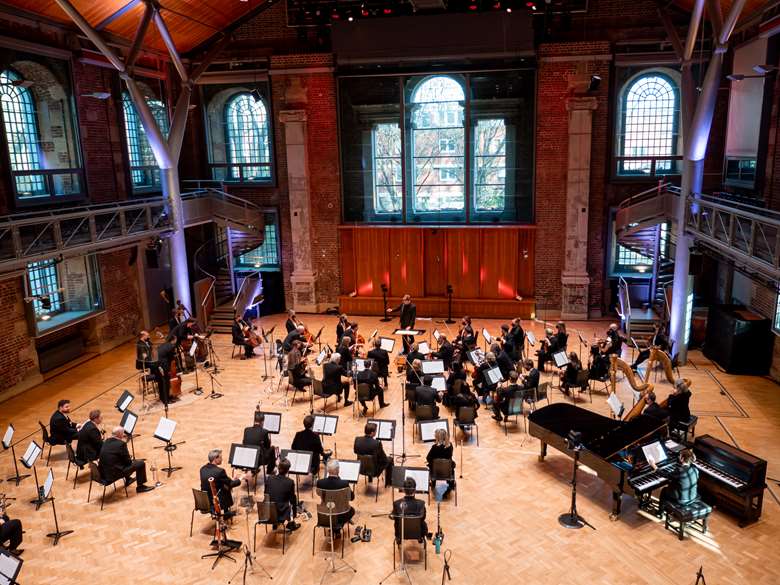 The Abu Dhabi Music and Arts Foundation has been collaborating with the LSO for 12 years along with big classical stars Bryn Terfel, Nicola Benedetti, Krzysztof Penderecki, Wynton Marsalis, Anoushka Shankar, Ivan Fischer, Lang Lang, Gustavo Dudamel, Joshua Bell, and Joyce DiDonato just to mention a few. So it might not come as such a surprise that Abu Dhabi was recently recognised by the UNESCO Creative Cities Network as a City of Music.
When the pandemic halted international touring, Abu Dhabi Music's founder Mrs Kanoo changed approached to collaborate with European organisations to promote and co-produce projects outside of the Gulf wherever music was flourishing. It supported Joyce DiDonato's Eden album on tour and now in a new departure ADMAF has commissioned a new symphony by a local Emirati composer Mohamed Fairouz.
As Mrs Kanoo explains, 'When we were all struck by lockdowns across the world, it made me think that it doesn't really matter if the performance happens in Abu Dhabi or Berlin – especially when it comes to the potential of digital concerts. The pandemic also made me consider that maybe it was time to share our culture with the rest of the world, after we have been bringing theirs to our stages.'
With this in mind, Mrs Kanoo approached Kathryn McDowell of the London Symphony Orchestra to see whether they would consider recording the Fifth Symphony of Mohammed Fairouz. The idea was hatched to film the LSO at their home at St Luke's in January 2022 with the aim of streaming the premiere after Ramadan on May 19.

The distinctive musical language of Arab-American composer Mohammed Fairouz melds Middle Eastern modes and Western structures to deeply expressive effect. Fairouz's transatlantic upbringing across five continents has given him a cosmopolitan voice inspiring previous large-scale works including four symphonies and an opera, which engage major geopolitical and philosophical themes with persuasive craft.
Fairouz's third symphony, Poems and Prayers, interwove texts of Arab and Israeli poets with prayers such as the Aramaic Kaddish. His fourth symphony, In the Shadow of No Towers, about American life in the aftermath of 9/11, premiered in 2013 at Carnegie Hall. His latestSymphony #5 is inspired by the life of the late Sheikh Zayed bin Sultan Al Nahyan, the founding father of the United Arab Emirates. The symphony explores the story of the UAE and its values of peace and tolerance in four movements, Alameen—Shapes, Harmony—The Ummah, Iqra—Infinite Variations and Ascent—Line and Illumination.
Since commissioning the symphony, Abu Dhabi has gone into public mourning since Friday, so Mrs Kanoo decided to make this a tribute concert to the President of the United Emirates, Sheikh Khalifa. As she explains, 'Sheikh Khalifa made culture and the arts one of the key the pillars of our nation, strengthening its contribution to the international conversation on creativity and innovation'.
This ethos is personified by ADMAF's next commission: the Abrahamic Symphony by Ihab Darwish in collaboration with Emmy-winning composer John Debney and Academy Award-winning composer David Shire in a Unity of Three. From Christian, Jewish and Muslim backgrounds, the next symphony will be performed in Abu Dhabi in the autumn will celebrate unity and peace amongst different faiths.
Mrs Kanoo concludes: 'I wanted to create a music foundation in Abu Dhabi, firstly because I believe that music is a basic human right, that every child should get a chance to play an instrument, just as every child has the right to learn to draw; secondly because music connects us as nations and cultures and brings us together. In the Arab world I have seen all too often how we are losing our heritage through conflict and intolerance of others. It is fear of the unknown that leads to enmity – the opposite of the unknown is understanding. By connecting through the arts, we can banish, fear, misunderstanding and hostility. I hope that people in the UK, Europe and across the world will get a chance to hear these new sounds from the Gulf and be pleasantly surprised by this symphonic offering. We could have asked Arab musicians to perform this new work but instead we are delighted that one of the world's most highly-esteemed orchestras is bringing this music to you.'
Find out more about the Abu Dhabi Festival: abudhabifestival.ae