The best new classical albums: Editor's Choice, March 2020
Martin Cullingford
Wednesday, February 26, 2020
Featuring new albums from Benjamin Grosvenor, Joyce DiDonato, Daniel Lozakovich, Isabelle Faust, Daniel Müller-Schott and many more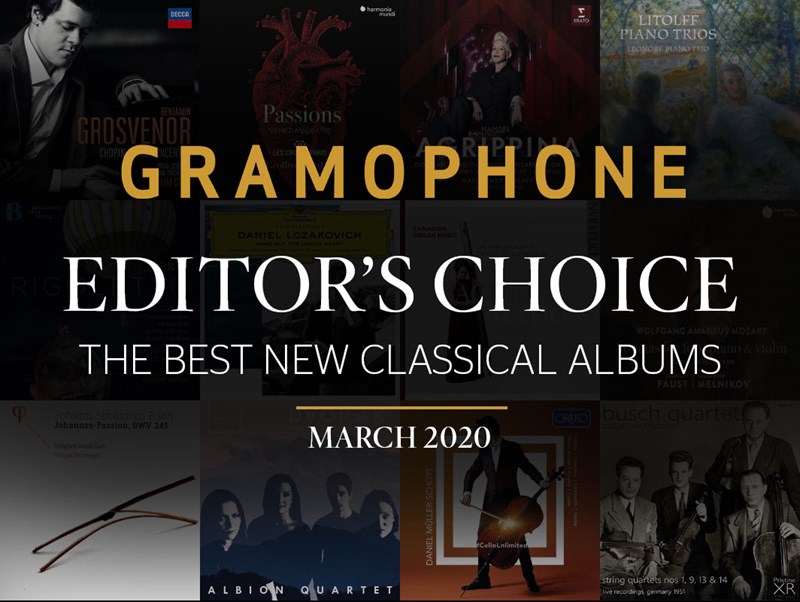 You can enjoy excerpts from the January issue's Editor's Choice albums via Apple Music below. To listen to complete tracks and albums, subscribe to Apple Music, free for three months.
Recording of the month

Chopin Piano Concertos
Benjamin Grosvenor pf Royal Scottish National Orchestra / Elim Chan (Decca)
The brilliant Benjamin Grosvenor brings poetry and beautifully flowing virtuosity to these concertos, aided by superb and instinctive orchestral support courtesy of conductor Elim Chan.

Tchaikovsky Violin Concerto, etc
Daniel Lozakovich vn National Philharmonic Orchestra of Russia / Vladimir Spivakov (DG)
Daniel Lozakovich plays this repertoire with truly distinctive personality. A second triumphant DG disc for the young violinist.

Dvořák String Quartets Nos 8 & 10
Albion Quartet (Signum)
When a critic concludes a review, in March, with 'I can already see this being my pick of the year', you really do have to listen for yourselves. Detail and collegiality throughout make for a superb album.

Litolff Piano Trios Nos 1 & 2. Serenade
Leonore Piano Trio (Hyperion)
If you ever need persuading to explore the lesser-known byways of the chamber repertoire, let this album do so: engaging music, played with striking advocacy from the outset, and beautifully recorded.

Mozart Violin Sonatas, Vol 2
Isabelle Faust vn Alexander Melnikov fp (Harmonia Mundi)
While the catalogue boasts several inspired collaborations in this repertoire, forming here is another exquisite series from two key members of Harmonia Mundi's formidable artist family.

'Canadian Organ Music'
Rachel Mahon org (Delphian)
The Canadian organist Rachel Mahon offers thrilling advocacy for her country's music, on a British instrument – Coventry Cathedral's magnificent Harrison and Harrison organ – she knows expertly.

'#CelloUnlimited'
Daniel Müller-Schott vc (Orfeo)
To experience Daniel Müller-Schott's intimate and instinctive understanding of the cello's sound world throughout this wide variety of unaccompanied works is a completely compelling musical journey.

JS Bach St John Passion
Collegium Vocale Gent / Philippe Herreweghe
(PHI)
More than three decades on from his first of three recordings of the St John Passion, Philippe Herreweghe offers an affecting new interpretation, clearly drawing on a lifetime of reflection.

'Passions'
Les Cris de Paris / Geoffroy Jourdain (Harmonia Mundi)
Powerful and haunting, this programme of Venetian early Baroque music from Les Cris de Paris, built around five settings of the Crucifixus, is every bit as riveting as it is moving.

Handel Agrippina
Sols; Il Pomo d'Oro / Maxim Emelyanychev (Erato)
Maxim Emelyanychev continues to build his incredibly impressive catalogue with a performance which our critic Richard Wigmore now defines as his first choice for this Venetian masterpiece.
DVD/blu-ray

Verdi Rigoletto
Sols; Vienna SO / Enrique Mazzola (C Major Entertainment)
The often jaw-dropping drama of Bregenz Festival's floating stage-sets generally makes for a striking visual feast: a great performance makes this a treat for the ears too.
Reissue/archive

Beethoven String Quartets Nos 1, 9, 13 & 14
Busch Quartet (Pristine Audio)
A vintage Beethoven recording from the famed Busch Quartet which will make a memorable contribution to your listening as we continue our celebration of Beethoven's 250th anniversary.