The best recordings of Beethoven's Piano Concerto No 5, 'Emperor'
Gramophone
Wednesday, February 15, 2017
A quick guide to the most outstanding recordings of Beethoven's revolutionary piano concerto
---
Welcome to Gramophone ...
We have been writing about classical music for our dedicated and knowledgeable readers since 1923 and we would love you to join them.
Subscribing to Gramophone is easy, you can choose how you want to enjoy each new issue (our beautifully produced printed magazine or the digital edition, or both) and also whether you would like access to our complete digital archive (stretching back to our very first issue in April 1923) and unparalleled Reviews Database, covering 50,000 albums and written by leading experts in their field.
To find the perfect subscription for you, simply visit: gramophone.co.uk/subscribe
---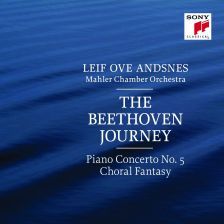 Piano Concerto No 5. Choral Fantasia
Mahler Chamber Orchestra / Leif Ove Andsnes pf
Sony Classical
To have arrived so soon at the end of this journey seems almost a pity, for the company has been most engaging, by turns profound and delightful. It's a rare treat to have the Choral Fantasy as a juicy extra to the concertos. I was made more than usually aware of its original context – as the finale of the famously epic concert that also saw the premieres of, among others, the Fifth and Sixth Symphonies and the Fourth Concerto; suddenly I noticed connections between the Fantasy and the Fourth that previously passed me by. Robert Levin may be matchless in conveying the rhetoric of the extended piano opening but Andsnes manages to be lithe and spontaneous-sounding, and doesn't overplay hints of melodrama – dangerously tempting with all those diminished sevenths scattered about. The Mahler CO wind are predictably characterful in their variations on the theme that prefigures the 'Ode to Joy' and the chorus are fervent without sounding too butch. That's in part down to the performers and in part surely the recording, in that most eloquent of spaces, the Prague Rudolfinum.
The Fantasy is much more than just a handy filler but it's the Fifth Concerto that is likely to be the real draw. So how does this one stack up? Andsnes makes his mark in the initial flourish with playing that has the requisite steel but which is tempered with a twinkle. The qualities that made the previous instalments so compelling are here too: the naturalness with which piano and orchestra meld and converse and, at times, tussle; the airiness of the textures; the subtlety of the details. The clarinet phrases (at 1'21"), for instance, dance more than those of Rattle's BPO. And the Mahler CO's timpanist adds to the buoyancy of effect but again subtlety is the watchword. In a way Andsnes reminds me of Schnabel in his sureness of touch, albeit in a very different style; Kissin's point-making and self-conscious massiveness have no place here.
The string introduction to the slow movement is another glorious passage and – praise be – it's not too slow (though I must confess to a guilty pleasure in Gilels's rapt reading, ultra-spacious though it is). Andsnes is limpid, apparently simple, in those deliquescent phrases. But one of the most impressive aspects of this reading is the transition from slow movement to finale. So often it bumps: Pollini, Kissin…I could go on. Perahia on the other hand is just right, as is Brendel. And so is Andsnes. It helps that none of these go hell for leather in the last movement, instead imbuing the muscularity of the writing, with its ungainly rhythms, with a healthy dose of gleefulness. The unanimity in the closing bars between Andsnes and his orchestra says it all. Having used up my stash of superlatives, all I can say is: go buy.
---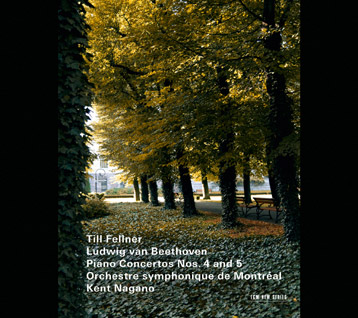 Piano Concerto 5 'Emperor' (with No 4)
Till Fellner pf Montreal Symphony Orchestra / Kent Nagano
ECM New Series
Till Fellner, always among the more quietly celebrated pianists, together with Kent Nagano and the Montreal SO gives us two of the most supremely satisfying performances of both these concertos on record. This is a dream partnership with soloist and conductor working hand-in-glove, and even when you conjure with so many glorious names in such core repertoire (from Schnabel to Lupu) you will rarely hear playing of such an enviable, unimpeded musical grace and fluency.
Fellner surely belongs among that elite who Charles Rosen so memorably defined as those who, while they appear to do nothing, achieve everything. His playing is subtly rather than ostentatiously coloured and inflected, and if others might be thought more vivid or personal, Fellner's and Nagano's ease and naturalness always allow Beethoven his own voice. Fellner's still small voice of calm in the Fourth Concerto's central Andante con moto is one among many glories. Balance and sound are pleasingly natural and this memorable issue is crowned with a short but intriguing essay by Paul Griffiths.
---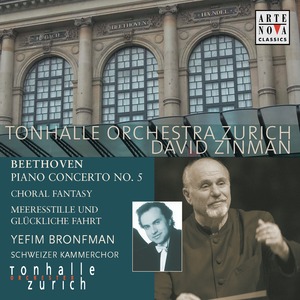 Piano Concerto No 5, 'Emperor'. Choral Fantasia. Meeresstille und glückliche Fahrt
Yefim Bronfman pf Swiss Chamber Choir; Tonhalle Orchestra, Zürich / David Zinman 
Arte Nova 
Rather than opt for superficial barnstorming, Yefim Bronfman and David Zinman offer us a discreet, subtly voiced and above all durable Emperor, that rewards listening with increasing musical dividends. Bronfman plays with a light, precise though never brittle touch, always phrasing elegantly and dipping his tone whenever important instrumental lines need to be heard. There are numerous details that reveal how minutely all the participants are listening to each other. The slow movement unfolds in a mood of unruffled calm, Bronfman's first entry gentle, delicate, with an appropriate, even touching simplicity. The finale is brisk and energetic and the way Bronfman keeps accompanying rhythmic figurations light and well buoyed is most appealing.
The fill-ups are worthwhile, the Choral Fantasia's long solo opening more thoughtful than usual and with a bright, easy-going contribution from the chorus. Nothing is ever forced or overstated and the contrast in Calm Sea and Prosperous Voyage between worrying stillness and the first signs of a redeeming breeze, ingeniously painted by slowly swirling triplets, is superbly handled.
It is hard to imagine anyone being less than satisfied with Bronfman and Zinman, the Tonhalle Orchestra scoring top marks for teamwork, their woodwinds sounding fully on a par with Europe's best. Superbly balanced sound helps clinch an unmissable bargain.
---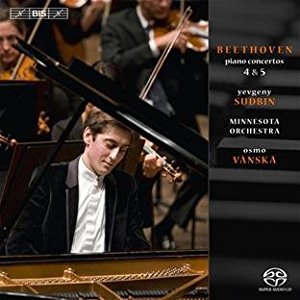 Piano Concertos Nos 4 & 5
Yevgeny Sudbin pf Minnesota Orchestra / Osmo Vänskä
BIS
With this release Yevgeny Sudbin and Osmo Vänskä launch their Beethoven concerto cycle in a novel and intriguing fashion. Going in at the deep end with the most lyrical and magisterial of the concertos, Sudbin makes it clear that he has little use for Beethoven weighed down, as it were, with excess baggage, with the heft and earnestness of a more conventional view. Instead, his delectably light-fingered brilliance and virtuosity shines a new light on some of the most familiar scores in the repertoire, making a supposed division between Mozart's Apollonian and Beethoven's Dionysian genius seem little more than a cliché.
True, listeners used to a greater intensity and expansiveness may balk at the nervy rapidity of Sudbin's reflexes, recalling the greater ease and breadth of past masters of the Beethoven concertos such as Gilels or Arrau, or the more speculative or interior stance of, say, Radu Lupu. But if Sudbin occasionally suggests "time's winged chariot hurrying near", the mother-of-pearl sheen of his pianism is backed by a special underlying sensitivity. In the grandest of Beethoven's two cadenzas for the Fourth Concerto, Sudbin's spine-tingling pace takes him close to the edge; but hearing him in the phantom entry to the Emperor Concerto's finale reminds you that you are listening to a wholly individual artist. Such mercurial pianism keeps Vänskä and the Minnesota Orchestra on their toes but they follow their soloist as to the manner born. BIS's sound and balance are excellent and the rest of this cycle is eagerly awaited.