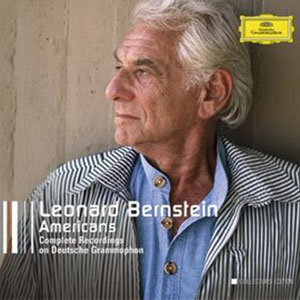 There aren't many symphonies by late-19th-century American composers in circulation. Of the New England School, John Knowles Paine wrote two in the 1870s and George W Chadwick three in the next two decades; but Amy Beach's Gaelic Symphony, completed in 1896, has become the most successful revival.
It was brave of Charles Ives to start his First Symphony as a graduation exercise at Yale, where he studied under Horatio Parker, who wrote his only symphony when studying under Rheinberger in Munich and then turned to symphonic poems. Like all Ives's symphonies, his First waited some 40 years for a performance, which meant that symphonies by succeeding generations of American composers were heard first.
In fact, all the symphonies I have chosen here were written before the Ives works became widely known. His Third was premiered in 1946, the same year as Copland's Third; Bernstein launched Ives's Second two years after his own Second appeared in 1949. Without Ives as the father-figure he has since become, it was a golden age of the American symphony at a time when the US was dominating the world scene during and post the Second World War. It was left for future generations to respond to Ives after his Fourth was premiered under Stokowski in 1965. That response included versions of his Universe Symphony recorded in the 1990s. Ives left sketches and invitations for others to move in on his schemes for this colossal work – taken up by Larry Austin (on Centaur, 5/95, and Col Legno, 7/04) – but the new David Porter version, given a European premiere at this year's Aldeburgh Festival under Ives authority James Sinclair, is the closest to the actual material Ives left. I hope a recording of that version will follow.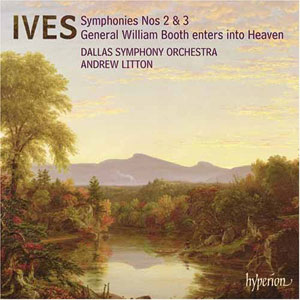 Ives Symphony No 2 (1899-1908)
Dallas SO / Litton
(Hyperion)
It's incredible that this symphony has become a classic when it was unknown until Bernstein gave the premiere and exclaimed: 'We have suddenly discovered our musical Mark Twain, Emerson and Lincoln all rolled into one!' There's a special excitement about Bernstein's first recording (now on Sony) and there have been many since, including Bernstein again, but I've chosen Litton and the Dallas because I much admired their set of all four Ives symphonies.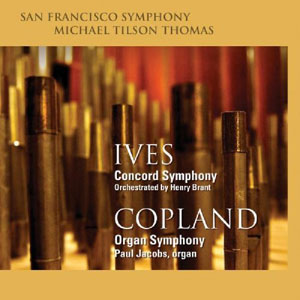 Copland Organ Symphony (1924)
Paul Jacobs org St Louis SO / Tilson Thomas
(SFS/Avie)
This near-concerto given a symphonic title got a great send-off when Nadia Boulanger gave the premiere in New York in 1924. Recordings waited until 1968 and impressive later ones include Simon Preston and the St Louis Orchestra under Slatkin (RCA Victor). Paul Jacobs with the San Francisco team is the most recent, coupled with Henry Brant's unconvincing orchestration of Ives's Concord Sonata – described as a symphony!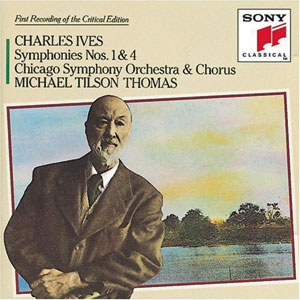 Ives Symphony No 4 (1912-25)
Chicago SO / Tilson Thomas
(Sony Classical)
Part of the Ives phenomenon stems from the amount of research that scholars have had to undertake to make some of his works performable – thanks to the poor condition of his manuscripts. The Fourth Symphony is notorious. Only this year has a corrected edition emerged under the editorship of James Sinclair. No recording of that version yet but the Fourth has attracted many conductors and the strongest all-round version is by the Chicago Symphony Orchestra with Tilson Thomas.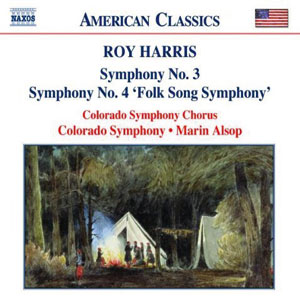 Harris Symphony No 3 (1939)
Colorado Symphony / Alsop
(Naxos)
For at least a generation this was regarded as the greatest American symphony: Koussevitzky hailed it after the premiere (his recording is in a Koussevitzky box-set on Membran Artone). The Third is the obvious choice since it established Harris and is a concise example of his single-movement design. His reputation has faded but Bernstein knew how to give the ending intensity (DG, 11/87, coupled with Schuman's Third) and Alsop now carries the torch.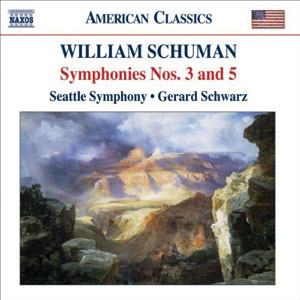 Schuman Symphony No 3 (1941)
Seattle Symphony / Schwarz
(Naxos)
I've chosen this symphony rather than the Fifth (for strings) since it epitomises the optimism, energy and sense of purpose of the Franklin D Roosevelt era. It's also another work associated with Bernstein (whose recording on Sony – 3/98 – is coupled with Schuman's Eighth and the Symphony for Strings). In an unusual two-movement layout, Schuman's reworked Baroque forms are compellingly virile in one of the many dedicated recordings of American classics under Schwarz.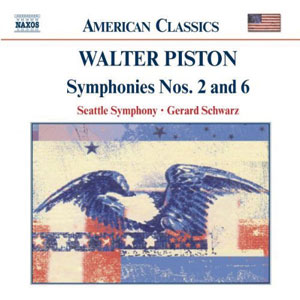 Piston Symphony No 2 (1943)
Seattle Symphony / Schwarz
(Naxos)
Like Harris, Piston was a Boulanger student but a more restrained personality whose pupils at Harvard included Carter and Bernstein. In some ways Piston is a kind of American Lennox Berkeley, who also wrote a pure music without exaggerated effects, a dialect of neo-classicism. Schwarz says: 'I have come to realise that he was a master, an inspired composer.' Piston's Second and Sixth symphonies offer ample evidence in performances like these.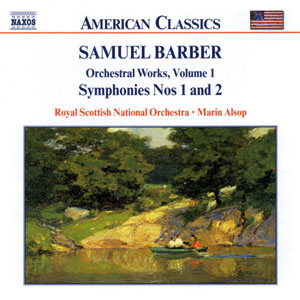 Barber Symphony No 2 (1944)
Royal Scottish National Orchestra / Alsop
(Naxos)
Barber recorded this symphony, arising from his wartime service in the US Air Force, in London in 1951. He later rejected it and even destroyed the materials at his publishers. After Barber's death, a set of parts surfaced in England and the work was reinstated. Another commanding Barber performance from Alsop and the Scottish team shows Barber got it wrong, and we're lucky the piece survives.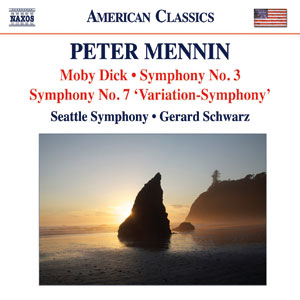 Mennin Symphony No 3 (1946)
Seattle Symphony / Schwarz
(Naxos)
Mennin was in his early 20s when he wrote this symphony, which brought him public attention. Later, like Schuman, he became president of the Juilliard School. His Third, with a fine slow movement, reveals that influences from across the pond included Sibelius and Vaughan Williams. This reissue (from Delos International in the mid-1990s) brings back one of a number of neglected American symphonists of the period – with Schwarz and the Seattle Symphony once again.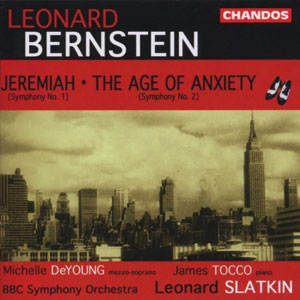 Bernstein Symphony No 2 (1949)
James Tocco pf BBC SO / Slatkin
(Chandos)
Bernstein called this a symphony but the piano has an essential role as commentator on WH Auden's poem The Age of Anxiety, which deals with four characters who are mixed up in ways that Bernstein understood from his own experience. The symphony was another important American work launched by Koussevitzky: it was in memory of his wife and Bernstein played the solo part. A fine performance on an all-Bernstein CD.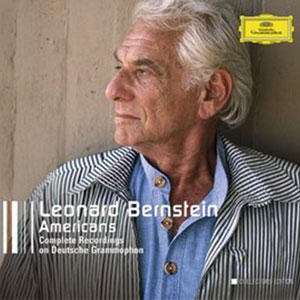 Copland Symphony No 3 (1946)
New York Philharmonic / Bernstein
(DG)
I've claimed this as the greatest American symphony. Copland conducted it and recorded it himself but Bernstein brought the extra authority of an interpreter totally in tune with his old friend. The expansive melodies and lucid textures represent the epic 1940s better than any of the other works listed here. The pastoral mood of the opening Molto moderato stems from the world of Appalachian Spring; the scherzo is rumbustiously Copland; and the use of the Fanfare for the Common Man in the finale is a masterstroke. The popularity the Fanfare has gained since then adds resonance to its role in the symphony.
This article originally appeared in the December 2012 issue of Gramophone. To find out more about subscribing to Gramophone, visit: gramophone.co.uk/subscribe